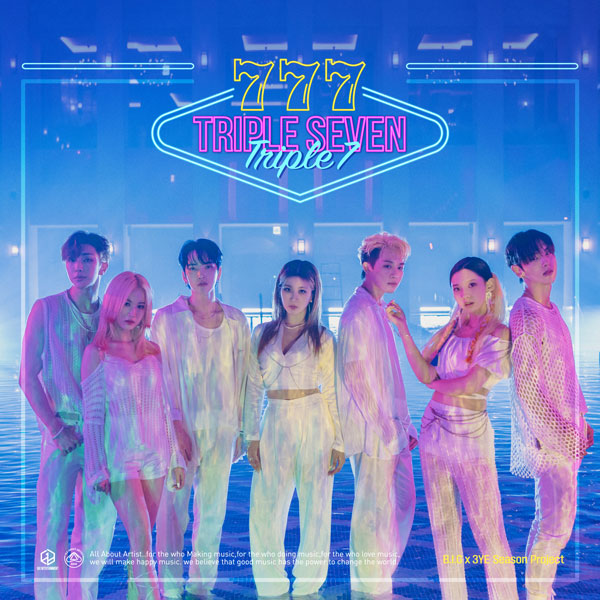 777 (Triple Seven) is a new seasonal project group under GH Entertainment made up of the members of the B.I.G and 3YE. The group made their debut with the single album Presente on August 10th, 2021. The album contains the songs "Presente" and "Presente – Spanish Version."
In the Present
Member J-Hoon describes the song as "having an energetic trap beat, a Spanish moombahton groove and is a Latin pop dance song". The chorus lyrics describe a burning love with an emphasis on heat and a fiery passion which is mirrored by the sheer number of flames displayed in the music video.
The word Presente can be translated from Spanish as simply "Present" or from Italian into a bolder "I'm here." The upbeat tempo and Latin rhythm are infectious enough to make anybody start grooving.
Mix & Match
B.I.G is a four-member boy group (originally six) that debuted under GH Entertainment in 2014. The members consist of J-Hoon, Gunmin, Heedo, and Jinseok. The group have only released a variety of singles and a couple of EPs Hello Hello and Aphrodite. However, they are no stranger to singing in multiple languages having released an Arabic version of their 2019 single "Illusion". Fans of the 2017/2018 Idol Rebooting Project show The Unit may recognize Heedo who ranked 28th and Gunmin who ranked 33rd. The pair of them also competed in the global idol project G-EGG after which Gunmin subsequently became a member of Japanese pop group NIK, which was formed from the winning contestants in 2020 though has yet to debut.
3YE is a three-member girl group that debuted under GH in 2019. The members consist of Yuji, Yurim, and Haeun. They have released a variety of singles and an album Triangle which contains their 2019 and 2020 singles; "DMT (Do Ma Thing)", "OOMM (Out of My Mind)" and "Queen". All three girls are former members of the group Apple.B GH's former girl group that debuted in 2017 but disbanded in 2018. Yuji also took part in The Unit but only ranked 60th.
Co-ed K-pop groups are rare with the most notable ones being KARD, Triple H, and first-generation group S#ARP. This is due to a number of different reasons with entertainment companies preferring to have co-ed project groups rather than permanent groups. Triple 7 are a seasonal project group which means that the members will come together periodically to release music appropriate for the season.
The name 777 (Triple Seven) stands for the members becoming one, as well as the 777 in a jackpot," explained by the leader Gunmin on After School Club.
777 (Triple Seven) [PRESENTE]
2021.08.10 6PM
GROUP IMAGE#TripleSeven #Triple7 #트리플세븐#PRESENTE #TEASER #IMAGE pic.twitter.com/KpBDWSI7OG

— 777 (Triple Seven) Official (@Triple7_twt) August 8, 2021
Kpop X Latin Pop
Triple 7 aren't the first K-Pop group to draw in Latin influences in their music. Songs such as "Give Me More" by VAV feat. De La Ghetto & Play-N-Skillz and "Egoistic" by Mamamoo are popular examples. Though 3YE are the first K-Pop group to hold a Latin America only streamed concert on platform +VIVO after they gained popularity there for their song covers in Spanish.
One of the writers of "Presente" includes Spanish singer-songwriter Paula Rojo, who helped to bring in the Latin influence on the track. Along with Steven Lee, who has written for numerous K-pop groups including SHINee and TVXQ as well as producing and co-writing for Avengers: Age of Ultron.
Jackpot
Many are hopeful that this release is the first of many songs for Triple 7. Since Tripple 7 is an experimental group with a fresh opportunity to introduce themselves to a bigger audience, fans are excited to see where this journey will take the group next.
Interested in more co-ed K-Pop groups? Read EnVi's interview with BM from KARD here!