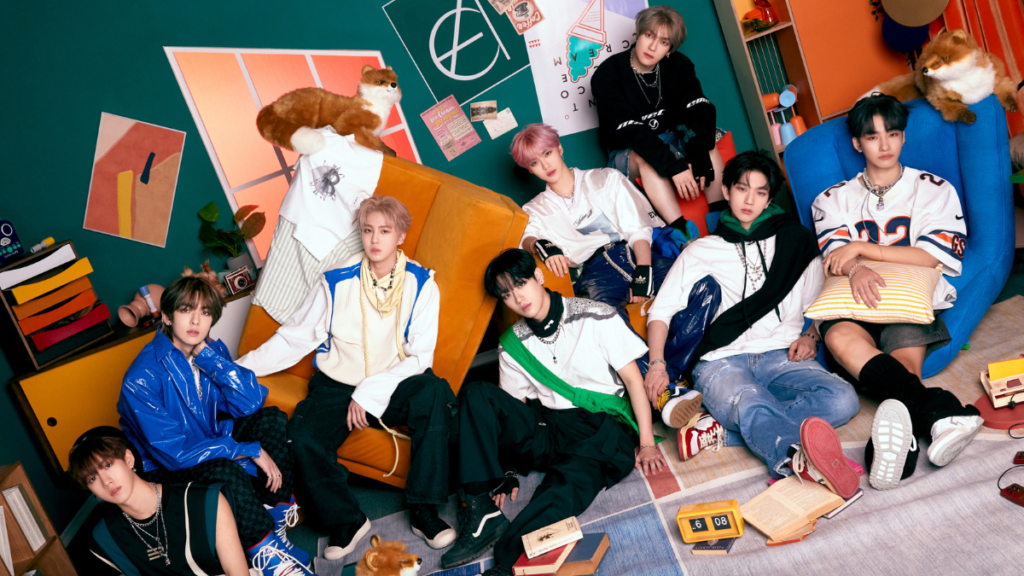 With a title track full of wit and youthful energy, EPEX are back with their latest album Prelude of Love Chapter 2. 'Growing Pains.' The group comprises eight members: Wish, Keum, MU, A-Min, Baekseung, Ayden, Yewang, and Jeff. After their debut in 2021, EPEX have steadily proved themselves to be a fourth-generation group worth keeping an eye on. After a busy day of promotional schedules, the boys, who were still sporting their stage outfits, made time to sit down and chat with the press via Zoom. Through this virtual interview, the boys shared more about their latest comeback — read on to see the members get honest about their struggles and what's new about their comeback.
An Unfolding Story
Growing Pains marks the second chapter of EPEX's "Prelude of Love" series. Prior to the "Prelude of Love," the group released their series titled "Prelude of Anxiety." "The 'Prelude of Anxiety' series represents anxiety you would go through in your adolescence, while the 'Prelude of Love' series talks about more complex emotions evolved from young love, such as anxiety and raw feeling of love," explains the group's leader, Wish.
In the first chapter of their "Prelude of Love," the boys sing about the happier phase of romance. It tells the story of someone going through that cheesy, sappy feeling that one would feel when one experiences that heart-fluttering type of love. On the contrary, their newest title album, titled Growing Pains, explores the emotions and feelings that one goes through when one experiences heartbreak for the first time.
Taking an extra step to ensure they got the feeling down to a T, Yewang shared, "The album is about the growing pains of teenagers who face their first breakup in life. We talked with our friends about their own experiences and conveyed them to the lyricists, along with our own stories. They've all been melded into the lyrics." From these discussions and insight, EPEX captured a more authentic and sincere feeling in their lyricism, which helped the group create songs that listeners can relate to.
Sun Shower
The group is promoting the album with their lead single "Sunshower," whose Korean title refers to the lore of the Fox's Wedding Day. In this tale, a sun shower happens when it briefly rains as a result of the sun shedding tears while it watches its beloved fox marry someone else. Similarly, the song's lyrics tell of the group's jealousy and heartbreak while watching their love interest leave them for a new lover.
Although the theme of the story is a rather sad one, musically, the track is upbeat and fun. Its retro-pop sound, featuring a prominent bass line, is complemented by melodious strings that enhance the chorus. "Our new title track 'Sunshower' tells a story of a boy's broken heart from the breakup through a very fresh, bubbly melody," Wish, who's sporting a grunge-style sleeveless plaid top, explains. "So it matches the song's title which carries a contrasting meaning of 'raining while the sun is shining.' We tried to express such contrast by acting like we're numb, just like the heartbroken boy would act like he's not hurt from love at all," he describes further.
The Growing Pains of EPEX
When a comeback is scheduled to happen, K-pop idols often have to go through meticulous steps before releasing the finished product. These include deciding and understanding a concept, writing and recording multiple tracks for the album, creating and perfecting new choreographies, and participating in plenty of photoshoots for promotions.
When asked about what the members found was the biggest struggle of this comeback, Ayden, dressed in a white tee and blazer with a tie loosely hanging from his neck, shares with sincerity in his voice, "On top of learning our own song's choreography, we did cover contents of other artists. That actually required a high level of memorization." In addition to that, Wish also confesses that the delivery and execution of the juxtaposition in "Sunshower" was a challenge, "Since our title song's melody and lyrics are in quite contrasting vibes, it was a little challenging to truly blend the lyrics and express that message through the melody."
Yet despite all these challenges, the group still had plenty of fun preparing for their latest release. "When we were preparing and practicing for this album, all of us had a lot of fun. So we're looking forward to really enjoy[ing] this album's activities with ZENITH [EPEX's fandom name] and creat[ing] good memories with them," calmly says the group's main dancer, A-Min who was sitting down snugly.
What's Next for EPEX
With EPEX now gaining more experience as well as new audiences, what sets them apart from other up-and-coming groups? "In my opinion, we're talking for people in their 10s and 20s. We're blending the stories we experience and hear as young people into our music, and we want to create music that can be encouraging and comforting. That's how we wish to show EPEX's unique color," answers the group's rapper Keum, after giving the question some thought.
"Our previous album was more like a festival that celebrates the beginning of love, and this new album, on the contrary, represents a boy's first breakup. Therefore, our new title track is sadder yet expresses a boy's growth into a young man," fellow rapper Baeksung shares. Now that the eight-member group is two years into their career, EPEX continues to explore and express newly discovered sides of themselves. As the boys continue to grow as a group and as individual artists, we can't wait to see what EPEX have in store for us next.
Want to know more about recent K-pop comebacks? Check out Omega X's return here!