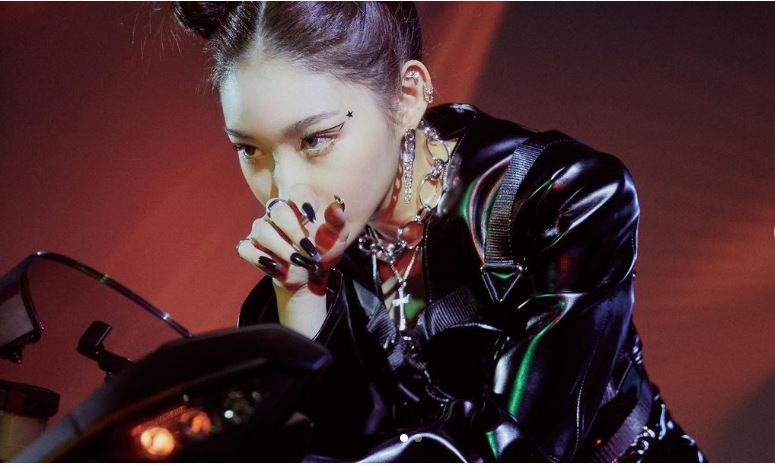 By Annie Bourbonnais | @_whoisannie
2021 barely came along and K-pop stars have already given us breathtaking visuals and concepts since day one. Here are nine looks idols showed in their iconic music videos, concept pictures, magazine editorials, and others, that shined through in the first two months of the year.
Kang Daniel in "Paranoia" Music Video
   Adopting a dark vibe, Daniel came back with a song about dealing with the demons inside your head and the feeling of being chased and not being able to escape. Following the heavy tones of the concept, he pulled off his dark eye makeup beautifully, with varying designs to match the creepy feeling of the song.
Chungha in Querencia concept pictures and "Bicycle" stages
   It's difficult to pick just one iconic look from the entire concept of this comeback. As she usually does in every comeback, Chungha wore many different but cohesive looks in her teaser pictures, showcasing the different sides of the album concept. A special mention to her amazing heart makeup for one of the "Bicycle" stages.
View this post on Instagram
View this post on Instagram
View this post on Instagram
Hyunjae and Juyeon of The Boyz for Allure Korea
   The issue was released in March, but the pictures, published before by the photographer Hyea W. Kang, already had fans swooning over Hyunjae and Juyeon's visuals. With a soft look that emphasized their natural beauty, the main points are definitely Hyunjae's moles being highlighted and their nail art.
View this post on Instagram
View this post on Instagram
Hyuna in "I'm not cool" Music Video
  Another queen serving looks from start to finish, Hyuna didn't disappoint with the overall visuals in her newest comeback. Bringing us an outfit swap with every scene change, she managed to complement them with a new and exciting makeup look. One cohesive choice in almost every look is the drawn-on lower lashes, 60s style.
Solar of Mamamoo for Singles Magazine x KATE
   Scoring a partnership with makeup brand KATE, Solar looked stunning in her Singles Magazine shoot for the brand. As she presented the Kate Super Sharp Eyeliner, she  – of course – sported a sharp and long-winged liner, emphasizing her features nicely and matching with soft nude and red lips.
View this post on Instagram
BIBI in "Eat My Love" Music Video
   BIBI never disappoints with her talent, music, and amazing looks. This time, in her newest song "Eat My Love," she matched her usual, iconic red dots makeup with red graphic liner, a trend we've been seeing a lot lately – not only in K-pop, but beauty in general.
NCT 127 in "gimme gimme" Music Video
   Bringing back debut vibes in 2021, NCT 127 showed a punk-ish, dark and alternative look in their newest Japanese release. With items such as harnesses, chokers, plaid, and leather everywhere, they tied it together with dark and smudged red makeup and heavy liner. One big main point was definitely Yuta with his zodiac symbol drawn on his face.
Sunmi in "Tail" concept pictures and Music Video
   If there's one singer that knows how to create a cohesive and detailed concept, it's Sunmi. In her Catwoman-inspired new song, she's sporting variations of the same look, with a twist in each different setting. The highlight being her yellow eyeshadow look, with red lips, a sharp liner, and strass in the corners of her lips, emulating snake bites.
View this post on Instagram
View this post on Instagram
Oneus in "No Diggity" Music Video
   Oneus moved away slightly from their usual, dark fantasy concept to show us a different side of the group, and the makeup in the music video didn't disappoint either. It's even difficult to pick one amongst all of the amazing looks, but one big point overall is the glitter – be it soft, chunky, or shaped.
In case you missed it, check out EnVi's Beauty Team recreating iconic beauty looks of women in K-pop!
Thumbnail Courtesy of MNH Entertainmnet