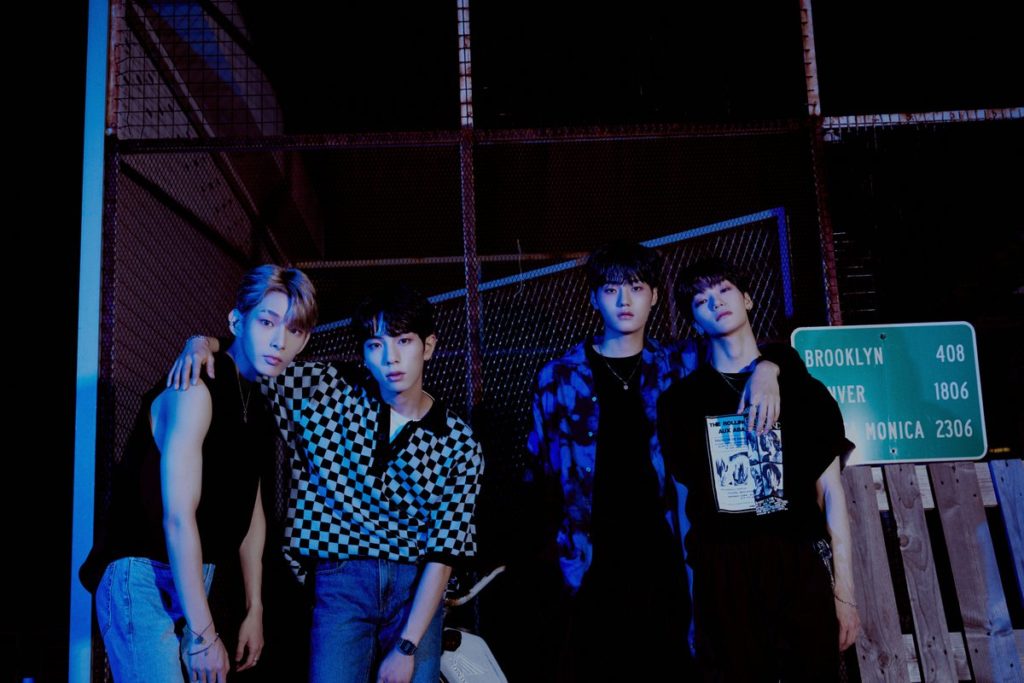 On September 9, the four-member boy group, LUMINOUS, from BarunsonWIP Entertainment debuted with their first album, YOUTH. The EP contains five tracks, including the title track "RUN" and a ballad "Home Alone." 
[M/V] 루미너스(LUMINOUS) – RUN

🔗 Youtube https://t.co/qp87Q3z2Y6
🔗 V LIVE https://t.co/u0x5d5wMa1#루미너스 #LUMINOUS #LMN#YOUTH #RUN pic.twitter.com/C3mIshWRLP

— LUMINOUS STAFF (@LMN_STAFF) September 9, 2021
The instrumental version of the two tracks and an electronic, bass-heavy, intro track are also featured on the EP.
An Album That Shines Bright
Along with the release of the album, the group released the music video to their title track, "RUN." A highly anticipated debut, LUMINOUS attained over one million views on their music video in less than 24 hours. 
The music video opens with the view of an empty couch until it pans over to the bedroom of the maknae, Woobin. He plays a song on his radio, which happens to be their ballad, "Home Alone," the third track on their album. The scene contains heavy moon imagery that is highly reminiscent of his individual teaser released a year prior to their debut. Several shots of the other members are seen before Suil changes the station on his radio and "RUN" begins to play.
The vibe of the music video changes completely as the boys are seen in matching outfits consisting of black leather jackets and harnesses accompanied by lace turtlenecks. "RUN" is a bouncy, hip-hop song suggestive of the nightlife scene with a catchy chorus talking about the pressures they face, and the need to relax and run. The choreography is powerful and matches the intensity of the lyrics and music seamlessly. 
Contrasting the preceding track, "Home Alone" is a quiet ballad that takes on a completely different mood compared to their title track. The ballad focuses on showcasing the group's vocals as well as the more moody side of their rappers in this somber track. They sing about their feelings of loneliness and how difficult it is to cope with these emotions. Their vocalists' voices do not falter as they sing out their worries on this track, and the transition into the deeper voices of their rappers is flawless. 
Who is LUMINOUS? 
LUMINOUS is made up of members Youngbin, Suil, Steven, and Woobin. On August 19, the group released their pre-debut album, VISION,  featuring a group track and solo tracks self-composed by each member. Although this is the team's official debut as a group, the members have each previously had their moment in the spotlight. 
The leader and eldest member of the group, Youngbin, was previously seen competing on Mnet's idol trainee survival show Produce X 101. After his time on the show, he was scouted by DS Entertainment and began training for his debut. Later, after moving to LUMINOUS' present label, Youngbin showed off his skills as a songwriter through his solo featured on their pre-debut album. The song titled "STAR" showcases his playful vocals on an upbeat track. His singing range has only improved over time. Now, as the lead vocalist and main dancer of the group, Youngbin illuminates "RUN" with his mellow yet resonant vocals. Along with his strong vocals, his confidence shines through as he takes center stage in the dance break towards the end of the music video. 
Suil, the vocalist and rapper of the group was the first member to be revealed back in 2019. His solo song, "ROD (ride or die)," on their pre-debut album exhibits Suil's sensual vocals and amorous lyrics on an R&B track. He has continued to be a star ever since. Passionately rapping at the start of the title track, Suil stands out in a red lace top and sparkly blazer. He grabs the viewer's attention as he leads the chorus, and keeps all eyes on him throughout the song with his bold dance moves. 
Before moving to BarunsonWIP Entertainment, vocalist and rapper Steven was also a trainee under DS Entertainment along with fellow member, Youngbin. Steven was previously a contestant on Produce X 101, and captured hearts everywhere as the young idol-to-be from Sydney, Australia. On his solo track "Up All Night," Steven flaunts his impressive rapping skills as he raps in both English and Korean. His bold attitude is no different post-debut. On "RUN" he not only presents a powerful rap verse but also showcases his soft vocals during the pre-chorus. 
Woobin, the charismatic maknae of the group, lights up their debut as the main vocalist. Previously, he has shown his strong abilities as a singer through his slow, R&B pre-debut solo track "Orbit." Over time, his singing has only gotten better as he debuts with an impressive high note during the bridge of the title track. He also displays his wide range of talents as he merges rapping and singing throughout the song. Woobin's eye-catching visuals are only a bonus to the charms and talents he offers to the group.
Fan Reactions 
Fans were more than ready to see the group debut and took to social media to share their excitement.
pinch me cause i thinking i'm 'dreaming' still, i better 'run' and wake up

— chlooo ✧ (@pockwyb) September 9, 2021
still not over this btw pic.twitter.com/C0U2sOrWzC

— amy ! ⎈ suils luz 🌥 LUMINOUS DAY (@junclvr) September 9, 2021
HAPPY DEBUT DAY BABE ! @LMN5_official @LMN_STAFF pic.twitter.com/WlMfrnwGTi

— Rea 🌾|| finding lumies (@masuill) September 9, 2021
LUMINOUS ARE BLOODY INSANE I CANNOT BELIEVE THEY JUST DID THAT. THEY ARE SO TALENTED AND THIS TRACK ??;! ITS SO GOOD?!! AND THE DANCING ??; THEY ARE INCREDIBLE #LUMINOUS #LUMINOUSDEBUT

— bronte 😀 ⛅️ (@itsdaevil) September 9, 2021
If you want to keep up with LUMINOUS and their bright future ahead, follow their Twitter, Instagram, Youtube, and TikTok for more!
Interested in more k-pop debuts? Check our coverage of Omega X's debut here!
Thumbnail courtesy of BarunsonWIP Entertainment