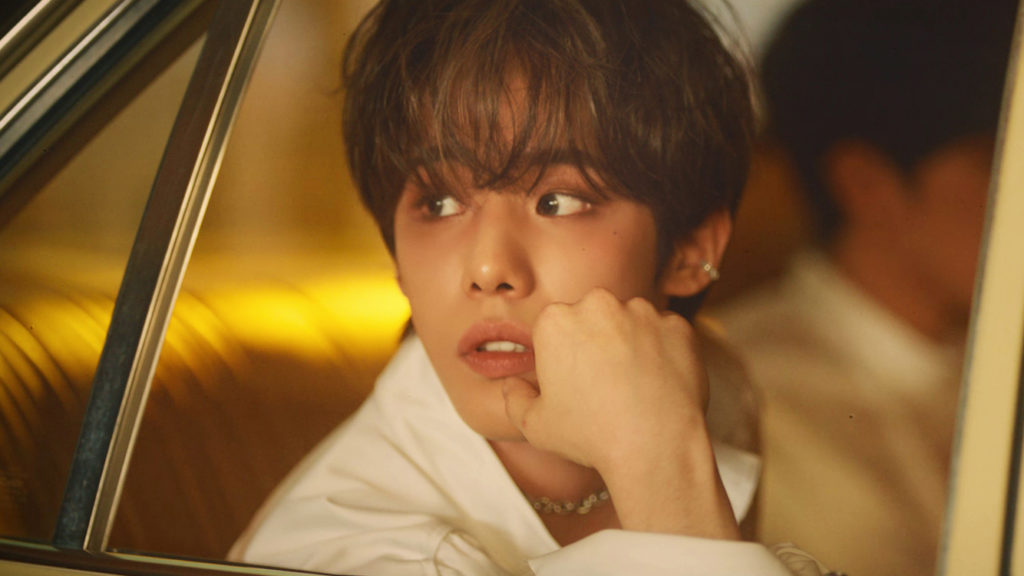 In the dramatic first batch of concept videos for their upcoming album Vamos, Omega X are poised as celestial beings. Shrouded in darkness, the members are dressed in flowy white blouses which, when light reflects off them, surrounds them in an ethereal glow. A pool of water at their feet likewise refracts the light into glimmers of rainbow—a singular entity unraveled into a spectrum of colors.
View this post on Instagram
It's a good metaphor for the unique circumstances of Omega X's formation. Though the Omega X members debuted together for the first time on June 30, they aren't quite rookies. All 11 members have previously debuted under groups that are now inactive or disbanded—1the9, ENOi, and Spectrum, to name a few. Unlike many K-pop groups, whose members bond during the grueling trainee process, Omega X did not train together under the same company until very recently. This debut is a second chance for the members' careers, thrusting them together from their various backgrounds—and back into the limelight. 
The 11 members all carry something from their prior groups, bringing their own individual music flavors and talents to Omega X. On TikTok, Junghoon, who freestyle dances (and inline skates!), showed off short snippets of choreography and rapper Hyuk played electric guitar to aespa's "Black Mamba." The members don't shy away from taking on new skills, either. Both Jaehan and Yechan were main vocalists for their previous groups (Spectrum and 1the9, respectively), but took on a rap position to fit Omega X's hip-hop concept.  
A Latin Twist with "Vamos"
"Vamos" showcases this hybridity, itself a mashup of hip-hop and Latin influence. In the first moments of the music video for the track, Omega X pulls into frame driving a vintage Mercury. The chorus floats distantly over the car speakers, engine purring: they're revving up to something explosive.
Spanish features prominently over blaring synths, paired with high-energy choreography in the video. Even without the crucible-like shared experience of trainee years, Omega X move as one, dancing in sync on a Western desert backdrop. 
Name Dropping
Rap also takes center stage across the five-track mini album, from the flirty and funky "Ice Tag" to the bouncier, self-titled "Omega X." Vamos's instrumental opener "OX Win Ha!" similarly derives its name from their group cheer. The vocal heavy "Younger"—the final song on the album—is an outlier. Preluded by a child singing and laughing, the sentimental track traces their dreams of stardom from the very beginning.
While the rest of Vamos serves to hype up the team's experience in the industry ("All eyes on me / I'm worldwide, y'all already know," vocalist Taedong chants on "Omega X"), "Younger" acknowledges the setbacks the members have faced on their journey. But these hitches are temporary, and have only made them more dedicated to seeing their aspirations through to the end: "You and I shine bright in every moment / I'll never let you go now / Though we took a detour." 
Apart from this nostalgic closer, however, the mini album is primarily about making noise for the re-debuting members. For now, it's enough just to get their name out there, into the jam-packed K-pop sphere. Vamos zeros in on one clear-cut message from the Omega X members: they're back, and this time they're here to stay.
Be sure to check out our exclusive interview with Omega X HERE!