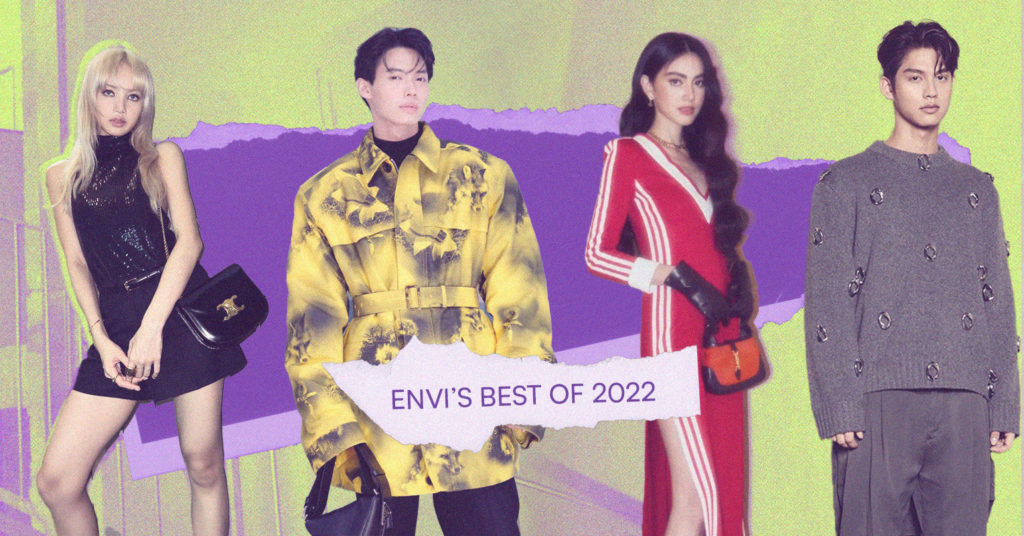 Over the years, celebrities from the Asia Pacific (APAC) region have claimed a spot among the fashion elite. For instance, during the latest fashion season (Spring-Summer 2023) South Korean personalities racked up $122 million in Earned Media Value (EMV) and $34 million in Media Impact Value™ (MIV®). However, Korean celebs are not the only ones successfully breaking into the industry. As their global influence continues to grow, Thai stars have also turned into some of the most sought-after figures in fashion. EnVi takes a look back at the year Thai celebrities cemented their international presence and became breakout fashion stars.
Thai Stars Have It
Recognized for their distinctive style and steadily gaining worldwide recognition, Thai artists are in no way strangers to fashion. In recent years, however, the explosive popularity of TV dramas, as well as the emergence of newfangled musicians have placed Thai stars under the spotlight. Just to name a few, productions like 2gether: The Series (2020), F4: Thailand (2021), KinnPorsche (2022), and Astrophile (2022) have accrued big fanbases around the world. It didn't take long before the fashion industry took notice and propelled some of these celebrities into the limelight. In 2022 alone, the likes of Win Metawin, Bright Vachirawit, and Davika Hoorne, have graced local events, red carpets, and international Fashion Weeks.
Global Tastemaker Win Metawin
After seeing his breakthrough role in GMMTV's hit show, 2gether: The Series, actor Win Metawin rose to global prominence. His strong social media presence, in particular, attracted the attention of brands such as Louis Vuitton, Gucci, and Burberry, which tapped into his star power to promote events, products, and fashion shows, season after season. During Milan Fashion Week Fall-Winter 2022, for example, the influencer marketing platform Lefty reported that Win, alongside his 2gether: The Series co-star Bright Vachirawit, "drove most of Gucci's EMV on Instagram" through posts about the Italian house's collaboration with Adidas. Similarly, the software and data company Launchmetrics shared with EnVi that Win "managed to generate $730,000 in MIV® for Louis Vuitton with a personal post on his Instagram promoting the FW22 show."
Living up to his Global Tastemaker moniker, the star then made his front-row debut at Prada's SS23 show. Although Win made a cameo alongside other high-profile VIPs, he still proved his popularity, ranking first as the top voice, post, and influencer of Milan's Spring-Summer 2023 Men's Fashion Week. As per Launchmetrics, "He generated $4.7M in MIV® across 257 placements, and with one post only, he generated $1.3M in MIV®." Regarding the impressive numbers, Launchmetrics' Chief Marketing Officer Alison Bringé told EnVi, "One notable celebrity we have seen becoming a familiar face at Mens' Fashion is Thai superstar, Win Metawin. […] Thanks to his wide popularity not only in Thailand but also within South-East Asia, brands wanting to build exposure can leverage Win's Voice to reach the wider APAC region."
Win continued to be in high demand for the rest of the year, attending local events in Thailand including OMEGA's "Her Time" Exhibition and Fendi Baguette's pop-up store opening. Even his Instagram posts and airport appearances became headline-worthy affairs, further demonstrating his strong pull and relevance in the fashion scene.
Burberry's Darling Bright Vachirawit
On a similar note, actor Bright Vachirawit also made waves with several fashion activities: social media campaigns, store openings, red carpets, you name it. However, his biggest style milestone was perhaps his association with the British legacy fashion house, Burberry. The Thai megastar not only officialized his status as ambassador, but he also became the brand's first ambassador to hail from South Asia Pacific. About the appointment, Bright shared, "I am honoured to join the Burberry family as a brand ambassador. I have always admired their brand values and work to support communities. I am really excited to work so closely with the house and to bring its new creations to life."
Though the partnership surprised nobody — only a few days prior to the announcement Bright attended the opening of Burberry's TB Monogram bespoke space in Singapore — the designation proved Burberry's commitment to expanding its influence in the APAC region. Following the news, Bright also made his front-row first showing at the unveiling of Burberry's SS23 collection. Needlessly to say, the actor stole the spotlight. According to Launchmetrics' SS23 Fashion Week Insights report, Bright's attendance earned Burberry $1.4 million in MIV®. Bright also contributed with the top placement for the show, racking up $744000 in MIV® with a single Instagram post.
Fashion Starlet Davika Horne
Though Thai actress and singer Davika Hoorne has long been celebrated for her style, 2022 saw her achieve new fashion heights. Boasting her longtime friendship with Gucci, the star graced the front rows of shows such as Gucci Cosmogonie and Gucci Twinsburg. Additionally, Davika was present at events like the Cara Loves Karl party, MÔNOT's SS23 fashion show, and Louboutin's "The Loubi Show II" during Paris Fashion Week.
Davika's most prominent fashion activity, however, took place on October 2, when the multihyphenate walked the runway of L'Oreal's Womenswear Spring-Summer 2023 show, "Walk Your Worth." Though Davika is not a newcomer on the runways, the star made waves with her appearance in a stunning red dress. The actress' year ended on a high note with her appointment as Bulgari's House Friend for South Asia Pacific. Davika made the announcement through an Instagram post that pictured her at the "Eden The Garden of Wonders" presentation, dressed in a Zuhair Murad two-piece set.
But beyond her high fashion alliances, Davika kept gifting fashion lessons throughout 2022. From glamorous dresses that aligned with the cutout trend to casual outfits that catered to the Y2K revival, the star demonstrated to be updated with every fad and brand worth talking about.
Thai K-pop Icons
Last, but definitely not least, Thai K-pop stars kept carving out a place for themselves in the fashion industry. Singers such as GOT7's BamBam, (G)I-DLE's Minnie and NCT's Ten actively participated on social media posts promoting brands such as Burberry, Gucci, and CELINE, respectively. These stars were also fixtures in magazines and constantly captivated the public with their personal takes on fashion trends.
Among Thai celebrities, however, BLACKPINK's Lisa remains the undisputed Style Icon. As CELINE's first global ambassador, the singer has starred in international campaigns, walked runways, graced front rows, and caused fan uproars in the process. During Men's SS23 Fashion Week, for example, the singer mobilized large crowds to Palais de Tokyo, where CELINE HOMME's presentation took place. As reported by Lefty, Lisa accrued 39% of the EMV accumulated during all Men's SS23 Fashion Weeks. "None of the influencers at menswear S/S 23 shows were more impactful than Lisa," Lefty wrote. Similarly, Launchmetrics informed that Lisa's post featuring a custom CELINE look at the MTV VMAs 2022 garnered $2.1 million in MIV®.
The Rising Stars
Thriving in a blooming entertainment scene, plenty of Thai stars are shaping up to be the next it fashion stars. Among many others, actors Nani, Dew, Tontawan Tantivejakul, Billkin and Gulf Kanawut, as well as singers MATCHA, MILLI, and BOWKYLION are embracing fashion in novel ways.
The world of fashion is quickly catching up. As per Lefty, during the SS23 season, brands like Prada, Boss, and Miu Miu invited Thai celebrities to their shows with the aim of "investing in these talents early – banking on the future of a new cultural wave." And though the Thai Wave still seems to be in its "early days," some of its most influential figures are already showing their power. At Milan and Paris SS23 Fashion Week, nine Thai influencers generated a combined EMV of $11 million with their attendance at fashion shows.
We might not know what the future will bring, but if 2022 is any indicator, these celebs are likely to continue their takeover in 2023. Here's to hoping for more Thai stars successfully breaking into the industry.
Want to read more fashion content? Take a look at some of the most relevant fashion moments by Asian celebrities in the first half of 2022 here.