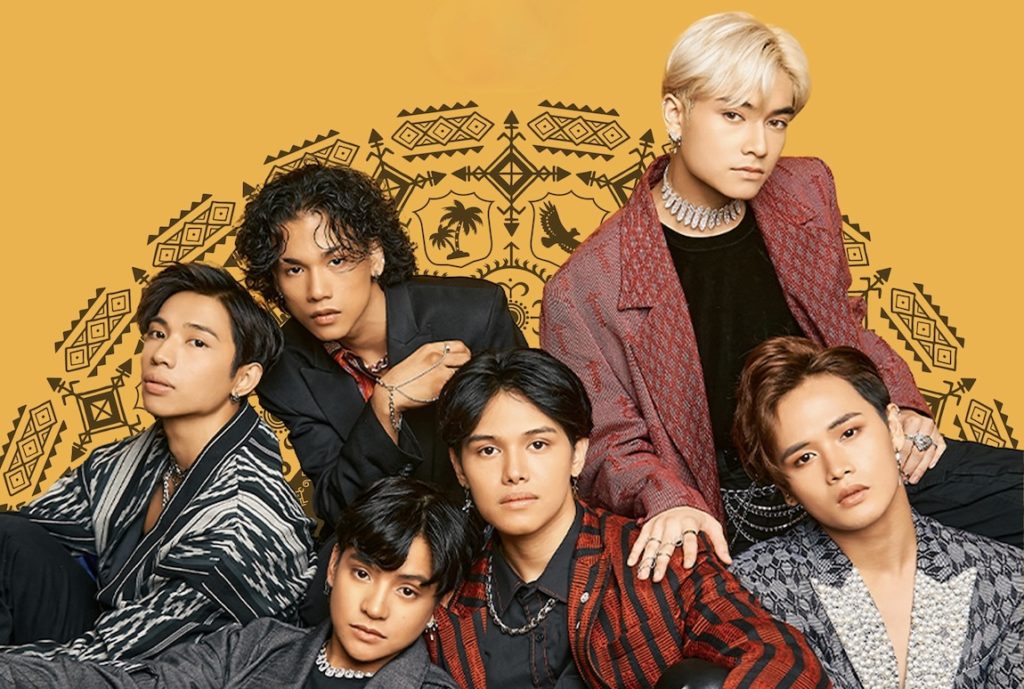 On October 27, Alamat — consisting of members Tomas, R-Ji, Taneo, Alas, Mo, and Jao — held a showcase and album launch prior to their first mini-album Pasulong's official release at the Tektite Towers Auditorium. The mini-album features two previously released singles and four new tracks. In a short chat with EnVi during the media conference, Alamat shared an exclusive message for their international fans and memorable advice they received from other talents in the industry. 
Pasulong was officially released at midnight on October 28 and climbed to #1 on iTunes Philippines within hours. Later at 6PM on the same day, the music video for the title track "Aswang," a song perfect for Halloween, was also released. In Filipino folklore, an aswang is a term used for evil creatures that take on multiple forms. In the case of the music video, with LITZ member Fatima as the lead character, it charms people at day and turns into a monster at night. The sextet sings about being enthralled by the creature and allowing it to devour them.
Pasulong also features four new b-sides, "Maharani," "Gayuma," and "Hala" and previously released singles "ILY ILY" and "Say U Love Me." From moody love songs to energetic anthems, the album perfectly captures Alamat's ability to nail any genre.
Meticulous Self-producers
Alamat shared that they go through a continuous back-and-forth with sharing advice to create the perfect song. Their "sensitive ears" and teamwork also add to their meticulous process of curating their craft. Filmmaker and Alamat's creative director, Jason Paul Laxamana, believes that in order to last long in the industry, it's integral for an idol group to have the ability to compose their own songs. As they go on in their career, Alamat wish to try not just different genres but also combine them. Mo adds that possibly, in the future, "Alamat" itself can become a genre. "What genre is this song? Ah, that's Alamat." After all, the group's name translates to "legend" in English — a story or folklore that accounts for historical events. This is how Alamat want to go down in history — by writing their own legend.
Message for International Magiliw
During the media conference, when EnVi asked Alamat how they felt about their growing international fanbase, Jao expressed how proud he is as a Filipino. "Since we share the culture of the Philippines, and this is being recognized in other countries, that means our mission is working in progress and successful, maybe. That's why we're overwhelmed by the positive comments that we receive and it gives us so much more motivation to keep moving forward and to keep improving our craft." Through their unique concepts, Alamat have proven the value of Filipino culture representation. They have nowhere to go but up, championing Filipino pride along the way.
As a steadily growing group, Alamat have received significant attention from international fans. Taneo shared his gratitude, "First of all, we're very thankful for them considering, of course, different time zones. If we have something planned for the night, they would have to be awake in the morning. Like my mom, right there, she just came from the US. Like what Jao said, we're super super honored to represent what Filipino talent is outside of our country." More than the representation that Alamat bring, Taneo also hopes for more P-pop representation in general and to see more P-pop groups performing in other countries.
Alamat's Advice and How They "Slay" in Their Career
EnVi also asked Alamat if they had received memorable advice that they would like to share, since the group works with so many talented people in their team. Taneo mentioned that, since day one, delayed gratification is the advice that has made the greatest impression in his mind. The advice and motivation are from Laxamana. "Of course, that should be our mindset. Even if we're struggling at the moment, we know that our hardships will bear fruit, so we're thankful for him for motivating us with his words."
R-Ji expressed a striking take that proves the group's strong mindset. "It's also memorable for me that no matter how challenging our activities are, what really made an impression for me was that it's better to exhaust all you can rather than doing nothing at all. It's better to release all the pain and resentment that you have instead of keeping it all in."
Jao's advice comes from a "secret friend" who is a "talented person [he knows] very well." "She told me to keep fighting for the stage despite your condition and whatever happens. Rain or shine, keep fighting for the stage. During POPSTIVAL, it was raining hard and it was slippery, but even so, you should still slay." True enough, Alamat "slayed" their POPSTIVAL performance on the slippery stage with hard hitting-choreography and exceptionally stable live vocals.
Staying true to their concept, Alamat are testaments to the fact that showcasing Filipino culture and preserving their own unique craft can go hand-in-hand.
Tune in to see what Alamat have in store for the future by following them on Twitter, Instagram, Facebook, and Spotify. Pasulong is now available on all streaming platforms.
Curious about how Alamat pulled off their POPSTIVAL 2022 performance? Check out our article on the main event here!