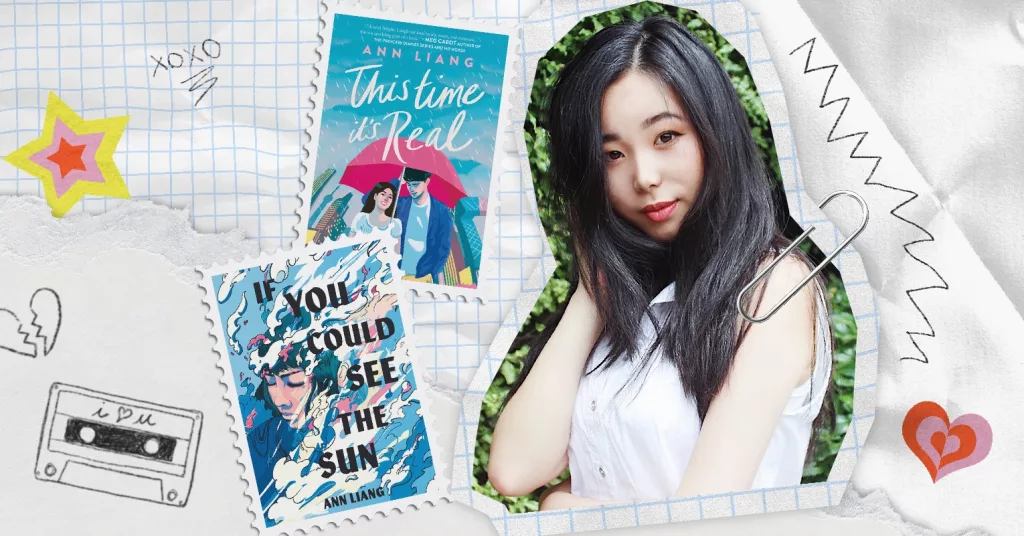 On October 11, 2022, Ann Liang was about to become a published author. The 23-year-old writer posted a TikTok in anticipation of the release of her debut novel, If You Could See the Sun, the next day. Four sentences overlay this TikTok of Liang, who sits cozily in a white sweatshirt and gazes at the camera:
"three years ago, i came up with a story idea about a girl who can turn invisible but uses it to uncover her rich classmates' secrets

two and a half years ago, i started researching how to become an author

two years ago, after drafting it between my uni classes, i sold IF YOU COULD SEE THE SUN to harpercollins

tomorrow, that book will officially be out in the world"
In an email interview with EnVi, Liang discussed the process of writing her two published young adult novels while in college, including her approach to crafting flawed yet lovable characters and creating swoon-worthy romance in her books.
The Foundations
Four months after If You Could See the Sun was released, Liang published her second novel, This Time It's Real on February 7, 2023. The story follows a teenage writer dealing with the aftermath of penning a viral personal essay about her fake boyfriend. She makes a deal with the famous and charming young actor in her class to maintain this faux relationship, but perhaps real love is on the horizon, too. Although the premise of this YA romantic comedy is significantly different from Liang's cutthroat debut, the Beijing international school setting featured in her first novel remains a constant backdrop for her storytelling.
Liang reflected on this recurring source of inspiration, stating, "I think environments like [international schools] can bring out the best and the worst in people; that all the social and academia pressures and competitiveness can both make for really strong bonds and be incredibly isolating." Having personal experience with these types of schools when she was a teenager, Liang understands how they can breed isolation and severe self-doubt. On the other side of the coin, she noted, international schools provide opportunities "to strengthen your sense of self" and "be one of the first places where you feel like you belong as a diaspora kid."
The Unlovable Lover and the Ambitious Anti-Hero
Besides knowing the setting of her next novel, Liang knew she wanted to write about a girl who faked her viral personal essay. This girl, named Eliza Lin, became the main character of This Time It's Real. "Why would she feel the need to lie? Because she feels uncomfortable writing about personal things?" Liang also wondered, "How is she able to lie so convincingly?" In the end, Liang "figured out [Eliza] was a writer, and a somewhat lonely, messy, cynical one at that" (insert *It's not her fault. She's a writer!* meme here).
Despite her struggles with making friends at her new Beijing school and slowly losing touch with friends from her old schools, Eliza finds love in her family, particularly through her relationship with her younger sister, Emily. For Liang, it was easy to capture the dynamic between the two siblings, as she herself is an older sister. However, developing Eliza's character was not without its challenges. "It could be tricky at times to define Eliza's insecurities and feelings around being unlovable while also depicting her evident love for her family and her friendships," added Liang.
Meanwhile, the Gen Z author's first child from If You Could See the Sun, Alice Sun, wraps herself in a warped sense of independence. Unlike Eliza, Alice pushes away those around her for the sake of ambition. As the only scholarship student at her school teeming with the children of celebrities and CEOs, Alice fights tooth-and-nail for the number one spot in her class to be recognized as someone. Her intense dedication to her studies and her competition against the charismatic Henry Li, the heir of a major tech company, earned Alice the nickname "Study Machine."
Things get even more complicated when Alice suddenly discovers she can turn invisible. While this power comes and goes at random, she capitalizes on it to monetize her classmates' most scandalous secrets. Alice straddles a fine line, especially when "she agree[s] to increasingly dangerous and morally questionable tasks." However, to create her ambitious anti-hero, it was important for Liang to find the point before "irredeemable." Alice had to "recogniz[e] when she'd gone too far."
Messy Girls in a Big World
At the end of the day, both of Liang's messy and morally gray female characters, Eliza and Alice, are doing their best to navigate a world that tries to render them invisible. They grapple with the concept of "home" as members of the Asian diaspora and are aware of their Mandarin language limitations. These frustrating limitations frequently translate into not being "Chinese" enough and being judged for that. "I didn't want to shy away from their insecurities around their Mandarin skills or their worries about fitting in after moving countries," Liang stated. For her Asian main characters, their culture is an "intrinsic part of them," but, as Liang emphasized, "never the sole point."
Eliza and Alice are more than just their cultural in-betweenness. They break their bodies in service of their ambition; they get tangled up in complicated lies to carve out a future for themselves; they learn to love—themselves included—and be loved. "They're both trying," Liang stated thoughtfully. "And even if they're sometimes trying in the wrong direction, I always find it easier to root for characters who are giving it their all, because I think that's what a lot of us are doing in real life, too."
Crafting the Love Interests
When scrolling through posts featuring If You Could See the Sun and This Time It's Real, you will likely see readers' excitement over the unexpected romance between the academic enemies—Alice and Henry—and the fake daters—Eliza and Caz. To craft these compelling love interests, author Liang started with a unique characteristic for each male lead, seamlessly weaving Henry's pretension and Caz's vanity into their respective backgrounds and personalities. As a wealthy tech heir, Henry is a foil to Alice's character, who is the only scholarship student at the school. Also, he always ties with her for the title of top student in the class, dashing Alice's hopes to be the sole one recognized.
On the other hand, Caz is a "young, popular actor," who never fails to draw a crowd wherever he goes. He is the antithesis of Eliza, who often hides from others. According to Liang—and This Time It's Real—Caz is "charming, and maybe a bit vain;" however, as he later shows to Eliza, he is a "perfectionist when it [comes] to his work."
Liang had fun writing these plots of love. Not only was writing the banter between the love interests one of her favorite parts of writing these stories, but she also couldn't help but mention the underrated snapshots of growing love and trust between them as well. (Liang even made a TikTok about it.) "I loved the little moments of vulnerability leading up to when the characters confess their feelings for each other," Liang emphasized.
Finding Some Balance in Between Chaos
The 23-year-old author is not much older than her high school-aged characters. Similar to her leading ladies, "home" isn't just one place: Like Eliza and Alice, Liang was born in Beijing but grew up in China and Australia.
While studying at the University of Melbourne, Liang successfully sold her novels to book publishers HarperCollins and Scholastic. As one would expect, writing a novel (or multiple) while also focusing on college is no walk in the park. Liang wrote If You Could See the Sun when she was in her third year of university, so naturally, EnVi had to ask how she balanced her full-time student coursework with her writing. Liang answered openly: "To be honest, it was really challenging, and I don't think I ever found the trick to the perfect balance." She also confessed, "I constantly felt like I was spending too much time on one thing and not enough time on another."
However, Liang found a way that worked best for her. "What did help me was planning things out as far in advance as possible, and allocating my time depending on how much thought and energy it required." She primarily wrote in the morning, as that was when her "head was clearest." The nature of Liang's assignments also worked in her favor, as she would turn in her research essays two or three weeks ahead of the deadline to create more time to write.
Dear Reader / Love, Ann
Publishing two novels from two different publishing houses within four months is rare. "It's definitely difficult to wrap my head around how quickly my second book came out after my debut!" But Liang added another perspective, one of clarity and acceptance: "In a sense, I feel like time has rushed by, no matter my personal efforts to slow things down." As she continued, "There's simply too much to do and too much to plan for months or even years into the future"—such as her upcoming 2024 dark academia novel, I Am Not Jessica Chen.
However, Liang did have a more specific answer to ensuring her debut experience didn't just rush by. She leans into gratitude. "I do like to focus and appreciate all the highlights and the wonderfully kind reader messages and incredible edits." For example, if you scroll through any of Liang's TikToks, you will always find glowing comments full of love and excitement.
The author had some more sharp insight on her publishing career: "I also remind myself that just because my new book has come out doesn't mean my previous book has gone anywhere, so those experiences are ongoing." As Liang pointed out, there is no deadline for these feelings, despite the fast-paced nature of the industry.
Connecting with Other Gen Z Authors
Publishing is a business of books, but with very high moments can come very low moments. Thus, finding and building your community is often recommended, especially for newer writers. "I've met such incredible people within these past three years," Liang said. "I feel like I've connected with a number of authors just by gushing very earnestly to them about their books."
Liang found more of a writing community after she signed with her agent, Kathleen Rushall of Andrea Brown Literary Agency. Liang "wasn't even on Twitter," an influential hub for the book world, until she was serious about learning how to query her manuscript and find an agent to represent her. "Everyone was so supportive and welcoming right away," Liang noted. Some of Liang's supporters include Gen Z authors such as Chloe Gong—the bestselling author of These Violent Delights duology, among other titles—Alina Khawaja—author of Maya's Laws of Love, coming summer 2024 from Mira/Simon and Schuster UK—and Ann Zhao—author of Dear Wendy, also coming 2024 from Macmillan.
"When you're both Gen Z authors, there are so many topics to talk about," Liang mused. A slight pause with a hint of a wry smile spilled through her next words, "Like how confusing taxes are, for instance."
Last Questions with Ann Liang
At the end of the interview, EnVi asked Liang a few rapid-fire questions, including comparisons between her characters and Beijing street food, Taylor Swift, and C-dramas she would recommend to her readers.
What BTS and Taylor Swift song would you choose to describe Eliza/Caz and Alice/Henry's respective relationships?
Oh, this is very fun for me to think about. There are quite a few songs that suit them, but I would say "Euphoria" for Eliza/Caz and "Mastermind" for Alice/Henry.
What Beijing street food would Caz be, and which one would Eliza be (and yours)?
For Caz, jianbing; layered, and very popular. For Eliza, strawberry tanghulu; a bit difficult to get through the hard outer coating, but sweet underneath. I'd probably be a steamed bun.
When Henry forces Alice to listen to Taylor Swift, what songs are on his playlist, and what song does she unironically listen to?
Henry's playlist would likely include "Snow on the Beach," "Anti-Hero," and "Mastermind"—and from earlier albums, "Shake It Off" and "Love Story (Taylor's Version)." Alice would listen to "mirrorball," "You're On Your Own, Kid," and "Daylight."
I have seen around that you're a C-drama fan! Which C-dramas would you recommend to people who love your books?
This Time It's Real was definitely inspired in part by the C-dramas I watched growing up! I've been recommending The Romance of Tiger and Rose, which also has the writer and actor dynamic and a rom-com vibe, even though most of it takes place in more of a historical fantasy setting. And for those looking for a cute coming-of-age drama, I'd recommend A Love So Beautiful.
If You Could See the Sun and This Time It's Real are out now and can be found wherever books are sold. Connect with Ann Liang on TikTok, Instagram, Twitter, and her website to keep up-to-date on all her books!

Want more author interviews? Check out EnVi's Creative Spotlight with bestselling author Chloe Gong here!