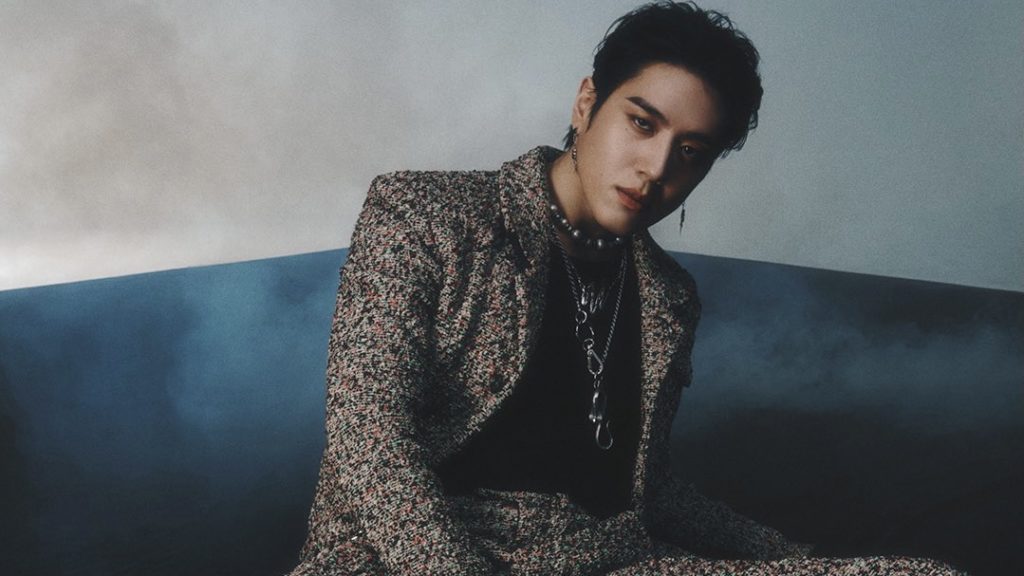 Almost four months after announcing his exclusive contract with AOMG, South Korean artist Yugyeom dives deep into love with his solo debut EP– Point Of View:U.  Produced by lablemate GRAY, and Cha Cha Malone, the seven-track album showcases the artist's distinctive brand of R&B, first introduced to his audience in his unit debut JUS2 alongside bandmate Jay B.
TRAPPED IN LOVE YET I WANT U AROUND 
Debuting his first single with AOMG, GOT7's youngest showed off his mellow falsettos in his pre-release single, "I Want U Around,"  produced by GRAY, with a feature from another labelmate, Devita. With a blend of R&B and trap beats, the distinctive voices of the artists compliment one another so well that their interplay is sweet and delightful in contrast. 
"I hope to dream of you at last/Wake up in frustrations all day, yeah/I can't stop thinking of you in my mind/Yeah I think of you," Yugyeom's velvety voice sings as he expresses his longing for his partner whom he can't seem to get out of his head. In response to his love tune, Devita is sweet and melancholic as she sings, "Why do I want somebody who just can't stay / I'll always wait for you / I'll be right here / You can be a little late." 
In the murky forest, the focus is on Yugyeom as the music video opens with the artist seated and tied to a wooden chair. Wandering around aimlessly, he professes feeling lonely without his lover, who's all that occupies his mind as he can't seem to find any joy without them by his side. Now in a ditch, Yugyeom appears to be trapped with no way of escaping the thoughts in his head, as Devita appears holding a lighted torch she tosses into a ditch–Yugyeom watches on as it is lit on fire. 
HEART BENT ON REVENGE
Crazed and in-love, Yugyeom proclaims his desire to be with his ex-lover in the cinematic video for his lead song, "All Your Fault," featuring GRAY. From the composition to the lyrics, the groovy R&B track is one that suits the singer's ethos immaculately. 
"You don't know even now / I'm the only one foolishly / thinking of you more everyday / I will keep on waiting for your love / I just wanna know you I won't hesitate," he croons in the opening of the song. Appearing all bloodied and in handcuffs as he yearns to be with the woman who broke his heart. 
In the video, the artist is portrayed as a vindictive man who seeks revenge when his significant other leaves him for another. Implacable and with a mind bent on revenge, Yugyeom leaves a trail of blood behind him, as he hunts down the man—played by GRAY—who dared to steal the love of his life. 
WHEN U FALL INTO HIS HEART
There's something very addicting about Yugyeom, whether it's his charm or his smooth dance skills, you can't help but love the way you feel when you hear his music. He too can't help his own feelings, as he confesses in the smooth R&B track, "Love The Way," featuring AOMG CEO Jay Park, and labelmate Punchnello. The song was first teased back in February when Yugyeom was announced to have signed with AOMG, the snippet left Ahgases (GOT7's fanbase) wondering whether a collaboration was set to happen. 
The singer describes the feeling of falling so deep in love with someone, you want to keep them in your heart forever, in his next track "Falling In Love."  Yugyeom's range as a vocalist shines through, with his soft and airy vocals perfectly complementing the song's calming melodies. 
With a deep bass and an EDM based beat,"All About U," is a contestant to become the next summer hit. Through his words, Yugyeom expresses the notion that everything he does is all for his lover, "I'll hold you tight, don't let go / I promise you only / You know it's all about you / It's only you, I'm you." While Loco's verse further conveys the message that everything revolves around his lover, even his beating heart.
Continuing on with the theme of love, the electronic R&B song,  "Running Through The Rain," expresses the promise of always being there for the person you hold in your heart, even through tough times. The attractive harmonies make for a calm and addictive beat. "Even if the rain and wind blow hard / I'll run anytime for you / I'm running through the rain for you / I'm running through the rain for you." 
Whether it was Yugyeom or Gray, the decision to conclude with the emotionally moving "When U Fall," was the perfect one. The outro presents listeners with a remarkable instrumental, and Yugyeom's dreamy voice with impeccable transitions. Illustrating Yugyeom's elegance as he sings, the captivating song is one that is both touching and warm, a blissful end to a divine album. 
SUCCESSFUL SOLO DEBUT
Upon release, Point Of View: U achieved the  #1 spot on iTunes Top 10 Worldwide Albums and European iTunes Album Charts,  according to the World Music Awards, debuted at #1 in over 35 countries and #2 in the US.  Lead single, "All Your Fault," also ranked at #1 worldwide, topping at #2 on the U.S charts. 
On the Korean music charts, pre-release single "I Want You Around," debuted at #1 on Genie, trended #1 worldwide, and debuted on Melon's 24H latest hits chart. While lead single "All Your Fault," debuted at #2  and achieved 6 roof-hits on Genie-–making him and bandmate Bambam the only male soloist to achieve 6 roof-hits on Genie in 2021. In 24 hours, "All Your Fault," surpassed over 1,4M views and 250k likes on YouTube. 
Yugyeom's talent for creating music that moves you emotionally is an illustration of his diversity and range as a composer, lyricist and performer. An artist who has the ability to shake the stage with every move that he makes, and every lyric he sings. 
You can listen to Yugyeom's  debut album  "Point of View: U on Spotify and be sure to follow him on Twitter and Instagram!
Want to read more about GOT7 solo comebacks? Check out our coverage on BamBam's solo debut!
Thumbnail courtesy of AOMG Company.