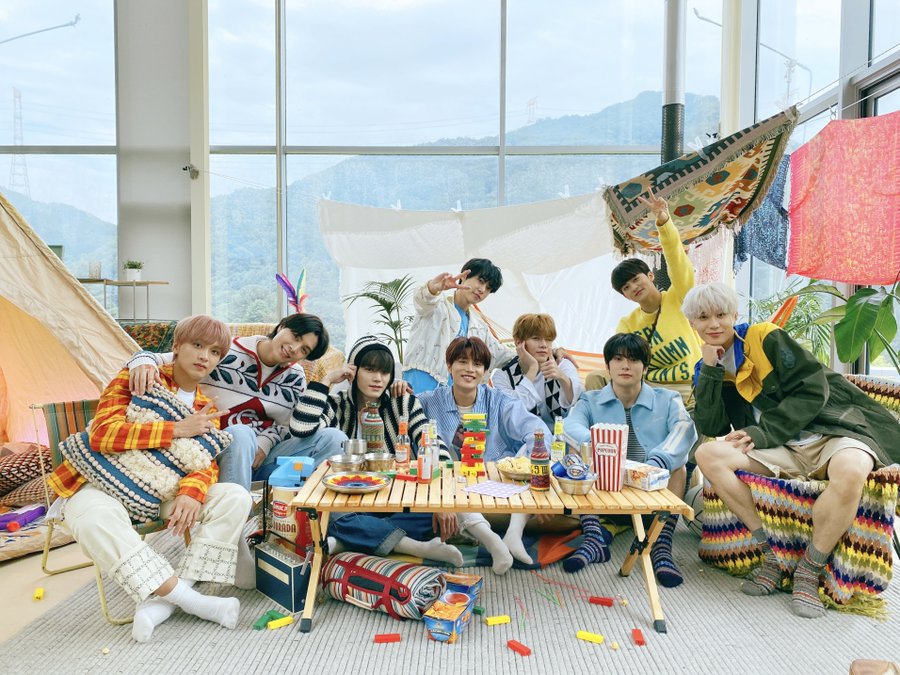 NCT 127 celebrate their sixth anniversary on July 7, 2022. In the years since the group's debut, Czennies (as their fans are endearingly nicknamed) have witnessed the group's and members' growth and versatility as artists and entertainers. Even as they weathered injuries, lineup changes, and fears that their dreams would never come to fruition, the now nine-member K-pop group has stayed true to the unique sound they are known and loved for.
In the past year alone, NCT 127 have kept their schedules – both group and individual – packed with myriad activities. To commemorate 6 years with NCT 127, EnVi takes a look at the diverse achievements and accolades they have steadily accumulated over the last year. 
A Year in Review: Comeback Kings
The group's sixth year kicked off with their highly anticipated third full-length album Sticker in September 2021. With a similarly named title track swimming in neo energy, NCT 127 swept both music charts and shows. The group also accomplished their first-ever music show all-kill and finally clinched the ever elusive Inkigayo trophy. 
#Sticker9thWin now has more than 1M tweets! a very special day to us all indeed 🥰 @NCTsmtown_127 's first inkigayo win, all-kill for winning all music shows in a straight week and 9 trophies for each of the boys! lets work as hard in the repack! i love you 127 squad 💚💚💚🏆🏆🏆 pic.twitter.com/nLMg7XkdX0

— justine 🌱 (@jaetenmark_) October 3, 2021
Following quickly on the heels of Sticker in October 2021 was Favorite, the group's third repackage album. NCT 127 flaunted their mastery of concepts, shifting fluidly from their previous neon cowboy theme to a seductive vampire one. The aptly named "Favorite (Vampire)" title track combined sultry looks with lyrical music, rapidly becoming a fan favorite. 
A Year in Review: Variety Gods
To complement their back-to-back comebacks, the members also showed off their variety and acting skills. Reviving the popular NCT LIFE series was NCT LIFE in Gapyeong, which premiered in August. Beyond this being Jungwoo's debut on the show, it would also be the first time the nine-piece group starred in the same season together. Feeding off NCT 127's well-known competitive streak, the show's battle concept produced hilarious moments that quickly went viral.
The group also starred in the YouTube Originals series Analog Trip NCT 127 Escape From Magic Island that aired between October and December 2021. Accompanying the eight-episode series was "Amino Acid," an OST written and produced by leader Taeyong and performed by the all nine members.
A Year in Review: Your Efforts Will Never Betray You
As award show season rolled around, NCT 127 witnessed years of their hard work and efforts pay dividends. At the Asian Artist Awards, they earned a Daesang (grand prize) for Album of the Year. Although only vocalist Doyoung was in attendance, he thanked fans for their steadfast support and promised that the group would continue to work hard. Rapper Mark later took to Bubble (an application for artist-to-fan communications) to thank fans for helping him realize his longtime dream.
NCT 127 continued this streak at the Seoul Music Awards, where they picked up the first artist Daesang of their career, on top of a Bonsang (main award). Doyoung revealed in an interview how special the Daesang win was to the group, as it reminded them not to give up on their dreams or compromise on their identity. 
NCT 127 SMA Interview #DOYOUNG

"When asked about the meaning of his tears, Doyoung who shed a lot of tears after being called for the Daesang answered with tears in his eyes once again, "The Daesang is an award that singers dream of once before their debut. As time gradually— pic.twitter.com/NbBUXWiYDb

— 🌱 (@plantsprout) January 25, 2022
Their later win at the Gaon Chart Music Awards for Artist Of The Year (Physical Album) – 4th Quarter was made even sweeter because the award show was held on January 27 – 127 day. 
A Year in Review: To the World
After being relegated to online concerts for two years due to the COVID-19 pandemic, NCT 127 finally kicked off their second world tour in December with NEO CITY : SEOUL – THE LINK. After a successful three-day show, the group continued on to their first dome tour in Japan, selling out almost all their shows in Nagoya, Tokyo, and Osaka. Their most recent stop in Singapore also saw a sold-out concert venue, and the boys were treated to their first post-pandemic crowd that was allowed to cheer and scream.
All-round Aces 
Having solidly established their presence and prowess in the K-pop industry, the members of NCT 127 have begun dabbling in other fields. With some members pursuing acting and MCing or lending their voices to popular OSTs, others have ventured into the fashion world to secure their titles as its Fashion Darlings. 
Taeil
As the main vocalist, Taeil's smooth and sophisticated vocals are no strangers to popular OSTs. With that said, the drama Twenty-Five, Twenty-One gave us "Starlight," his first solo OST. The song saw a meteoric success, becoming one of the few NCT songs with more than a million unique listeners on Melon. Previously, Taeil had also collaborated with Moon Sujin in her digital single "The Moon" before being featured on labelmate Raiden's first mini-album title track "Love Right Back" alongside rapper lIlBOI.
View this post on Instagram
Johnny
With his trademark series "Johnny's Fashion Evaluation" in rotation for years, it came as a welcome surprise to Czennies when news dropped that he would be attending the Met Gala. Johnny donned a custom PETER DO outfit, stunning fans with his looks even as he mixed and mingled with fashion royalty. His appearance at the exclusive event stole the spotlight, as he became the most talked about celebrity in attendance. In an interview with Vogue, Johnny gushed about his bespoke look and revealed how great of an honor it was to attend the Met Gala.
View this post on Instagram
Taeyong
Known for his sharp dance skills, Taeyong served as a judge on Mnet's extremely successful Street Woman Fighter, which premiered in August last year. He recently returned to the screen as the MC of Anybody Can Dance, a spin-off from Street Woman Fighter. Taeyong then proved his fashion credentials as the cover star of W Korea in February, flaunting his burgeoning friendship with CELINE. Staying true to his musical background, Taeyong made sure to drop some new tracks. He debuted "Lonely" on his new YouTube channel, collaborated with rapper Wonstein on their SM STATION single "Love Theory," and featured on Suran's third EP in "Diamonds." Keeping Czennies on their toes, he recently dropped "Ghost" – a surprise single – on his YouTube channel.
View this post on Instagram
Yuta
Yuta proved his title as the Osaka Prince by achieving the status of most followed Japanese male celebrity on Instagram. His foray into the fashion world has seen him grace the covers of GQ Japan and Numéro Tokyo, where he was treated to lengthy spreads. Fans' speculations about his sudden return to Japan were settled when news of his debut acting role in HiGH&LOW: The Worst X (Cross) broke.
View this post on Instagram
Doyoung 
Doyoung has quickly established himself as an all-round entertainer. After making his musical debut in Marie Antoinette in July last year, he nabbed a role in the soon-to-be released drama To X Who Doesn't Love Me. His acting efforts have seen him clinching Best Actor in the 2021 Seoul Webfest and Asia Web Awards, on top of the Focus Award at the Asian Artist Awards. Doyoung even ventured into variety, and after a few guest appearances was confirmed as a main cast member in Master in the House. Maintaining his presence in the music industry, he lent his voice to the OSTs for Yumi's Cells in "Like a Star" and Soundtrack #1 in "Just a Little Bit More." As a nod to his finger in the fashion pie, Doyoung was featured on the May 2022 cover of W Korea. With him also MCing the Dream Concert for its 45,000 attendees, at this point, what can't Doyoung do?
View this post on Instagram
Jaehyun
The love affair that had been carefully cultivated between Jaehyun and the Italian house of Prada saw the vocalist live-streaming their fashion show on his personal Instagram account. This developed into Jaehyun participating in video campaigns and donning Prada collection pieces for his Instagram. Everything culminated in the vocalist attending Milan Fashion Week in June 2022 for his first in-person Prada show, before finally being announced as Prada's South Korean ambassador. Jaehyun's acting chops were also finally revealed when, after more than a year of postponement, his debut drama Dear M aired on numerous online platforms. The drama premiered to an overwhelmingly positive response, with fans in awe of Jaehyun's first acting stint. 
View this post on Instagram
Jungwoo
Jungwoo was announced as one of the new Music Core MCs in August last year. Over the months, Jungwoo has continued to bring his engaging charisma and bright energy to Music Core, showing his growth in confidence. Recently, he secured his first solo cover with Arena Homme+ magazine. In his photoshoot, Jungwoo showed off his versatility, switching between sexy, sultry looks and clean, sophisticated ones.
View this post on Instagram
Mark
Jokingly nicknamed SM's pro-debuter, Mark christened the new NCT LAB project with his self-written single "Child" in February this year. The alternative rock track was layered with sentimentality, including lyrics that reflected the dissonance between feeling like a child but having to act like an adult. In honor of the song's recent fifth month anniversary, Mark messaged his fans on Bubble to commemorate the date and lament about how much he missed them.
View this post on Instagram
Haechan
Haechan treated fans to his first drama OST with "Good Person." With his unique honey vocals, Haechan's first dip into the OST world – and a solo one at that – was met with much celebration. He continued his year of firsts by bagging a cover spot and multi-page feature in Star1 magazine, an accomplishment that was well-received by fans.
View this post on Instagram
What Comes Next?
At their most recent concert stop in Singapore, Taeyong surprised fans by hinting at a new group album. To excited screams and cheers, he quickly quickly pointed out that he hadn't revealed the exact date and details of the new album drop – but the cat was already out of the bag. With a mystery comeback looming, Czennies can look forward to more of NCT 127's signature sound. 
Interested in NCT 127 and want to learn more about them? Click here to read about the group's greatest love songs!
Thumbnail courtesy of SM Entertainment