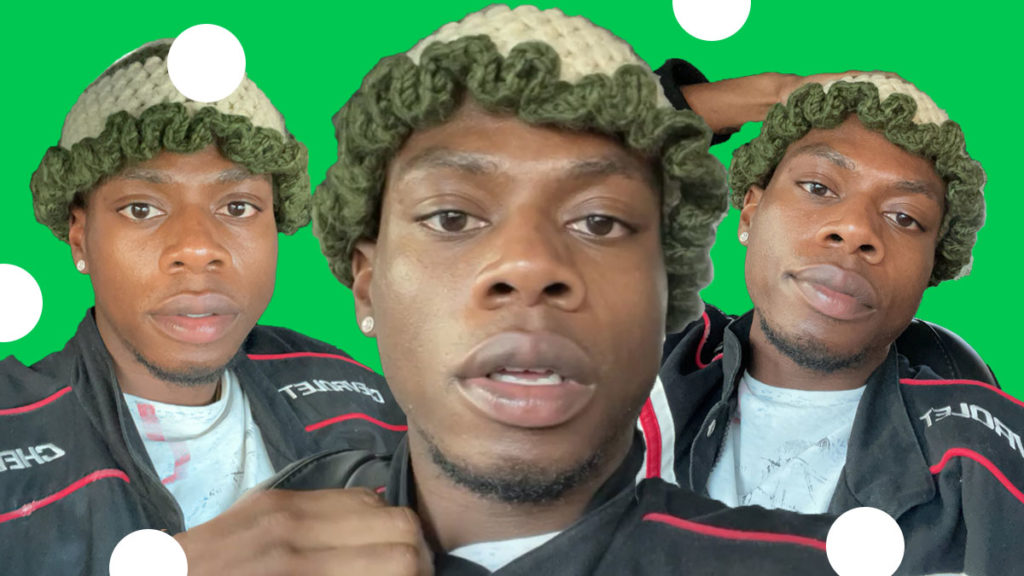 As we grow older, it's easy to lose ourselves in the harsh realities of life. After while, it begins to feel like we lost that passion that we once had as children. But for some, they never really lose that magic. For Nigerian-born, Chicago-raised artist Tobi Lou, that wasn't even a choice. "The magic lies in doing what you want to do. If you're not doing what you want to do, you're not going to have that magic," shared Tobi Lou in an interview with DJ Bonics.
— Non-Perishable in 6 days (@tobilou) February 20, 2022
Tobi Adeyemi, better known as Tobi Lou, is a hip-hop artist, singer-songwriter, and producer. Ultimately, he is a creator. He prides himself in his love of making things. From what to shoot to what to record, from clothes to music, to movies to animations—he is always wondering what he can make next. In an interview with WHAT'S THE WORD, Tobi Lou stated, "I'm just thinking what can I give to the world? What are people going to be inspired by? I'm just trying to inspire people." 
When asked, who is Tobi Lou? He simply said: "I am an inspiration."

i have a great feeling about this week pic.twitter.com/0mePnayYaD

— Non-Perishable in 6 days (@tobilou) July 26, 2021
Finding His Place in Music 
Music has always been a passion for Tobi Lou. "I didn't just go from baseball to music," as he spoke of late nights before baseball games staying up till five in the morning making music. This is something that he always wished to do, but the journey was not easy. Before he made the move to Los Angeles, Tobi Lou struggled with finding his place in music, his sound. "I didn't know what kind of music I was supposed to be creating. I didn't really have an identity." he shared in an interview with Mass Appeal. "I went to LA and basically found myself. [I] discovered myself to the point where I am comfortable with myself [now]… [I was able] to figure out who I was and started to make music." 
Being True To Yourself
Tobi Lou is not afraid to talk about life before music became his full-time career. He always shares how he ubered in Los Angeles for three years. "It took awhile to accept who I am." He insisted that self-acceptance is important in being able to be true to yourself. "Before, when I started driving, I did hide it. It was the first year, I was like, 'ok… Let me not tell people what I really do.' In order to stay true to himself, his work and his listeners, he couldn't keep hiding this part of himself. "I don't want to lie in a song. When I say, 'oh, I'm this… I'm that.' I need to tell [you] what I'm really doing." In an industry like this, it's easy to lose yourself when you compare yourself to everyone around you. He highlights his authenticity with his music. "I'm just like you! I'm out here, I'm driving UBER and I want you to listen to my music."
The World of Tobi Lou
Tobi Lou emerged onto the music scene in 2015 with his single "Game Ova." Following the drop, he released his next hit single "Troop," which featured recording artist Smino. This collaboration was exciting for Tobi Lou as an artist and as a fan of Smino. The track was digitally released in 2015, but the music video dropped March 6, 2018. The project was directed by glassface who has also directed music videos for acts like Lil Yachty, Jhene Aiko, and Bryson Tiller. Russ Fraser was credited for shooting the video—who has worked with Aminé, Doja Cat, Leon Bridges, Bad Bunny and Billie Eilish.
Between 2015 to 2018, Tobi Lou gained a more solid following after dropping songs, "Txt Me," "New Bish," and "Your Kinda Love." Following the release of his three new EP's—tobi lou and the Moon, tobi lou and the Loop, and tobi lou and the Juice, Tobi Lou's career really took off in 2018.
Tobi Lou released his debut album, Live on Ice, in 2019—featuring hit artists such as Ryan Destiny and Vernon from SEVENTEEN. Lou shared with Complex, "I felt like my entire life I've been waiting for whatever moment this is." 
The year 2020 gifted us several different singles from the artist, such as "Hot Tub Time Machine," "Hot Tub DREAM Machine," "Skin Care Tutorial 2020," "Neither Here Nor There," "Pretty Much," and "Endorphins." He also released a 3-song EP, Lingo Starr, which consisted of tracks, "Return of the Dragon," "Strikes Back" and "Drunken Master." 
His most recent release "WIDE Open" is a pre-released single from his unreleased album Non-Perishable. Tobi Lou took to Twitter to share that the album is planned to officially release March 11th, 2022.
3.11 pic.twitter.com/3OKfHrzEEL

— Non-Perishable in 6 days (@tobilou) February 10, 2022
Visual Artist
Anyone who comes across Tobi Lou's work can see how much care and thought goes into his artistry. Tobi Lou prides himself in being a visual artist. He is creating his own universe full of magic through his visuals. Most of his covers are adorned with cartoon versions of himself, finding inspiration from series such as Sailor Moon and Adventure Time. In the interview with DJ Bonics, Tobi Lou claimed that visuals for his music is almost more important than the music itself. He has this vision that he needs the audience to see. Growing up with artists like Busta Rhymes and Missy Elliot, their artistry really influenced his passion for visual arts. "I was raised with this school of thought that if you have visuals… it's your time to bring whoever is watching into your [own] world."
Just Keep Goin'
Tobi Lou released a song called "Just Keep Goin',"' in 2019. This title sums up his mindset and encompasses his devotion to his craft. DJ Bonics asked Tobi Lou to give advice to listeners who want to pursue their creative dreams. He emphasized the importance of being passionate about your craft. "Whatever you're doing, you have to be passionate about it. You just have to keep going, because you don't know when you're going to hit that goal." 
Persistence is key to achieving your dreams. Tobi Lou can be an example of what consistency can achieve for an artist. "If you have a vision and you think the world needs to hear and see that vision… keep doing it. Just go out and do it." 
i know you going though things pic.twitter.com/Ph72lk57XA

— Non-Perishable in 6 days (@tobilou) August 30, 2021
Tobi Lou expressed, "If you base your life around doing whatever you want to do… that's where you feel your magic. That's where you feel happy." He sympathizes that you might not exactly become this super successful business person or rich, but you'll feel enriched and happy in a different way.
That's where the magic ultimately lies—the magic in doing what you want to do. "If you're not doing what you want to do, you're not going to have that magic."
If you're interested in keeping up with Tobi Lou, you can follow him on his official Instagram and Twitter. Also make sure to check him out on Spotify and Youtube.
Want more? Check out our latest artist spotlight on eymii, here!