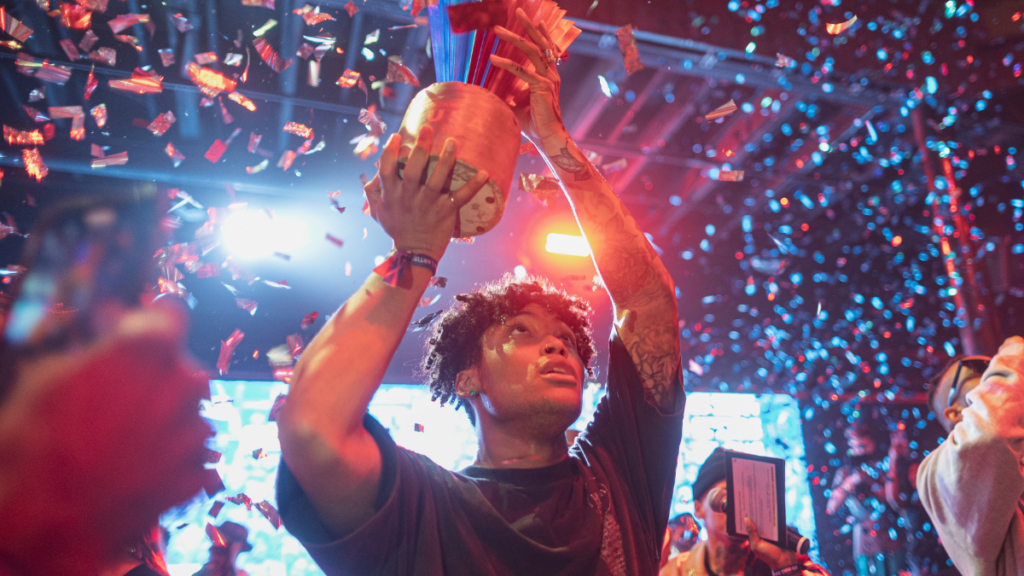 A self-taught dancer and choreographer, David "The Crown" Stalter Jr sat down with EnVi to discuss his recent victory at the 2022 Red Bull Dance Your Style National Finals. He also shared how his dance journey began, his daily routine, what keeps him motivated and how he will prepare for the upcoming Red Bull Dance Your Style World Final in Johannesburg, South Africa.
Born To Dance
Born and raised in Minneapolis, Minnesota, The Crown has been dancing his whole life. He only started to dance professionally in 2012. "I first started actually learning and practicing different movements when I was a freshman. But I realized it was a passion [in] my junior year of high school." He taught himself different dance styles like hip-pop, animation, popping, and more.
The dancer found a lot of interest in the dancing scene, and he often would find different opportunities to practice and showcase his skills. "I would go to every class, every competition–the more I put myself in those spaces, [the] more people started to look at me. And over time it became a career."
A Day In The Life Of The Crown
The dancer described his routine of staying healthy and avoiding injuries for choreographies and competitions. "When I wake up, I do conditioning and cardio just to make sure I don't hurt my body. After that, I would dance for two to three hours and have a smoothie." After his routine, he would often teach dance classes, choreograph for a class, or work on a project.
The Crown went into detail on how he conducts dance demos and choreography. He explained how he has been learning choreography for about two to three years. The main challenge comes from picking a song to practice and creating a dance demo for choreography. "When I do pick a song, I usually have it on repeat and then I freestyle to it." When freestyling, he discerns which move feels right with the song. From there, he builds the choreography until it feels complete. During training and teaching dance, it can be challenging to stay motivated.
In addition, The Crown shared how he stays motivated during these times. He explained how his family and friends give him a lot of strength and energy to power through his dances. "My family keeps me motivated. For me, every movement I do, they're always in the back of my head, also my friends as well." Music also fuels motivation for the dancer as he is a lover of music. "I just feel like I am a lover of music. It's hard for me not to move when there is music going on." The dancer also mentioned how he draws inspiration from life around him. Things like cartoons, anime, video games, nature, animals, and cultures can all be things that inspire him. "I feel like I'm a sponge–I soak up everything around me."
Preparing For The Competition
Nervousness is inevitable for dancers participating in competitions. The Crown focused on looking after his physical and mental health on the competition day. "It was like my body was already ready but I had to get my mind ready." The dancer woke up early to meditate on his emotions for 45 minutes. He made sure to feel the space and environment when arriving at the competition to get into the moment. "I really took a lot of time to myself, to breathe. I made sure my body was warmed up and stretched."
Being Crowned the Champion
After preparation, The Crown emphasized staying present at the competition. However, after being awarded champion, his sense of reality vanished. "I feel like I was feeling everything. When I won, I started to get a little overwhelmed." Afterward, he regained his composure when he discussed his accomplishment with others. "Moments like this, just talking to people helped me regain my consciousness and helped me be present because I started to go a little on autopilot."
What The Future Holds For The Crown
After his championship in the Red Bull Dance Your Style National Finals, The Crown will also be competing in the World Finals in South Africa. He shared he will briefly recover from a few injuries he incurred from dancing. After recovering, he will be training for dance classes and preparing for the finals. He also has plans to venture out to learn more dance skills through more choreography classes. "I wanna explore a lot of different things that I want to get better at. I think I'm going to take a lot more choreography classes and styles of dance to add to my own style."
Advice For Future Dancers
The Crown ended the interview with a heartfelt message to anyone who wants to pursue a career in dancing. "No matter what, if this is something you really want to do, don't give up on yourself, and don't stop. Even if your family, friends, or whoever gives up on you, make sure you keep going because you will reach your destination. Try not to compare yourself to anyone around you because comparison is the thief of joy. If you really want to enjoy your dance, strive to authentically be yourself. If you ever need a reminder, hit me up and I will tell you a thousand times, you are amazing, you are beautiful and you can do it!"
If you would like to keep up with The Crown, follow him on his Instagram, Twitter, and TikTok where he posts his dance videos.
Want more EnVi creative spotlight articles? Click here to read our interview with Sophia Bromber.