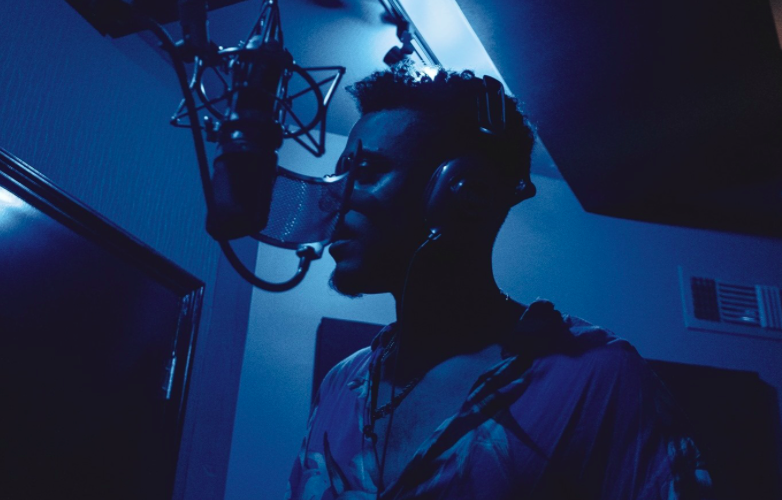 By Chyenne Tatum | @chyandblack
Today's music industry is packed with hopeful creatives looking to land their big break. So, with thousands of rising artists reaching for the stars, the question arises: how can one make themselves stand out from the endless crowd of musicians? Social media has become a key tool in helping launch the careers of many superstars such as Justin Bieber, Shawn Mendes, and The Weeknd. Through platforms like YouTube, Vine (now defunct), Instagram, TikTok, etc., creators have been able to reach worldwide audiences within seconds. However, easier accessibility also means the competition to make it out on top is fiercer than ever.
For Justin Starling, an up-and-coming rapper from New York, that push towards social media was inevitable in his career. It's proven to successfully get his name out there with the likes of some of hip-hop's most recognizable names, as well as be noticed amongst welcoming K-pop fans. But first, Justin's journey begins at home in Long Island.
Long Island Memories
Growing up in Long Island, New York exposed Justin to many new people and experiences. After his parents divorced when he was four years old, he spent most of his time with his mother in a neighborhood that saw both good and bad. "We were right in between the rich community and the 'hood, so I got to experience both ways of living," Justin said.
While his friends were either planning for college or finding themselves caught up on the wrong path, Justin discovered a new passion that would soon consume his dreams and ignite a fire within him. "It was this one day, in particular, I went to my brother's house and saw his production and was like, 'yo what is this?' and he explained to me that people can make music [from their own house]," he said. "The next day, we went to Guitar Center and got the keyboard that I have in front of me and this production program called Reason."
From there, Justin tried his hand as a producer first and eventually, worked his way up to songwriting and rapping, but was also interested in knowing where the money was. "Before music, I was always just trying to figure out how to get to the bag," he said. "So I thought about being a businessman on Wall Street or something like that." Interestingly, his business dreams took a backseat once he started college at Stony Brook University, and Justin quickly started seeking out more opportunities in music.
"I majored in operations management and my minor was music technology," he explained. "I never even wanted to go to college, but I did it because my mom thought it was important."
Although Justin expressed how little his college courses helped further his music career, he did mention that Stony Brook offered an abundance of connections and networking opportunities that led him to booking performances with Childish Gambino, Diplo, Future, and many others.
Family's Got Your Back
Before Justin was playing the big leagues, he had steadily been growing his audience and network as a high school student. "I've always had these moments where I told myself my first show would be at Madison Square Garden, and I believed it," he said. "But, for me, my personal journey has always been building blocks, and it's always been step-by-step."
A lot of Justin's personal journey can be credited to the support of his family along the way. When his late father—who passed away in 2017—realized his son had harnessed these unique talents, he quite literally took matters into his own hands to help his son gain the traction he needed in the industry. "I never shared my music with my family," Justin said. "But when he found out I rapped and was good at it, he was 100% in and treated it as if this was his career."
Regardless of the long hours his dad worked as a truck driver, he insisted on doing things like printing out business cards, making CDs, and merchandise to personally have delivered to radio show hosts and other industry professionals. "My dad came over at 11 p.m. with these gift bags and had me write personal notes for radio hosts," Justin said. "Then, he drove out into the city by midnight and waited outside the HOT97 station to hand the bag over to the DJ."
Unfortunately, he wasn't able to meet the DJ, but he did ask a security guard to hand it to him the next day, and the gifts finally landed in the right hands. "Later on, [Peter] Rosenberg actually tweeted me and said my music was dope," Justin smiled. "Just goes to show that action is more important than planning things out."
As Justin was starting to get noticed, his mom would also take him out to auditions while working a 9-5 job, and the only thing she wanted in return was for him to continue his education. "My family is always hyping me up when I'm performing, and that's helped build my confidence," he said. "It doesn't matter if I'm performing for three people or a hundred, I still go hard every time."
Freestyles, Remixes, and K-pop
In 2015, Justin turned to Instagram to showcase more of his raps online. "Back then, you could only do 15-second clips," he said. "So I would post a new remix every day, and my views were growing really quick." The remixes that he's referring to are the mainstream pop and hip-hop songs that he would write and attach a whole new verse to within the song. But, he also uploaded original songs, as well—both had attracted the right attention to his page.
"My dad shared my videos with this guy in his barbershop who was an OG in the rap game," he said. "The guy liked it a lot and took it to Sway at Sway in the Morning." One thing leads to another, and suddenly, Justin was invited to Sway's show to rap on the radio.
Since then, Justin has continued to put out songs and remixes on Instagram, YouTube, and most recently, TikTok and found himself thrust into an entirely new culture and genre of music in 2020. "Back when I was at Stony Brook, it was a very Asian school," he said. "I would go to these performances on campus, and they'd be dancing to K-pop."
Before college, Justin was unaware of K-pop's magnitude in the U.S. He knew about BTS, but he hadn't been exposed to the entirety of its culture or the plethora of talented groups that come with it. "My first K-pop song, if I remember correctly, was "4 Walls" by f(x)," he said. "It's still one of my favorites."
After hearing "Dynamite" by BTS and watching BLACKPINK's Netflix documentary, Justin was all into K-pop and decided to incorporate it into his remixes. Last August, he dropped his first "K-pop Rap" video for "Dynamite," which included a new verse to the song and a few Korean words that he had learned in the process.
"It was my first time learning Korean, and I wanted to get it right," Justin said. "I've been practicing the alphabet and pronunciations ever since, so now it's just the vocab part left." Although he wasn't obligated to incorporate the Korean language into his verses, it shows how much he respects the culture and wants it to sound as authentic as possible.
Other K-pop songs he's remixed so far include Rosé's "On the Ground," showcasing a longer version that's all in English, Kai's "Mmmh," which incorporates an entire Korean sentence, and Baekhyun's "Bambi." With all of these going viral across social media, it's apparent in Justin's delivery that he's gotten more comfortable with rapping in the foreign language and it's being received very positively among K-pop fans. The full versions of the songs are also available on his YouTube channel.
"If I was featured on 'MMMH' by KAI" THIS IS SO GOOD OMG

Like and comment here: https://t.co/HE80c9aBJi pic.twitter.com/7q3nxIw6S7

— jane (@reasonbykji) April 10, 2021
In his spare time, Justin will occasionally listen to new Korean songs that pop up in his YouTube suggestions and of course, is always down to find the right one he can use in his long list of remixes. "'GTA' by Taeyong goes hard," he said. Perhaps a Justin Starling/NCT remix could happen somewhere down the road, but right now, he's also focusing on his original music.
Slow, Steady, & Patient
With over 70 singles and two albums, Justin is determined to continue the grind and inspire others along the way. But he knows that making it to the top isn't a race: it's about longevity, sustenance, and substance. "I've always wanted to make positive and inspiring music," he said. "Some songs are just 'turn ups' or 'in your feels,' but I wanted to base my lyrics on my life and the stories of people that I see."
One of his struggles is not letting the success of other people cloud the way he views his own achievements. "It's hard when you see someone doing better than you even though you've been doing it longer," he said. "But, it's never a rush. I want to get bigger and provide for my family, but I feel like my mindset in achieving that is what sets me apart."
One of his 2019 singles, "Fed Up" has already accumulated over two million streams on Spotify — an accomplishment that he's most proud of. "Whether it's the music I'm working on now or two years from now, I just want it to be timeless and become classic."
You can find Justin's music on Spotify and Apple Music and all social media platforms at @justusraps.
Thumbnail courtesy of Justin Starling Music.
Loving the creative features? Check out EnVi's spotlight on musician Dan Richards!