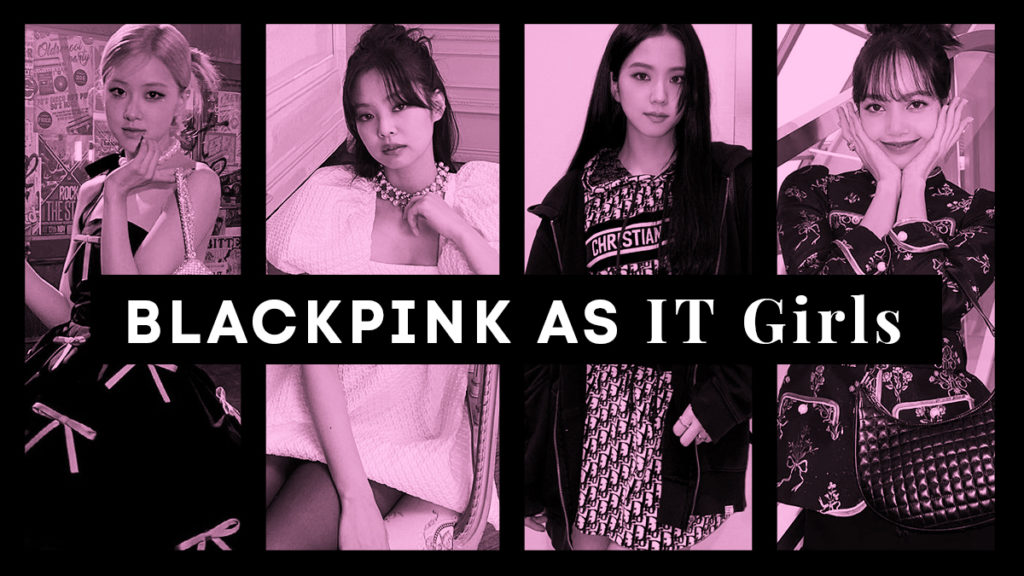 The girls of BLACKPINK boast an impressive list of achievements. Whether it is smashing Guinness records, earning coveted music awards, or reaching fan engagement highs, every step the quartet takes has the potential to break glass ceilings. In their journey to global stardom, Jennie, Jisoo, Rosé, and Lisa have also become recognized fashionistas and ultimately joined the "It-Girl" realm. 
Four Girls, Four Styles
Living up to the well-deserved title, the four girls are individually acknowledged for their unique style and personal brand. Unsurprisingly, their fashion credentials include brand ambassadorships, magazine covers, and the rarefied "designer muse" status. For fashion lovers like ourselves, they're consummate style icons we look up to for inspiration or vicariously live through. 
To celebrate BLACKPINK's fifth anniversary, EnVi has imagined Jennie, Jisoo, Rosé, and Lisa as archetypes of "It-Girls" we all have—at least once—dreamed to be. Find out below which BLACKPINK member you are most like in terms of style.
Jennie, The Pop Princess
Chameleonic and fearless in her style exploits, Jennie is the impossibly chic girl that effortlessly rocks any look. Whether she chooses to step out clad in Chanel from head to toe or embrace streetwear, Jennie serves up Pop Princess like no other. Mysterious and soft-spoken, the all-rounder possesses the "star power" that all Chanel women—she's been an ambassador for the French brand since 2018—are known for. 
View this post on Instagram
The closet: All things Chanel, pearl accessories, crop tops, cute cardigans, Alaïa bags, statement sunglasses, one-shoulder tops, tailored trousers, tweed suits, bodycon dresses, wide-leg denim pants. 
"It-Girl" aesthetics: Parisian chic, perfectionist, charming and cute, loves Paris, foodie, owns a miniature dog, takes the best pictures, is best friends with her mom, enjoys museums and art galleries.
The Pop Princess Starter Pack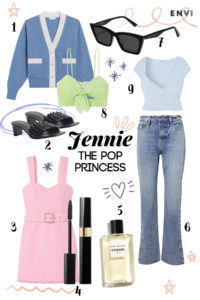 Rosé, The Cool Girl Next Door
Although Rosé is better known for her partnership with Anthony Vaccarello's Saint Laurent, style-wise, the Australian singer is hard to categorize. There are the ultra-feminine looks, the boho-infused outfits; the grunge influence, and sometimes a slightly tomboyish flair that reminds of icons like Françoise Hardy or Alexa Chung. However, Rosé's personal aesthetics are all her own. With an enviable wardrobe and the ability to pull off any look, she is the embodiment of the "Cool Girl Next Door," who knows exactly how to make her outfits occasion-appropriate.
View this post on Instagram
The closet: Saint Laurent everything, double-breasted jackets and blazers, maxi dresses, hoodies, white trainers, Tiffany & Co. jewelry, mini skirts and shorts, chunky shoes. 
"It-Girl" aesthetics: Girl Next door, determined and adorable, humanitarian, melomaniac, plays the guitar, queen of TikTok, easy-going, wears ponytails often, likes sweet-scent fragrances, Disney movies' fan, loves animals.
The Cool Girl Next Door Starter Pack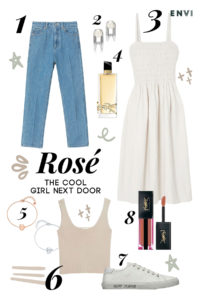 Lisa, The Modern-Day Fashion Maven
A fully-fledged icon, recognized for both her personal style and her connections to industry bigwigs—case point: CELINE's Hedi Slimane—Lisa embodies the modern-day fashion maven. Just the right amount of edgy, the Thai star combines daily wear with luxury flawlessly. Adding subtle twists to fashion essentials, her outfit choices never fail to look polished—or maybe it's the perfect bangs?—yet comfortable.
View this post on Instagram
The closet: CELINE staples, sports bras, crossbody bags, caps and beanies, graphic tees, tracksuits, camo pants, leather boots, loafers, varsity jackets, oversized blazers.   
"It-Girl" aesthetics: Instagram famous, hardworking, charismatic, best bangs in town, dancing queen, is still close to her childhood friends, strong eyeliner game, loves cats, "less is more", prioritizes comfort.
The Modern-Day Fashion Maven Starter Pack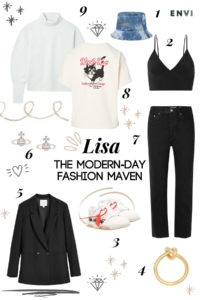 Jisoo, The Fashion Muse
A certified style and beauty icon, Jisoo has lent her image to some of the biggest brands in the world. Official ambassador for Dior and Cartier, the eldest member of BLACKPINK boasts an impeccable fashion sense. The undeniably graceful star has taken girly and feminine to another level without neglecting the more relaxed street-style takes. Romantic with the perfect dose of modern, Jisoo embraces a youthful sophistication proper of a fashion muse. 
View this post on Instagram
The closet: Dior, Dior, Dior, minidresses, ruffled tops, Cartier rings, and watches, bar jackets,  A-line skirts, knitted vests, white shirts. 
"It-Girl" aesthetics: classy, inspirational and strong, big sis of the squad, quirky, enjoys mystery books, wears Miss Dior, her makeup is always on point.  
The Fashion Muse Starter Pack
Over the past years, the girls of BLACKPINK have truly mastered the art of dressing in style. With Jisoo, Jennie, Rosé, and Lisa setting the template for both fans and fashion lovers, there is definitely no more iconic foursome. Did you find out which of these "It-Girls" are you the most alike? Let us know by tagging EnVi on social media.
Want more? Check out our coverage on Eunwoo's new brand deal with Burberry here!
Thumbnail by Mal