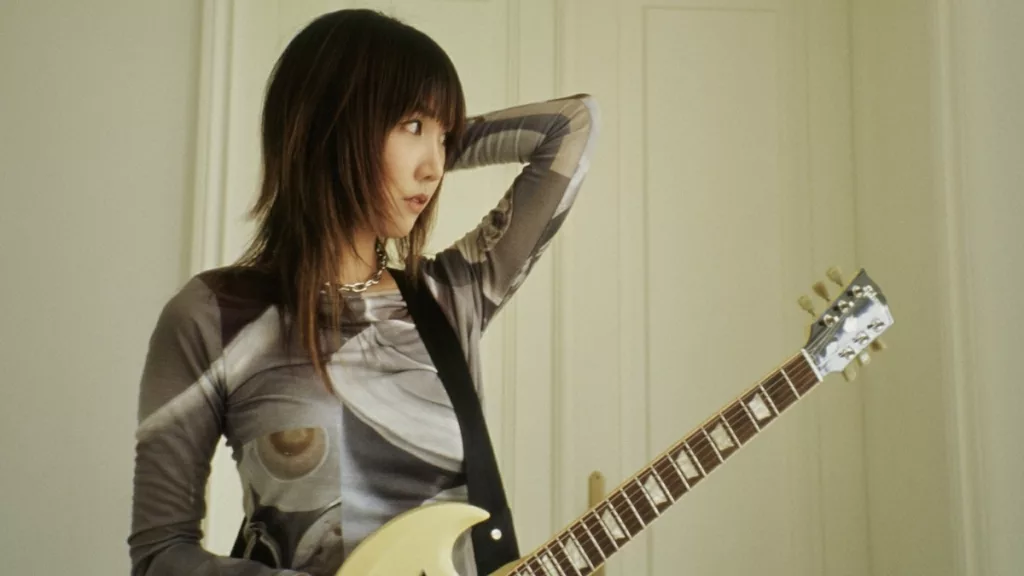 Taking social media by storm with her skilled guitar playing, alternative rock musician MEMI aims to be a guitarist who influences, impacts, and inspires the public. Dabbling in varying genres such as emo rock, pop punk, garage rock, and classic rock 'n' roll, MEMI shows no fear in showcasing her rock expertise and her flexibility in sounds. From her expressive performance to her gleeful facial expressions, the rising guitarist's raw energy is evident with each appearance.
EnVi had the opportunity to speak with MEMI via Zoom for this illuminating and heart-warming interview. We immersed ourselves into the journey of MEMI's rising stardom, her muse in production, and what makes her a one-of-a-kind rock artist.
First Of All, We Need to Check MEMI
Before MEMI came to be, she was Hyemi Kim. Serving as the guitarist for the indie rock band 24Hours, Hyemi made her first musical debut on March 30, 2012 with the band's digital single "Blackhole." Together with guitarist and vocalist Seungjin Lee, drummer Eunhong Min, and bassist Hyukjae Kim, Hyemi shows off a rebellious and riotous side through the band's dynamic playing and vigorous discography. Still actively performing after eleven years, 24Hours continue to release music with their signature style of spry vocals, mesmerizing guitar riffs, and detail-oriented percussion performance. Recently, 24Hours dropped their tenth digital single "This Is The Way" on October 7, 2023.
After four years with 24Hours, Hyemi debuted once more as a guitarist and vocalist in the indie band Seoulmoon on December 1, 2016 with their digital single "When I First Saw You." In contrast to 24Hours' fierce persona, Hyemi, alongside members Luli Lee (bassist and mix producer) and Heymi Shin (drummer), adopted an overall soft and loveable summer concept. Seoulmoon continue to perform in their own respective fields, with their single "Festival" being their latest release.
It was not until May last year when Hyemi Kim finally made her solo debut as MEMI with the single "Hate U." Accumulating a total of five digital singles in a year, MEMI's musical influence swiftly impacted the internet with a single upload of her self-produced single "Guitar Pick." With her recent single, "NY(f)C," a jazz instrumental intermixed with elements of alternative rock, MEMI continues to awe the public with the constant demonstrations of her limitless musical abilities. Through her three musical identities, MEMI stands as an ambitious artist with all eyes on her, anticipating what's to come from the viral guitarist.
MEMI Shows Us How Diverse Is Her Music Taste
All artists have their own sounds and color. As we asked MEMI just what exactly makes her music so distinct from others, a smile crept onto her face and she put her hands together in gratitude. "Actually, that question makes me feel appreciated. To say my music is something different – I'm not sure. Maybe because I grew up with the kind of '90s and 2000s [music] or alternative rock music, and I still love it today!" she exclaimed. "I really love [the current trending genres like] K-pop or some other indie rock music and soft music! But [regarding] my music, I don't know why [it makes it so distinct]. Anyway, I grew up with that kind of music and it gave me more confidence to make rock music."
In addition to posing as a vocalist and guitarist, MEMI stands as her own composer and producer. As she is in charge of lyric composition, guitar playing, and management on the overall song production process, we asked where exactly these songwriting influences come from. "I think it comes from my personal goals and life. Like 'Guitar Pick,' I only lost my guitar picks and from that I got some inspiration."
Just as her hit single "Guitar Pick" was inspired from the constant misplacements of her own picks and single "RocK N RoLL" from her hate comments, the origin for the hard rock single "Thin Lips Club" isn't so different. The guitarist laughed out loud commenting how she herself got lip filler, leading her to create a song inspired from her own experience. "Of course, I love [to] make up some beauty things like plastic surgery. I'm a positive person about that!" she said, giving us two big thumbs up. "At that moment, I just had some idea, maybe I can make this into a song."
MEMI's bandmate also inspired the song's production. "Yeah, my drummer [24Hours' Eunhong] at that moment got a new drum pad," she explained, mimicking the drum sound for us. "He bought the kind of pedal, so we can maybe make a different style of rock music. So yeah, 'Thin Lips Club' sounds more heavy [with the] drum sounds paired with a guitar. That's all." She quickly mentioned her Instagram post where the band recorded the single's screaming sample. "Everybody loves to work together!"
The Rising RocK N RoLL Guitarist
Having played music for ten years, MEMI has loved rock music since she was just a teen. Dedicating her studies and personal time into mastering the art of guitar and rock, MEMI eventually desired to make something with her refined skill. From performing various guitar covers of famed rock classics to promoting both solo and 24Hours tracks, MEMI's social media uploads never failed to gain traction and quickly go viral.
When it came to challenges she may have faced in her musical journey, MEMI begged to differ. "It was not too difficult because I always make my music how I really want. So, if I had to choose something difficult, maybe economic things with my band members. As you know, it's not only me in the band. If we want to make music I need a drummer, a bassist, and a friend. These things are very important to me." MEMI tried to think of more but ended up giggling as she concluded her answer, "I'm such a positive person so I never thought about the difficult or hard stuff!"
Initially released this year on February 1, the single "Guitar Pick" took the internet by storm. Reaching more than 2 million streams on Spotify, "Guitar Pick" embodied the classic rock 'n' roll sound with the melodic repetition of guitar shredding, solo sectors, and addicting riffs. Many famous artists have recognized and acknowledged MEMI through her guitar cover uploads, such as LANY, Good Charlotte, Måneskin's drummer Ethan Torchio, and Limp Bizkits' vocalist Fred Durst, to name a few. The guitarist continues to gain support from various artists, but most importantly from her fans who show love through their streams and self guitar covers.
MEMI continued to be in a state of disbelief that the artists she grew up listening to and admiring have acknowledged her. "I think I was so lucky, and I still feel like that. I'm so lucky that I started to use Instagram and TikTok. So many artists have seen my cover videos and my followers started showing interest and support towards my music. That kind of happening is lucky and I still can't believe that?" she laughed. "I just feel appreciated and I still can't believe that."
We were also curious if any pressure exists for her and if so, how exactly she dealt with it. "Of course! I'm not a famous musician yet," MEMI nodded almost instantly, teasingly emphasizing the statement. "I feel like when my songs like 'Guitar Pick' have so many people listening to my music, of course at that moment, I feel some pressure. In my whole life, I've never seen those kinds of comments, so I think to myself, 'Oh my god, I need to do better, I need to be better than this, etc.' So I felt like that definitely. But, although I felt pressure, I feel like it's okay, because I need that push, just not in an obsessive way."
In the beginning of her path in music, MEMI desired to make her own songs, yet she never had too much confidence. Still, witnessing numerous people upload their own content on social media gave her the push she needed to start to make her own. "Actually, I started playing my own music almost ten years ago, and after maybe eight or nine years I started to feel like maybe I don't have any talent. I felt that way because nobody knew about me and I was experiencing money problems. So that kind of pain made me feel like I needed to quit making my music. But when I started to follow the social media trends, upload, and post my music, people started to support me. So of course, I gained my confidence back and I try to be humble at that moment and today as well."
Let's Switch It Up
We delved into MEMI's own personal aspirations and curiosity on future musical expressions. Having covered a range of rock genres through her discography, MEMI is no stranger to covering songs for pop artists such as SZA's "Snooze", K-pop singer Jungkook's "3D," and featuring as the guitarist for solo artist James Lee's unreleased song "Senses."
Does MEMI have an artist she wished to collaborate with or feature in her future music? "Oh yeah, of course! Too many artists!" MEMI took a moment to ponder before excitingly answering, "Last time when I interviewed with the other [interviewer], I said Metallica!" she said, throwing her arms up excitedly. "It would be cool but at the same time, right now I feel like maybe a K-pop idol? I think that would be cool because when I listen to K-pop music, their music sounds like dance pop or pop-y. And I always feel like maybe putting in some guitar riffs would be cool!"
As a lover of festivals, MEMI not only admired the sentiment artists have on stage, but wished to one day stand under that same spotlight. On her own dream gigs, MEMI happily replied, "Too many! When I'm making my own music and with 24Hours, we've always dreamed of going on a stage like Glastonbury. The Glastonbury Festival has a big history with rock bands. Lately, I really love watching Coachella, so maybe next year I'll go just to see or maybe someday perform!"
Known for her guitar collection and collaborations with guitar brands, MEMI showed off her hobby as an array of guitars peeked behind her in the background. Acknowledging her love for guitars, we couldn't help but inquire what type of guitar the musician would choose to represent herself and why. Immediately relaying her answer, MEMI told us about her love for Gibson and Fender. "I started making my music with [Fender's] guitars. I have a long history with these guitars!" 
The guitarist quickly leaned back and grabbed a maple brown Fender electric guitar from her collection, carefully showcasing to the camera the love and care she had given it over the years. "As you can see the damage it has, I love Gibson and Fender, but especially Fender because I started making my music with their guitars and it is actually my first guitar to play! My uncle gave me his own guitar and it made me really want to learn guitar then." She rested the guitar back into place and said, "These guitars have some meaningful stories."
That's Why We Love MEMI
To MEMI, playing the guitar helps her channel her feelings. She aims to communicate her emotions through performing with the instrument. By creating a charm only she can exemplify, MEMI intends to show off her guitar "accent" and influence aspiring musicians around the world. "I want my listeners to know me as a guitarist, but at the same time the kind of influencer who will make people want to play guitar. When I was growing up, I would watch some guitarists' videos and think to myself, 'Wow, I really want to be like them.' I want to be the same type of guitarist."
We also asked MEMI where she saw herself in ten years, catching her off guard. "Ah, ten years?" MEMI laughed, looking away from the screen before deciding on her answer. "I wish I could maybe keep making my own music. For the public to remember me as a singer, songwriter, and guitarist, just please keep making music, MEMI!" she exclaimed, clasping her hands together and waving them back and forth, comedically pleading.
As the interview came to a close, we asked MEMI for a message to her fans. "I actually really want to communicate with my fans. I'm still so shy!" she admitted. "Lately, many people just do Instagram or TikTok lives but I never tried it as of lately. Before I didn't have many followers, so I always did it with my friends, but now [as of this year] I never tried it! I'm too shy but [that's because] I always have fears."
The artist continued, "Things like reading comments sometimes makes me cry! I never write a reply saying 'Oh, thank you so much!' but instead I always hide my feelings and cry in my room!" She imitated her hiding position to us amidst her laughter. "But I do feel gratitude and appreciation towards my fans and I hope if I have more confidence, I'm gonna do more communication with my fans."
MEMI's making music with more confidence each passing day, creating new songs happily and obsessing over her own thoughts on what to show off and produce next to her listeners. When asked what fans can anticipate from MEMI in the future, the guitarist joyfully smiled. "Actually very soon, fans will be able to listen to my new song and new album. I really want to start doing not only Instagram and Tiktok videos but I really want to do some performances. Before the performance, I'll show you all some more new songs! New events are coming. I'm making new songs and practicing performances, so please stay tuned!"
Parts of this interview have been edited for clarity.
Listen to MEMI's recent single release "NY(f)C" on Spotify and Apple Music. Secure news on future releases and projects by following MEMI's social media accounts on Instagram, TikTok, and YouTube. Catch up with her bands' activities too; 24Hours are on Instagram, X, and YouTube, and so are Seoulmoons (Instagram, X, and YouTube).
Craving for more female solo artists across the Asian diaspora? Check out our recent Artist Spotlight on rising Singaporean artist Lingying here!