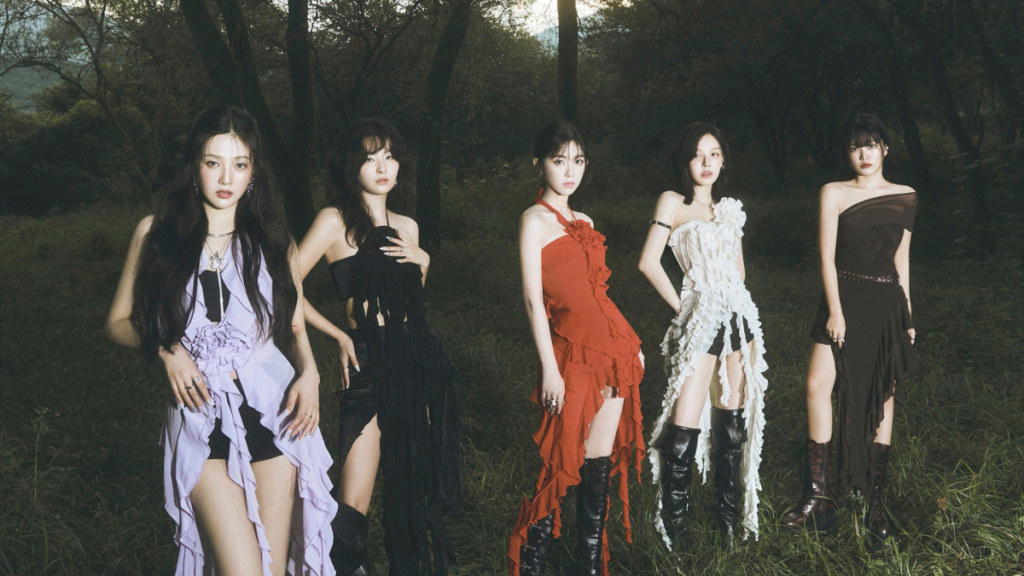 Forget about your sorrow and indulge your deepest desires with Red Velvet's third LP, Chill Kill. On November 13, the K-pop quintet, consisting of members Irene, Seulgi, Wendy, Joy, and Yeri, returned to the music scene nearly one year after the release of their EP, The ReVe Festival 2022 – Birthday. Chill Kill is not only their first full-length album since Perfect Velvet's release in 2017, but it also marks the group's departure from more lighthearted themes.
Following the oh-so-spunky "Birthday" or the artsy "Feel My Rhythm," Chill Kill offers listeners a balance between the group's signature "red" and "velvet" concepts. No strangers to veering away from typical girl group territory, Red Velvet push the boundaries by delivering an experimental sound in a record that still remains palatable for pop enthusiasts. Join EnVi as we take you through all 10 tracks on the album!
What A "Chill Kill"
As if setting the scene for an eerie mystery, the album is kicked off with the dreamy, synth-laden title track "Chill Kill." The verses are driven with a steady, bass-heavy beat, but the orderly nature of the track starts to be disrupted as it inches closer to the chorus. Shifting from continuous modulation, "Chill Kill" morphs into an unconventional dance-pop track that will ultimately leave listeners feeling warm. Despite the title track's name and ever-changing nature, the ladies share a hopeful message as they sing, "Don't think about tomorrow / Your sparkle is endless / Gonna change at long last."
Red Velvet's slightly murderous reputation — "Russian Roulette" and "Peek-A-Boo," we're looking at you — precedes them. The "Chill Kill" music video borders between chilling and auspicious with yet another kill, but under what appears to be much more sinister circumstances. From performing playful choreography with smiles on their faces to cleaning up a messy murder scene and finally running away together, the "Chill Kill" music video is classic Red Velvet.
"Knock Knock (Who's There?)": Open Up the Door
In "Knock Knock (Who's There?)," listeners are greeted with the familiar melody of Tchaikovsky's "Dance of the Sugar Plum Fairy" — adding another classical sample to Red Velvet's discography. "Knock Knock (Who's There?)" also features lyrics written by previous collaborators Cazzi Opeia, Ellen Berg, JINBYJIN, and Cho Yunkyoung. Compared to "Chill Kill," this song is faster and bolder as it recounts an addictive, bordering-on-obsessive love. The singer, recognizing her charm over her lover, lures them even deeper with a chase. Dramatic string arrangements — from the pre-chorus to the bridge — give the song a touch of theatricality, mirroring its passionate lyrics. 
Love Deeper Than "Underwater"
A sharp contrast from the first two tracks, "Underwater" is a slow-paced R&B song. The track — written by B Ham, DEEZ, Lourdiz, and Kim Bo Eun — opens softly with an expanding deep bass. It continues the atmospheric feel with the members' smooth voices, who later harmonize in the chorus. The instrumental may feel minimal, but each section gradually builds, creating a soothing soundscape. Though different from the preceding tracks on the album, "Underwater" shares a similar feel to other songs in their discography. Like "Perfect 10" off of Perfect Velvet and Rookie's "Body Talk," "Underwater" is a sonic feast.
"Will I Ever See You Again?"
Full of hopeful yearning to reunite with a loved one, "Will I Ever See You Again?" is a B-side which captures the dreamy essence that surrounds Red Velvet. This mellow, electronic alt-pop track features a lively beat, rhythmic guitar, and watery synths that complement the group's longing vocals. "Will I Ever See You Again?" evokes an optimistic mindset as they sing, "The world says that nothing lasts forever / Return to orbit and meet again / Our story is not over." 
A Dreamy "Nightmare"
Straight out of an eerie carnival, "Nightmare" opens with arpeggiated string chords and hollow-sounding synths. Perhaps this sonic nod to The ReVe Festival series will initially give listeners the chills, but the uneasy nature of the track doesn't last for long. Even a nightmare doesn't seem so bad with Red Velvet. The "Nightmare" chorus is grandiose with instrumentals mimicking those of a merry-go-round and determination to overcome their fearsome dreamscape. They soothe listeners as they sing, "Close your eyes, make a wish, wake up from a bad dream / I think of us who shined the brightest / It'll be okay soon."
Got Me Up All Night Like "Iced Coffee"
In "Iced Coffee," Red Velvet compare their attraction to the titular drink. After encountering their crush for the first time, it's hard to live without them; they keep the members sleepless. Even though their crush seems cold, their presence keeps them exhilarated. The members sing, "The more I drink you in / All my nights are getting longer / From head to toe / I'm dizzyingly paralyzed, inside me / All my senses / The temperature at that moment that stopped / Oh, this cold and ecstatic feeling." Just like the caffeine rush from the drink, "Iced Coffee" starts off minimally with a kalimba-led melody before hitting listeners with a grand arrangement of strings. Despite its title, "Iced Coffee" is a heartwarming song for the colder seasons to come.
"One Kiss"
As a group famed for their versatility, Red Velvet do not shy away from girl crush anthems in this album. "One Kiss," a track by Cazzi Opeia, Ellen Berg, producing duo Moonshine, and Seu-Ran Lee, is one of them. Its bell chime intro doesn't stall as the song immediately moves into the verses' hard-hitting percussion and brass. This upbeat track is the newest in the quintet's roster of performance-oriented tracks, from its catchy hook, commanding rap, and powerful vocals.
Knock You Down Like A "Bulldozer"
In full "velvet" fashion, "Bulldozer" is sensual and commanding, with a fierce air. Opening with a rhythmic humming motif, the track expands into a sonic experience with harmonizations, adlibs, and a variety of construction-esque sound effects. Red Velvet are no strangers to flaunting their confidence, such as Queendom B-side "Pose," but "Bulldozer" has an extra edge to it. Accepting their destructive nature, they warn their lover, "I'm your poet / I'm your pain / If you can't handle it, that's enough for you and back." 
Spread Your "Wings," Butterfly
"Wings," the penultimate track off Chill Kill, puts the members' voices in the limelight. From the a cappella intro to the sweet chorus, it's an intimate song about self-compassion. Life may be harsh at times, but it's important to be kind to yourself and be there for others. In this R&B track, Red Velvet encourage listeners to keep flying for the better days ahead — just like a butterfly. Complete with a clap-along outro, it's hard not to feel the members' thoughtful message throughout the song.
Bask In The "Scenery"
Chill Kill is wrapped up with the delicate acoustic ballad "Scenery." With its laid-back guitar melody, the closing track allows the members' soft vocals to shine. "Scenery" is a song for the romantics as it compares spending time with a loved one to a secret illustration that features all of their memories. The final chorus undergoes a key change, uplifting the song and bringing Chill Kill to a heartwarming close. 
After nearly six years since their last LP, listeners can now indulge in the latest full-length album by Red Velvet. Chill Kill showcases a delightful balance between the "red" and "velvet" — capturing the group's duality that makes them a one-of-a-kind act.
Make sure to follow Red Velvet on Instagram, TikTok, X, and YouTube to stay up-to-date with their latest activities.
Want more Red Velvet? Check out nine B-sides by the "concept queens" here!