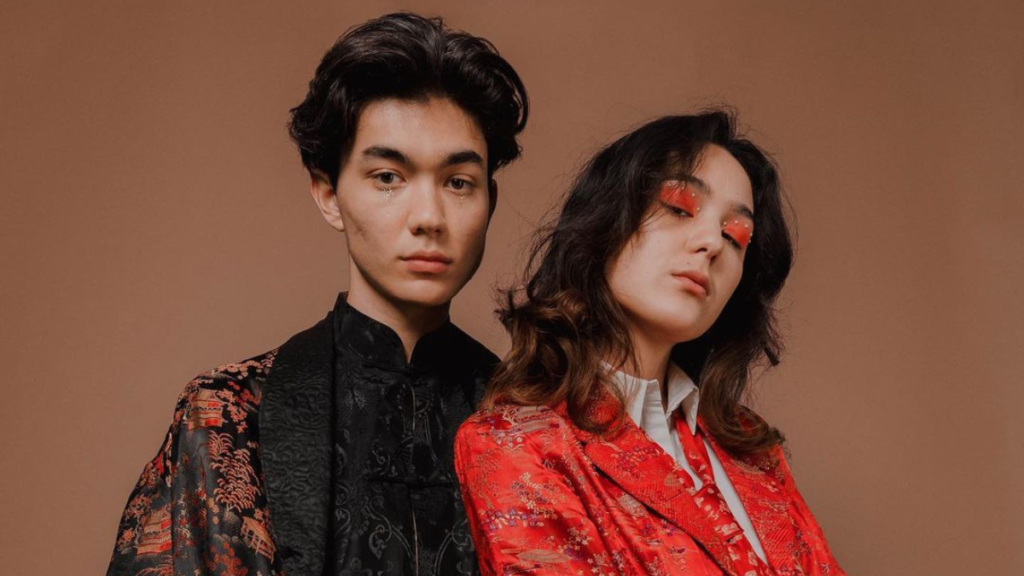 In May 2022, EnVi experienced a "heart-stopping" moment when we sat down on a Zoom call interview with Will Gao of Netflix's Heartstopper, and his sister, Olivia Hardy, to talk about their band, Wasia Project. With enthusiasm and eagerness, the London-based artists shared their roots as musicians, how they create their own sound, their latest debut EP "how can i pretend?" and what they have planned for their musical journey.
The Theme of Fusion on Wasia Project
Formed between 2018 and 2019, Wasia Project started as "an outlet for our songs and creativity," according to Will. Initially, the band was composed of the sibling duo with Olivia as their frontwoman and Will for keys. Later on, Luca Wade and Tom Pacitti were added to the group to create the "sound of Wasia" in their live performances.
View this post on Instagram
Gao and Hardy emphasized the importance of fusion for the band. Not only is it shown in their band name which is a mix of White and Asia, but it also symbolizes their roots and culture as half-Chinese and half-English. According to Hardy, the representation of East-Asian culture in the music scene is important. "We want to represent East-Asian culture and a lot more of that in the music industry. We want to mix as many things as possible because it's not always black and white." Gao added the importance of representation despite differences in culture. "Sometimes it's hard to see positivity […]in culture differences, but there's still beauty in every culture. No matter what […]political stance that culture has, it's a great way to connect with people."
View this post on Instagram
Fusion is clearly evident in Wasia's music. Gao shared with EnVi their experience in creating their own sound. "It's such a fun thing [to do]! As a thing to explore! It's very healthy, and why don't we play with fusion?" They enjoy "fusing the sounds of the east, classical music,  jazz, and incorporating our cultures [and] our heritage. Fusing music is such a cool thing." Hardy added that Wasia is all about "mixing both styles in music."
Wasia's Roots as a Musician
Wasia's start in music is rooted in their home. Gao and Hardy tell EnVi how they appreciate the privilege of learning music with the support of their parents, especially their mom. EnVi asked the siblings for a specific childhood memory that influenced them in entering the music industry, to which they eagerly answered by reminiscing their childhood memories.
The young musicians have been exposed to music at a very young age with both of them being classically trained. Gao started learning the piano at the age of 11 which for him is the biggest freedom he could ever receive. "I was at the brown piano and I just started going crazy on it and then I stopped and realized that there is so much I can do to it!" Gao shared. As for Hardy, she took violin and singing lessons and further improved her musical talents by joining talent shows at school.
View this post on Instagram
Gao and Hardy shared a cute and sweet memory with their younger sibling. Dancing to Boogie tracks chosen by their parents, they turned their table into a stage which showed their strong bond in music as a family. "We got little candle sticks as trumpets. It's like a huge performance!" Hardy explained. Gao added, "Over those years, those constant songs are in our heads. I can't remember the songs but they're in there." 
Wasia Project on Redefining Pop Music
When asked to describe what type of music their band typically creates, Hardy told EnVi that it is a crossover, "a mix of jazz, pop, a little bit of indie, and bedroom pop." Gao added that if they can, Wasia would like to redefine pop through the lens of many different genres. Gao said, "pop is so simplistic these days and it's fine because it works. Simple pop works so well but what I wanna do is to, and we talked a lot about it, is to redefine the term 'pop.'" He also mentioned that they are following Jacob Collier's vibe in bringing this new genre into the mainstream which is something that no one is doing at the moment.
With a big leap to make their own name on the music scene, the band did not forget to think about their listeners. When asked what they want their listeners to gain from their music, their answer was very simple– to connect. "It's being able to relate or connect to the person who wrote the song because it means something different to all of us. That if it's a particular feeling that all of us can connect with or a certain experience that all of us can relate to, we can make it our own interpretation" Hardy shared.
On Their Debut EP "how can i pretend?"
At the young ages of 14 and 15, the duo started writing their own songs. Eventually, they started releasing their songs on different social media platforms with "Why Don't U Love Me," being their debut song. It was followed by three singles, "Burning Eyes R Calling," "U Deserve," and "Misfit Biscuit," all released within 2020. They finally released their long-awaited debut EP "how can i pretend?" on May 10 which has already garnered over one million streams on Spotify.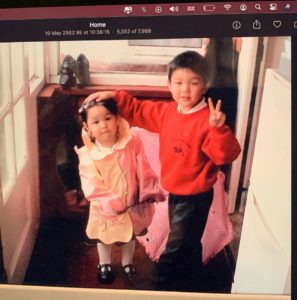 how can i pretend? Album Cover Courtesy of Wasia Project
Hardy shared the liberating process of recording their EP. "Recording can really be a creative and fun process but it's also difficult because there are really long days. It's really intense, you gotta focus really hard and both of us are perfectionists. If we hear or see something, we want it to sound a certain way." Gao revealed that their initial plan is to release a full album. However, due to lack of time and resources which made their team not ready, they condensed it to the four songs they first ever wrote.
The first track on their album is a re-recorded version of their debut song, followed by "ur so pretty," which was also written by Gao. Their third track on the EP, which the artists described as Wasia's very first song as it introduces their own sound, is titled "impossible." The siblings shared that it was originally written by Hardy as a ballad but during their recording process, Gao suggested adding some drums and bass which resulted in it having a pop number.
With twinkling eyes and bright smiles, Wasia shared the story of how they chose the EP title. At first, it was Gao who suggested that they name it the same as their third track. However, after Hardy wrote the lyrics for their demo song "how can i pretend?," they fell in love with it instantly. Hardy explained how one phrase could hold a lot of different meanings, "There's so much you can put into that one phrase because it can mean so much to different people. But in the context of a song, it's like when you're truly feeling something genuine– there's no way of hiding it even how much you try to repress it or not want to admit to yourself that you feel something. It's the most genuine." Gao emphasized that the EP is a question and it is up to the listeners to decide the meaning behind it.
View this post on Instagram
The songwriters shared their favorite lyrics from the EP. Hardy shared the line from their second track that goes "you're so pretty. when you smile, it kills me" is one of her favorite lines. "It sums up a lot of emotions at once," she said. As for Gao, his favorite would be the line from the fourth track, "I'll love you 'til the end of the world again," which he thinks is a weighted sentence. "Actually the sentence doesn't make any sense because it's, again, like you didn't love this person before and you're not doing it again. It just worked better" he explained.
Wasia's own Heartstopper
Aside from being a musician, Gao is also an actor. His first on-screen portrayal is at Netflix's Heartstopper where he plays Tao Xu, one of the best friends of the main protagonist of the show. With the success of its first season and also being renewed for two more seasons, EnVi couldn't help but ask Wasia some related questions to the series to treat the Heartstopper fans.
EnVi first asked Wasia which among their songs would fit best as a soundtrack for the next season and they delightedly answered that it should be "ur so pretty." According to Hardy, the song would be a perfect fit that sums up most of the relationships, feelings, and vibe of a romantic show. "I love the relationships between all of the characters and I'm really excited to see Tao and Elle's [portrayed by Yasmin Finney] relationship blossom" Hardy teased. Gao agreed but also suggested "impossible." He excitedly sang a part of the song and said that he thinks the song could be of best use as a crazy heartstopper moment song.
View this post on Instagram
EnVi gave Wasia a hard time answering when asked to give their favorite character from the series and what song from the band fits that character the best. After thinking for a bit, Hardy answered with a question. "You gotta love Charlie, right?" For Hardy, their song "U Deserve," fits the dynamic and relatable main character, Charlie Spring, played by Joe Locke. "He grows quite a lot throughout the show. He starts in a position of questioning whether Nick likes him or not. He's scared and stuff but at the end, they're wonderful together and that growth portrays really well in the song," Hardy told EnVi. Gao then eagerly suggested "why don't u love me?" changing the pronouns of the first line of the song while singing it. Though Gao isn't allowed to say his own favorite character from the series, he just chose his own character as an answer and says that "Misfit Biscuit" would best suit Tao Xu.
What's Next For Wasia?
Though they are still at the beginning of their musical journey, the siblings shared their next steps. Aside from creating more content, Wasia told EnVi to expect an album and a tour in the near future. "I wanna travel and see the world!" Gao said excitedly. When asked which places they would like to visit on their tour, Gao mentioned New York and their home country Beijing, China. As for Hardy, aside from an Asia tour, she thinks it will be great to have a tour in Europe. Hardy also shared that she would like to try writing songs in Mandarin.
As they prepare to give more music to their fans, EnVi asked Wasia what keeps them motivated to create more music and the siblings showcased their desire and discipline as musicians. For Gao, creating music is both a job and a passion. He sincerely said, "This is my job, this is what I gotta do. I gotta keep working. I got to put food on the table and I work for that. If that means I write songs, I write many songs- some good, some bad but that means I'm working and that's the bottom line for me, and I still absolutely love it. I absolutely love what I do, as an actor and a musician, and I just wanna do this. This is my life!"
As for the younger sibling, writing music that makes her proud is what keeps Hardy motivated. "In terms of self-discipline, if it's something we dedicate a lot of time to, for example, if I have writer's block and not a lot of ideas are coming, it's still something I have to do. I just like the rewarding feeling of working hard," Hardy said. "The feeling itself when you actually write something and you're proud of it, that's the main thing that motivates me because it's a very rewarding feeling," she explained further.
View this post on Instagram
Over a good laugh, EnVi asked Wasia who their dream collaborations are. Gao shared that aside from Finneas he would also like to collaborate with the Dutch musician, Benny Sings. For Hardy, she thinks it would be cool to collaborate with other musicians with the same name as her such as Olivia Rodrigo and Oliva Dean on which Gao joked they will be called "Triple Olivias." She also mentioned her idol, Billie Eilish.
A Message To Their Fans
Of course, Wasia would not forget to thank their fans who have been supporting them since day one, which Gao describes as the "OGs," a slang term that means original. "Thank you for being OG fans. Just thank you so much for listening, hearing our music and stuff," Gao tells EnVi. Hardy says that she appreciates how relatable their fans are. "Thank you for being relatable. I feel like so many of our fans are so similar to us and resonate with us in so many ways." She also acknowledges the support from their fans who are active in supporting them online. "It's just really cool people and I love that humor. I do like to peek on social media and I love the things they do." Aside from their band's supporters, they are also thankful to the Heartstopper fanbase who are supporting their music which they describe as cool and creative people with good music taste.
View this post on Instagram
Thank you to Olivia and Will for a fun interview about their music. If you enjoyed reading this and like to keep up with Wasia Project, follow their Twitter and Instagram and you can stream their music on YouTube, Spotify, Apply Music, and SoundCloud.
Like this Artist Spotlight interview? Read up on our recent one with The Crown!
Thumbnail Courtesy from Wasia Project