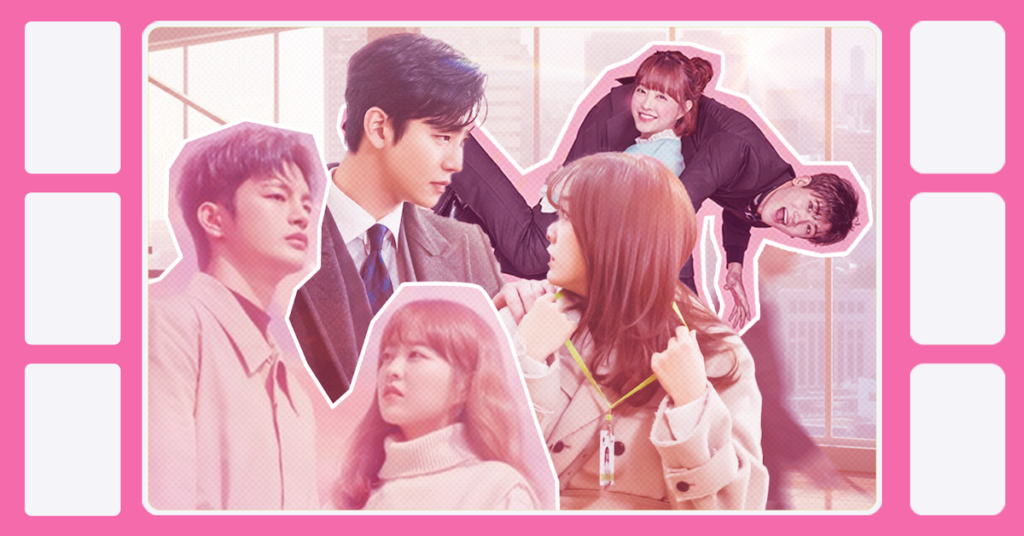 It takes two to tango in the season of love. Whether you are single or have a significant other, you're in for a sweet treat! With Valentine's right around the corner, we've decided to share some of our all-time favorite K-drama couples at EnVi. 
Project: Marriage
What do you do when you realize that your boss is your date? In Business Proposal (2022), Shin Ha-ri (Kim Se-jeong) pretended to be her friend as a stand-in for a blind date. With her success in scaring away her friend's last suitor, she was once again tasked to help out carrying out the sneaky deed. Not realizing that she would have to see him again, she pulls off her usual possessed pranks hoping to put an end to blind dates once and for all. To her surprise, that was not the case.
The dynamic between the work-centric Kang Tae-moo (Ahn Hyo-seop) and bubbly Shin Ha-ri is the perfect balance of personalities. As Tae-moo breaks through his textbook-perfect facade, he opens up to be a soft-hearted lover on the inside. Although this CEO and employee arc has been done in K-dramas so many times, their chemistry on screen makes the Netflix series a special watch.
"I wish for Myul Mang!"
After finding out that she has only one month left to live, Tak Dong-kyung (Park Bo-young) feels bitter about the world. "Why is it me? Why does it have to be me out of everyone else?" Getting drunk on her rooftop the night she found out about her health condition, she calls for Doom (Seo In-guk) in the world. But Doom is a person! He is the messenger between the humans and the Gods. As Doom himself is sick of his own fate, he takes a turn hoping to bring an end to his cyclical life by bringing Doom to the world.
This drama pulled at our heartstrings with the pairing of Myul Mang (Doom) and Tak Dong-kyung . As Dong-kyung suffers from her health condition, Myul Mang soothes her physical agonies with his powers. Doom is At Your Service (2021) brings a new take on how much you can love someone. Can you hate the one that you love in order to save them? Although he might be a tough cookie on the surface, Myul Mang is just as human as Dong-kyung. Through the drama, Myul Mang heals from his past while developing feelings for Dong-kyung. Watch the forbidden relationship unfold and see what the extreme power of love can do!
Teach Me How to Fanboy
It is hard being a secret fan of an idol when all you want to talk about all day is them. With a boss that hates seeing her employees fangirl, Sung Duk-mi (Park Min-young) had to be an 'anti-fan' in front of her boss. Suppressing this behavior, she dresses up in disguise every time she goes out for fan activities. But what do you do when your favorite idol shows up right at your workplace?
As popular artist Ryan Gold (Kim Jae-wook) took over the museum director role in the art museum, Park Min-young no longer had to hide her secret identity as a fan. Her Private Life (2019) showcases the duality of the two sides of being a fan: having a day job while being a full-time top fan featured in a fanclub. After Duk-mi was suspicted of being her idol's secret lover, Ryan Gold came up with the ingenious idea to pretend that they were dating. Before you know it, Ryan Gold and Park Min-young are caught in the middle with their feelings for each other.
I Have Always Been There For You
Hometown Cha Cha Cha (2021)
Everytime Yoon Hye-jin (Shin Min-a) went to Gongjin, she bumped into the same boy. During her mom's last vacation there, she was unable to smile in the photo due to her mom's health condition. But the young boy behind the camera danced to make her laugh. When she was in highschool, she ran away from home to Gongjin once again. Forgetting to bring enough money to the convenience store, her remainder was paid off by a boy who stumbled past. The small coincidences began to add up to their official meeting when she moved to work at Gongjin as a dentist.
Hit by the realization of time's fleeting nature, Yoon Hye-jin no longer hides her feelings towards Chief Hong (Kim Seon-ho). With a gentle push on one side to gather up the courage, a wholesome relationship is formed on screen. Known as the 'dimple couple', their smiles are contagious to those that watch Hometown Cha Cha Cha (2021). If you're in the mood for a light romance, this one's for you!
How to Physically Inflict Damage: Cuteness (Aegyo)
Born to a lineage of women with super strength, Do Bong-soon (Park Bo-young) is extremely strong despite her small physique. But here's the twist: she can only use her strength for good. Due to the fear of being reprimanded for her powers, she doesn't show off her strength in public. However, as a new developer, it is incredibly competitive to get a job in the game industry! Being accidentally discovered for her superpower strengths by game company CEO Ahn Min-hyuk (Park Hyung-sik), Bong-soon gets hired as his bodyguard immediately.
Arguably the cutest couple in K-drama history, Ahn Min-hyuk and Do Bong-soon emit cuteness naturally without trying. On top of non-stop eye smiles delivered by Min-hyuk, this is the ultimate sweet treat for valentines. I'm warning you: look forward to lots of unexpected squealing and toe-curling moments! As one of the highest-rated Korean dramas of all time, Strong Woman Do Bong-soon is a romantic comedy that can brighten your day.
Interested in more love content? Check out our article on Love Alarm Clap! Clap! Clap! here!