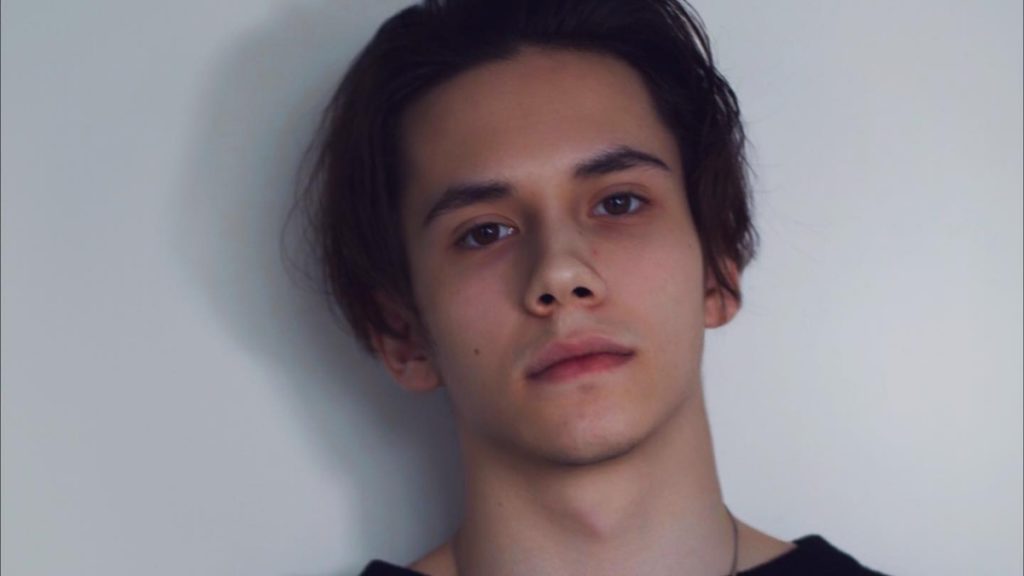 Picking inspiration from artists like Machine Gun Kelly, Grey, and Yungblud, SIDEWAYS blends pop-punk, pop-rock, and urban hip hop to create his unique sound. Coming from a music background, he has had a successful career as a disc jockey and producer before professionally switching to singing. Following the release of his first single of 2022, "SOS," EnVi spoke to SIDEWAYS on his producer days, rebranding, artistry, and future plans. 
Raised in Music 
Born Justin Maes, SIDEWAYS grew up in Tilburg, Netherlands, before relocating to South Korea. His father, a music producer, was pivotal in his discovery and love for music. When SIDEWAYS was five, he recalled singing with his family while his father played the guitar. At 15, his father invited him to one of his production sessions, which piqued SIDEWAYS' curiosity about production. SIDEWAYS had also been exposed to EDM at an early age. The 27-year-old is an alumnus of the Utrecht-based Hermand Brood Academy, known for its successful EDM producer students. From constantly experimenting on his own, SIDEWAYS launched his career as a producer at 16. 
Being Justin Levai 
Using the stage name Justin Levai, Justin Maes dived into disc jockeying after a year of solely producing, a profession he held until 2020. As a DJ, Justin Levai dabbled in electronic, dance, and house music. He rocked the stage at several clubs and festivals, including the Ultra Music Festival, thrilling the audience with his powerful presence and unstoppable energy. Justin made remixes to songs and produced uptempo powerful songs with melodies and funky breaks. A notable remix is his version of "Knock Me Down" by American producers Max Styler and MAKJ under renowned DJ Steve Aoki's label DIM MAK. 
View this post on Instagram
Justin Levai has a lot of collaborations to his name. In 2015, he teamed up with South Korean singer Shaun for a progressive house tune titled "Rock The House." He also joined forces with his student, Lee Heewon, to form a future pop duo called Undaunted. Under the brand Undaunted, Justin snagged a collaboration with South Korean songstress Ailee on the song "Heartcrusher." The song, which saw Ailee rap for the first time in her career, made it to her 2019 butterFLY album. It also featured DJ Koo, Justin's DJ friend, and longtime collaborator. 
In 2020, Justin ventured into something new by setting up an artist management agency in Seoul called RISEDAWN. With RISEDAWN, Justin hoped to create avenues for Asian artists to collaborate with Western acts. One of his greatest achievements was setting up the collaboration between K-pop group A.C.E and American producer Grey on the single "Down."
Going SIDEWAYS 
In 2021, SIDEWAYS stepped down as a producer to fulfill his childhood dream of being a singer and songwriter. To him, the decision did not feel like a switch but closing a book that passed its final chapter and re-opening a part of his life that he wanted to fully explore.SIDEWAYS no longer produces his songs, but writes the melodies and lyrics. "I am fully responsible for every business aspect, which was pretty much the same for DJ-ing," he added. Most of his fans and supporters reacted positively to his move, a deed he finds motivating. "Of course, I have lost some fans who liked me for my DJ-ing music," he revealed. 
On changing his name to SIDEWAYS, he said, "My artist brand Justin Levai was so entangled into the DJ scene it did not feel right to keep using that name." Inspired by his favorite Transformers from the show Transformers Armada, he picked the name SIDEWAYS to signify finding his path and doing what he wanted to do. 
He made his debut with the co-produced "Show Me," an RnB and trap song which sees him ask a lover to show their true feelings. Soon after, SIDEWAYS had his first achievement as a singer, becoming one of the first foreign winners of the KBS music program Immortal Songs. In that episode, he teamed up with DJ Koo, Xitsuh, and the girl group WJSN.  
As a singer, SIDEWAYS loves to fully let his creativity flow, not holding back on lyrics and emotions. This is why he explored pop-punk, a genre known for expressing feelings and emotions. However, SIDEWAYS hates to bind himself to one genre and has always been experimental with his sounds and style of music. Having dabbled into RnB, trap, and pop for his debut song, he dived into pop-funk for his current single, "SOS." He further intends to delve into hip-hop later this year or early next year. A striking pattern in SIDEWAYS' sound is the frequent use of the guitar. "I love using the guitar as my main sound, so I don't see that changing anytime soon," he said.  
SIDEWAYS believes his strength is hook writing, as he takes more time to work with verses. His greatest challenge so far has been writer blocks, which he hates. "My longest writer's block took almost two years, and it was because I was depressed during that period," he disclosed. "Songwriting goes hand in hand with your mental health." Although SIDEWAYS admits to not being the best singer in the world, he believes his voice has a unique and uncommon sound which contributes greatly to his talent.  
Calling SOS
SIDEWAYS kicked off 2022 with "SOS," a single inspired by his relationship with his ex-girlfriend from 2018. Released on March 18, "SOS" sees SIDEWAYS talk about a toxic relationship over heavy pop-rock and pop-punk instrumentals. The song was produced by Nickko Young and Pino. After detailing what he was looking for sound-wise, it took the team two weeks to produce the instrumental. From there, SIDEWAYS penned down the lyrics to the song. 
View this post on Instagram

SIDEWAYS revealed to EnVi he will be releasing an EDM Version of "S.O.S" later this month with one of his DJ friends from the Netherlands. Holding back on revealing his collaborator's name, SIDEWAYS explained, "he's quite well known in the industry."
The Future 
SIDEWAYS has a lot of big plans on the way. Later this year, he will release a song with someone he described as being huge on TikTok. Having collaborated with Ailee and Shaun, SIDEWAYS hopes to work with Machine Gun Kelly, KSI, SUECO, Post Malone, and Mod Sun someday. 
In addition to his already existing artist management agency, he is looking at starting his record and publishing companies someday. When asked where he sees himself in five years, he jokingly replied with "on top of the world." His aim as a musician is not to be rich and super famous, but to make people happy. "If I can make a lot of people happy five years from now just by being who I am and releasing the songs that I create, then I would be more than happy."
Connect with SIDEWAYS on Instagram and Twitter. 
Want to discover more music content? Read all about Doctor Yizzle from our previous Artist Spotlight.