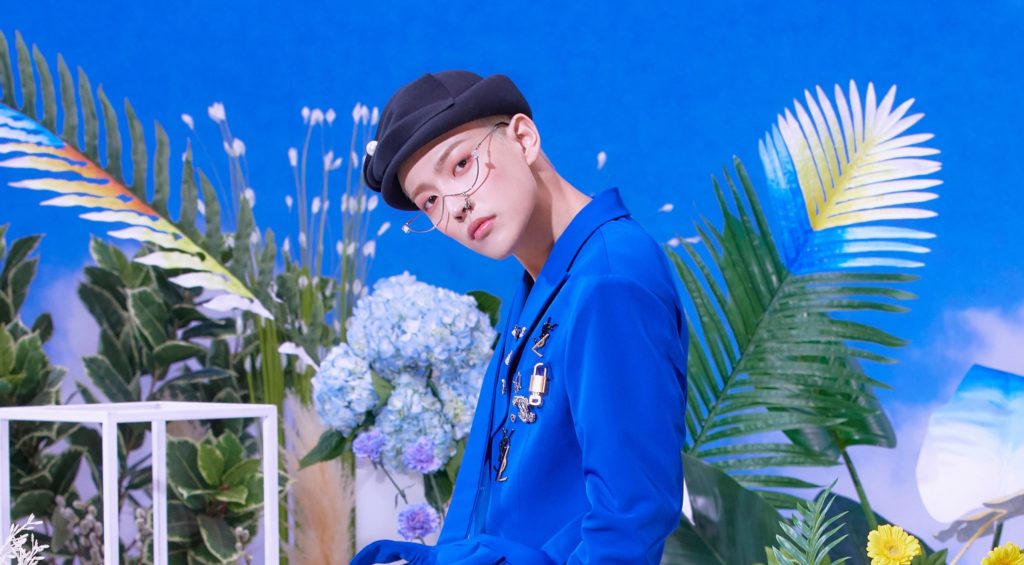 ATEEZ's leader and main rapper is nothing short of talented when it comes to his creative endeavors. From reforming clothes to writing lyrics, Hongjoong always leaves a mark that is undoubtedly his when he creates things. Today, he turns 23 and to celebrate, let's take a look at the various songs he's arranged and composed.
"From" from TREASURE EP. 2: Zero to One (CD Only)
The first time fans heard "From" was actually when ATEEZ were still known as "KQ Fellaz," prior to their debut. As they were training in the United States in anticipation for their debut, KQ filmed their experience. In the mini-series, they shared clips of the boys working diligently on this very song.
"From" is a meaningful song that the group and fandom hold dear to this day. The members were instructed by Hongjoong to write a letter to their friends and family, and that their words would be incorporated into the song as lyrics. All of the members found it difficult at first, but once they started, they couldn't stop.
In his letter, Hongjoong wrote to his members, thanking them and calling them his family. The leader even got tearful as he explained why the boys mean so much to him.
Originally released on July 2018, "From" is a heart-warming pop song, sharing the emotions and thoughts of the group. It also marked the beginning of Hongjoong's journey as a producer. The song is meaningful in many ways, and it shows in the care it took to create it.
"Aurora" from TREASURE EP. 3: One to All
In June 2019, ATEEZ released their third album in the Treasure series—an album that holds many milestones for the group. It's the first album that fans partook in choosing the title track and the selected title track, "Wave," is the song that gave ATEEZ their very first music show win. It's also the album that contains the first song of Hongjoong's that they recorded a music video for and promoted with.
"Aurora" is like "From" in that they both share the pop sound Hongjoong started with. Their similarities end there as "Aurora" takes on a new feel with a much more mature and defined sound. Hongjoong explores a softer yet powerful side of ATEEZ with this song. The beat centers around some guitar chords before breaking into a string-heavy chorus. The song showcases a feeling of awe, much as how someone would feel when they see the aurora for the first time.
Hongjoong shared that when he wrote the song, he was thinking of what it was like to see their fans from on-stage. He expressed how they would see many lights, and that the brightest light of ATEEZ is their fandom, ATINY.
The song is a direct tribute to the fans, and he wanted to share that feeling of reverence with the listeners of the song.
"Sunrise" from TREASURE EP. FIN: All to Action
ATEEZ's first full-length album released in October 2019 features the explosive title track, "Wonderland." Alongside this stunning title, are the gentler B-sides, one of which being "Sunrise."
"Sunrise" focuses more on the vocals of the group, using soft percussion instruments for the background to not take away from the lyrics. In this song, the members sing about what it's like to constantly feel like you're in the dark when you're having bad days. They say that it's only natural and that the sun will rise soon, to keep it up because you're doing well.
With "Sunrise," Hongjoong continues to delve further into this deeper side of ATEEZ's music. The desperate pleas of the members and the electric guitar of the chorus pair together to create a powerful song with a hopeful message.
"Horizon" from TREASURE EPILOGUE: Action to Answer"
The leader's sound takes a complete turn at the end of the Treasure series. Where up until this point Hongjoong's style stayed in the relatively calm realm, "Horizon" is a stark contrast to the previous tracks.
This B-side comes from the same album as the memorable title track, "Answer." Like "Answer," "Horizon" is loud and powerful. This electric song opens with haunting background vocals and a building beat, completely unlike the songs he's created before. Inspired by their debut track, "Pirate King," the members sing about dreaming of the horizon and a future that seems far, though they ask the listener to take them there.
The song jumps from moments of high-energy EDM to bursts of hip-hop making for an unpredictable song that just screams "ATEEZ." Like "Aurora," the boys promoted this song on music shows as well, and the choreography makes just as much of a statement as the song itself. Hongjoong put together a song that packs a lot into its three-minute run-time—every second leaving the listener on their toes.
"Good Lil Boy" from Zero Fever Part 1
In July 2020, Zero Fever Part 1 was released, and with it came Hongjoong's B-side, "Good Lil Boy."
The song is upbeat and inspiring. The group sings about the frustrations of being young and running forward despite the difficulty growing up might bring.
With "Good Lil Boy," Hongjoong explored parts of the group's sound that they had never experimented with before. The song features a strong bass and guitar riff that seemed heavily inspired by the old West. Hongjoong said that when he wrote the song, he was inspired by a cowboy-like concept, and this song conveys it perfectly with its focus on the bass and drum.
"Celebrate" from Zero Fever Part 2
Hongjoong was never shy to take creative liberties and "Celebrate" shows this, effortlessly.
In his Wonderwall interview, he shared that he created "Celebrate" to celebrate people for being themselves. He wanted to show that regardless of all the things that make us different, those differences are what make us unique. The members sing in the chorus about celebrating you for living as you are. The leader even pokes fun at his height, but states how even though he's not as tall as he thought he would be, if "you dig around the whole earth, you'll never find someone like" him.
Hongjoong truly takes us to church with "Celebrate." While a lot of ATEEZ's music is hard-hitting, "Celebrate" utilizes various techniques not typically shown in their music. With Hongjoong's use of a church-like choir and member Jongho's insane vocals, he creates a song that encapsulates the meaning of celebration.
"Draw and Draw"
Days after the release of the second album in the group's Fever series, Hongjoong surprised fans with his feature on Baverse Studio's YouTube channel. Hongjoong was able to share one of his favorite hobbies—reforming—alongside a couple of his favorite songs. His feature was particularly special because he released this exclusive song just for the video.
The song is more on the gentle side of his composing style, again showing his versatility as an artist. He sings about drawing his lover over a soft jazzy beat featuring a piano framed by the sound of a snare drum. The song is synonymous to that of a jazz-inspired lo-fi song with a smooth brass solo to wrap the song up.
Hongjoong has shared with fans on the group's fan cafe that the song is a play on the Korean word "그리다," which means "to draw," but also "to eagerly think about someone/something with a loving heart" or "to miss someone/something." The double meaning is conveyed expertly in the nostalgic beat and fond lyrics.
"All About You" from Zero Fever Part 3
Hongjoong rarely composes love songs, but the few that he has are nothing short of sentimental. On their most recent album, Hongjoong composed, arranged, and wrote two songs, one being "All About You."
On this B-side, the boys sing about their lover sounding as though they're begging the listener to understand how they feel. The song opens with a playful beat that is slowed down by simple piano chords in the verse. The song builds in the pre-chorus as the lyrics change from simple descriptors of their love to more desperation, claiming that they can't breathe without each other. Just as the song reaches the chorus, the beat quiets down except for the strong percussive instruments punctuating that "nobody loves you like I do."
The intensity of the lyrics is juxtaposed masterfully by the bright beat. The feeling of an all-consuming love is conveyed easily through the beat Hongjoong created, leaving a warm feeling in its wake.
"Rocky" from Zero Fever Part 3
Last, but certainly not least, is the rock-inspired track, "Rocky."
Named after the boxer with the same name, "Rocky" is a mighty song that conveys the message of never giving up and continuing to fight, like a boxer. The song is rap-heavy, focusing less on the vocals and more on the lyrics as ATEEZ sing confidently about being champions through hard work. The rock/hip-hop hybrid begins with Hongjoong saying that he's rocky, before breaking out into a triumphant beat that sounds a lot like something out of an action movie.
His fellow members have also shared their love of the song, especially Seonghwa, the oldest member, who created a music video for it in their living room and shared it on his playlist with PLIT. Wooyoung shared on VLIVE that he was proud of his leader, not just with "Rocky," but also "All About You."
While this song is a vast step away from much of the music he has previously created, it's nothing short of a signature ATEEZ song. The song is a complete 180 from the softness that was "All About You," showing just how versatile the leader's style of music-making is.
Through the many songs he's produced for his group, Hongjoong is able to showcase his talents not only as an artist but also as a growing producer. His skills don't stop here, along with these songs he has remixed various songs for his solo content on the ATEEZ YouTube Channel and has written several songs pre-debut. The most important thing to note is that a bright future awaits Hongjoong in his path as a producer, ATINY can continue to anticipate great things from him!
Thank you for the amazing songs and happy birthday, Hongjoong!
Interested in more ATEEZ? Check out our coverage of their most recent comeback!
Thumbnail courtesy of KQ Entertainment.