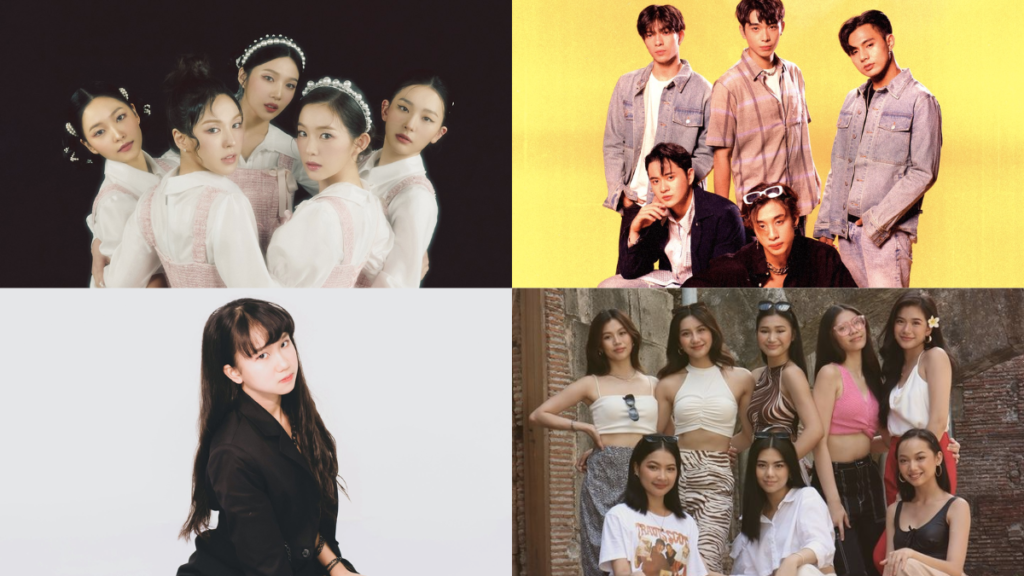 This past May, In Purpose International Training Institute, Inc. (IPITI, Inc.) introduced "BE YOU: The World Will Adjust: An Extraordinary Celebration for People with Special Needs." This announcement continues the streak of live concerts in the Philippines after a long hiatus of live events. Performing on July 22 at 7 p.m. at the SM Mall of Asia Arena, the line-up features Filipino acts BGYO, BINI, and Lady Pipay as well as the event headliner, K-pop girl group Red Velvet. 
An event with a cause, the concert celebrates differently-abled people and uses #YesToInclusion as its main hashtag. Be You advocates for diversity, inclusion, and safe spaces. IPITI, Inc., the event organizer, is a school that offers programs and training for differently-abled people.
Greetings from the Line-up
After announcing the special performers, Be You posted the video greetings from the four, starting with the Filipino eight-member Star Magic girl group BINI–composed of Aiah, Colet, Maloi, Gwen, Stacey, Mikha, Jhoanna, and Sheena. The group's name comes from the Filipino word "binibini," which translates to "young lady"—fitting for the group's concept of embodying and sharing the traits of young Filipinas as modern, talented, and passionate
Before their debut, the group had released a pre-debut single "Da Coconut Nut" on November 20, 2020. The group officially debuted on June 4, 2021 with their single "Born To Win." Their most recent comeback song was released on June 24 with their single "Lagi."
Five-member Star Magic boy group BGYO also welcome you to the celebration. The name "BGYO" is an acronym for "Becoming the change, Going further, You and I, Originally Filipino." "BYGO" is a shortened version of the Filipino word "bagyo," which translates to a storm—incorporating the members' goals to take the world by storm. Members Gelo, Akira, JL, Mikki, and Nate debuted on January 29, 2021 with their single "The Light." The group released their latest single "Tumitigil Ang Mundo" on July 14, 2022.
Lady Pipay, the only soloist in the main line-up, also invites you to the event. She is an active Youtube vlogger and Kiddie Host for Salamat Dok and Umagang KayGanda.
Red Velvet's greetings were posted in May ahead of the other performers to confirm the group's attendance as the main guests of Be You. The million-selling girl group, and the only K-pop act participating in the event, made their comeback with the title track "Feel My Rhythm" on March 21, 2022.
More Performances and Guest Speakers
Apart from the aforementioned line-up, on July 5 IPITI, Inc. introduced more special performers attending the event. The line-up includes Janine Kyra Lim, Peggy Geiser, Danica Escasinas, Mark Jayson Salamangkit, Aldrei Louis Franco, Christian Zoey Tanay, Rohan Nicklaus Cruz, and Kyrie Quentin Francisco.
Staying true to its theme, Be You will also feature guest speakers who will talk about inclusion and have advocated for the topic. First in the line-up is singer and host Martin Nievera. The 40-decade industry veteran has recently helped raise ₱3.7 million through a concert for the Gift of Life program, whose beneficiaries are poor children in need of heart surgeries. He also states that he was inspired to do so by his differently-abled son, who, as he previously cited, changed him into a better man.
Next is actor and host Troy Montero, who advocates for Autism Spectrum Disorder (ASD) along with his wife Aubrey Miles through their Facebook page. The couple has been actively raising awareness after announcing that their daughter was diagnosed with autism.
Hasna Cabral, who is a proud Person with Disability (PWD) rights advocate, will also take her turn to speak at the event. The "power woman" collaborates with Autism Advocate Parenting Magazine, a digital publication spearheaded by parents who advocate to empower fellow parents, advocate for autistic children, and provide expert information on the topic.
Ticket Availability
To join in on the fun and meet the diverse set of performers, select tickets can still be purchased ahead of the event. Be You has made additional seats available for Lower Box and General Admission (both under Limited View).
To keep updated on the event, follow Be You on Twitter and like their page on Facebook.
Want to read more about K-pop concerts in the Philippines? Check out EnVi's concert recap of Begin Again: KPOP Edition here.