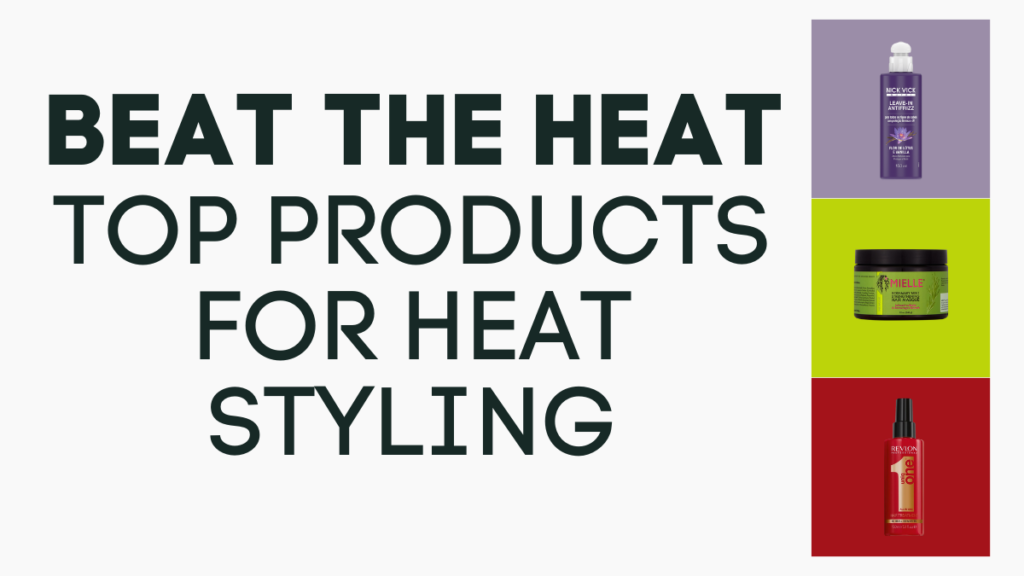 Although summer is close to an end, the reign of heat styling is not. EnVi's Beauty Team has put together their top products to beat the heat and help protect your locks, whilst keeping styling simple and easy.
Name: Taylor
Location: UK
Product: Revlon Uniq One
Price: £8.45Why? As someone with colored and curly hair, any heat styling can visibly damage my hair. Heat styling through straighteners or curlers can strip my color, making it super dull. This leads me to dye it more often and in turn damaging it more. After discussing with my hairdresser, about these concerns, she recommended a salon product that combats damage and protects against heat. It has ten benefits in one and genuinely works. After adding it to my hair routine, my hair color stays vibrant for a longer period. It also styles better and just feels a lot more nourished, even after using heat. I've even had compliments on how shiny my hair looks, which is something I never got before. At the price point of £8.45, you cannot go wrong with ten treatments in one, especially when it actually works and lasts long! 

How to use? Spritz over damp hair after washing. Comb through gently and style as desired. I use it after every wash to ensure my hair is protected against heat, it locks in shine and ensures easy styling! 
Name: Ellie
Location: America
Product: Mielle Rosemary Mint Strengthening Hair Masque
Price: $9.99
Why?: With type 4 hair, it can be hard to manage the frizz and keep hair looking fresh and healthy. The black-owned haircare company pays close attention to detail when formulating products. Utilizing rosemary and biotin, the mint masque keeps hair healthy and moisturized. With temperatures at an all-time high, it is necessary that hair stays moisturized. Bringing in water as well as ingredients like rosemary and biotin, the Mielle Rosemary Mint Strengthening Hair Masque keeps hair defined and luscious throughout the day. Priced at $9.99, it is an affordable option to keep hair tamed.
How to Use?: After washing your hair with shampoo, apply the product to damp hair. For natural type 4 hair, it is beneficial to make sure hair is completely detangled. With my fingers, I usually finger comb the product through my hair to make sure it is fully coated in the mask. 15-20 minutes after applying the product, I rinse out my hair with warm water and style it. The masque keeps hair moisturized and healthy.
Name: Annie
Location: Brazil
Product: Nick Vick Antifrizz Leave In
Why?: While it's winter right now where I live, we do spend 9 months out of 12 in the heat. For wavy hair, it's easy for it to either become frizzy or very heavy looking because of the humidity. What I like about this product it's that it gives soft loose waves without weighing the hair down, while keeping everything in place. And on top of that, it has a fresh, almost damp feeling throughout the day without making the hair look greasy. Plus, it has heat and UV protection!
How to use?: With your hair almost completely wet after washing and conditioning, divide your hair into sections and apply a small amount to every section, slowly and patiently, really give attention to each section. After that, I like to flip my head down and scrunch my hair with a cotton t-shirt. I prefer to leave my hair to air dry, but you can use a diffuser too. If you'd like, you can also mix the product with a little bit of gel for tighter and longer-lasting waves.
Want more from EnVi's Beauty Team? Read Envi's Summer Skincare Faves here!
Thumbnail by Astrid.