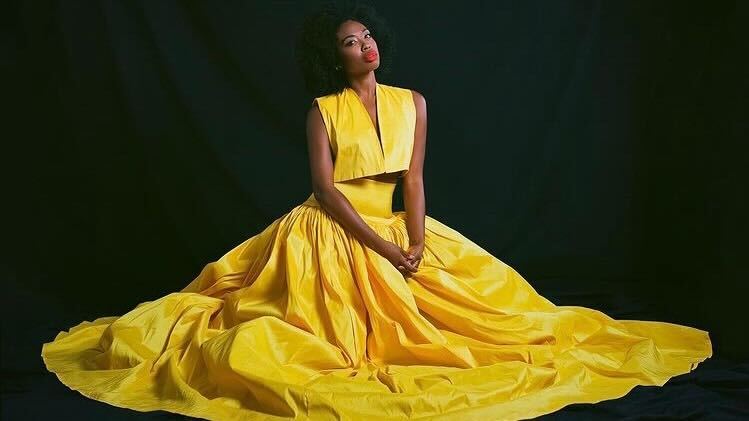 Forming a brand and establishing yourself as a fashion designer is already a difficult feat on its own, but once you add a global pandemic into the mix it becomes twice as hard. Brooklyn-born designer, Pia Lindsay, had to deal with this conundrum when she was forming her own brand in 2020, a year when the fashion industry was put on hold. However, Pia was able to successfully launch her brand, Pia Lindsay Studio. In the designer's own words, Pia Lindsay Studio is based around "sensible luxury clothing with a timeless appeal, directed towards a client with a strong sense of self."
Pia Linday sat down with EnVi for an exclusive interview to discuss her work and her career journey in further detail!
Pia Lindsay: The Origin
Pia Lindsay became interested in fashion from a young age. Her parents enrolled her in fine arts classes at the Brooklyn Museum before she ultimately attended the High School of Art and Design. From there, Lindsay attended the Otis College of Art and Design. Whilst in education, she was taken under the wing of renowned designers such as Cynthia Rowley, Trina Turk, and Bob Mackie.
After finishing her studies, Pia then went on to have a variety of freelance jobs, such as designing swimwear and being a fashion colorist. She also got the opportunity to travel abroad to places in Asia such as Hong Kong and Shanghai. In these countries, Pia got a first-hand experience of the hustle and bustle of Market Week, an event where members of the fashion industry attend to acquire essentials such as fabrics. During Market Week, Pia witnessed the things that are commonplace there such as negotiations with vendors and making appointments to visit showrooms. In these places, Pia also got the chance to work beside pattern makers. "In my past experiences, traveling has played a very large role in the growth of my career, and as difficult as it is to be away from your friends, family, and everything familiar, it taught me that everything is mental. Controlling what you allow your mind to think is crucial to self-growth."
Pia's lengthy list of personal achievements is admirable. However, even though there were positive aspects to her achievements and experiences, she has also faced hurdles. Pia discussed the harsh treatment she received as a black woman in the industry, stating "I encountered a lot of unfortunate, unfair discrimination throughout a decade in the fashion industry." Being subjected to this kind of scrutiny would affect anyone but Pia explained how experiencing the dark side of the fashion world helped build her self-confidence "…one of many things I took out of my experiences is a stronger sense of self. I have personally felt the not so glamorous side of the fashion industry and it made me become more aware of what I want in my brand—inclusivity, connection, slow fashion, and value."
Finding her Style
When it comes to her identity as a designer, Pia Lindsay has a very clear idea of what she wants her work to convey. She told EnVi, "My style and look as a designer is really based on what I would want to wear and how I would want to feel in clothing. In these times I believe people want connection and authenticity. I believe that people know when you aren't staying true to who you are, especially as a creative person. Staying true to what I believe has actually helped create my style for my brand." This message of staying true to yourself and maintaining credibility can be seen all the way through her Instagram account.
Through social media, Pia has cultivated a space for honesty as she frequently shares behind-the-scenes content and shares facts about the less glamorous side of the fashion industry. She also posts selfies posing and showcasing her designs on her own body. Pia then went on to further explain the other components of her style. "I tend to use a lot of different colors in each collection and it soon started to become part of the DNA of my brand. One of the most frequently asked questions I get is, is there any color I won't use and the answer is no. I love them all and they all give off a certain energy that helps me create." When you look through Pia's work, her love of color and fabrics shines through. The designer has a fine eye for vibrant tones, which she developed during one of her first few freelance jobs as a colorist where she learned how to identify a variety of hues.
One of the most important things for Pia is ensuring the happiness of the women who wear her designs. She states, "I want my customers to feel confident and beautiful in what they are wearing. I love talking and keeping in contact with my clients. I want to know what makes them feel the most beautiful."
Another important aspect of Pia's identity as a designer is sustainable fashion. As previously mentioned, her brand is built around slow fashion, a movement that is the antithesis of fast fashion and is built around respecting the environment. Pia Lindsay's very first collection as a designer was created using deadstock fabric, showing her passion for sustainability from the very beginning.
What the Future Holds for Pia
For Pia Lindsay, the future's looking bright. The designer has just recently had an exciting collaboration with jewelry brand Aaryah Jewelry. The brands joined forces for a special project for International Women's Month which uplifted and showcased the stories of different women from New York. Considering Pia's origins and her beliefs, it is no surprise she was part of this powerful project.
One of the last questions we asked Pia was what advice would she give to any up-and-coming designers of color or anyone who wants to dip their toe into the fashion industry but is scared of taking the first step. She provided an honest but insightful answer. "I would say although the struggle to get ahead is different for black and brown designers, I think at the end of the day it shouldn't be about talent and not the way you look. Try to push past that feeling of insecurity you have for not fitting into a certain mold and stay true to yourself and your work. Don't look back, just keep pushing forward. The right people will find you and see your value."
It's quite evident that Pia Lindsay has been very busy these past few years. March 7 marked the official one year anniversary of her brand and the designer took to Instagram to share a special, authentic compilation of her designs so far. However, this is just the beginning for Pia as she continues to grow her brand and create more collections.
If you want to view Pia Lindsay's work in detail make sure to visit her official site here!
Want more? Check out our Creative Spotlight with Sean Sheila here!