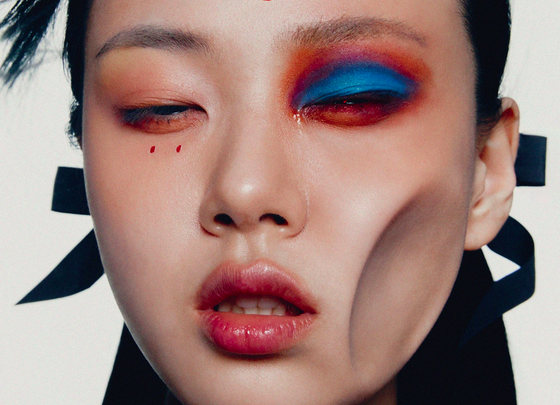 By Mendy | @baobeihi
Singer-songwriter BIBI dropped the music video for "BAD SAD AND MAD" on April 28 at 6PM KST, alongside her second EP album Life is a Bi… (lit. "Life is a bad X"). With a "movie-like concept" and BIBI's involvement in the lyrics, composition, and styling, fans were delighted by daring visuals and only wished that it could have been longer.
I don't know why it is short but I'm still craving for more of Bibi's music#BIBI #nakedbibi #인생은나쁜 #BADSADANDMAD #비비 #김형서
?https://t.co/G6q2IHHbun

— 나는 꼬모??| looking for bibi bullet moots (@Mememieow23) April 28, 2021
The EP
There are a total of five songs and each stands out as a different dimension to BIBI's experiences with life and mental health. For an interview with Hypebeast Korea about this EP, she elaborated on this. "People are sensitive to the abuse they inflict on their bodies, but I feel like they look down on mental abuse," she said. In Life is a Bi…, BIBI definitely blurs these lines. 
"UM…LIFE"
Upon first listen, "Um…Life" uses light beats and atmospheric sound to feel fun and fresh. But, digging a little deeper, the lyrics become the twist: "Oh my god bish / black and blue / who did this to you? / Umm… Life." The song talks about the relatable, but often harmful relationship that one can have with life. Short and salty, it is a smart introduction to the rest of the mini album.
the lyrics for 'umm… life' tho ?

— mica ★ ireh day!! (@kiwireh) April 28, 2021
"BAD SAD AND MAD"
Although much shorter than BIBI's other music videos at just 1 minute 30 seconds, "BAD SAD AND MAD" packs a punch. On BIBI's Instagram story, and in her Hypebeast Korea interview, she said this was actually done to create momentum for the next four music videos—a complete visual album.
Still, fans were excited by the title song and music video, connecting BIBI's clues and chains to find the double meaning of "BDSM," (BaDSadandMad), meaning a variety of erotic practices surrounding "bondage and discipline, domination and submission, sadism and masochism." With this intention, the duality of the teasers, with one that featured blurred blue shimmers while the other confronted in fierce reds and leather, made perfect sense. Tied tougher with a catchy chorus, listeners can easily be as addicted to this as BIBI is.
"피리 (PIRI the dog)"
"PIRI the dog" is told from the perspective of a dog abandoned by its owner, begging to be taken back in, and only wanting to be held. To Hypebeast, BIBI poignantly said, "It's a comedy from afar, but I think it's a tragedy from up close."
While it begins with demands like "feed me" and "pet me," throughout the song this breaks into self-depreciation and acceptance of abuse: "내가 더 예쁘지 않아서 (I'm not pretty so) / 내가 애교 있지 않아서 (I'm not cute so) / 아픈 말은 괜찮아 (Harmful words are fine) / 거친 손길도 난 괜찮아 (I'm okay with the rough touch)." With BIBI's calm voice and the staccato beat, it is a straightforward look into the unfortunate, but real way one might respond to abuse in life. 
"Birthday Cake"
"Birthday Cake" is about BIBI not knowing she can treat herself, and instead losing out on good things she is given. Fortunately, by the end, she realizes that she can no longer allow herself to do this. Backed by piano and her own echoes, listeners can be comforted by this song on self-growth. 
"인생은 나쁜 X (Life is bi***)" 
As expected of the title, "Life is a Bi…" is about how life can set us up. However, BIBI's worst experiences have already prepared her. When confronted with life's many tricks, BIBI confidently sings, "따위엔 안 당하지 난 (I wouldn't get hit by it)." BIBI concludes by letting us know we can endure, and that we will come out the other end even better.
"I believe I should say what I want" 
BIBI's BDSM wordplay is no surprise to fans because she is known for her risky but cutesy concepts that talk openly about taboo topics for women, such as smoking and sex. She has even surprised her label's head, Tiger JK of Feel GHood Music, with how explicit she was willing to be with her music.   
BIBI often does this through puns, playing with Korean and English pronunciations to get her not-so-secret message across. For her 2019 debut, BIBI sang about the ease of washing off the alcohol or other "dirty" late-night decisions in "BINU" (Soap in Korean, "Be New" in English). In her 2020 song "She Got It," the words "she got it" and "con them" are also a clever way to talk about having a "cigarette" and "condom" in her pocket. The music video is the cherry on top, with the mature subject matter being juxtaposed by a cutesy pink set and "innocent" candy props. 
Considering how women are universally pressured to act "properly," BIBI's peachy clean visuals and sound refreshingly and cleverly flips the script. Whether she is being dirty, clean—or somehow both simultaneously—she, and listeners, actually can do it all, to be as complicated and free as they want to be. 
A Bit More BIBI
Ready to stan? Aside from her music, she has also made a name for herself on Youtube variety shows. Her outspoken personality makes her a hoot to watch so it is no wonder she has gained popularity from her appearances in "Workman," a Youtube series hosted by comedian Jang Sung Kyu, also known for his tendency of "crossing the line." In "Workman," Jang, BIBI, or other celebrity guests take on the jobs and lives of everyday people. To name a few episodes, BIBI has already killed it as a ice skate rental employee, paintball gun coach, and a subway train cleaner! 
BIBI's Growth
With Life is A bi… being BIBI's second EP, her growth as a singer and entertainer in just two years is captivating. BIBI does not disappoint and the remaining music videos are definitely to be anticipated. Ironically, this mini album just might help us all make life a little less of a bi….  
Stream "BAD SAD AND MAD" now on Spotify.
Translations of Korean news sources and lyrics by Mendy.
Thumbnail courtesy Feel Ghood Entertainment.
For more powerful women in music, check out our artist spotlight on Ella Isaacson.