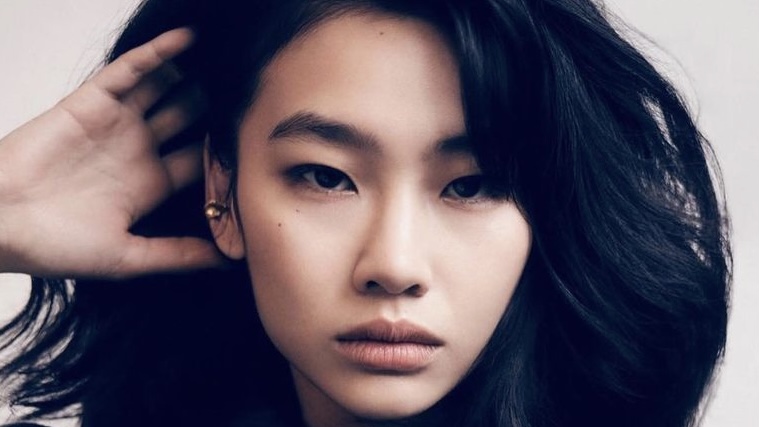 Squid Games' enthusiasts met Jung HoYeon in her role as Sae Byeok in the record-breaking Netflix series. Fashion lovers, however, have been following her steps as a model—and fawning over her—for nearly a decade. Prior to landing a role in Netflix's uber-popular production, Jung had been snatching fashion gigs left and right. Throughout her career, the now actress was recognized for her iconic red hair, her elegant walk, and cool demeanor. Leading a new era for Korean and Asian models, HoYeon has had plenty of groundbreaking moments, including her recent reveal as the cover star of Vogue's February issue. To celebrate this major milestone, we look back at some of the most iconic fashion moments in Jung HoYeon's career. 
View this post on Instagram
Runway Debut
Although many claim HoYeon made her runway debut at a Louis Vuitton show, the truth is the model's first international catwalk was at the 2017 Spring/Summer show of Opening Ceremony. And it was one for the books, considering that the runway was held in New York, mimicking a Pageant Contest. Titled "Pageant of the People," the runway featured Rowan Blanchard, Aubrey Plaza, Ali Wong, Jessica Williams, and Whoopi Goldberg. Among the star-studded audience, the Korean superstar CL was sitting front row. 
#NYFW – @AngelicaErthal , Tami, HoYeon Jung, Greta and Amilna for @openingceremony Spring/Summer 2017 💥 pic.twitter.com/CH44Sox0ms

— ELITE PARIS (@elitefrance) September 15, 2016
Louis Vuitton's Pride
The long-standing association with Louis Vuitton, however, is not one to be overlooked. In 2016, after her international debut at New York and Milan Fashion Week, HoYeon walked for the French brand for the first time. From then on, she went on to model and star in several campaigns successfully. 
View this post on Instagram
The partnership reached new heights in 2021 when she was appointed Global Ambassador for Fashion, Watches and Jewelry. "I immediately fell in love with HoYeon's great talent and fantastic personality, and I am looking forward to starting this new chapter of the journey we started at Louis Vuitton a few years ago," said Nicolas Ghesquiere about the team-up.
View this post on Instagram
HoYeon Crush
In addition to Louis Vuitton, HoYeon has modeled for other legacy fashion houses. Among them, she has amassed some interesting feats with Chanel. For instance, many even affirm that she was a favorite of the late Karl Lagerfeld! Judging by the many times she walked the runway of the French maison, we're sure she was.
View this post on Instagram
View this post on Instagram
Street Style Maven
Though it has become increasingly common to see models off-duty, rocking the latest trends, HoYeon's personal style has always shone through. The model and actress has been captured on more than one occasion flaunting her effortless, but tasteful fashion choices after shows. Undoubtedly she's turned the streets of the fashion capitals into her personal catwalk!
View this post on Instagram
View this post on Instagram
Master of Casualwear
It's been already established that HoYeon is a style icon even off the runway. But, in case you still have doubts, her Instagram is filled with pictures of her chic, uncomplicated style. If you're ever in urgent need of fashion inspiration, just scroll down her feed for one or two lessons on how to master the art of casualwear.
View this post on Instagram
View this post on Instagram
Owning the Red Carpet
After the success of Squid Game, HoYeon has also become one of the most outstanding celebrities on the red carpet. With the direction of her stylist and good friend, Aeri Yun, HoYeon has stolen the spotlight at every event. At the Los Angeles premiere of Squid Game, for example, the star chose an edgy look pairing up a black dress with chunky boots. The actress later attended the CFDA Awards where she presented the American Emerging Designer of the Year to Edvin Thompson in a Louis Vuitton dress. The black look made healines and turned her into one of the best dressed of the night.
View this post on Instagram
Cover Star
Furthermore, Jung HoYeon has also graced several publications throughout her career. The list includes W Magazine, Harper's Bazaar, Marie Claire, and Vogue—across countries and continents. Nevertheless, her recent announcement as the cover star of Vogue US remains superior. Photographed by Harley Weir, the model-turned-actress posed for an ethereal photoshoot where she sported the latest fashion from the biggest brands in the world: Louis Vuitton, Miu Miu, Givenchy, Prada, Vera Wang, just to name a few.
View this post on Instagram
As the last couple of years have seen Korean stars taking over Hollywood, we expect Jung HoYeon to continue expanding her career. Already setting milestones in 2022, we're sure there's plenty to be excited about when it comes to her future endeavors and sartorial evolution.
Interested in more coverage of Korean stars and fashion? Check out our article on BLACKPINK's style breakdown here.