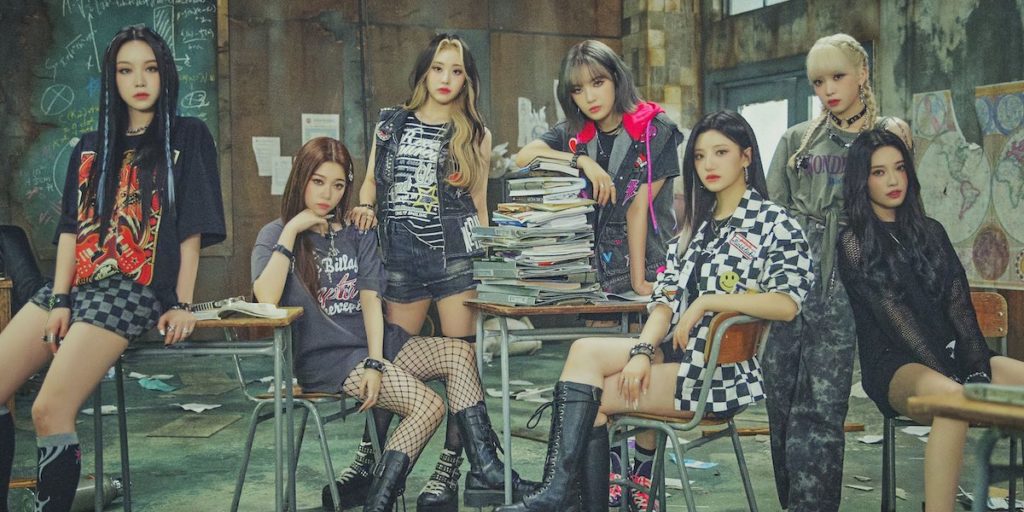 2022 has been a busy year for Billlie, and the septet is still going strong. After their infectious "GingaMingaYo" this February and summer single "Patbingsu," Billlie returned with "RING ma Bell (what a wonderful world)" on August 31. Along with the mini album the Billage of perception: chapter two, the song is the newest installment in the Billlie cinematic universe.
The End of the World: Fulfilling An Old Promise
Billlie's story follows Moon Sua, Haram, Suhyeon, Tsuki, Sheon, Siyoon, and Haruna as long-lasting childhood friends. Their mutual friend—Billlie Love—however, has disappeared, taken away by a mysterious force one strange night. Now, the septet teams up to search for her, with this comeback elaborating on their relationship with the missing girl.
On August 11 and 14 at 11:11 PM KST, Billlie's social media accounts posted a close-up picture of a grass field. Surrounded by small flowers are a black cat mask—later known as novemBer—and a childhood photo of the girls. These posts intrigued Belllie'ves—fans of Billlie—as they hinted at a new release and the development of the group's canon. Sure enough, a comeback poster and calendar were released, confirming fans' suspicion (and excitement).
Following their first two eras, the girl group released another short film for their comeback. The 12-minute video recounts the girls' promise to come back for Billlie Love. Each of them receives a letter saying, "On the 11th summer, your <world> will close after the bell rings 11 times." Reunited by the letter, the girls meet up in an old school building with a large grass field. Suhyeon opens the school gate, then the septet reminisces about their childhood together and on their own. Billlie Love is in every one of them, her face obscured behind a black cat mask, caring for the girls.
As the members fall deep into nostalgia, a bell rings from the distance, signifying their time to leave. The school building soon collapses, implying that it represents their old "world." Despite the end of their past, the septet holds on to their vow. They never forgot or abandoned Billlie, and now, they will find her.
The Awakening: RING ma Bell
Billlie's third mini album features "RING ma Bell (what a wonderful world)" as its lead single. In contrast to their last lead single, "RING ma Bell" is a hard-hitting rock track. The song talks about a turning point in life: entering adulthood. As they bid farewell to their childhood and adolescence, they have to face adulthood with confidence.
The music video clearly portrays these lyrics. In it, the members face many obstacles like being chased by giant floating heads and stuck in a bus full of strangers. Through these difficulties, they band together—calling for each other with a bell—and thrive. Stylistically, the music video sports a lot of rock elements, from the members' all-black outfits to performing with a rock band. "RING ma Bell" also features intense electric guitar sections and a beat worth blasting into an arena. With a fresh and bold concept, Billlie once again show their versatility.
"RING ma Bell" is the third track in the Billage of perception: chapter two. The mini album begins with "my B = the Birth of emotion," an upbeat synth pop track. It is followed by the R&B track "B'rave ~ a song for Matilda." With lyrics about frustration towards adults and "secretly moving the world," it pays tribute to the synonymous Roald Dahl book protagonist. Continuing their dreamy pop repertoire is "$UN palace (Stroop effect)," whereas "Mcguffins ~ who's the Joker?" mashes hip-hop with intense vocals. Lastly, "B@ck 2 where we Belong" is Billlie's love song to their fans. Starting off with an acoustic guitar riff, the song serves as a gentle finale to the EP.
To keep up with Billlie, follow them on Twitter, Instagram, TikTok, and YouTube.
Have you heard about Billlie? Check out our guide to the MYSTIC STORY girl group here!