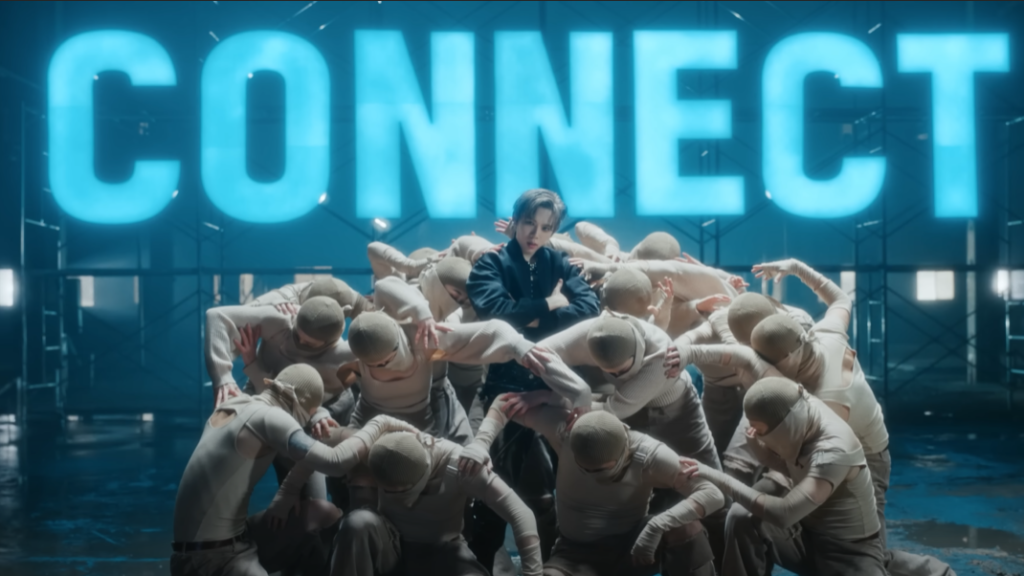 NCT U is back, ready to connect with fans. On March 20, Haechan, Doyoung, and Mark released "coNEXTion (Age of Light)" in collaboration with the Korean Ministry of Culture, Sports and Tourism and the Korea Creative Content Agency (KOCCA). To commemorate the launch, Shotaro starred in a performance video with a team of dancers.
Adding The "Neo" To Neo Culture Technology
When NCT releases music, one can predict that it's going to be distinct and experimental. The "coNEXTion" single is no different. It has a strong hip-hop beat that is accompanied with futuristic synths and traditional Korean instruments. According to SM Entertainment, the contrast of modern and traditional sounds illustrate how past and present are connected through culture. 
"coNEXTion" serves as a play on words of "connect" and "next." This implies that society is moving forward together. Society is connected by what's next. The lyrics emphasize the power of connection with a chorus that repeats, "We're gonna make a big connect, coNEXTion." Other lines relate to the idea of light and time. 
The song opens with a jarring rap from Mark, who does not wait for an instrumental to begin his verse. This intense moment melts away with Haechan's smooth vocals as he sings, "two little movements, converge at a single point." Next, Doyoung moves the song along until his rhythmic singing is disturbed. The song has a sudden drop and Mark chants in the chorus.
The climax of the song is performed by Doyoung. He passionately sings about the three axes (X,Y,Z— yes, it's a reference to physics) and a fourth that is you. He belts, "just take my hand so we can fly away." His words refer to both love and defying physics. 
A Show Stopping Performance
To suit the grand-scale concept and project, Shotaro performed with dancers in elaborate sets with dramatic lighting. The first scene opens with Shotaro in the center with an all-black outfit. His crew contrasts his bold lead with neutral tones. They are in a metallic basement with flashing blue lights that ring like an alarm. Their dancing is sharp and powerful, matching the intensity of Mark's rap. The next scene is commenced by the soft pre-chorus. Shotaro dances before a psychedelic red and gold screen with fluid movements— his team matching. 
The chorus drop marks another scene change. Shotaro— now in a denim set and white shirt— is in a deserted warehouse with natural light shining in. The dance is led by Shotaro, who makes the signature NCT "N" hand sign, rotating it on beat.
Although Shotaro is the center star, the rest of his crew get various opportunities to shine. In some scenes, the women take center stage. In others, the team is highlighted as a whole with some individuals getting a chance to lead. One dancer does a backwards flip, and another rotates his body as he kicks one leg up.
For the climax, the team dances before a giant blue "CONNECT" sign. This is topped off by flashing lights that appear behind the dancers.
"coNEXTion" has a dystopian atmosphere thanks to the abandoned buildings, neutral color schemes, masked dancers, and suspenseful lighting.
A Song For Culture and Technology
"coNEXTion" is a theme song for the "Age of Light" project in Gwanghwamun. The Age of Light is an immersive cultural experience in Seoul aimed to connect the past, present, and future. Visitors get to see special shows created by advanced technologies and holograms, and powered through 5G networks. KOCCA will have eight site-specific projects in various areas of Gwanghwamun with the goal of sharing culture and history. South Korean President Moon Jae In cites the project as a "content renaissance" to immerse "culture to a technology-based economy." 
Similarly, the project's website says it "will lead the future technology convergence era" by connecting "time, space, and humans to open the Age of Light that goes beyond technological innovation and empathizes with mankind."
The Age of Light's collaboration with NCT was initially teased on December 8, 2021. A "coNEXTion" challenge was posted on the attraction's TikTok and Instagram days later. In the clip, world-famous choreographer Lia Kim dances to a portion of the song.
Then, on December 10, Age of Light posted a teaser of the song on Instagram. The clip was later added to YouTube on the 15.  It showed some of the recording process.
Other SM Entertainment Collaborations
This is not SM's first time collaborating with the new tourist attraction. Last year, SHINee's Minho also promoted Gwanghwa's Age of Light. Minho is a virtual tour guide thanks to artificial intelligence (AI) technology.
Then, in February of this year, a new AR project was launched starring fellow NCT members Ten and Taeyong. They have their own exclusive "Baby Don't Stop" stage that is part of the experience. Through this, you learn historical facts about the Gwanghwamun area through your smartphone. This NCT U duo are located at the Korean History Museum Garden on the rooftop.
"coNEXTion" in the NCT LAB
Although "coNEXTion" has been around since December, NCT finally released it on streaming platforms through NCT LAB. NCT LAB is a subsection of SM STATION, SM's medium for artists to release new songs and videos. SM Entertainment launched NCT LAB earlier in February. It began with Mark's first solo, "CHILD." This performance video starring Shotaro is the second lab product. 
While not much is known about future NCT LAB drops, there are certainly more experiments on the pipeline. NCT have been active on YouTube— now releasing many parody shows featuring various combinations of NCT members.  

Want more on NCT LAB? Check out our piece on Mark's first solo single, "CHILD."