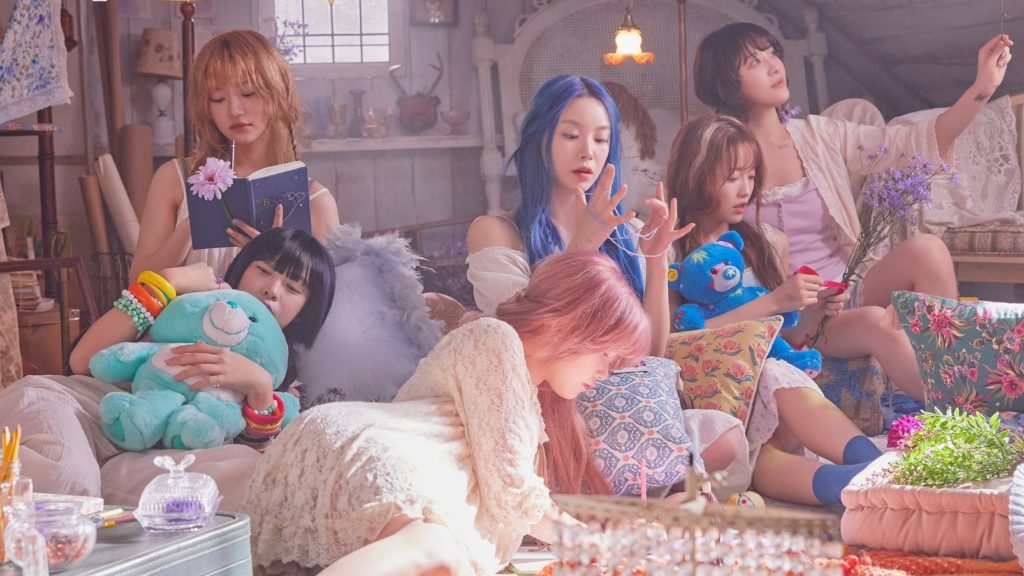 The K-pop scene has seen hundreds of girl groups debut with a myriad of concepts. MYSTIC STORY's Billlie is no exception. The septet, which debuted just shy of five months ago, has garnered attention for their artistry. With their outstanding members, diverse discography, and mystical (pun intended) storylines, Billlie has plenty of unique content for fans to discover.
What Is Billlie? (Hint: It's A Lot of Things)
Billlie consists of Siyoon, Tsuki, Sheon, Suhyeon, Haram, Moon Sua, and Haruna. However, the word "Billlie" also bears multiple meanings. Billlie is a girl who went missing, as told by the video "Bi11lie." Her disappearance played a large role in the group's storyline. Billlie also represents the inner psyche. As explained by Moon Sua in MYSTIC Story's event MYSTIC MADE, it's something universal. "Billlie means an internal self anyone can have and sympathize with," she said. The internal self resides in a vast world called "B-side," opposing the "A-side" or reality.
Notably, Billlie is spelled with three Ls. This is because Billlie can be separated as "Bi" (Korean for rain), 11, and "lie." In their debut showcase, Suhyeon explained the relevance of the number. In their story's legend, when the 11th bell rings in the middle of a purple rain, something strange will unfurl. To keep the strange event a secret, the girls lie about what actually happened.
How Billlie Came to Be
Way back in 2020, MYSTIC STORY teased a possible girl group by announcing their trainees. After some lineup changes, the final MYSTIC Rookies roster consisted of Moon Sua, Kim Suhyeon, Kim Haram, Kim Siyoon, Fukutomi Tsuki, and Osato Haruna.
Weeks leading up to their debut teasers, the MYSTIC Rookies boasted their performance skills. Moon Sua, Tsuki, and Siyoon kicked off the pre-debut promos by dancing to Beyoncé's live "Diva" performance. Then, it was Suhyeon, Haram, and Haruna's turn to demonstrate their dancing prowess with Cardi B's "Up." Last but not least, they danced to Ashnikko and Princess Nokia's "Slumber Party" as a sextet. JJ and Dohee Kim of 1MILLION Dance Studio choreographed all three performances.
Moon Sua: Born to Rap
Moon Sua is no stranger to the music scene. Before joining MYSTIC STORY, she was a YG Entertainment trainee, home to household names like BIGBANG, 2NE1, and BLACKPINK. She honed her rapping skills and showcased them in Unpretty Rapstar 2. The 2015 show saw her advancing to the final round and becoming the third runner-up.
After debuting under Billlie, Moon Sua continues to solidify her position as a rapper. She penned the rap parts of both "RING X RING" and "the rumor" from the Billage of perception : chapter one. Aside from Billlie songs, she covered rap songs from other artists, including BE'O and ASH ISLAND's "Without You."
Suhyeon: From the Silver Screen to the Music Stage
Suhyeon first made her public appearance as an idol survival show contestant on Produce 101 (2016) and MIXNINE (2017). Both shows elevated her fame as she started pursuing acting. In 2016, for instance, she starred in SEVENTEEN's "Chocolate" music video.
2018 saw Suhyeon earning her big break. As Yeo Bo-ram, she was part of the coming-of-age series A-Teen's main cast. The cheerful and fun-loving character also appeared in A-Teen's sequel A-Teen 2 (2019) and spin-off Twenty Twenty (2020). Beyond her acting endeavors, Suhyeon made a name for herself in the beauty industry. In 2021, months before her debut in Billlie, she produced and promoted Teen't, a lip tint brand created for teenagers.
Haram: The Golden Vocalist
With her smooth vocals, Haram is one of Billlie's vocalists. Prior to debuting, it was common for her to upload song covers, such as Stephanie Poetri's "I Love You 3000" and IU's "Palette."
After becoming part of Billlie, Haram continues to hone her singing. Billlie's slower tracks, such as "FLOWERLD" and "believe," highlight her soulful runs. She also demonstrated her versatility in Billlie's 1theK "Switch On" feature, singing K-pop songs in different genres. With Girls' Generation as her role model, she and her fellow members aim to make a lasting impact on the K-pop industry.
Tsuki: The Expressive Performer
Before debuting in Billlie, Tsuki has made a name for herself in Japan. Before joining MYSTIC Story, she modeled for Popteen, a Japanese teen fashion magazine. As TARU, she also became part of its girl group project 7+ME LINK, specifically the subunit MAGICOUR. Compared to Billlie, the girl group has a more vibrant concept. Their debut single "MAGIC"—the only one Tsuki participated in before leaving—is a dance track with city pop elements.
Tsuki's dance skills are greatly demonstrated when she debuted with Billlie. Both "RING X RING" and "GingaMingaYo" have her do acrobatics, a testament to her agility as a dancer. Recently, her "GingaMingaYo" fancam from ARIRANG K-POP blew up online. The video, which has gained more than 3.3 million views in just two weeks, went viral after fans and non-fans alike praised her facial expressions while dancing.
Siyoon: The Young Ace
Becoming a K-pop idol has always been Siyoon's dream. Featured in a Reuters article about K-pop trainees, she expressed her ambition of debuting on stage and trained every day. She polished her skills by starring in various projects, including SBS' Star King in 2009 covering Wonder Girls' "Nobody." Later, she auditioned for the fifth season of talent show K-pop Star in 2015.
Her efforts were fruitful as she joined MYSTIC STORY and debuted. In Billlie, she is known to be the main rapper and lead dancer. She wrote the rap parts in "RING X RING" and "the rumor" with Moon Sua. The two also did a rendition of "BOONG-BOONG," originally by K-hiphop artists HAON and Sik-K.
Haruna: Flourishing Talent
Osaka-born Haruna is the youngest (maknae) of the group, born in 2006. Initially, she showed little interest in K-pop, but after joining a local music academy, her opinion changed. Aside from training, she took part in local dance competitions.
After making her first appearance in the trainees' "Up" cover, she debuted as Billlie's dancer and vocalist. With Red Velvet's Seulgi as her role model, she thrives to become a multi-talented idol.
RING X RING
On November 10, 2021, Billlie finally made their debut with "RING X RING" (pronounced as "ring by ring"). The three-minute dance pop track, produced by Lee Min Soo, mixes striking guitar chords, intense synths, and haunting ad-libs. Lyrically, it recounts the sudden and peculiar disappearance of a girl in a small village. This event is further explored in "Bi11lie," a two-episode feature. What seemed like an ordinary day turned upside down when an ominous "purple message" arrived. Then, the village bell rang 11 times, and Billlie was taken away by a mysterious figure. Her friends—the members—attempted to search for her, but instead discovered something entirely different from what they expected. With visuals that combines modern trends and retro chic throwback, Billlie offer a unique aesthetic.
"RING X RING" is part of the Billage of perception : chapter one. The EP consists of six songs of various genres. "flipp!ng a coin," the second track, is an electronic dance track about facing whatever challenges life offers you. Taking a sharp contrast, the EP continues with "FLOWERLD," a ballad that features the members' vocal prowess and a string orchestra. This classical music influence is also seen in "everybody's got a $ECRET," which samples Tchaikovsky's "Dance of the Sugar Plum Fairy." Billlie also delve into R&B, which is prominent in "the eleventh day," and folk pop in "the rumor."
Sheon: New Arrival
Just ahead of Billlie's debut, an idol survival show held its final. On October 22, Mnet's Girls Planet 999 announced its top nine contestants, which would later debut as Kep1er. A MYSTIC Story trainee, Kim Suyeon, narrowly missed the final spot by placing 10th. Fans of the show praised her for her performance; many demanded her inclusion to MYSTIC Story's soon-to-be-debuting girl group.
While Suyeon was not part of Billlie's initial lineup, her dream of debuting eventually came true. On November 19, 2021, MYSTIC Story announced her addition to Billlie, debuting with the stage name Sheon. She would make her music video debut on the winter track "snowy night."
What A Strange World!
A few months after "snowy night," Billlie made their first comeback with "GingaMingaYo (the strange world)." Released on February 23, the song was part of their sophomore EP, the collective soul and unconscious: chapter one. Compared to its predecessor, "GingaMingaYo" has a lighter, more whimsical feel with catchy deep house beats. "Ginga minga" is a Korean expression meaning uncertainty. As the title implies, the song is about being confused with the changes in life as one grows up. The song is followed by "a sign ~ anonymous," a R&B midtempo song laden with modulating melodies. Next on the track list are "overlap (1/1)" and "M◐◑N palace," two synth R&B and pop tracks with an otherworldly feel. Last but not least, "believe" is a tribute to their fans, Belllie've. With the song, the girls cherish their fans for always being by their side.
Similar to "Bi11lie" from their "RING X RING" era, this comeback featured a concept video. In "what is your B?", the girls seem to have forgotten the events from "Bi11lie," now living their own lives. One day, each girl receives a mysterious "B" card. The "GingaMingaYo" music video continues the short film's plot. Now reunited in a colorful yet perplexing wonderland, the girls must figure out what is happening around them.
Currently, Billlie are promoting "GingaMingaYo" and preparing themselves for future projects. Keep an eye on them on Twitter, Instagram, and YouTube!
Want more K-pop girl groups? Check out our coverage of STAYC's "RUN2U" here.