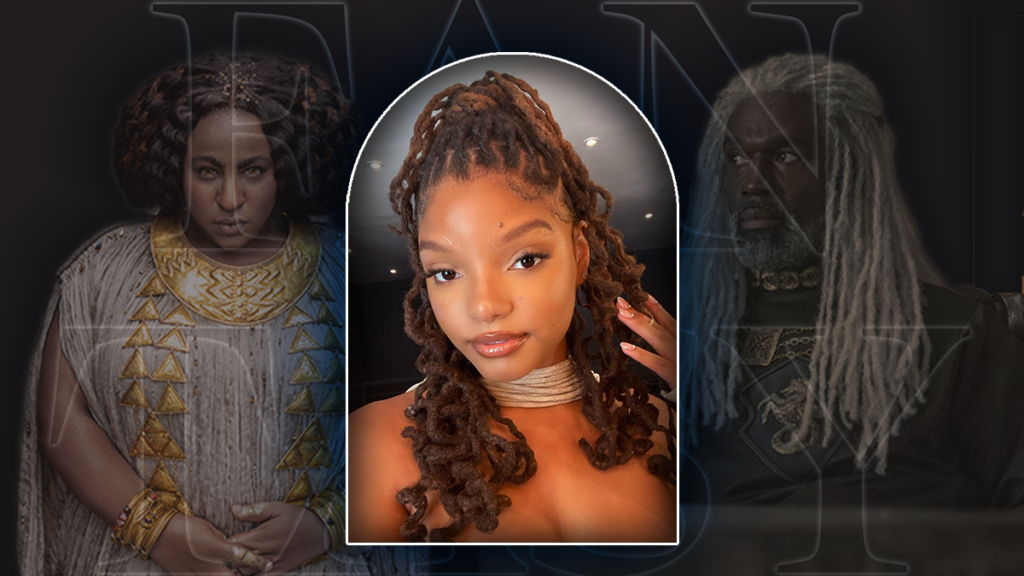 What We Talkin' Bout is EnVi's op-ed series that tackles serious social and cultural topics in an up-close and personal way. Each WWTB goes beyond just opinions to provide in-depth breakdowns of relevant issues that matter to us most.
"She's brown like me," 10-year-old Maya exclaimed after watching The Little Mermaid live-action trailer, touching the hearts of hundreds of thousands across the world. Set for release in May 2023, the musical fantasy features upcoming Black actress Halle Bailey of Chloe X Halle fame, playing the main character, Ariel.
As Hollywood aims to be more diverse and inclusive in front of and behind the camera, it has ushered in a wave of opportunities for Black actors. At the same time, there's been a revival of the sci-fi and fantasy genres within movies and television, with the increase of cosmic-level Marvel movies and the return of the Avatar franchise. It was only a matter of time before these two movements would cross paths, with Black actors taking on fantastical roles more and more.
However, not everyone appreciates this advancement of diversity in Hollywood. There has been an immense backlash against movies and TV shows that have cast Black actors in what would be considered traditionally "white roles." Especially when it comes to the IPs that are being remade, rebooted, and given sequels to give "new looks at familiar worlds."
Not Part of Our World
When the news of Bailey's casting as Ariel was announced in the summer of 2019, the internet erupted. Once all the unfunny jokes about mistaking her for another Black actress and Academy Award Winner — Halle Berry — died down, racists and anti-Black people came out in droves on social media platforms like Twitter and YouTube to air their grievances.
Many argued that their criticism had nothing to do with Bailey's race itself. It was just the fact that Disney would change the red-headed, blue-eyed, and pale-skinned character that's so near and dear to them. But Ariel is a mermaid, a mythological fish creature of lore that isn't assigned a race, so what should it matter if she's played by a Black woman in a live-action remake? Moreso, the original fairytale written by Hans Christian Andersen in 1937 never actually specified a race or place of origin for Ariel.
The criticism flared up again when Disney Studios released the enchanting teaser trailer for the movie. It shows Bailey in full Ariel costuming, dyed red locs, CGI iridescent tail, and all. The camera follows Ariel from behind as she swims through the water. As the score comes to the swell, you can finally see Bailey's face as she sings the movie's signature song, "Part of Your World." Within days of release, the video had accumulated 2 million dislikes on YouTube and a slew of negative and overtly racist comments targeted toward Bailey.
The director had to clarify that there was "no agenda" when deciding on the cast for the movie and that the casting call was open to all races and ethnicities. "We just were looking for the best actor for the role, period. The end. We saw everybody and every ethnicity," Rob Marshall explained. "[Bailey's] voice is something that is so signature and so ethereal…" and he knew once they heard her sing that she was right for the role.
Elfs & Dragons, & Black People?…Oh My!
This discourse isn't limited to The Little Mermaid. HBO's House of the Dragon (2022), a prequel of sorts to Game of Thrones (2011), has seen similar criticism. The show, based on George R.R. Martin's book Fire & Blood, takes place in a fantasy world where dragons and shapeshifters exist. This made-up setting is also home to the House of Velaryons, who are portrayed by Black actors.
House of the Dragon provides another fictional setting where viewers could suspend their belief to enjoy a story that included mythology and creatures proven to not exist, but they draw the line at Black people appearing on the screen. The fans of this show made such a roar that they basically forced the show creators to give an explanation on why they would make such beloved characters Black.
Since Game of Thrones featured an almost entirely white cast — for which it received criticism albeit minimal in comparison to this — show-runner Ryan Condal wanted a show that was more of the times, more relatable to now. Though he emphasized in a panel with TheGrill, that making this family Black wasn't "just to tick off a box" of diversity, it added to the stakes of the plot.
"We have an incredibly diverse audience that's not only across America but in multiple countries that speak all sorts of different languages, that represent all the colors under the sun." Condal said. "And it was really important to see some of that reflected up on the screen. This is a fantasy world. I think if this was a historical fiction piece, it'd be a more nuanced discussion."
It's worth noting that even with historical-based fiction, the conversation still leaned incredibly racist, anti-Black, and lacked nuance. See: Broadway musical Hamilton (2016) and Netflix series Bridgerton (2020).
Additionally, Amazon Prime Video's Lord of the Rings: The Rings of Power (2022) has followed a similar path. The show is a spin-off of the popular Lord of The Rings movie franchise based on J.R.R Tolkien's high fantasy novels.
A tale as old as time at this point, viewers were appalled to see Black elves and a Black dwarf in the series in prominent and even background roles. It went against everything they were used to seeing from the Lord of the Rings world of Middle Earth, which until that point was predominantly white.
South African and Iranian actress Sophia Nomvete acts as Princess Disa in the series. She took the brunt of backlash as the first Black dwarf in the fantasy world. "Some of the things [the cast] have experienced blew my mind. It is violent, it is harassment, it is aggressive, it is racist…," she told ABC News.
Amazon stood up for its show, cast, and fans in the face of review bombing, threats, and more. They released a lengthy statement condemning the racism and harassment and emphasized that "J.R.R Tolkien created a world which, by definition, is multicultural."
Why Representation Matters
Levar Burton, beloved actor and host, weighed in about the issue on ABC News Live. Burton, who was part of the legendary Star Trek sci-fi franchise, mentioned that seeing the show's original iteration in the 1960s was a major inspiration for him growing up. At that time, Star Trek made history by casting Nichelle Nichols in a lead role. The show also had her kiss her white male co-star, William Shatner, which became the first interracial kiss on US television.
"I was constantly looking for validation on TV… it was rare to see Black people." Burton went on to specify that he doesn't remember vitriol of this level towards him when he starred in Star Trek. But he believes what we're seeing now is only because people realize how important diversity really is in these spaces.
"To those who are privileged, equality seems like punishment," Burton concluded.
Why can't Black people have a place in fantasy without it being seen as inauthentic? The definition of the word fantasy is broken down by Merriam-Webster as "a creation of the imaginative faculty whether expressed or merely conceived: such as imaginative fiction featuring especially strange settings." If it is strictly imagination-based, then how can a made-up character's race be considered right or wrong? Even more so, how does that justify hurling racial epithets at the actors who are simply doing their job and making history in roles they could have only dreamed of?
Professor Ebony Elizabeth Thomas, author of The Dark Fantastic: Race and the Imagination From Harry Potter to the Hunger Games told Vulture in a 2022 interview that most white, western viewers have been ingrained to "see the world as white-and-heroic and dark-and-savage." She went on to elaborate, "That was how they were taught, but we do have an obligation as a society to begin to unlearn those lessons."
Not accepting the diversification in fictional fantasy roles limits people of color/children of color from seeing themselves on screen. It also minimizes the Black experience in cinema to just biopics and movies about race and slavery. As important as those stories are and as resilient as Black people can be, more than anything, we want to be seen as fully fleshed-out people (or aliens, or mythical beings!) and ideas on screen. We want to be those who can be anything, from boring and mundane school teachers, to mermaids who yearn for a life out of the sea, to aliens that guard the realms of the galaxy. The sentiment that Black people aren't allowed to be these types of characters is dangerous.
As Professor Thomas put it best, "…seeing people with darker skin is what interrupts the [non-Black viewers] fantastic dream. That must constantly be pushed back against, because if we're erased in the imagination then it is easier to erase us in the real world."