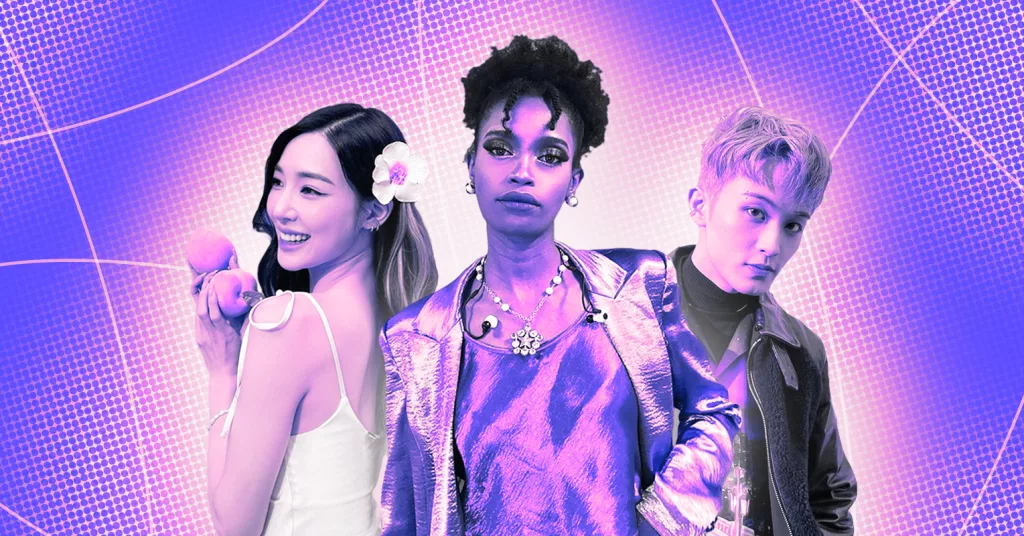 Learning a language, for many, can mean going through various hardships and struggles. On last year's International Mother Language day, EnVi explored a few foreign idols and their stories of debuting. With so many international idols in K-pop, let's take a look at a few more this year.
Jackson Wang: Hong Kong's Multilingual King
Jackson Wang was born in Kowloon, Hong Kong, and grew up in Sha Tin District. There, he studied at the American International School and learned to speak both Cantonese and English. It was fencing that initially captivated his heart and he aimed to reach the Olympics. During his time on the Hong Kong national fencing team, he won a series of awards, including first place at the Asian Junior and Cadet Fencing Championship in 2011. During his time as an athlete, he also spent some time playing around with music with a good friend, MC Jin. 
In 2010, a talent agent from JYP Entertainment invited him to participate in global auditions in Kowloon, and he ended up winning first place among 2,000 applicants. The following year, he was offered a sports scholarship from Stanford University but turned it down to pursue a career in K-pop. He moved to South Korea where he trained for over two years before officially debuting in GOT7 with their debut single "Girls Girls Girls," in 2014. 
During his first year and a half in Korea, he learned Korean strictly through books. Apart from that, for another two and a half years, he revealed that he learned the language by dating. On the 100th episode of JTBC's "Give Me a Meal," Jackson shared whatever language you want to learn, it's equally as important to learn the culture of the country as well. To this day, he's known as one of  K-pop's multilingual speakers, including English, Cantonese, Mandarin, Shanghainese, and Korean. Additionally, he speaks basic Japanese, French, and Thai. 
In 2017, he started his own record label, Team Wang, in partnership with Sublime Agency. Shortly after, the Mandarin singer started to grow internationally. He is currently working on his Team Wang Design clothing brand. Just two months ago, on December 8, 2022, he released his most recent music video for "Come Alive." Currently, he has a 2023 "MAGIC MAN World Tour" planned as well as a Coachella appearance in April. 
Fatou: From K-pop Fan to K-pop Idol
Fatou, also known as Samba Fatou Diouf, is the leader, main rapper, and lead dancer of the K-pop girl group Black Swan. She was born in Senegal where she lived up to the age of 12 until eventually moving to Belgium. Despite Wolof being her native language, she lost her knowledge of it during her teenage years while learning Dutch and English.
Becoming a K-pop idol was something she dreamed of achieving around the age of 14 and 15 after a friend showed her SHINee's "Replay" music video. While living in Belgium, she considered pursuing music as a career, but her parents worried it might not be stable enough, so she studied tourism instead. Her first time visiting South Korea was for a month-long vacation in 2017. During this first visit, she said she felt out of place and hardly left her hotel, but by the time she left, she had made new friends and got the chance to practice her Korean.
She returned to her everyday life in Belgium, but after a while, she had the desire to go back to Korea with a working visa in order to pursue her passion for music. She worked as a model for Cineline Entertainment, but it wasn't until about two months into living in Korea that DR Music signed her. After training for two years, she and her fellow Black Swan members finally debuted on October 16, 2020, with their debut single, "Tonight." Fatou in particular made history by debuting as the first fully Black K-pop idol. 
Fatou struggled a lot when she first arrived in Korea. In a YouTube video with POPKORN, she spoke about her first trip to Korea and said, "I was always reminded that I'm a foreigner and a Black woman. That's because everyone was staring at me wherever I went." Now, she believes things have changed in that aspect as there are more foreigners present in Korea. There was a language barrier as well when she decided to move from Belgium to Korea.
In the beginning, she couldn't communicate at all but revealed that her Korean got better due to her members helping her with the language and teaching her how to behave appropriately around senior artists. She was also faced with backlash shortly after debuting and was on the verge of giving up, but her members encouraged her to keep going and gave her overwhelming support. In addition, the cultural differences were a tough challenge, but she learned to accommodate throughout the years and is now used to Korean culture. 
Fatou shared that she would like to see more Black K-pop idols debut and encourages everyone to follow their dreams. She believes that K-pop will evolve and become more inclusive in the future and told Teen Vogue, "We're gonna see so much more nationalities. So much more races and everything. It's gonna be so much fun." Recently, Fatou came out with a mixtape titled PWAPF (Psycho with a Pretty Face) featuring "Castle Key (Roll)," "Gucci (PWAPF)," and "Lingo (Stunna)." Aside from her talents, she is known as a multilingual idol as she speaks English, French, German, Dutch, and Korean.
Mark Lee: Aspiring Author to Song Writer
Mark Lee, member of NCT 127, NCT U, NCT DREAM, and SuperM, was born in Toronto, Canada. He moved to New York around the age of five and later moved to Vancouver, Canada, at 10 years old. As he was born and raised in Canada, English is his native language, but he writes songs and converses in both English and Korean. He also knows a bit of Chinese and Japanese. In 2010, he decided to audition for SM Entertainment at the SM Global Audition in Canada which he successfully passed and joined the company in 2012. A year later, on December 16, 2013, he was introduced as a member of SM Rookies, SM's pre-debut training team. 
After four years of training, he began to debut under different subunits of NCT in the span of a few months. He first debuted as a member of NCT U with their single "The 7th Sense," on April 8, 2016. Three months later, on July 6, 2016, he debuted with NCT 127 where they came out with their debut track "Firetruck." Shortly after, on August 24, 2016, he debuted in NCT DREAM with their debut track"Chewing Gum." Fast forward to 2019, he was announced as a member of the K-pop supergroup SuperM as they came out with their debut single, "Jopping." 
Becoming a musician wasn't his original plan. In an interview with Teen Vogue, he revealed that he dreamt of becoming an author, "When I was in school, I was always the kind of guy who would write more than expected, and that became a thing that clicked for me." Through school projects and essays, Mark discovered a passion for writing that eventually turned into rap writing, a skill that he is now well known for. He had no intention of auditioning for SM, but due to a teacher strike on the day auditions were being held, he wasn't able to attend school so he decided to audition with his brother. Mark and his fellow NCT 127 members recently finished their second world tour, "NEO CITY-THE LINK" and he is now getting ready to join NCT DREAM on their first world tour,  "NCT DREAM Tour 'THE DREAM SHOW2: In A DREAM." 
Tiffany Young: Korean and U.S Star
Tiffany Young, also known as Stephanie Young Hwang, was born in California and raised in Diamond Bar City. As a child, she was able to express her creativity through band and orchestra, sports, show choir, dance, church, and even a Korean club. She was first introduced to K-pop and K-dramas in the early 2000s by her parents and grew up admiring BoA, later crediting her for being the reason she wanted to become an idol. 
As a child, her mother played music around the house such as Madonna and Whitney Houston. Unfortunately, around the age of 12, her mother passed away. Tiffany has expressed that she was hurt and confused after her passing, and music was something that gave meaning to her life. At the age of 15, she decided to pursue her passion after her older brother encouraged her to audition for SM Entertainment's 2004 music festival in Los Angeles. After being recruited, she made the decision to move to South Korea alone. From there, she trained for two years before debuting in 2007 with Girls' Generation with their single "Into The New World."
Although she is of Korean descent, she only spoke English fluently when she first arrived in Korea. Despite living with her two grandfathers back at home who taught her about Korean culture, it still took her two years to read and write in Korean confidently. She was also faced with cultural differences as she was expected to look and act a certain way, but her love for being on stage pushed her through. She confessed that during her trainee days, becoming an idol was all she wanted, and despite the challenges she came across, she worked hard to debut. 
After choosing not to renew her contract after a decade in K-pop, she moved back home to Los Angeles in 2018 to pursue a career in the states. She kicked off her solo career with "Over My Skin," on August 2, 2018. In the same year, she came out with two other singles titled "Teach You," and "Peppermint." Now, she has a colorful discography and has even pursued acting, landing a role as Roxie in the Chicago musical and another role as Rachel in the K-drama series, "Reborn Rich." Currently, she's signed under the Korean artist agency, Sublime. 
Krystal: Idol-Turned Actress
Krystal, also known as Jung Soo-Jung and Chrystal Soo Jung, was born in San Francisco California. Her rise to fame began at the young age of five during a family vacation to South Korea in which she and her sister, Jessica Jung of Girls' Generation, were spotted by SM Entertainment. Both were offered the chance to become trainees, and although her parents only allowed Jessica to proceed, Krystal appeared in music videos such as Shinhwa's "Wedding March" and Rain's "Still Believe." In addition, she appeared in various commercials until finally, her parents allowed her to begin training in 2006. After three years of training, she and her fellow f(x) members made their debut on September 2, 2009, with their single "LA chA TA." 
After arriving in Korea, she attended Korea Kent Foreign School where her fluency in both Korean and English improved. Through her knowledge in both tongues as well as a bit of Japanese and  Chinese, she's been able to better communicate with fans internationally.
Known for her singing skills, she has had many opportunities to collaborate with other artists such as TVXQ's Changmin and Exo's Chen through the SM Entertainment musical group project, SM the Ballad. She's also recognized for her fashion style, winning various fashion awards including the Asia Style Award in 2019. Along with her members, she engaged in solo projects, including ad campaigns with brands, and even began acting in 2010 starring in "More Charming By The Day." Now, she has a lengthy filmography list and continues to star in dramas under H& Entertainment, her most recent one being "Crazy Love." Since she came to the big screen, she has achieved great success and won numerous awards, including the Popularity Award at the KBS Drama Awards in 2022.
Krystal winning Popularity Awards at KBS Drama Awards 2022 😭✨️🙏🏻 Congratulations Princess 👸🏻 pic.twitter.com/mSnorIwWVH

— 🛐 KRYSTAL 🛐 (@jungcula) December 31, 2022
A Celebration of Languages
K-pop is home to many foreign idols and each have their own unique stories full of sacrifices and labor. Leaving your native country and learning a new language as well as cultural differences are not easy challenges to get through, but these artists have all shown that hard work can often pay off. This International Mother Language Day, let's remember to always celebrate our culture and languages. 
Interested in more foreign idol content? Check out our Foreign Idols and their Journeys to Fame piece here!