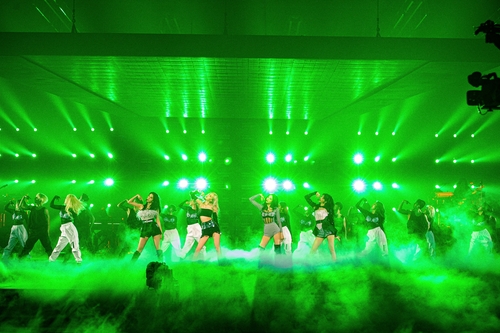 by Diana | @18kst
On January 31st, 2021, the K-pop girl group BLACKPINK kicked off BLACKPINK: The Show with an electrifying performance of their hit song "Kill This Love." The concert featured a live band, elaborate set designs and Jisoo, Jennie, Rosé and Lisa looked stunning in minidresses adorned with various appliqués and intricate beading.
They performed "Crazy Over You" and "How You Like That," as well as other hits from their debut album, BLACKPINK: The Album. They changed into a second, street-style look that consisted of graphic crop tops and skirts, an off the shoulder shirt and T-shirt dress with a corset on top. The members played some of their older hits including the ballad style "Playing With Fire" and "BOOMBAYAH," their debut song and a high-energy dance track.
Rosé had fans talking, as she made her highly anticipated solo debut at BLACKPINK: The Show. "Gone" is a melancholic ballad that features a soft electric guitar in the background, and talks about a relationship that went south. The first part of the song displayed the music video, and in the latter half, Rosé herself performed it live.
All the members had their own solo performances in addition to their group songs. Jisoo had the first solo stage, and she performed a spectacular cover of "Habits (Stay High)" by Tove Lo that featured Korean lyrics. Lisa started her performance on an elevated platform and performed the fun, nostalgic track "Say So" by Doja Cat. She threw in her own rap verse with a dance break and Jennie performed a remixed version of her 2018 pop hit "Solo", which featured a new rap verse.
Throughout the concert, the members had mentions where they discussed their performances and thanked their fans, officially called BLINKs, for always watching and supporting them. They also included clips from their Netflix documentary BLACKPINK: Light Up The Sky where they talk about their journeys to becoming K-pop idols. BLACKPINK also performed some of their collaboration tracks with western artists, including the dance-pop Lady Gaga track "Sour Candy."
The members changed into their third stage outfits, which coordinated black and white among all the members. Lisa wore a sleeveless crop top over a graphic T-shirt, and some white high waisted shorts. Jennie wore a patterned black and white minidress with a white belt and white thigh-high boots. Jisoo wore a white dress with a black beaded corset on top. Rosé had a white crop top and a bubble jacket, puffy skirt and puffy knee-high boots. They performed fan favorite "Pretty Savage," an empowering anthem that remains true to BLACKPINK's signature sound. For 2018 hit "DDU-DU DDU-DU," BLACKPINK danced on a stage filled with water for an explosive performance with numerous background dancers and pyrotechnics.
The members had their final mention of the night and thanked BLINKs for watching, then wrapped up the show with the upbeat and bubbly track "Forever Young." They performed the song in front of numerous fan letters and notes sent in by BLINKs.