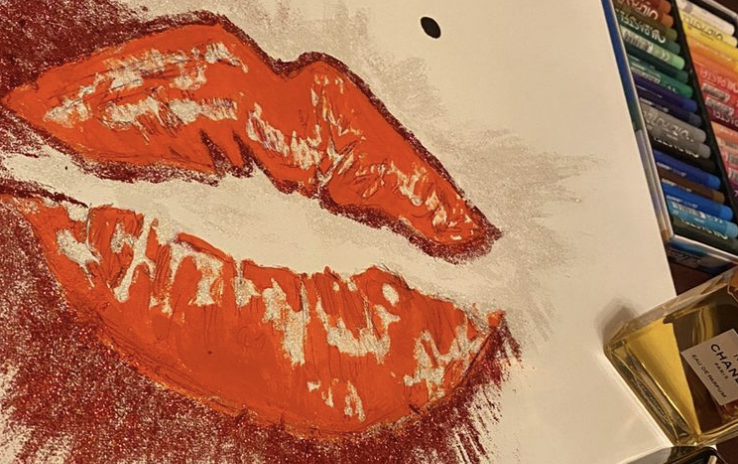 By Ellie Forte | @filthydinosaurs and May Peralta | @lesjoursdemay
Taeyong's fans have grown accustomed to frequent social media updates and surprise music releases over the past months. However, he never ceases to amaze with thought-out cultural and artistic references that usually send fans into a speculative frenzy. 
Taeyong's IG stories
30.04.2021 pic.twitter.com/9eGw1i4thx

— May (@lesjoursdemay) May 1, 2021
On April 30, Taeyong surprised fans by posting an Instagram story that captured an oil pastels artwork of a pair of lips, accompanied by the word "Monroe," a bottle of the iconic Chanel No. 5 perfume and an ashtray. Fans took to social media to theorize about the meaning of this update, quickly linking the picture to the actress Norma Jeane Mortenson, otherwise known as Marilyn Monroe. 
omfg the concept of taeyong and marilyn… I'm dizzy pic.twitter.com/AdzjrTP45W

— sam (@haesyeri) April 30, 2021
Considered a symbol of the old Hollywood glamour and pop culture, Marilyn Monroe continues to be one of the biggest icons of all times. Almost 60 years after her tragic passing, she's still immortalized by several artists and has become a source of inspiration for many others—Taeyong included. Here's a breakdown of the symbolism behind Taeyong's latest Instagram story.
Who is Marilyn Monroe
View this post on Instagram
Born Norma Jeane Mortenson, but later recognized by the stage name that took her to stardom, Marilyn Monroe was an actress, model and singer. Monroe went down in Hollywood's history for her roles in movies like Monkey Business, How to Marry a Millionaire, Gentlemen Prefer Blondes and All About Eve, alongside stars of that time like Bette Davis, Betty Grable, Lauren Bacall, and Cary Grant. 
Marilyn and Pop Art
View this post on Instagram
Marilyn Monroe is not only known for her acting career, but also as a muse for several artists. Pop art emerged in the late 1950s, taking mass media and pop culture as inspirations for pieces. Artists like Andy Warhol reproduced the actress' image in works like the silkscreen painting, "Marilyn Diptych" that became a cultural touchstone, highlighting Marilyn and her life. 
Taeyong's post showed these same elements with oil pastels to recreate the iconic red lipstick and beauty mark that Marilyn was famous for. The bold yellow writing "Monroe" is reminiscent of the ways the celebrity is represented in pop art.
Chanel Nº 5
View this post on Instagram
Throughout her career, Marilyn collected some of Hollywood's most memorable style moments, becoming an indisputable fashion icon of the era. Although the scene in The Seven Year Itch—the one with the breeze blowing up her white georgette halter dress— transcended history and is considered to be Marilyn's most iconic look, the actress' affair with Chanel Nº 5 is equally as noteworthy. 
Despite never serving as a model for the brand or having an advertising agreement during her lifetime, Marilyn Monroe is arguably the greatest ambassador of Chanel's legendary perfume. The first time she publicly spoke about her love for the fragrance was in April 1952, during an interview for Life Magazine. Asked about what she wore to bed, she wittily replied "Just a few drops of No. 5." However, it wasn't until 2013 that Chanel officially included Marilyn in one of their campaigns. One year prior, Chanel had revealed an unreleased recording of the actress discussing her famous quote with the Editor-in-chief of Elle Magazine. 
Taeyong's Instagram story, undoubtedly hinted at the relation between Marilyn Monroe and Chanel's iconic perfume—that this 2021 celebrates 100 years of existence. 
Checking the Facts
For many, the ashtray in Taeyong's piece has been a controversial subject. However, as one of the most photographed women in history, there's plenty of photographic evidence that suggests Marilyn Monroe was a smoker. Many argue that she only posed with cigarettes for photographs and smoked as part of her movie roles, but at the time smoking was so common that warning labels didn't even exist. From Camel, to Viceroys, to Marlboro, mass advertising of cigarettes played a major role in the popularity of this practice.
View this post on Instagram
Taeyong's reference of Chanel and the ashtray are both key references to Marilyn's image as a celebrity.
What Could It Mean? An Inspiration?
On several occasions, Taeyong has used art as a way to express his thoughts and feelings. From painted walls to accessories and clothes, he seems to have a unique artistic sensibility and a knack for creation. NCT's leader has used social media to show his musical talent, but also to communicate through art and bring fans into his own world and music-creation process. On September 7th, 2019 he shared an untitled song on VLIVE —containing a snippet from an interview of Marilyn Monroe—which many fans speculate to be linked to his recent Instagram story. Much like his previous SoundCloud releases, which were accompanied by either art or teasers, this could possibly be the hint to a new song.
just want to add that the little talking snippet before the song comes from an old 1960 interview with Marilyn Monroe.

"After a year's absence, Marilyn Monroe flew back to Los Angeles from New York and answered reporters questions." https://t.co/HnyWTvr672

— Sam 🌷🌷🌷 (closed) (@yung__yongie) May 1, 2021
Taeyong is known for using a wide range of subjects as inspiration. In the past, songs like "GTA 1" and "GTA 2" have also drawn inspiration from iconic cultural moments or artistic references, so it is safe to assume that Monroe might be the introductory teaser to another song of Taeyong's catalog. 
Taeyong continues to prove his artistry through vivid imagery and clever hints throughout his social media. Using cultural icons, he is able to create works that spark conversation and analysis. 
Want to keep up more with Taeyong's works? You can follow him here. 
Thumbnail from @taeoxo_nct