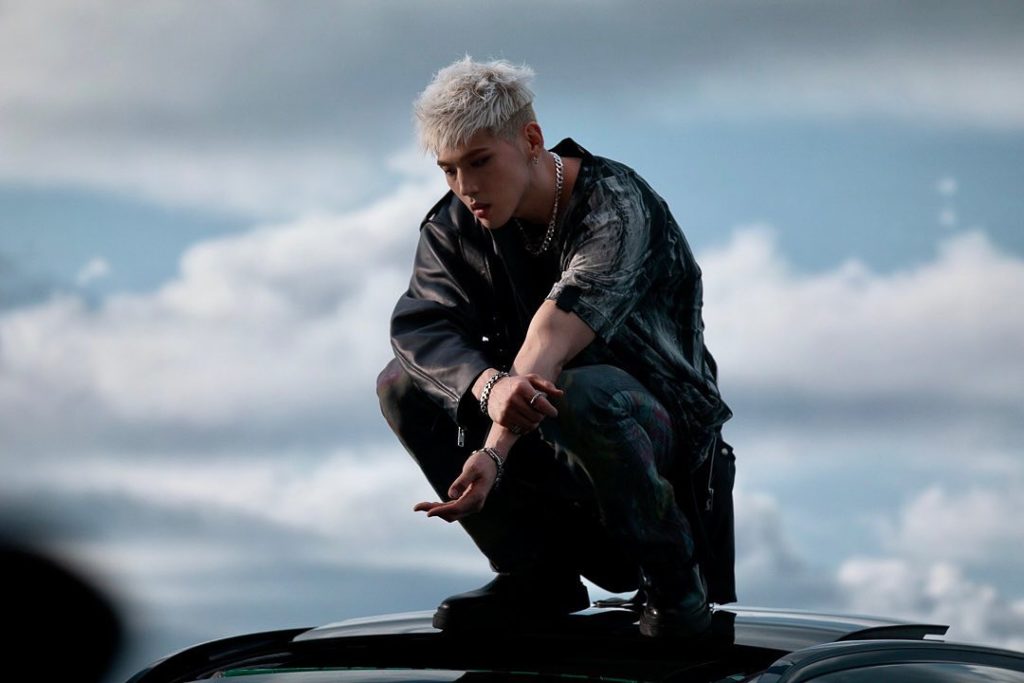 By Sydnie Giles | @sydnie.eliese
On June 9 Kard's BM—and Big Tiddie Gang president—released his first-ever English single "Broken Me." The song, which coincidentally shares BM's initials, is an alternative indie song infused with electronic pop. The song speaks on BM's struggles with loneliness and the pressure that he feels. 
BM Left Bleeding and Broken
The song opens up with a moody guitar to complement BM's rugged baritone voice. When the beat drops with a punchy drum, light autotune is added to BM's voice to help transition into the chorus. The chorus features a high-pitched repeated two-bar midi melody that contrasts the somber lyrics BM sings, "I know I know I'll end up on my own / though I hate to admit it." The added midi also makes the song attractive to fans of the more traditional K-pop sound, as electronic pop elements are familiar in lots of songs.
The instrumentals are even more impressive because BM not only wrote the lyrics but also contributed to the production of the song. In the lyrics, BM describes himself as broken and begs for the woman he's singing to not leave him that way. "Broken Me" highlights the loneliness we can all relate to from quarantine and embraces it masterfully.
View this post on Instagram
A Colorful (Emotional) Getaway
The music video, which was shot by Vive Studios and directed by Jerry Park, follows the same structure as the song by switching between neon city lights and moody, muted grays and blacks behind mountain cliffs. BM sports spiky, gelled white hair to perfectly pick up the colors of the neon lights shown. While BM passionately sings, viewers also watch a scene take place featuring actor Eun Seok Park.
Eun Seok is most known for being an actor on the hit show Penthouse that's been popular among global audiences. Viewers watch Eun Seok producing music until he worryingly looks up and leaves to the city streets before going out for a drive to the mountains. When Eun Seok arrives he meets a cloaked figure. Throughout the video, BM mirrors the actor on his journey, his fashion mimicking the background with muted grays, black, and white clothing in the mountains, and colorful street style in the city. 
Fan Reactions
Of course, fans had an endless amount to say about the sexy Big Tiddies of BM.
BABY I'VE BEEN BROKENNNNNNNNNNNNNNN #BM #BMBROKENME #BM_BROKEN_ME #KARD pic.twitter.com/SPFg4RxV5P

— Mar? (@krimsonkard) June 9, 2021
STREAM BROKEN ME OUT NOW#BM_BROKEN_ME #BROKENME #BM #비엠 #KARD #카드 pic.twitter.com/m8qcDfBsEu

— katarina #BROKENME ? (@steaItherest) June 9, 2021
I fell in love with this song, the lyrics are amazing and the music is brilliant??@KARD_Official #KARD #BROKENME #BM_BROKEN_ME pic.twitter.com/HvT1lDMzDC

— i know i love you (@babyminchan98) June 9, 2021
ok but genuinely whoever did bm's makeup for broken me deserves some sort of award ??? HE LOOKS SO DAMN GOOD pic.twitter.com/CPJFMNaq34

— ico(nic) (@bmhimbo) June 3, 2021
time to blast it on repeat until my ears are ringing#KARD #BM #BMBROKENME #BM_BROKEN_ME @KARD_Official pic.twitter.com/3QivaWgc7q

— anne ? (6/8) (@hiddenie) June 9, 2021
Broken me is a song that you can cry to but can also party to. Make it make sense.#BROKENME #bmbrokenme #BM

— N! (@kard__supremacy) June 9, 2021
wait why the 6 9 candles tho ?#BMISCOMING #broken_me #kard #bm pic.twitter.com/FEfGWV7BBq

— jsephology | We hold on (@jsephology_) June 9, 2021
Because KARD is on hiatus, BM's first solo acted as a refreshing oasis in the middle of a desert. With the beautiful production of both the song and video, fans can't wait to see what's to come next.  
Click here to listen to "Broken Me" on Spotify. 
Enjoy reading about new music releases? Read up on EXO's comeback here!