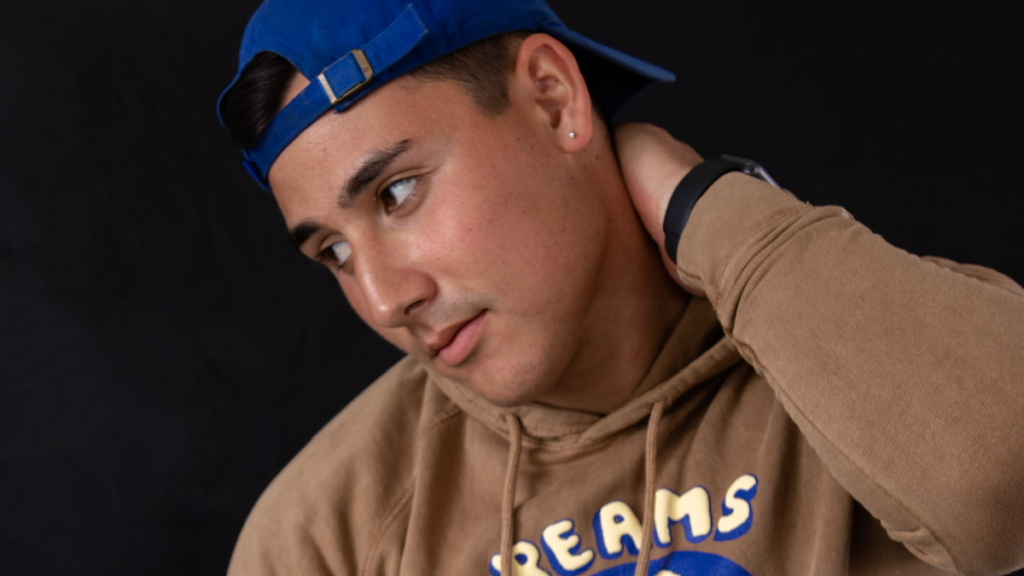 Fresh off the success of the emotionally vulnerable "High School," singer-songwriter Bradley Kim is back with another gut-wrenching track. His latest release, "Happy Alone," created with  Konn and Nayl, dropped December 3 on all major streaming platforms. 
View this post on Instagram
Bradley is an indie-pop musician from Seattle–who also just happens to have been the first openly LGBTQ Division 1 athlete at a service academy. But these days, you can find Bradley behind a guitar, or recording something borne out of a burst of inspiration in his voice notes. 
Blending Genres With Ease 
Unlike the simple composition that "High School" boasts, "Happy Alone" is a layered, energetic dance track with EDM influences. Bradley teased it to EnVi back in September as a track blending several genres into one, and called it out of his comfort zone.
You wouldn't think it, though, as Bradley's smooth, deep vocals sound right at home in "Happy Alone." He brings his signature lyricism to the track–while the song itself is fun and head-bob-inducing, its meaning goes deeper. At first glance, the title implies being happy alone, but the lyrics illustrate a melancholic realization that "it's been too f*cking long since I've been happy alone."  In "Happy Alone," Bradley also dabbles in a bit of a rap verse, which slips in seamlessly between his vocals–something new for anyone who's listened to his music before. 
Lyrical Mastery
This specific style of relatable lyric writing is a signature of Bradley's musical style. With "High School," the lyrics were a vulnerable reflection of his closeted high school years, an internal battle between being authentic and fitting in. 
In "fuck, ily," Bradley captures the exact, fleeting moment of realizing you're in love. In his lyrics, he is both vulnerable and specific, his songs capture moments deeply personal to Bradley. But they're still vague enough that his listeners can find comfort in the camaraderie of a shared experience. "Happy Alone" is a doorway into a different kind of experience: one that oozes longing, regret–maybe frustration, too. "I never ask 'bout the way that I feel," Bradley croons. In true Bradley Kim fashion, it hits close to home for anyone who has felt the visceral loneliness that can come from being single.
"The song is about wanting to be with someone because you don't know how to be happy by yourself," Bradley said about the track. "It's not knowing how to take care of yourself and love yourself, and so badly wanting to be in a relationship as a result." 
A Busy End to 2021
Bradley has stayed booked and busy this past year–this summer, he opened for Irish singer-songwriter Dermot Kennedy. September had the release of "High School," and in October, "fuck, ily" hit one million streams on Spotify. Between all of this, Bradley's managed to sneak in a few live performances, too, playing a virtual set for QLOUT Collective.
I will be performing in a virtual showcase on Tuesday, October 5th at 8PM PST/ 11PM EST !! I'll be playing an acoustic set of all originals (might be new songs debuted👀) and there will be a live Q&A directly afterwards!! Link to RSVP: https://t.co/cFxZ5GDXnp pic.twitter.com/BztNwC5X8S

— Bradley Kim (@bradleykkim) September 29, 2021
We hope there's more to come from Bradley Kim in the new year–he previously told EnVi that his recording process is much like his writing style: fluid organic. Regardless, "Happy Alone" has proven that Bradley's becoming a master of all genres, and we can't wait to see what he does next.
Keep up with Bradley on his Instagram and Twitter, and follow his music on Spotify!