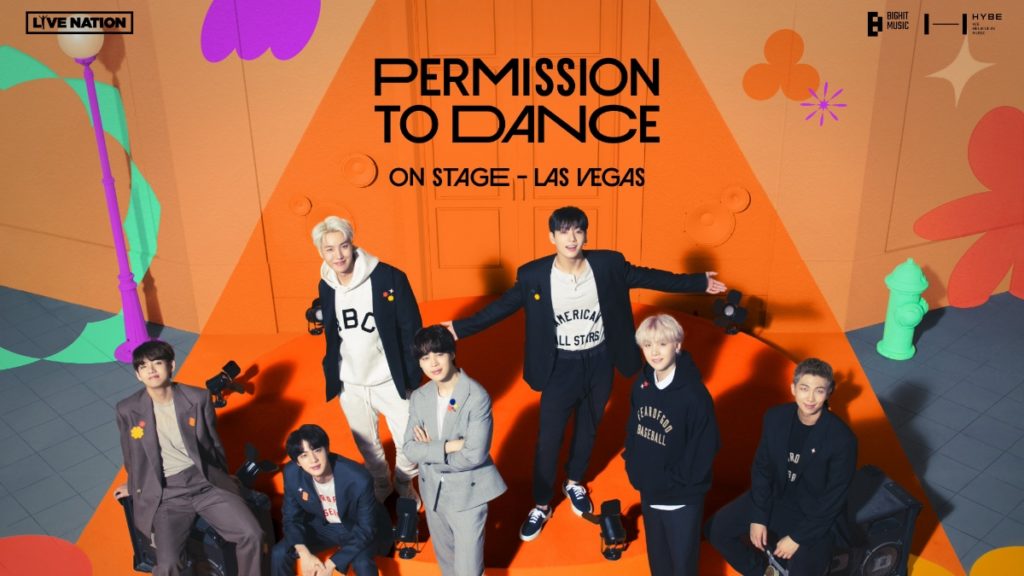 It's official: BTS are coming back to the U.S.! On February 22, BTS' label, BIGHIT MUSIC, announced their BTS PERMISSION TO DANCE ON STAGE – LAS VEGAS concert. The seven-membered group will be holding their concert at Allegiant Stadium on April 9-10 and April 15-16. 
Partnering with MGM Resorts, BTS will also offer LIVE PLAY at MGM Grand Garden Arena. Fans will be able to "watch the concert in real-time on a large screen." The LIVE PLAY location will offer fans activities such as PHOTO CARD RANDOM BOX and a photo zone. Online streaming will also be available for day four of the concert. 
Overwhelming Excitement
It's safe to say that fans were bubbling with excitement after this announcement. ARMYs flocked to Twitter to express their anticipation. 
AND WHEN THE ENTIRE LAS VEGAS STRIP LIGHTS UP PURPLE CUZ BTS IN LAS VEGAS pic.twitter.com/SWOVoWmZj5

— Nanerz⁷🌻🌻 (@YOONGIS_HH) February 22, 2022
BTS WORLD TOUR MEANS NEW STAGES NEW LOOKS AND MOST IMPORTANTLY BANGTAN'S HAPPINESS THEM DOING WHAT THEY LOVE THE MOST THEM PERFORMING MEETING ARMYS IM SO EXCITED

— taehyung thinker⁷ (@vanteficient) February 22, 2022
BTS IN LAS VEGAS IN APRIL TELL YOUR MAMAS TELL YOUR PAPAS TELL YOUR SISTERS pic.twitter.com/oaM9wG3WhJ

— Rain⁷ 💜🌧 (@ghof_rain) February 22, 2022
What's Next?
BTS are booked and busy with their upcoming list of events. Recently, there have been rumors of a full-length album comeback. They are also set to hold the Seoul leg of "BTS PERMISSION TO DANCE ON STAGE" on March 10,12, and 13. And, as many eagle-eyed fans have caught, they are also scheduled to attend the 64th Grammy Awards on Sunday, April 3.  
But that's not the end! Even before the Vegas announcement, fans had already been speculating about a world tour. In an investor call, HYBE's CEO, Jiwon Park, indicated to concerts abroad for their artists, BTS included. With the new dates released, fans have little to no doubt a full-scale tour is coming. 
the subject line of the official hybe press release just sent out is "BTS TO CONTINUE THEIR WORLD TOUR WITH
'BTS PERMISSION TO DANCE ON STAGE – LAS VEGAS' IN APRIL"

clinging to that use of "world tour"!

— serial experiments lenika (@lenikacruz) February 22, 2022
SO APRIL IS SUPPOSEDLY THE MONTH THAT THE MOTS TOUR WILL START & NOW, THE LAS VEGAS DATES ARE ON APRIL. BTS WORLD TOUR IS COMING!!!! pic.twitter.com/XYkfWoxqUB

— zy! •᷄ɞ•᷅ ⁷ hobiuary (@faeryjim) February 23, 2022
2022 THE BEGINNING OF A NEW ERA, PTD ON STAGE- SEOUL, PTD ON STAGE- LAS VEGAS. THE WORLD TOUR IS STARTING Y'ALL! THE KINGS ARE BACK ON STAGE pic.twitter.com/UrLNfqhUkP

— ҂ ً gel⁷ 🎀 (@kthvsgf) February 23, 2022
Just what I needed to get through the day, BTS world tour soon?😭 pic.twitter.com/jHh3O03ti2

— Rad⁷ (a little IA) (@KingstanBangtan) February 22, 2022
if this was jungkook in LA.. how do we plan to survive jungkook in Las Vegas pic.twitter.com/YcrzI3fQdG

— funky little popstar (@hrIykoo) February 23, 2022
With a busy year ahead, we can't wait and see what the year has in store for BTS. For more updates, make sure to follow them on Twitter, YouTube, and Instagram!
Want more BTS content? Read about 13 iconic j-hope moments here!