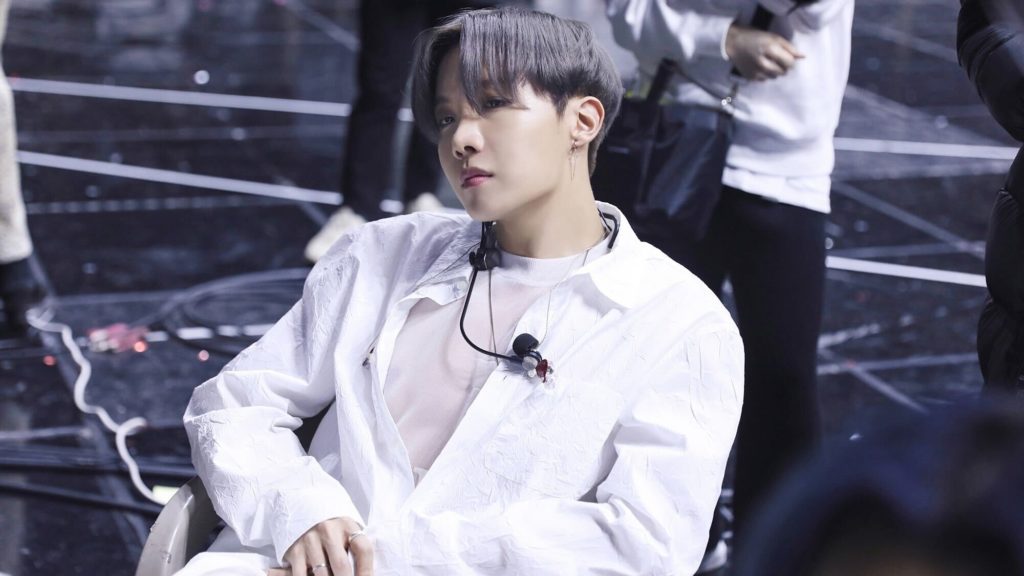 BTS' j-hope can do it all; whether it's rap, dance, or singing, j-hope fills the stage with his boundless energy and irrefutable talent. To celebrate j-hope's 28th birthday, we've compiled 13 of the most iconic j-hope moments!
Hope On The Street
j-hope is irrevocably known for his phenomenal dancing and lithe body lines. "Hope On The Street" is j-hope's series showcasing his street dancing, and he's been releasing these videos since 2015. In the series, j-hope has had guests as well as BTS members appear. These videos have been posted on BTS' YouTube channel, Twitter, and the group's V-Live.
"1 VERSE"
Released on SoundCloud on December 21, 2015, "1 VERSE" was a surprise gift to fans. j-hope tweeted "Tonight" with a screenshot of the audio file, alerting fans to the upcoming release. The track, mixed and mastered by Pdogg, is a sample of "El Chapo" by The Game and Skrillex. The lyrics were written by j-hope, who raps about how hard he worked to get to where he is despite what haters might say.
The Flower Has Bloomed
In BTS' 2016 Chuseok greeting on the V-Live platform, six of the members were seen on screen, dressed casually and introducing themselves to fans. Thirty seconds into the live show, the camera panned to j-hope wearing a giant flower costume on his head. The members are seen laughing ecstatically in the live, and fans similarly found the entire situation adorable. The fun-filled moment became a running meme in the fandom.
Boy Meets Evil
Originally released in a comeback trailer, "Intro: Boy Meets Evil" was a solo track by j-hope for the WINGS album. J-hope and Jimin had the opportunity to dance to the track at the 2016 Mnet Asian Music Awards. The performance started with j-hope dancing to the solo track and was followed by Jimin performing a part of "Lie" blindfolded. They then proceeded to dance to "Intro: Boy Meets Evil" in tandem. The performance was highly praised as the members danced in sync despite one being blindfolded.
"MAMA" Live Performance during the WINGS Tour
BTS' WINGS tour was a turning point for the seven-membered group. It was the first time each member had a solo song to showcase their unique feelings and music style. j-hope's "MAMA" is an ode to his mom where j-hope shares the love he has for his mother who sacrificed so much for him. In the live performance, j-hope is adorned in a glitzy chevron suit jacket. The final chorus has an entire choir singing and dancing behind j-hope, cementing the feel-good vibes of the song.
Come Back Home with Seo Taiji
Officially released on July 5, 2017, BTS's rendition of "Come Back Home" is still popular to this day. BTS participated in the remake of this song as a part of Time: Traveler, Seo Taiji's 25th anniversary project. While some lines of the song remained the same as the original, the lines j-hope rapped were rewritten. BTS got the chance to perform the song with Seo Taiji at his anniversary concert on September 2, 2017. Till this day fans continue to discuss j-hope's iconic lines, rap style, and tone.
Releasing His Debut Mixtape
j-hope's Hope World mixtape was released on March 2, 2018 and contained seven tracks. Before dropping the mixtape, fans eagerly awaited the release after seeing a teaser on Twitter through an in-studio clip. From upbeat tracks full of vigor to slower and more reflective melodies to hard and egotistic beats, Hope World is a project of his own that shows all of j-hope's sides.
"In My Feelings" Challenge
After Drake released "In My Feelings" in 2018, American comedian Shiggy posted a video on Instagram dancing to the song on the street. This was the start of the explosively popular trend. Like many others, j-hope took part in the challenge as well, dancing in an empty parking lot and adding yet another dance to his "Hope on the Street" series. j-hope was even included Drake's later released music video where he compiled clips of people participating in the dance challenge.
Just Dance with j-hope
Released as a part Love Yourself: Answer album, "Trivia 起: Just Dance" quickly became a fan favorite at the BTS concerts. The electronic dance track had an energetic performance coupled with intense water cannons, making it hard to forget. One of the unforgettable moments was at Wembley Stadium when all the fans chanted "j-hope j-hope!" j-hope is seen being shocked then happy after realizing the intensity of the fanchants when he removed his earpiece.
Remaking a Classic: Chicken Noodle Soup
j-hope paid homage to a nostalgic childhood tune with his cover of "Chicken Noodle Soup" by DJ Webstar and Young B. j-hope's rendition of the song features Becky G and both take part in writing their own verses for the song. Becky G proudly sings about her Latin origin, while j-hope's verse speaks on his dedication and work ethic when it comes to music. The pair's remake of the classic song has 330 million views on YouTube to date.
Ego
In the Map of the Soul: 7 album, j-hope had a solo track, "Outro:Ego" which was released as a comeback trailer before the album was dropped. The music is upbeat and bright, representative of his classic sound. In the song, he references his past experiences and his identities as j-hope (the idol) and Jeong Ho-Seok. As he recaps his journey with his conscious, he concludes that he trusts himself.
Dis-ease Spoiler
During the pandemic, BTS started up a series of livestreams "Log (ON)," on YouTube to share with their fans, ARMY, the process of making their BE album. This was also to promote a sense togetherness during the pandemic, using the #Stay Connected and #Carry On for the videos. On the June 5 livestream, j-hope was in his studio. After talking with fans and listening to some songs, j-hope put on a pair of headphones to begin working on his own music. What he didn't realize was that fans could hear what he was working on, inadvertently spoiling the track "Dis-ease."
j-hope's Artsy Instagram Account
Starting with his creative username "uarmyhope" (it reads "you are my hope" while also mentioning BTS' fandom name, ARMY,) j-hope's Instagram is just as artistic as the rest of him. With film-like polaroid photos, his Instagram features a number of aesthetics. j-hope also uses this platform to show his fashion sense through outfit flatlays.
With a rumored comeback and upcoming concert, j-hope is bound to make many more iconic moments.
While we anticipate j-hope and BTS's future activities, you can read about SUGA and Jung Kook's solo here.