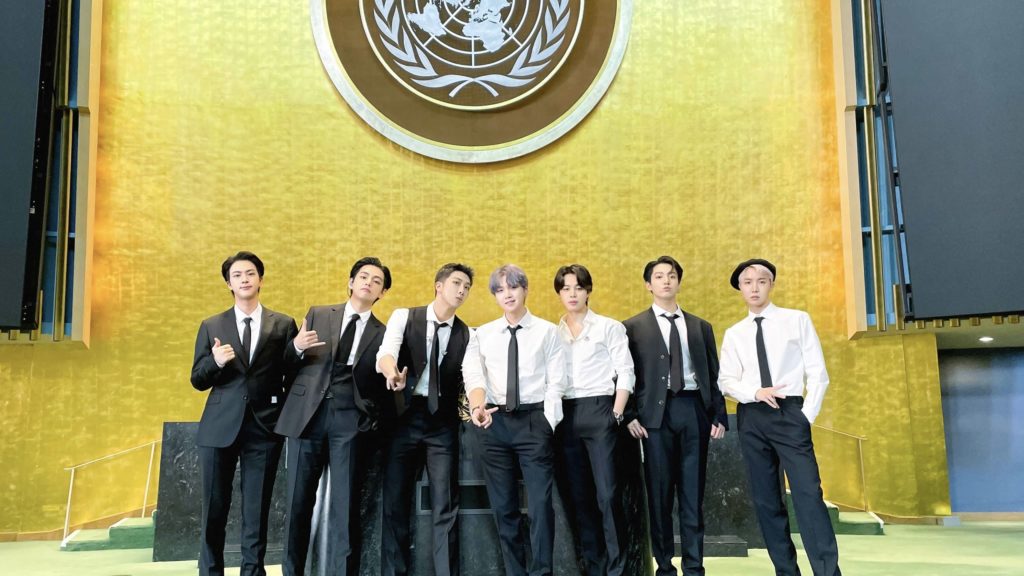 On September 20, 2021, BTS attended the 76th Session of the United Nations Assembly in New York. The seven-member boy group alongside South Korea's President Moon Jae-in attended as the "Special Presidential Envoy For Future Generations And Culture." The group delivered a speech on UN Sustainable Development Goals, climate change, and advocating for the younger generation. 
Watch live as world leaders join @antonioguterres & special guests @BTS_twt at our SDG Moment event to inspire action for the #GlobalGoals & a better world for everyone.

Tune in here Monday, 20 September at 8am EST! pic.twitter.com/hjeWkg1X8V

— United Nations (@UN) September 20, 2021
A Message of Hope 
BTS, who are no strangers to raising their voices on social matters, gave a message of hope to today's youth who often get called  "The Covid Generation" or "The Lost Generation." This name came as a result of the struggles younger people face due to the pandemic. BTS expressed through their speech that today's youth should welcome change and keep forging ahead, and encouraged young people to look forward to a better and brighter future. 
"I think that instead of the Lost Generation, a more appropriate name would be the Welcome Generation because instead of fearing changes we say, welcome and keep forging ahead," said Jin.
On the note of awareness, the group took on the task to speak about the importance of climate change and the sustainable ways people are working to overcome global warming. The idols explained that even though climate change is an important subject to debate about, it's not easy to make conclusions and find what the best solution might be. Nonetheless, young people are taking environmental issues as their field of study in order to find answers. 
"I hope we just don't consider the future as grim darkness, we have people who are concerned for the world and searching for answers. There are still many pages left in the story about us and I thought we shouldn't talk as though the ending's already been written," said V.
Members J-Hope and RM also expressed the importance of the choices individuals make to confront changes and encouraged the Covid-19 vaccination as a way to finally move forward and being able to meet their fans. "All seven of us, we received vaccinations, it's a sort of ticket to meet our fans and being able to stand here before you today."  
To wrap up their participation the group performed a pre-recorded stage of their latest single "Permission to Dance." 
Special Presidential Envoys and Met Museum Reception
After the speech, the group joined President Moon Jae-in in a special interview with the UN-Under Secretary-General for Global Communications Melissa Fleming to talk about the importance of Sustainable Development Goals, raising awareness, racism, and hate speech. 
When asked about what actions they would like for their fans, ARMY, to take on, J-Hope explained that he was able to see that people did not lose their dreams despite the difficulties of the pandemic and reasserted that "We are not the lost generation, We are the welcome generation."
That evening, BTS accompanied South Korea's First Lady Kim Jungsook at the Metropolitan Museum reception to offer a gift from the government of five-set lacquer vessels by the artist Chung Haecho. At the reception, the group's leader RM talked about their mission on spreading Korean Culture around the world and described feeling a sense of pride in being able to support other artists from his country. 
[Joon's Speech at the Met Museum]

I am @BTS_twt's leader, Kim Namjoon. I'm afraid you might not be able to hear me because of the helicopter, so I'll speak loudly. Firstly, the Metropolitan Museum is a place I really love in New York and I took a +pic.twitter.com/2u57mD2Btu

— christa⁷ 💜🐙 (@ryuminating) September 21, 2021
"The eyes of the world are on Korean culture—Korean dramas, screen film, or music—but there are still many great Korean artists who are yet to be discovered by the world." ㅡ 210921, Kim Namjoon via The Art Newspaper @BTS_twt pic.twitter.com/CJCp8TClZQ

— BTS Quotes Archive⁷ (@btsqtsarchive) September 21, 2021
This is not the first time BTS has been vocal about social awareness. Back in 2018, the group made their first appearance at a UN Assembly to talk about the message behind the "Love Yourself Campaign." Last year they took part in the Dear Class of 2020 Ceremony, showed their support to the Black Lives Matter Movement, and more recently they called out racism and hate speech with the Keep Promise Campaign. Overall, BTS has proven that part of their job as influential artists is using their platform to speak about important matters to inspire young people to take action. 
Want more BTS? Check out our birthday coverage for RM here!
Thumbnail courtesy of BigHit Ent.