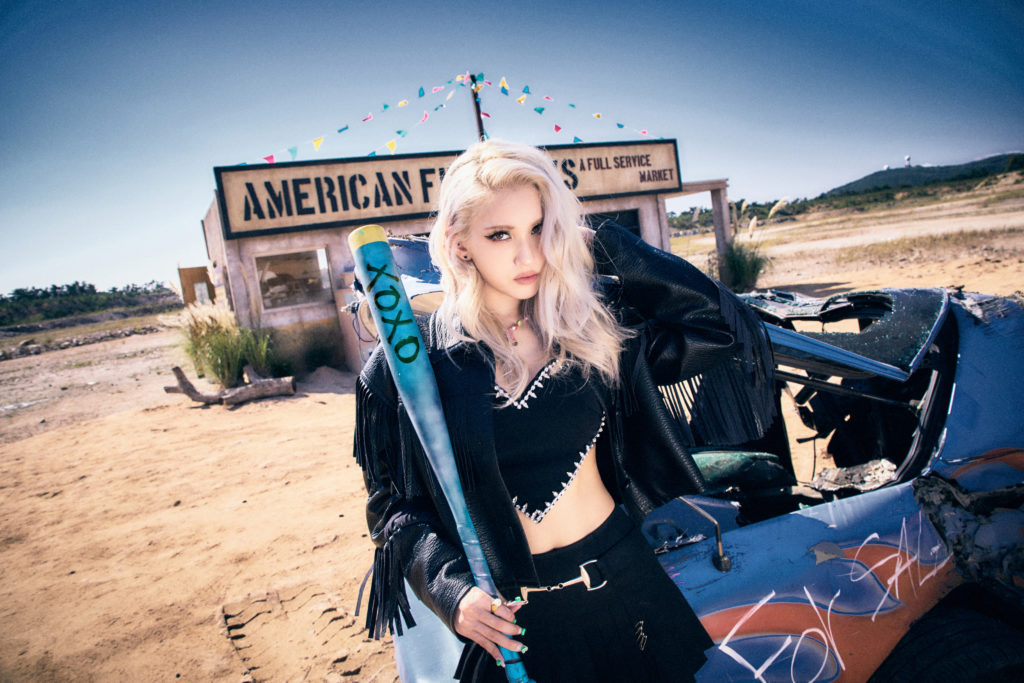 After two months, K-pop soloist JEON SOMI is back with more music following the success of her recent single "DUMB DUMB," which is still on Korean charts. On October 29, JEON SOMI released her debut album, XOXO. The new full-length album has eight songs total– four never heard before and four of her previous singles. Each song unveils JEON SOMI's versatility as a solo artist, showing off her diverse singing styles and writing abilities.
No More "XOXO" From JEON SOMI
The album leads with the title track, "XOXO." It was written by TEDDY, Danny Chung, Vince, JEON SOMI, Kush, Pink Sweat$, Pacific, and 24. "XOXO" is an empowering pop song about recovering oneself after a bad breakup. The rhythm is simple but this only highlights JEON SOMI's different vocal styles. She goes from chant-like raps to sing-songy talking to more husky vocals. 
In the chorus, JEON SOMI sings, "Don't call me your other half, the half I gave you, it's mine again." She then reminds her partner that their breakup is not her fault and signs her chorus off with "XOXO." JEON SOMI's "XOXO" is the perfect song to ground yourself when overcoming a breakup, or if you just want to have a good time. It's an easy listen and catchy enough to stay on your mind.
A Sequel to Her "DUMB DUMB" Tale
It turns out her school love story from the "DUMB DUMB" music video did not last. In the "XOXO" video, she continues the story, sharing that it was not meant to be. After her relationship went south, she was out for blood. She gets revenge on the "DUMB DUMB" with help from her friends and dog. 
The video is exactly what one would expect from JEON SOMI. She's quirky, funny, but also very badass. The "XOXO" music video reflects parts of her personality, while showing her tale of revenge in a very dramatic but humorous way. 
In the opening scene, there is a disclaimer sharing that the events of the video are fictitious. Unnecessary to someone unfamiliar with her subtle humor, but hilarious after seeing how intense her failed school love made her behave. There is lots of humor sprinkled throughout, just enough to get a laugh but not overdoing it. 
The music video also has a cool western style set in the desert. Here, she enacts her revenge, locking him in the truck, destroying his car, and setting some buildings aflame. 
While the "XOXO" is about revenge, there are some qualities that also seem more mature. JEON SOMI is not just the cute school girl with a crush, she's invested in her relationships. 
New Tracks
Her next new track is "Don't Let Me Go," featuring GIRIBOY. This song is written by TEDDY, Danny Chung, JEON SOMI, GIRIBOY, 24, and Dominsuk. "Don't Let Me Go" is an upbeat track with a catchy whistle tune. The lyrics discuss the need to be with the one you love. JEON SOMI shows off her smooth rapping and emotional singing throughout the song. GIRIBOY adds his own flare with his mellow talk-like rap. 
Another new song is "Anymore," JEON SOMI's first ever English track. "Anymore" is composed by Pink Sweat$, Danny Chung, John Hill, R.Tee, and Vince. It's a catchy pop rock track about a breakup. Throughout the track JEON SOMI questions if she ever crosses her former lover's mind anymore. 
"Watermelon" is the last new song in the album. It was created by JEON SOMI and 24. It has a sweet R&B feel that fits the lyrics of the song. Throughout "Watermelon" she compares love to a watermelon. For JEON SOMI, you need to overcome one's layers to get a true red love. 
Throwback b-sides
The album also contains all of Somi's previous singles, including "Birthday," Outta My Head," "What You Waiting For" and her latest single "DUMB DUMB." — all old but gold. 
"Birthday, "her debut single, is a fun pop song with a strong drop which is reminiscent of the typical YG style chorus. Her debut EP also featured the emotional track "Outta My Head." JEON SOMI sings about how she just can't let someone leave her mind. 
"What You Waiting For" was JEON SOMI's first comeback single. It is a party song with a catchy chorus, asking "What You Waiting For." Her latest single was "DUMB DUMB," released in August. The dance track is both cute and bold as JEON SOMI sings to a fictional oblivious crush. 
While the songs are old, they are not unwelcome. In fact, the songs almost feel nostalgic, like a scrapbook of sorts, showing JEON SOMI's growth as an artist and her ability to tackle various genres and singing styles.
What's next?
JEON SOMI is killing the scene with her latest release. She began promoting her album on music shows this past week. Since its release she has also launched her "XOXO Challenge," which she has performed alongside many large names, including Bambam, Jo Kwon, and the K-Tigers.
View this post on Instagram
Her pre-release single, "DUMB DUMB" has qualified her for the "Best Solo Dance Performance" at this year's Mnet Asian Music Awards (MAMA). This album marks the start of her career as a solo artist, showing the badass, sweet and youthful sides of JEON SOMI.
Want to learn more about JEON SOMI? Check out our piece on her last single "DUMB DUMB" here.
Thumbnail courtesy of THE BLACK LABEL.