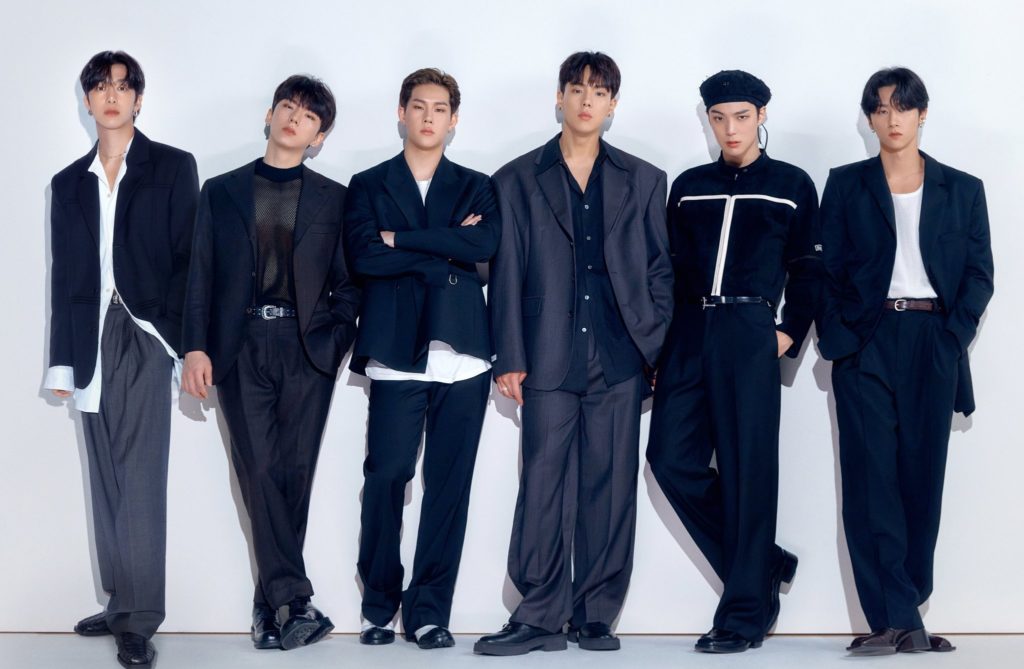 It's always exciting for an international fan when their favorite group or idol makes an English song. However, for Monsta X, this is not new territory. After almost two years since All About Luv, an album completely in English,  Monsta X is back with yet another hit. On September 10, their English single, "One Day," was released on streaming platforms in anticipation of their second English album. The music video dropped a couple of hours later, and before its release, the members did a pre-interview discussing the details of the single and more exciting news.
MONSTA X NEW SINGLE "ONE DAY" OUT NOW

👉🏻 https://t.co/6rVmkkDckT#MONSTAX #MONSTA_X #몬스타엑스 #ONEDAY pic.twitter.com/AJXqV3SZQf

— 몬스타엑스_MONSTA X (@OfficialMonstaX) September 10, 2021
They Say Hindsight's 20/20
Rumors of a new project for the group began when the Monsta X Twitter account tweeted a suspicious statement with no context. 
They say hindsight's 20/20 👀#MONSTAX #MONSTA_X #몬스타엑스

— 몬스타엑스_MONSTA X (@OfficialMonstaX) August 27, 2021
Fans began speculating, almost immediately, it was a spoiler for an upcoming project. The confirmation came five days later when the group tweeted that "One Day" would be releasing on September 10.
MONSTA X NEW SINGLE "ONE DAY" 2021.09.10#MONSTAX #MONSTA_X #몬스타엑스#ONEDAY pic.twitter.com/JJdD01vkCS

— 몬스타엑스_MONSTA X (@OfficialMonstaX) September 1, 2021
A Signature Monsta X Sound
The track perfectly mirrors the mellow sound of their first English album, instead of the powerful and loud, synth-heavy sound they are known for. "One Day" displays the range of all of their members, as even their rappers show off their gentle vocals rather than their gritty rap skills. The song is somber and attempts at portraying the feelings of "having lost someone" as I.M states in the pre-interview. He goes on to say that the song expresses the instance of a break-up and although it is painful, you're still stuck feeling these emotions. 
The group masterfly portrayed this with their lyrics, particularly in the chorus as they desperately sing out to the listener that "I wish I could've made you love me." The sadness is conveyed clearly through the lyrics and the tone of the members in a way that makes this song incredibly easy to listen and sing along to. While the lyrics are sad, the beat feels optimistic with a melancholic undertone. The juxtaposition works seamlessly to create a gorgeous song many can find themselves humming absentmindedly. 
The Music Video
The music video reflects the mood of the song. The members are wearing dark outfits, almost all of them wearing black. The music video takes place at nights, with many solo shots of the members and their sorrowful expressions. Kihyun said that it felt odd to record the music video because they felt the need to be moving around or acting more excessively. Despite this, it was easy to film this style of video as they've done it before with their previous releases.
"One Day" and a Look Into the Future
Fifteen minutes prior to the music video's release, the members conducted a pre-interview, discussing the track in detail. They expressed their feelings on the song, I.M stating that he liked the song "because it's very emotional" and joking that his eyesight is "actually 20/20." When it came to the process of creating the song, Minhyuk said that it felt comfortable to record a song like this because it is in line with their personal feelings. Minhyuk shared a cool behind-the-scenes moment about the day they filmed the music video: it was the same day he shaved Shownu's head in anticipation for his enlistment. 
Joohoney wrapped up the pre-interview by asking fans to look forward to their future activities, and hoped they would be able to go on tour next year. He also stated that All About Luv ranked #5 on Billboard, and that he was curious to see  the group will have a similar reaction to their upcoming English album.
Fan Reactions
Needless to say, Monbebes were bursting with excitement upon the single's release and took to Twitter to share their joy..
this song is really good aahhh god im in loveeeeeeeeee 😩🥰😩🥰😩😩@OfficialMonstaX #MONSTAX  #ONEDAY  #OneDayOUTNOW  #OneDayMusicVideo

— 누누🐻 (@sonhyununu) September 10, 2021
just amazing, as always🤍

— V (@anoolaaa) September 10, 2021
I can't get over changkyun's voice 🥲🥲🥲🥲🥲
MONSTA X ONE DAY MV OUT NOW#MONSTAX  #OneDayMusicVideo  #OneDayOUTNOW

— rara | one day (@lllIcIlll) September 10, 2021
Keep up with Monsta X and the details of their new album as they come by following them on Twitter, Youtube, and Instagram! 
Want to read up on more Monsta X? Check out our coverage on their collaboration with Rain, Brave Girls, and ATEEZ for the 2021 Pepsi x Starship Project!
Thumbnail courtesy of Starship Entertainment.