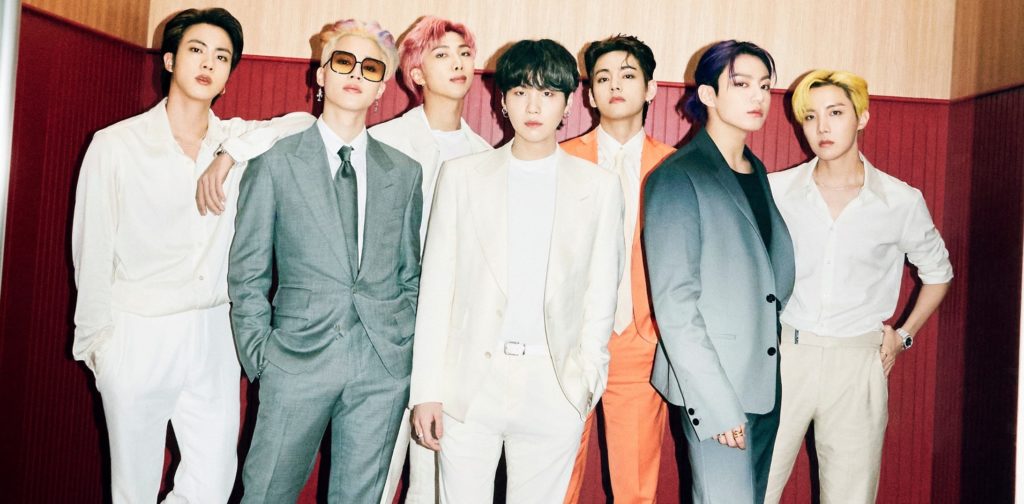 By Jannat Begum | @_jannatara
On May 21 at 1 PM KST, South Korean boy group BTS released their new digital single, "Butter." In the upbeat dance song, BTS revel in their own charisma and "superstar glow," laudably impressing with both vocals and dance.
The music video premiered on YouTube and was preceded by a 14-minute hilariously adorable cooking-inspired countdown special by the seven members themselves. Since the initial announcement on April 26, the song has been teased across BTS's social media platforms with elusive concept clips and photos, leaving fans to anticipate the song. With the official music video drop, BTS delivered a bright and refreshing single with a catchy beat fit for the summer.
"Butter" and its playful beat showcase BTS's allure in a jam-packed three-minute music video. The song explores multiple sets and concepts, as the members appear coolly in a black and white vignette, glide across the ground in a retro setting, have an impromptu dance break in an elevator immersed in strobing lights, and finally sport a lovable look in jumpsuits in a gymnasium. And of course, the theme of butter cannot be ignored with multiple references throughout the video and lyrics.
As reported by MTV Australia, BTS shared their thoughts about "Butter" at their press conference following the song's release. Member J-Hope described the song as "energetic and cute, so the performance tries to reflect those emotions. Kissing our hands, mischievous looks, brushing our hair back—those are the highlights of the choreo."
A Very BTS-Esque Shoutout
It would not be BTS content without the mention of their fans, ARMY. Two minutes into the song, BTS leader and main rapper Kim Namjoon gives a homage to ARMY with the line "Got ARMY right behind us when we say so" as the remaining six members adorably stand behind him spelling out "ARMY." BTS has always been vocal about their love for ARMY, and fans have been quick to point out the similarity between the music video formation and an earlier photo captured around their time of debut in a very similar pose.
Loving Fan Reactions
Within minutes of its release and even before, ARMY dominated the Twitter top trends for "Butter", and fans were reacting positively to the song, posting excitedly on Twitter to share their praises.
"got army right behind us when we say so" CAN SOMEONE HOLD MEEE 😭😭😭
#방탄소년단  #ButterToday pic.twitter.com/nkmfueesyU

— jwaemin (@perfectsijimin) May 21, 2021
ok but the rap of yoongi on butter is so addicting he is looking so fine while rapping and the way he smirk in the end one of my favourite 😭#BTS_Butter#BTSBackWithButter#GetItLetItRoll#방탄소년단 pic.twitter.com/OJHO8yyiPp

— jeya⁷ 🌟 (@sunnyztaee) May 21, 2021
i didn't know i need taehyung and hoseok in sleeveless in my life🧎‍♀️ #방탄소년단 #ButterToday pic.twitter.com/tnkIaBESyJ

— 김석진 (@seokjinie29) May 21, 2021
The way I feel something different and otherworldly when they kiss their hands???? I couldn't be the only one PLEASE LMAO #방탄소년단 #BTS #BTS_BUTTER pic.twitter.com/DwvtvPSr3V

— K Manuel (@theklmanuel) May 21, 2021
not only did jimin understand the assignment, he was top of the class#BTS_Butter pic.twitter.com/52BWJm7wXi

— eleanor ⁷₄ (@diorjenmin) May 21, 2021
THIS IS JHOPE'S AND JIN'S ERA. NO ONE CAN TELL ME OTHERWISE #방탄소년단 pic.twitter.com/e4hzIcGXE2

— Y (@mind_nmy) May 21, 2021
A Record-Breaking Chart Performance
BTS has been known to break previously set (oftentimes, by themselves) records with each comeback, and the release of "Butter" was no different. The music video surpassed 60 million views in just under 9 hours, beating the previous record held by BTS's "Dynamite." The song rose to the top iTunes charts in 95 countries and stood at number one on Korean music platforms, such as Genie and Bugs. The music video even became the fastest music video to reach 1 million likes on YouTube, accomplishing this 40 minutes before its release!
Nearing their 8th anniversary in less than a month, BTS's release of "Butter" and its subsequent successes exemplify the growth of young boys entering a world they're trying to find their place into musical artists who have grown into their sound and are taking the world by storm with every release. Coming to us with another all-English song after the release of "Dynamite" almost a year ago, "Butter" is already making its way to break records. The song will have its world premiere performance at NBC's 2021 Billboard Music Awards on May 24 at 9 AM KST, where BTS is nominated for Top Selling Song with "Dynamite," Top Song Sales Artist, Top Duo/Group, and Top Social Artist.
Listen to "Butter" here on YouTube, Spotify, and Apple Music!
Want to read more about BTS? Check out this article on BTS at the 63 annual Grammys here!