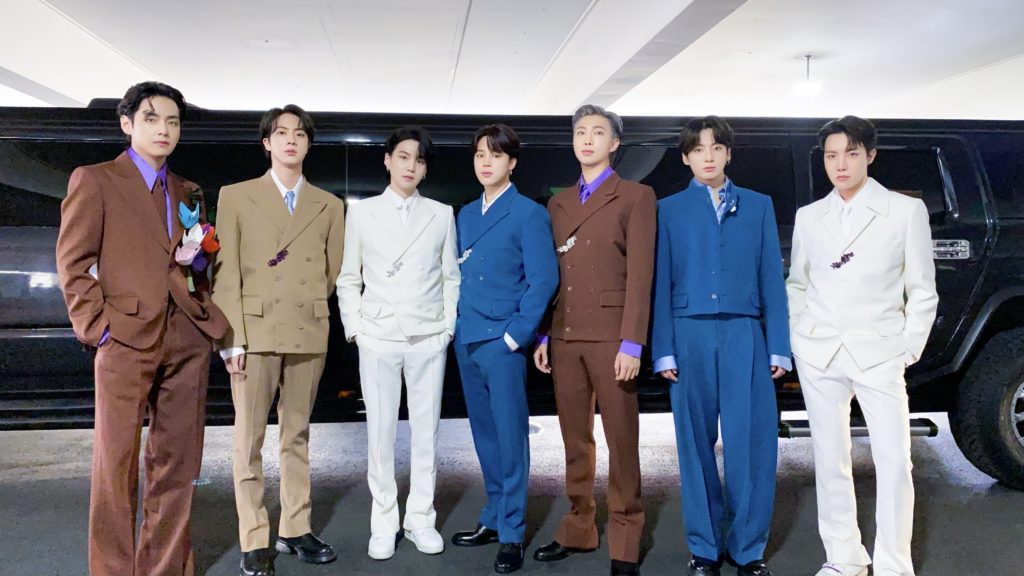 BTS took to the stage at the 64th Grammy Awards on Sunday, April 3 and they did not disappoint.  BTS—consisting of members Jin, SUGA,  j-hope, RM, Jimin, V, and Jungkook—swept the charts in 2021 with three Billboard number one hits. With their worldwide success, it was no surprise that the global superstars made an appearance. 
BTS were nominated for "Best Pop Duo/Group Performance" for their song "Butter," and though they did not win, they were the talk of the town on Twitter for their stunning performance.
Smooth as a Spy
Opening their stage with a sneaky spy tune, BTS' vocalist Jin operated the performance. As members emerged from their inconspicuous seats in the crowd, V whispered a secret into fellow Grammy attendee Olivia Rodrigo's ear and Jungkook descended from the air. BTS performed a special rendition of their hit song "Butter," continuing their spy mission with a jazz dance break where they evaded laser beams.
Criminals Undercover
It's safe to say that BTS stole the hearts of the audience. If the opening wasn't surprising enough, the performance definitely left the audience enthralled. Fan reactions and memes came rolling in through the night.
Although BTS did not win an award ARMYs were quick to reassure the group how proud they were of BTS with the trending hashtag "#OurProudBTS."
Before the Heist
Dressed to the nines on the red carpet, BTS wore custom-tailored Louis Vuitton Fall 2022 suits. With monochromatic suits in shades of white, blue, and brown, the boys all flaunted their looks.
V, however, stole the spotlight with piercing hazel contacts and a giant flower bouquet brooch.
BTS were also joined, for the first time, on the Grammys red carpet by HYBE's chairman, Bang Si-hyuk, and HYBE's director, Scooter Braun. While on the red carpet, leader RM hinted at a possible upcoming collaboration with Snoop Dogg. Although unconfirmed by HYBE, it was previously announced that a collaboration was in the works.
With collaborations lined up and an upcoming album, one can only expect to see the group rise to higher and higher heights with the feats they achieve. In the meantime, fans can look forward to BTS' upcoming concerts in Las Vegas.
For more on BTS' Las Vegas shows, check out our piece here!