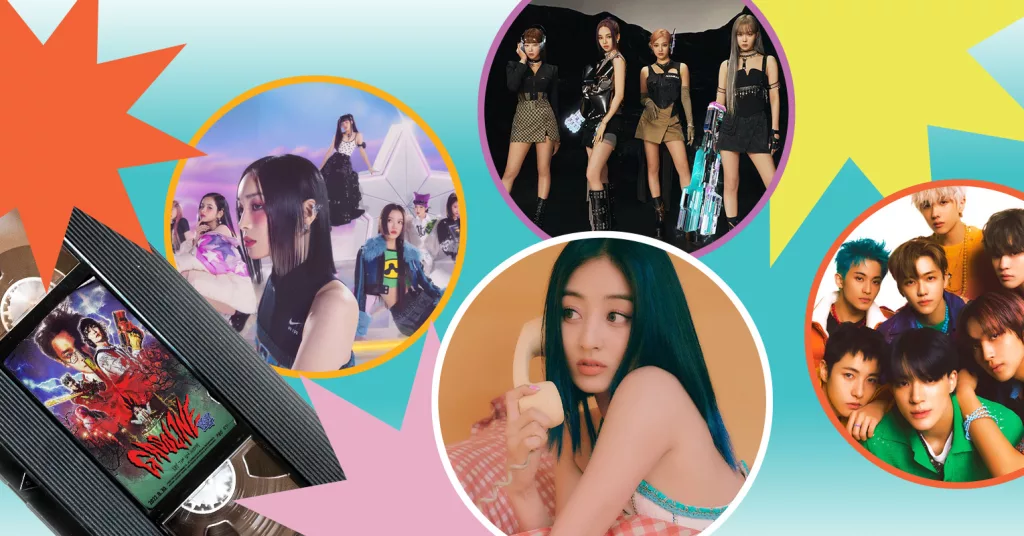 Gen Z sits at a pretty interesting intersection of the past and the future: they are coming of age in an era of expanding tech capabilities, with the ability to pick up a phone and have access to even the rarest of past media. Now, on the same streaming sites they use to watch movies with seamless CGI, they can also use to watch TV from forty years ago.
The readiness of any decade of media one could dream of has created a curious generational aesthetic: none. There is no one look that defines what Gen Z likes. Instead, Gen Z is drawn to aesthetics that match the intersection they stand at. From the metaverse, futuristic gradients, and chrome finishes to Y2K, '90s nostalgia, and '70s sensibilities, Gen Z is not defined by one look, but rather by a collection of old and new.
Taking this into consideration, EnVi took a look at popular K-pop releases from a design perspective to see what aesthetics are drawing in this new generation of fans' attention.
Y2K is Here to Stay
It would be remiss to not start with the most popular aesthetic at the moment: Y2K. Feeling nostalgic for the decade preceding them, or what many grew up in, Gen Z is drawn to the look and feel of the late '90s and early 2000s. The appeal of the Y2K aesthetic itself lies in the trends within the trend, which range from cyber-futurism, chic maximalism, and experimentation, all symbolizing the new millennium.
In the K-pop industry, the Y2K aesthetic is booming, especially within the design and visual realm. Groups like NewJeans and tripleS debuted with their concepts adhering to the Y2K visual standards. This is visible in the design for NewJeans' first EP New Jeans. The design of the physical album and the contents within embrace the concept of collage- and scrapbook-style layouts, reminiscent of common Y2K marketing strategies and associations.
It also feels authentic to the group while still being trendy. A group of young girls may not fit the low-rise Juicy Couture sweatpants, Paris Hilton-inspired bright pink Motorola Razr look that falls under Y2K. But the assets used in their album design: doodles in the margins, stickers all over the photographs, and bright colors fit what a group of teenagers would be drawn to in the early aughts.
Never-ending Nostalgia
Every new generation experiences a sense of nostalgia for the times before them. The 1970s were full of 1950s nostalgia, while the 1980s reused the aesthetics of the '60s, and the 2000s saw the rise of the "'90s kid" moniker. But for Gen Z, the nostalgia isn't just for the early 2000s prior to them, but also for all the preceding decades.
In more recent years, concepts such as NCT DREAM's for Beatbox shine for being a nod to the liveliness of the '90s street scene, complete with graffiti-style lettering and dreamscape teaser photos. On the other hand, watching ITZY's "Boys Like You" music video feels akin to watching a '90s teen romantic comedy. The video is accompanied by torn paper graphics and lavishly-decorated polaroids that bring the aesthetic together.
In the 1980s, film posters were what brought graphic design to the forefront of pop culture from a variety of blockbusters and B-films. With seamless photo compositing and dramatic coloring, KEY's cover artwork for his second album, GASOLINE, captures the classic '80s film poster look. At a glance, it also offers a snapshot into the world of his album.
Although hazy filters and sparkly visuals may have been a product of lower camera quality of the time, these design elements communicate the '70s in an effortless way. Music videos such as GFRIEND's for "MAGO" feature twinkling scenes which are carried into their fourth album's art for Walpurgis Night. The group's members posed elegantly for their photoshoot against a nighttime city scape reminiscent of the decade's photography style.
Retro-futurism took over 1960s design and conceptualized the generation's idea of the times ahead. This design style would go on to dissipate into later years, but is used to represent the era today. Retro-futurism is prevalent in XG's "Left Right" music video where the members are seen framed by chrome stars and shapes, banners with scrolling text, and a motion-blurred starry scene.
M-M-Meta Universe
On the complete opposite end of the spectrum, Gen Z has been drawn in by what the future has in store.
In 2020, aespa debuted with a full metaverse concept, heavily CGI'd video, a shiny chrome logo, and their own set of metaverse avatars. It's not just a futuristic look, but an aesthetic fully inspired by the notion of virtual worlds. Both of aespa's albums have maintained this look, with Savage designs showing a snake wrapped up around a half-rendered mountainscape. The teasers used gradients, cool tones, and a metallic snake-like skeleton to create the vision that aespa (and their avatars, called ae's) are hunted by their virtual nemesis, Black Mamba. The use of the skeleton shape in teasers was so eye-catching. Karina's teaser in particular is still referenced today.
There have been examples of entirely virtual idols, like SUPERKIND's computer-generated member Saejin or the fully virtual idol group MAVE:. However, it seems that while the metaverse is fine as an aesthetic, it may just be a little too much to fully dive into for fourth generation K-pop fans.
Less Is Still More
While all of these aesthetics are versatile and can showcase more individuality, they also can all get really busy. They're big and bold and bright in their own ways, and on a shelf full of albums, can fight for attention. Some designs have figured out how to stand out from that fight: by doing less. With contemporaries like NewJeans, whose look is full '90s, and aespa, who've gone to the year 3000, LE SSERAFIM have cornered their own section of the aesthetic market with minimalism.
Matching up with the group's concept of self-confidence and not being swayed by others' opinions, their album designs are bold and striking. LE SSERAFIM's debut album FEARLESS showcased an album cover of just their logo in a bright white, popping out of a sleek black background. Their follow-up, ANTIFRAGILE, was equally impactful, with cracks of gold embossing their logo and shining through a simple white color. It seems that while Gen Z appreciates a good aesthetic, they also prefer when a group is true to their identity.
Mixing and Matching
What really catches Gen Z's eye, though, isn't just one look. Many examples cited don't ascribe to just one aesthetic: they could actually fit many. TWICE's "Talk That Talk" had styling and promotions that were fully Y2K inspired, yet their music video had retro nods to the '80s with pixelated video game elements and a reference to Apple's iconic 1984 commercial. aespa's designs, though fully metaverse-d, do have some Y2K inspirations in both Savage's and Girls' logos. Lastly, though comebacks like BTS' "Butter" may have oozed '70s charm, the album design was pure minimalism.
To Wrap It Up
It's not all about looks for this new generation of K-pop fans. While drawn to the bright and trendy designs, fans tend to prefer when an artist sticks to designs that represent them. Fans enjoy KEY's album designs not just because they're retro, but because they know he was part of the design process, and it's true to him as an idol. For THE BOYZ's second mini album, THE START, member Kevin was an active participant in designing the physical album, including the photo book, and logos included at the time. Lastly, Jennie's single album, SOLO, included teaser images and concepts that were largely conceptualized by the artist herself.
On the contrary, when an artist isn't able to be as involved in the creative process, it may change how an aspect of their designs might be perceived. aespa's ae personas, while being unique, haven't always gotten the most favorable responses from fans, and it could be because the members don't have as much input on them.
The trends that Gen Z indulges in make the designs and concepts the K-pop industry gravitates to more and more versatile. But while some artists may be able to have a bit more creative control in the design process, others are not, which can limit how the concepts can accurately reflect the artist. In the end, design and aesthetics are all part of the K-pop experience, but mostly for Gen Z, it comes down to authenticity.
This article is part of EnVi's Gen Z issue. Get your physical copy here!