When AB6IX held their AB_NEW AREA fan meeting in New York City on June 20, the air smelled sweet—literally.
And what a harbinger this was: ABNEW, the name of AB6IX's fandom, was in for some sweet surprises that summer night at Webster Hall in the East Village. The energy in the venue grew palpable when the lights dimmed, and bright beams cast a spotlight on the "AB6IX" emblazoned in thick, red letters at the back of the stage. As gentle wisps of fog curled around the stage, versatile vocalists JEON WOONG and KIM DONGHYUN, husky rapper PARK WOOJIN, and producer maknae LEE DAEHWI walked confidently towards their American ABNEW.
Ahead of their AB_NEW AREA fan meeting in NYC, EnVi had the opportunity to speak with all-rounders AB6IX in an exclusive interview about their tour, creating their latest album, and what "AB6IX" means to them.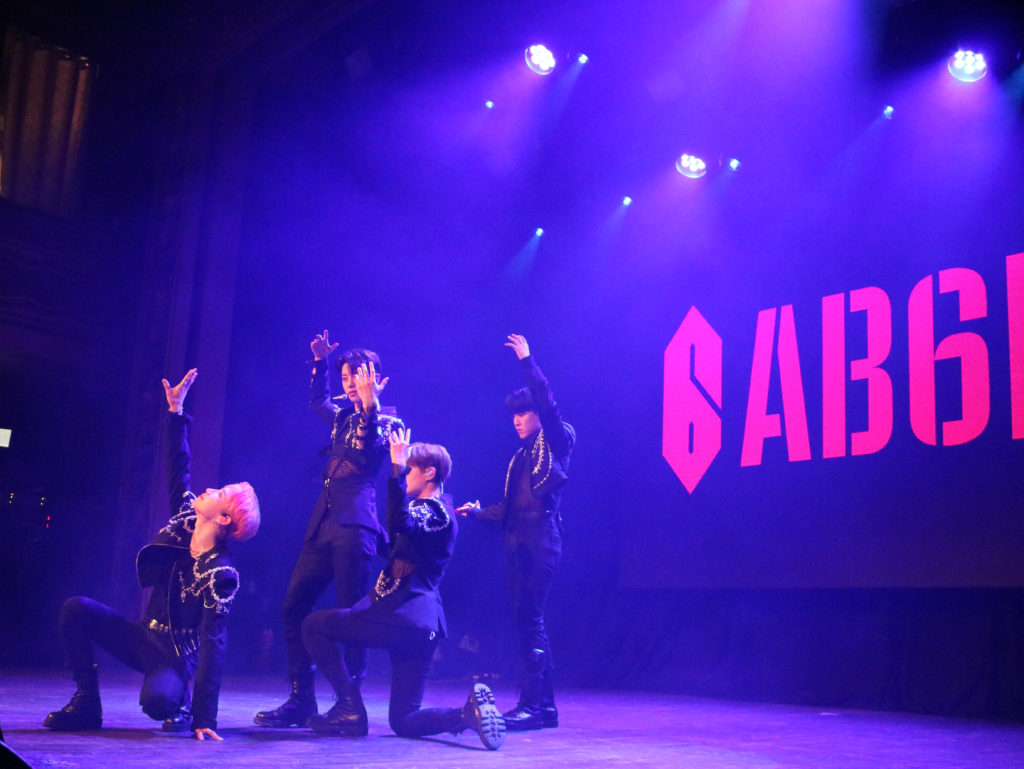 Breathing Life into AB6IX
Before DONGHYUN, WOOJIN, and DAEHWI debuted in BRANDNEW MUSIC's group, AB6IX, they had participated in the popular survival show, Produce 101 Season 2. (WOONG was the surprise member of AB6IX.) The two youngest members—DAEHWI and WOOJIN—eventually made it into the final 11-member group, WANNA ONE, ranking third and sixth, respectively.
On May 22, 2019, AB6IX officially joined the ranks of K-pop boy groups. Their debut title track, "BREATHE," and bombastic pre-debut B-side "HOLLYWOOD" made big waves in the K-pop world. "BREATHE" received its first win on THE SHOW, only 13 days after the group debuted. WOONG cited this moment as one of his favorite memories: "There are a lot of times that I could think of, but one of my favorites is when we share the excitement after winning an award at an award show." Adding onto their accomplishments, AB6IX were also named Rookie of the Year at the Asia Artist Awards in 2019 and honored with a similar title at the Seoul Music Awards, alongside ITZY and TXT, in 2020.
In the past three years, the group has embarked on a journey seeking completeness through their discography and performances. From AB6IX's debut album, B:COMPLETE, to their full-length work MO' COMPLETE, to their special album COMPLETE WITH YOU, the four ultimately discovered something that makes them whole.
This "something" is AB6IX's fans, ABNEW. Despite the pandemic, the group has been able to meet ABNEW from all around the world through their performances at the Dream Concert in Seoul in June and at KPOP.FLEX in Germany in May. "The cheers were so memorable, since it's been so long," WOOJIN said of performing at the two-day festival. WOONG, too, "especially remembers the cheers" besides "seeing all the enthusiasm from so many K-pop fans."
The other members also expressed their love for ABNEW and the excitement they brought: "All the fans and their cheers were so impressive," DONGHYUN reflected. DAEHWI followed a similar thought, as he exclaimed, "K-pop enthusiasm was so hot even in Europe! It feels like we could make great performances because we had such awesome fans." Their stages of classic tracks such as "BREATHE," "CLOSE," and "CHERRY" and the unforgettable "DO YOU REMEMBER?" even added some new faces to the ranks of ABNEW.
The Road to "SAVIOR"
Released on May 18, 2022, AB6IX's newest mini album A to B goes back to a grittier sound with the title track "SAVIOR" at the helm. Unlike their past brighter releases, like "1, 2, 3" and "CHERRY," "SAVIOR" and A to B explore darker emotions and stories. Common themes in this work are breaking, falling, and the ending of relationships, which led to the question of how the four members got into the mindset to record and perform these tracks. WOONG considered this from a different angle when he responded, "I didn't think of sad stories as a theme such as separation." Instead, the main vocalist noted, "We tried to show how much we've grown through the songs."
Meanwhile, the younger members worked on slipping into the shoes of each track's main character. "I try to imagine myself in the story of the song," DONGHYUN stated. DAEHWI echoed this strategy: "When I sing and act according to the lyrics, it makes me feel like I'm the main character of that song. I think that's when I can really concentrate on my feelings when recording." WOOJIN revealed that he pulls inspiration from his experiences or "imagine[s] a picture in [his] head," too, so he is in the proper headspace.
A to B comprises four other tracks aside from "SAVIOR," ranging from the buoyant "EINSTEIN" to the melancholiac "We Could Love." While all of the AB6IX members have been part of the songwriting process before, A to B features the work of DAEHWI, WOOJIN, and DONGHYUN. The latter has credits on "We Could Love," a heartbreaking song backed by a gentle beat and AB6IX's dynamic vocal colors. The singer dove into his process, saying, "I usually find a keyword from watching a drama, a movie, or reading a book, and make a story out of it."
AB6IX's rapper wrote the lyrics of the EDM-tinged opening track, "PARACHUTE," an experience which he considered to be a "great opportunity." "I could write it without a hitch because I thought of a good theme," he said of the "parachute" imagery. DAEHWI and WOONG focused more generally when discussing their creative process. "I didn't participate in this album," the eldest member stated, "But when I do compose songs, I try to express what I feel in the moment." The maknae, on the other hand, thinks about AB6IX as a whole while he creates songs: "I compose songs with references that can…express AB6IX [well]." The producer behind the group's debut song and their latest title track, among many others, further reflected, "I think I compose THE SONGS when I could think of the lyrics and melody at the same time."
The "AB" part of AB6IX's name stands for "Absolute Six" or "Above BrandNew Six," so titling their new album "A to B" was already going to hold some special significance. When asked about this meaning, all four underscored to the journey and growth embedded in a name like "A to B." WOOJIN stated, "We tried to express our upgraded selves compared to the past," while WOONG added, "'A' expresses AB6IX's work and path from the past, and 'B' contains the ambition to show how much we've grown." DAEHWI, too, homed in on growth, answering, "It means that AB6IX will grow one step forward." DONGHYUN summed their thoughts up as he concluded, "If 'A' is us in the past, 'B' is the future of AB6IX."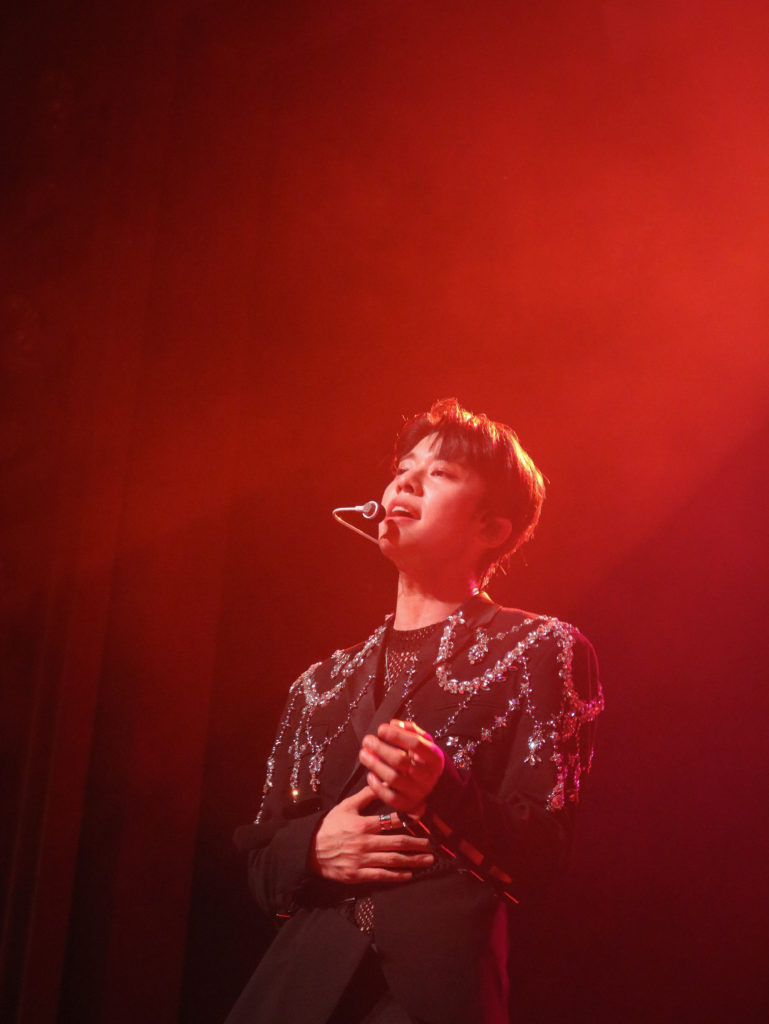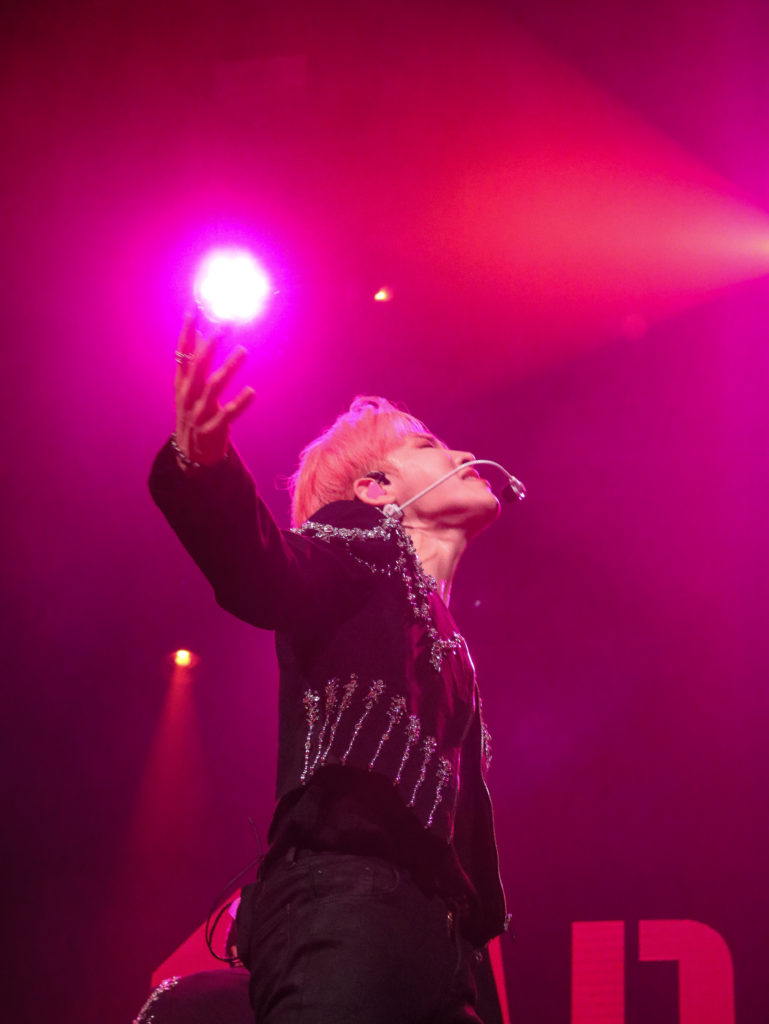 Turn the Red Up
The recent AB_NEW AREA fan meeting tour marked AB6IX's first solo tour since their debut in 2019 (Their 1st World Tour: 6IXENSE in the U.S. got canceled due to COVID-19.) After performing in New York, they traveled to Dallas, Atlanta, Chicago, and Los Angeles. There, the members had an opportunity to busk in Koreatown and held a Play82 with AB6IX event as well. Although the group met their American fans face-to-face at KCON NY and LA, that was almost three years ago—and a lot had happened since then. Thus, AB_NEW AREA was the perfect opportunity for AB6IX to share their latest tracks and perform live for their ABNEW, both old and new.
Of course, ABNEW was always on the minds of AB6IX. Before soundcheck, WOOJIN was spotted from his position in the wings and waved a few times to excited fans at the barricade. DAEHWI also couldn't help after soundcheck to react to a picket with his face on it made by a fan. As he examined the photo of his cheeks puffed, eyes wide, and a small heart sticker on his nose, he asked with a smile in his voice, "Is that a photo of me?" (It was an adorable sign.)
The four thought about their fans when they shared the tracks they were most excited to perform for AB_NEW AREA. "Our latest song 'SAVIOR' is the one I really want to perform," DONGHYUN said. "I think ABNEW will love it since it has powerful and sexy performances." The other three, meanwhile, mentioned the English version of "HOLLYWOOD" as their song of choice. WOONG elaborated on his answer, adding that he picked it because "we haven't performed for so long." DAEHWI also gave more context to this choice and his excitement by stating, "it's the first time we [will] sing this song in front of the audience." WOOJIN shared his thoughts on the common pick: "I think ABNEW will enjoy 'HOLLYWOOD.' I really want to perform this song because we're actually in America." Rapid flashing lights and screams of recognition ushered in AB6IX's opening performance for AB_NEW AREA, leading into a Hollywood-worthy performance.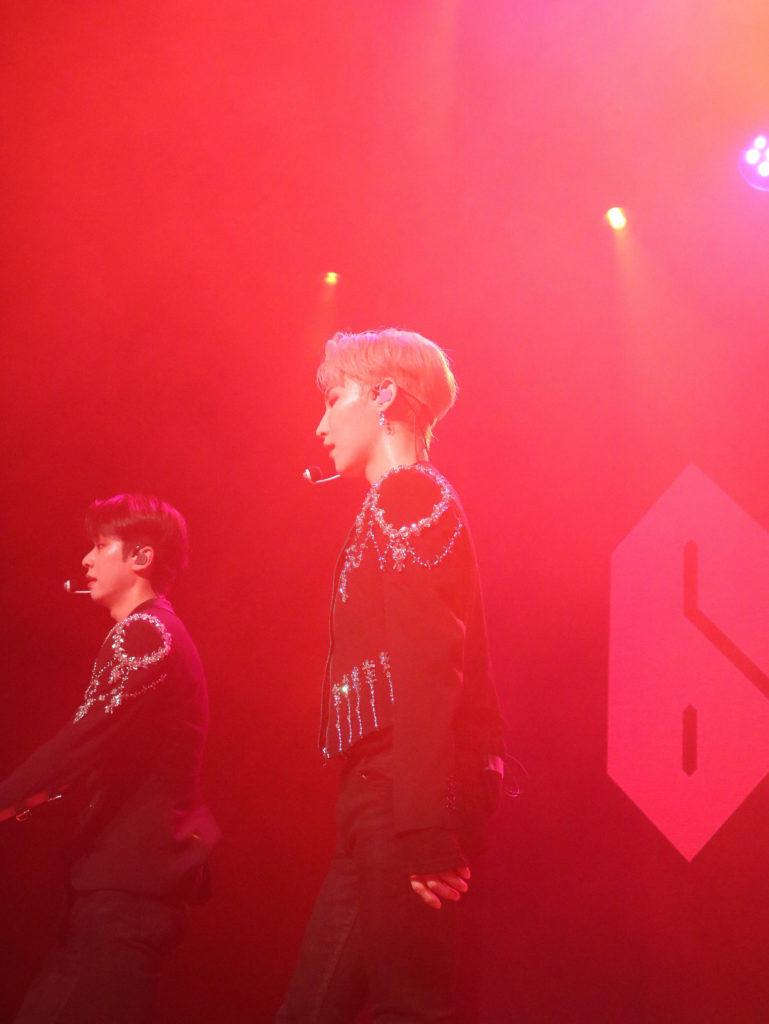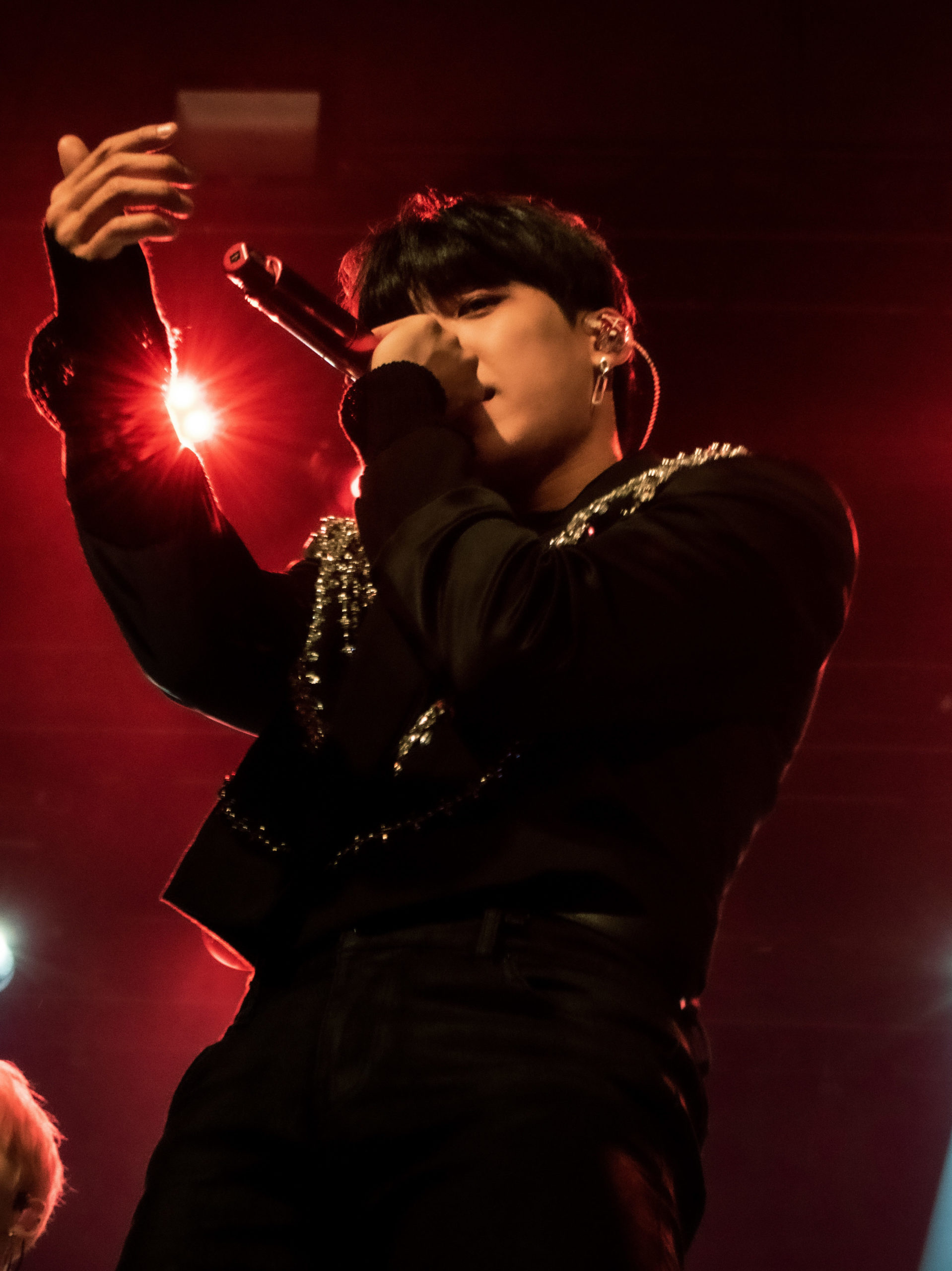 AB_NEW AREA Is Here
If the high-energy "HOLLYWOOD" marked AB6IX's beginnings with lyrics like "Who am I, who am I? / I'ma let you know, I'ma let you know," their stage of "SAVIOR" brought the current chapter of their artistic journey to the forefront. While a first listen might be jarring for those who know AB6IX's style, performing this song of many contrasts live completes it—you could even say that it's "Mo' Complete." On stage, the melodic pre-chorus and the shorter, punchier hook are bridged through their intricate and emphatic choreography. Before finishing up "SAVIOR," the two ex-WANNA ONE members hi-fived, radiating a vibe of "Yes, we're doing this" and "I've got you" in that simple gesture.
"RED UP," a B-side from AB6IX's 2020 mini album VIVID, was also performed for American ABNEW for the first time at the fan meeting. The energizing hip-hop track made the duality of the four members crystal clear. Compared to the refreshing "CHERRY," another expression of their "red" group color, "RED UP" "shows our confidence," as the group said. AB6IX can be both the sweet youth in love and mature performers oozing with sexiness.
You Are My Cherry
Following their performances of "HOLLYWOOD," "SAVIOR," and "CLOSE," AB6IX held their first event dedicated to getting "close(r)" to ABNEW. As fans entered the venue, they were encouraged to write a question for AB6IX on a post-it and stick them onto a large board that was later brought onto the stage. While AB6IX chose their winning questions (one per member and winners received a signed T-shirt from AB6IX), they spoke casually with ABNEW. Little moments of familiarity, like DAEHWI leaning towards the audience with his arms folded on the round table on the stage, emphasized the comfortable feeling between AB6IX and ABNEW, despite the time that had passed since they last met face-to-face.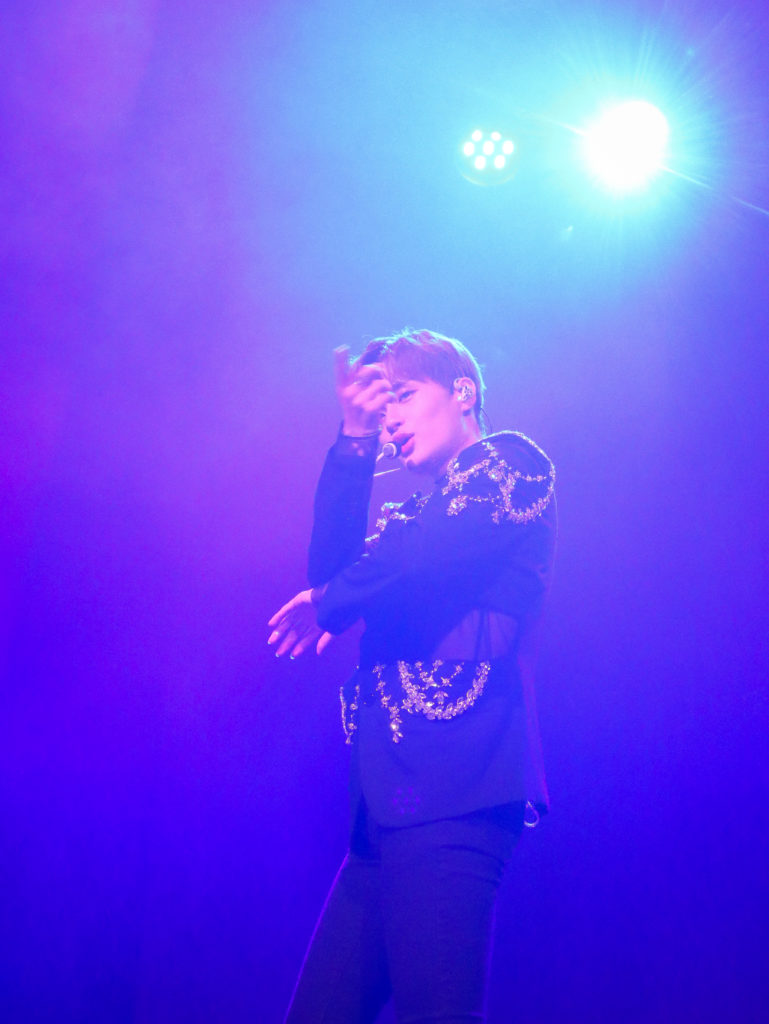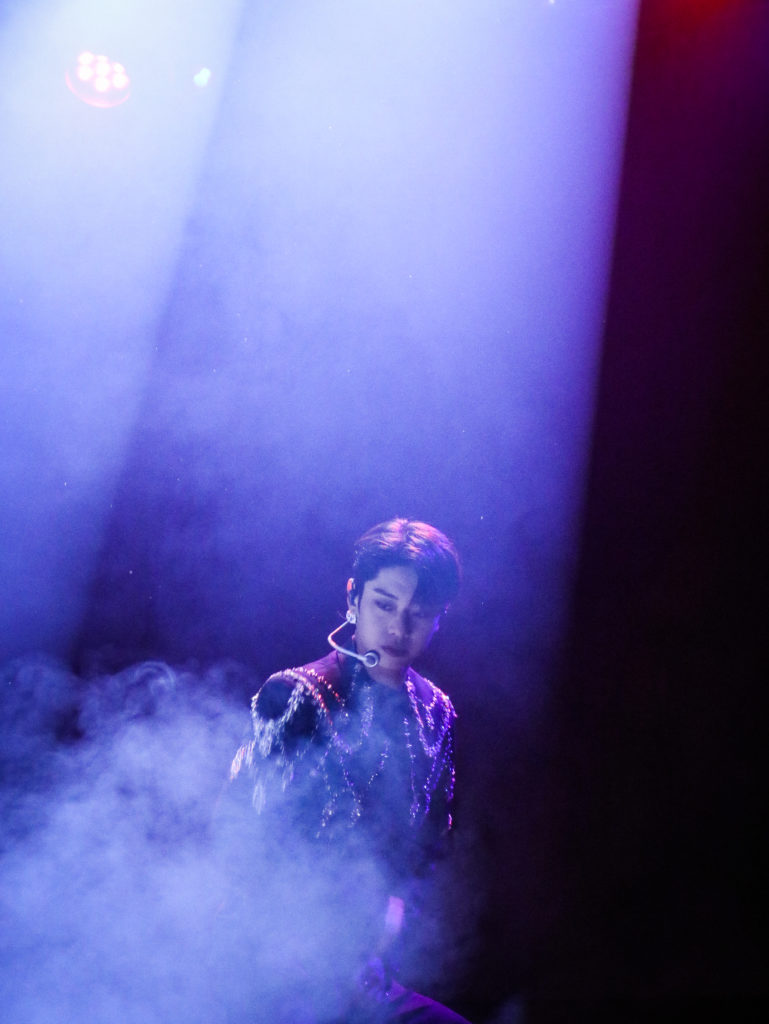 One of the winning post-its posed a relatable question: "How are you adjusting to the time difference?" This was also a topic of discussion among AB6IX themselves when they drove to the venue, but the members elaborated on their answers for fans. According to WOOJIN, he was the only one who adjusted completely; the rest "failed" to do so, as DAEHWI admitted. "The three of us [DAEHWI, WOONG, and DONGHYUN] are performing in the morning," he added, which prompted good-natured chuckles from the crowd. AB6IX continued to exhibit their approachable and down-to-earth personalities when they took the time to clarify how to pronounce the winners' names, which sometimes took a few yells from the fans for the members to get it right.
The first three stages showcased AB6IX's "all-rounder idol" description while the next few demonstrated their softer side. The members brought fans back to their roots with their performance of "BREATHE." Their relaxed yet sharp movements transitioned into the abundant energy of "CHERRY," a track that reflected the sunny summer day. "Sucker for your love," another song that was composed by DAEHWI, then highlighted the vocals of the group. They took ABNEW on an emotional rollercoaster, especially after the jubilant "CHERRY," with this love song overflowing with sentimentality.
AB6IX mopped up the tears with their second fan event, where the members picked their favorite Twitter mentions. Armed with iPads, the four selected the winners who would receive a polaroid photo opportunity with the group. As fans were called, DONGHYUN blew a kiss to an ABNEW in the crowd, eliciting a happy scream in return and an adorable, startled expression from the vocalist. He also graciously welcomed the winners onto the stage with a "best our guest" sort of gesture and a bow. And, of course, AB6IX ensured that the experience was even more personal by making sure to ask each winner their name.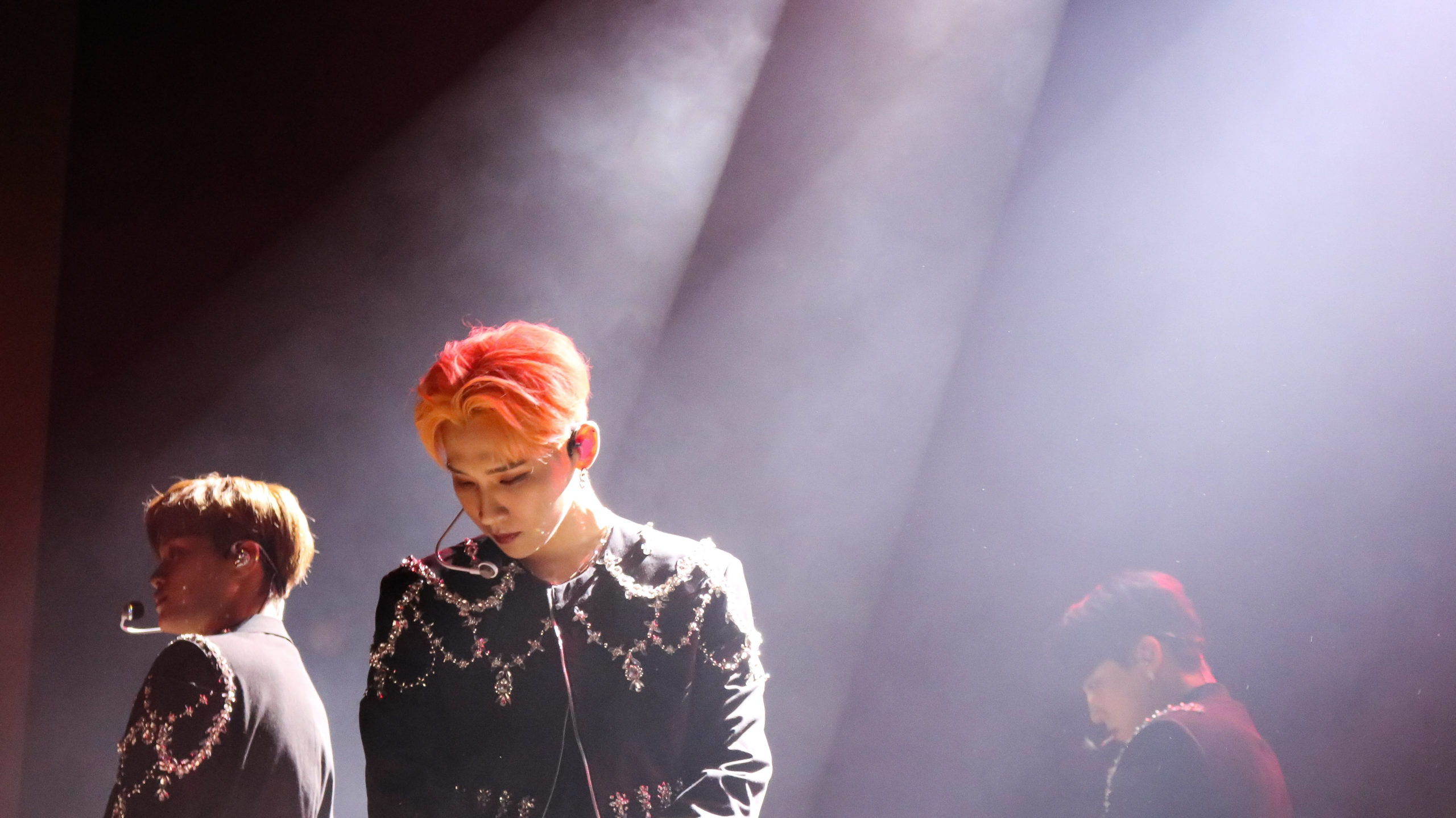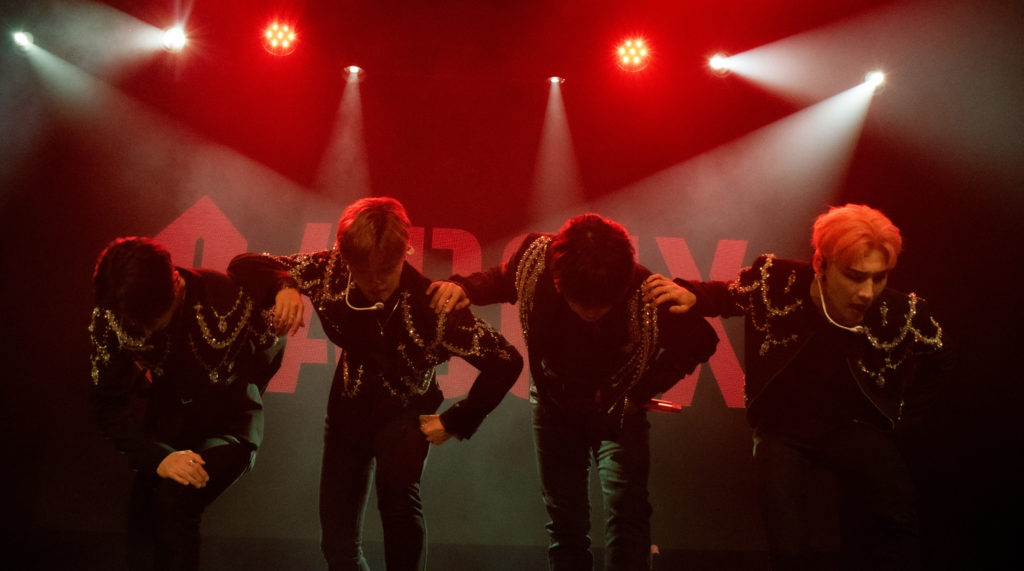 Do You Remember?
The mutual love between AB6IX and their (patiently waiting) fans was even clearer during the encore song, "SHINING STARS." "We'll shine together / I'll be together with you no matter what day it is," DAEHWI sang as he reached towards the cheering audience. DONGHYUN later preceded the drop of the track with a smile on his face, singing, "I'll be your shining stars."
"Meeting the fans at our concert was the best," DONGHYUN said. DAEHWI mentioned, "I'd have to say my favorite is when we're performing," but continued, saying, "I wish we could do it more often." Fortunately, AB6IX will be continuing their AB_NEW AREA fan meeting tour in August with stops in Osaka and Bangkok, while a show in Taipei is scheduled for early November.
Although the "SHINING STARS" instrumental stopped, the members took in the cheers and signs created by their ABNEW for one more moment. DAEHWI took some time to ask about the slogan fans were holding up and read the text out loud: "AB6IX and ABNEW: We Can Love." We can love, indeed, and Webster Hall was overflowing with it.
Looking back on my photos from the concert and ABNEW's fancams a month later, I can't help but think about the words of advice AB6IX would give to their just-debuted selves. "I would like to say, 'Don't be shy. Be confident in front of the camera," WOONG stated, his love of emphasizing his high cheekbones and dramatic side-profile flashing across my mind. The group's raspy-toned rapper advised his younger self to "Use time for yourself." When he is able to carve out some downtime, his go-to relaxation methods now are playing games and watching dramas. Meanwhile, maknae DAEHWI—who debuted in AB6IX when he was 18 years old—gave himself a message of strength. "There will be hard times. Hope you endure and become a cool senior." (AB6IX's juniors, YOUNITE, would probably agree that this has been achieved.) Finally, DONGHYUN offered himself from three years ago a seven-word phrase: "Live like a fox, not a bear." You don't have to be the biggest nor most powerful one out there to make your mark; sometimes being a sleek, sure-footed creature can capture the eye just as well.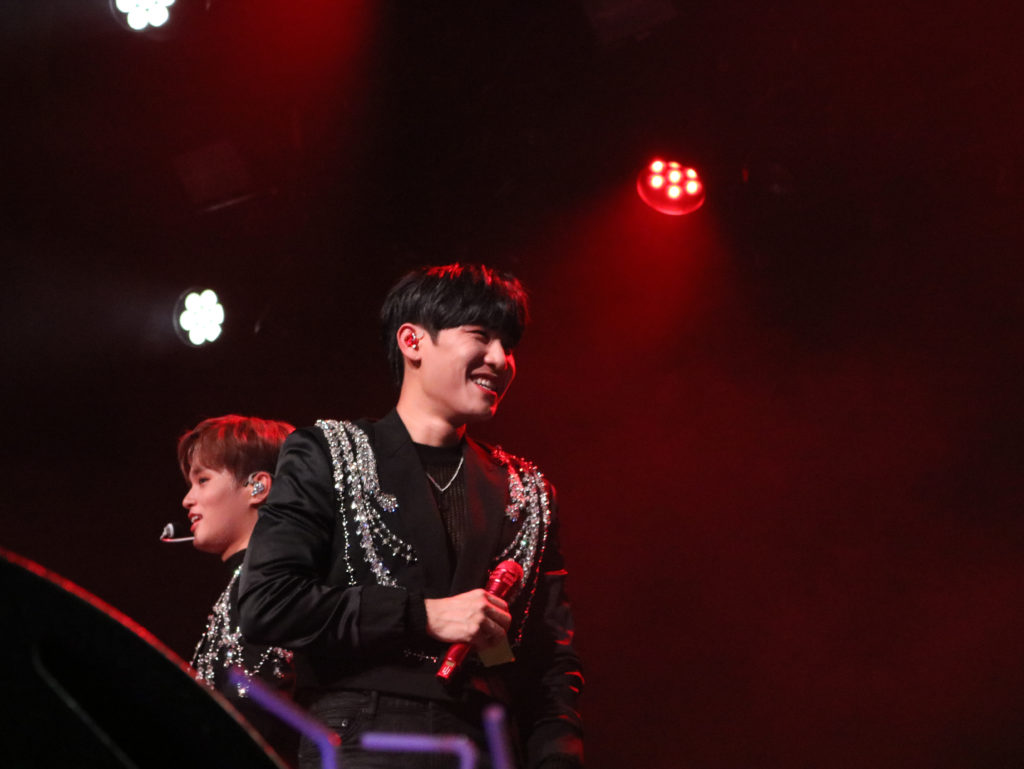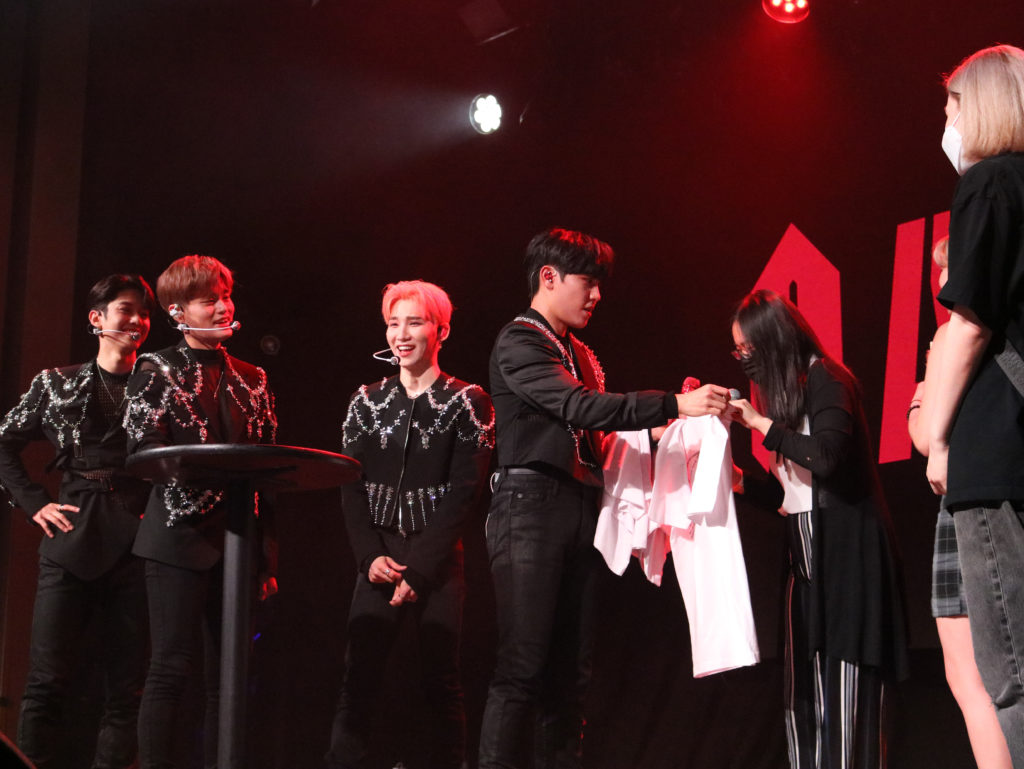 Inspired by the recent celebration of their third anniversary, I asked the four members, "What does 'AB6IX' mean to you?" The variety in their responses demonstrated that while they are on a journey together as AB6IX, each member has a different experience of that journey. DONGHYUN looked inward as he answered, "I think of AB6IX as a second version of myself." On the other hand, WOOJIN took more of a bird's-eye view, saying, "For me, AB6IX is a puzzle that we are matching together." Yet, "AB6IX is 'home'" as well, according to DAEHWI. He elaborated on his response, "You know, at the end of the day, you [come] back to home. That is what AB6IX means to me."
Nothing can beat that feeling of loving what you do and knowing the journey you're on has more to come. But it's an even sweeter feeling when you also love the people who love it with you. As WOONG firmly stated, "AB6IX is 'Family.' Our bond is getting stronger and stronger."
Before we concluded the interview, AB6IX gave their last messages for ABNEW and EnVi readers:
WOONG — Hello ABNEW and ENVI MEDIA readers! This is Woong from AB6IX! Thank you so much for all your love and patience. We will always do our best and try to show you the best of ourselves! Thank you! Stay safe!
DONGHYUN — Thank you so much for all your love and support. We'll continue our best work. Always be healthy and happy
WOOJIN — We'll see you again in various ways. Please look forward [to it]!
DAEHWI — We made some pretty amazing memories in the US. Please look forward to our future works in the US. I love you.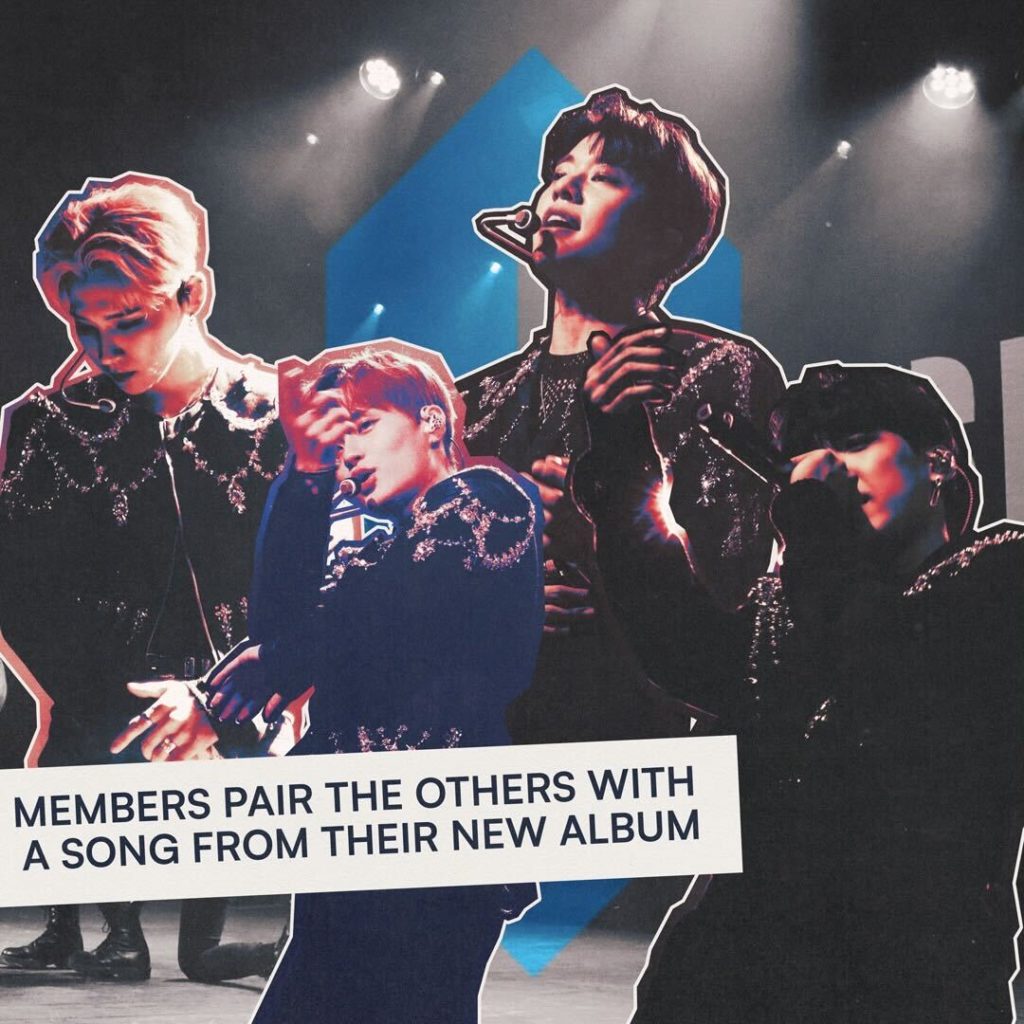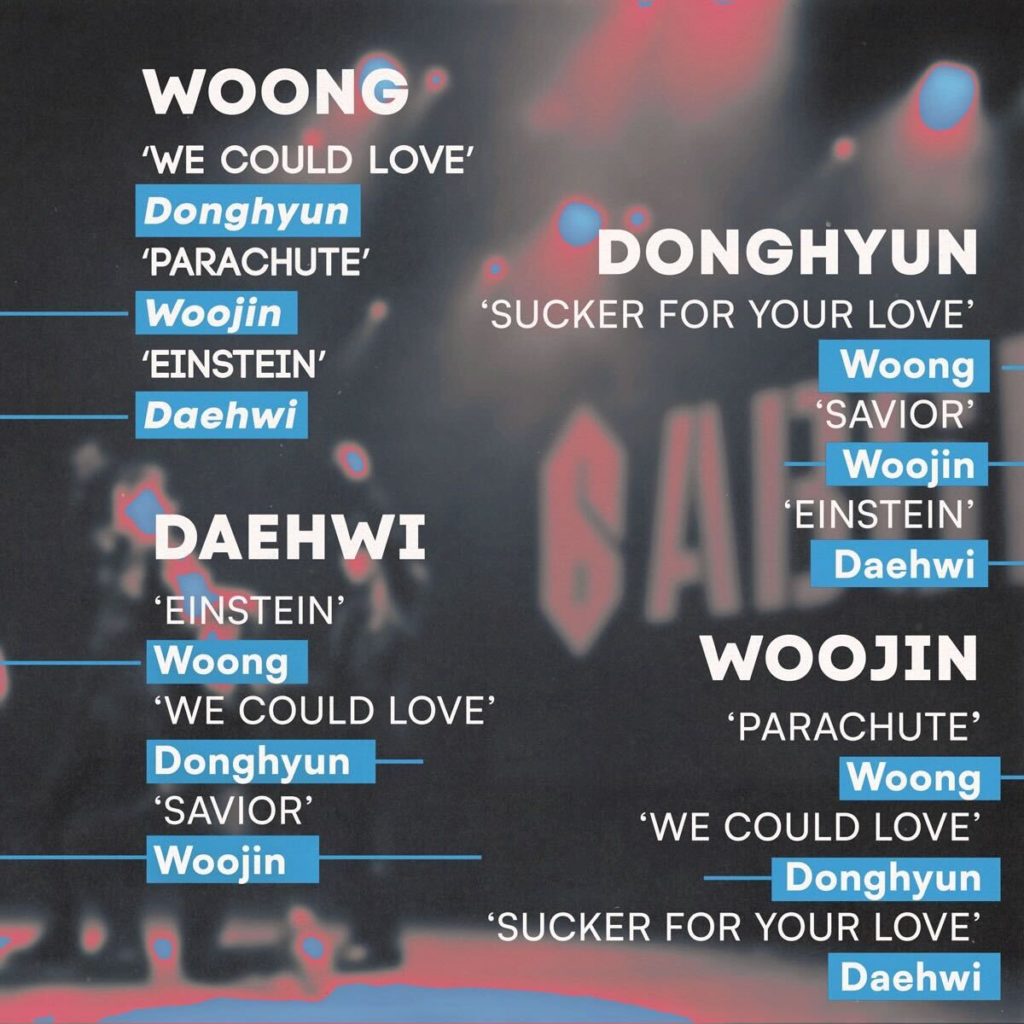 Connect with AB6IX as they continue their journey on Instagram, Twitter, and TikTok, and check out their music on Spotify, YouTube, and Apple Music.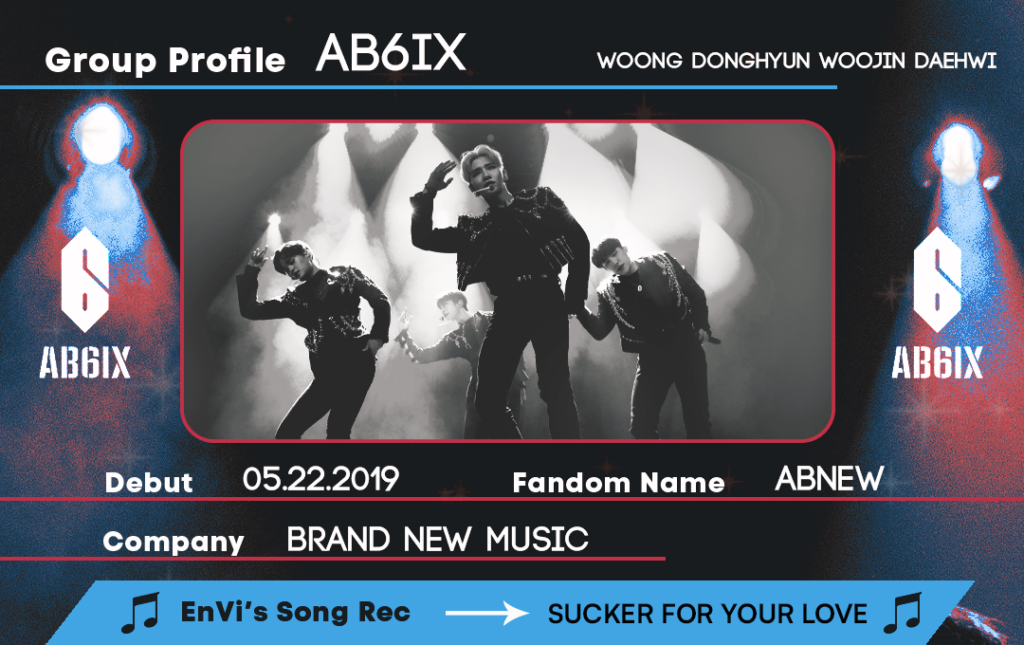 Want more from BRANDNEW MUSIC's artists? Check out EnVi's exclusive interview with AB6IX's labelmates, YOUNITE, here!