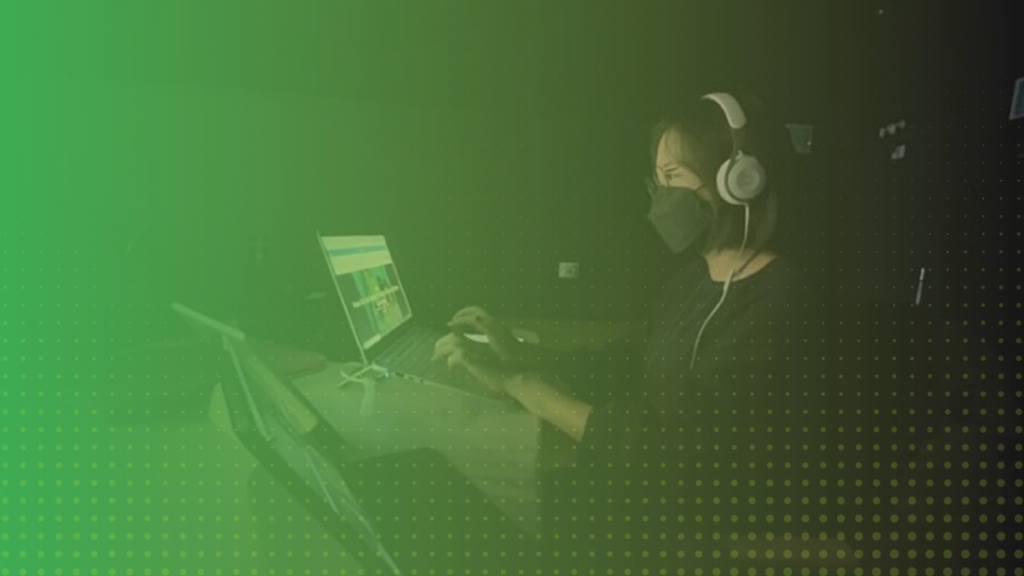 Kim Soyeon, who also goes by Bella and Sara, is a Korean translator who spends most of her time working for After School Club and Arirang, where she translates for various live idol shows and Korean television dramas. She's worked for multiple big talents such as SuperM, SEVENTEEN, NCT, and SHINee. Through her work, she hopes to bring idols and fans closer together by removing the language barrier.
In an exclusive interview with EnVi, Soyeon sat down with us to discuss her journey, what her work consists of, and her goals for the future.
From K-pop Fan to Translator
Soyeon is a Korean native who, as a young child, lived in Canada for four years. She also grew up in Myanmar for 13 years as she attended international schools from elementary to high school. Once she graduated, she returned to South Korea and majored in Communications at Sogang University. Finally, she began working as a translator at After School Club, a popular Korean live television talk show, in 2015.
"I saw that the position as the English Writer for After School Club came up, so I applied," Soyeon said. "It looked super fun and at the time the MC was Eric Nam and he was so funny and so smart and so witty that I was like 'Oh, I really want to work with him.' I never knew that I could become this idol translator. I just started working at After School Club by chance because I liked K-pop."
She grew up with an older sister who enjoyed K-pop and inevitably was introduced to the genre at a young age. They began as fans of a few beloved first-generation groups such as Click.B and Fin.K.L.
Now, she mostly listens to the groups she translates for. "I get to know so many great songs through the live shows I do. I also have to be up to date with the hottest songs, so I watch a lot of music programs. So basically I listen to all K-Pop groups these days. My recent faves have been Monsta X's "Love," iKON's "BUT YOU," Brave Girls' "MVSK (Remix)," NMIXX's "O.O," [and] TXT's "MOA Diary."
Although she never expected to become a full-time translator, she expressed that she's happy with the work she does. At times, she's even in disbelief that it's blown up so much over the last few years. At first, it felt like a dream, but now it's completely natural and just another part of her life. She's grateful to be able to do something she loves and has always been interested in.
Life as a Translator
Most of her busy translating work started to manifest in 2020, shortly after joining Arirang as a script translator. Companies such as SM Entertainment and JYP Entertainment began reaching out to her, and her work has only continued to flourish since.
"That's how I started doing live translations," she said. "That's basically my only job these days. I work at Arirang radio to translate the scripts there [but] basically [I do] 90% live translating."
It's no easy job when it comes to her work. Even before the day of, Soyeon has to complete several tasks in order to learn what the artists are like. She does as much research as she can about the group and idols individually. This includes watching their music videos, interviews, and special content such as original variety shows and VLives. The same goes for a celebrity outside of K-pop.
"I try to watch a lot of their interviews and their own content on their own channel because if it's a program without an MC, they talk about a lot of inside jokes." Soyeon shared. "Mostly, I try to learn the personality of that group, and also I go on Twitter or Instagram or YouTube and try and study the names that the fans have for the idols or maybe the inside jokes among the fans."
To make fewer mistakes while translating, she has to get to know the artists on a fan level. Studying groups she works with makes this easier. This gives her enough knowledge to understand whatever the idols talk about, including things that only fans would know.
The hardest part about her job isn't the need to type and think fast. On the contrary, she believes that it's a skill that comes easy for her now due to her extensive practice. The most difficult part when it comes to live shows is when the idols talk about things she doesn't completely understand.
"For example, when I first started translating for SM artists, SM Entertainment artists have this special album called the Kihno album. When they [SM artists] first talked about their Kihno albums, I had no idea what that was, so I had to just skip that part. I cannot learn 100% of every single idol, so I guess [when] the stuff that I don't know comes up, I get really flustered. I'm not perfect—I make mistakes and typos. But I can confidently say that I prepare the best that I can, and I give my everything during live shows. I have pride about my work, and I think this is also what keeps me going."
When it comes to her favorite part about what she does, it's reading the messages and reactions she gets on Twitter. Here, people send their support along with a handful of positive comments. This motivates her to keep going. One of the first things she does as soon as a live show is finished is to check her Twitter notifications.
"Not just because I want compliments but because I need to know if I make a mistake or say a certain word that's not supposed to be spelled that way," she said. "The fans always talk about it, so I need to go to Twitter and see their reactions for their feedback and also for any criticism if there's any. The overseas fans are unbelievably supportive. After live shows, they shower me with their messages, thanking me and giving me sweet compliments. It's truly humbling. The live shows are super tough, but when I read the messages they send me afterward, it motivates me all over again."
Aside from fan reactions, she enjoys the shows themselves because of how exciting they are regardless of the assigned group or artist. For Soyeon, being around idols, getting to laugh along with them, and seeing each group's dynamics are all entertaining aspects of her profession. So far, the most memorable groups she has translated for are Super Junior, GOT7, SEVENTEEN, and 2PM.
What's in the Future for Soyeon?
Her biggest goal for the future is to translate for entertainment companies that she hasn't worked with yet, one of which is YG Entertainment. This way, she can work with different idols and make new connections to expand her work.
The most recent project she's proud of took place on May 12, when she joined Twitter Blueroom for a live Q&A with Kwak Yoongy and Hwang Daeheon. She has a few other shows lined up this month and is super excited to experience all of them. She greatly enjoys the work that she does and wishes to continue for as long as possible.
When asked if she had anything she'd wish to say to her supporters, she held her hands in prayer and gave a heartfelt message:
"I'm just extremely, extremely touched. I'm so moved, and anytime I read the comments that you send me, it motivates me. It gets me so motivated. I just wanna try harder for you guys. I'm just so humble and happy. Thank you so much for your comments—they really really really really motivate me. Thank you so much."
If you want to follow Soyeon and her day-to-day life as a translator, don't forget to follow her on Twitter and YouTube!
Want to read more interviews by EnVi? Check out our exclusive interview with TEMPEST here!