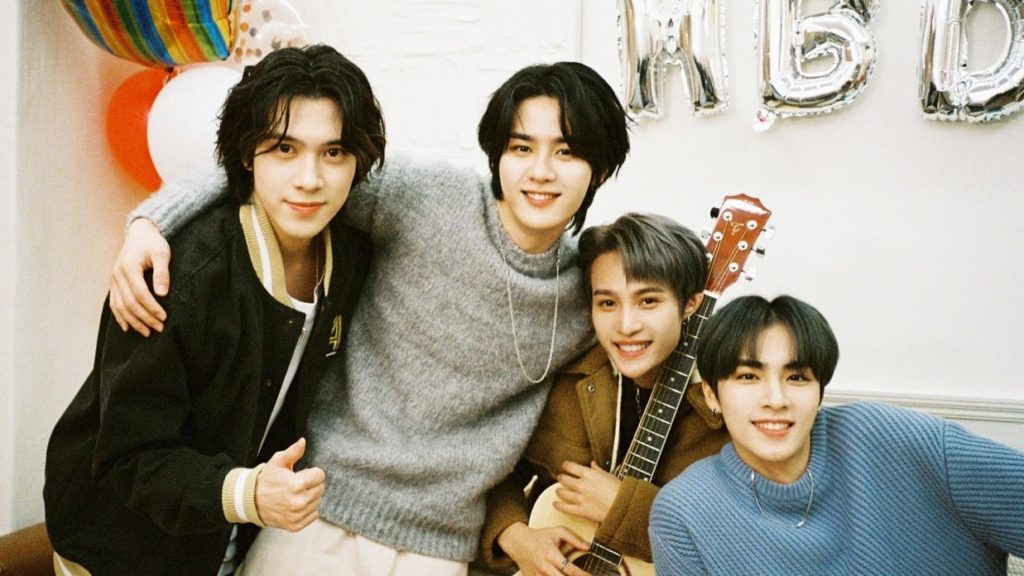 On January 17, 2019, WayV debuted with their first EP, The Vision. The EP title is a direct reference to their name, WayV, which stands for "We Are Your Vision." Today marks WayV's third anniversary, a new milestone for the global group. Fans of WayV, WayZenNis and NCTzens, have had the chance to watch WayV grow as artists, entertainers, and individuals. Not only are they excelling in creating original YouTube content and delivering funny impromptu live broadcasts, WayV always return with unforgettable tunes and equally as compelling albums. In honor of WayV's third anniversary, we compiled some of our favorite WayV moments.
Dream Plan – The First Concert
Throughout the reality series, WayV completed various tasks to be able to perform their dream stage. From farming to going into pitch-black rooms and bungee jumping, WayV tried their best to meet with fans in the 13-episode series. WayV's first concert was a perfect culmination of all of the team-building exercises and unusual labor they did during their time recording. It also gave fans more insight into each members' character and charms. While the concert played, there were various clips of commentary sprinkled throughout. WayV all shared their honest feelings about their aspirations, troubles, and fans. Since it was filmed in 2019, the concert included performances of songs from their debut EP, first mini-album, and PlayV videos.
Xiaojun vs. Bella's Pee
During a Yizhibo live, Xiaojun was showing fans what Bella was doing until she got comfortable and urinated on the carpet. Xiaojun panicked and ran over to stop her, but it was too late and a huge stain on the carpet was seen by the thousands of fans watching. Xiaojun set his phone down as he cleaned up her mess and scolded the beagle for what she had done.
Hendery Throwing The Shoe And Hitting Himself
While trying out a viral internet trend, some of the members stood in a circle around their camera, which was placed on the floor. The members looked down at the camera as they threw a white shoe in the air to see who it would hit. Unfortunately, during his turn, Hendery ended up hitting himself in the head.
Winwin's Flexibility Fail
Due to Winwin's background in traditional Chinese dance, fans are familiar with his incredible dancing capabilities and flexibility. However, in a live broadcast with Yangyang and Ten, Winwin's flexibility failed him. During an amusing imitation of ballet, Winwin extended his leg on a barre and tried to touch his toes. He then grabbed the back of his thigh after a cramp. Yangyang and Ten immediately moved the barre, surprised by Winwin's clumsy fumble.
Ten, The Mastermind
During an episode of Dream Plan, the members of WayV were all playing a game. The members were split into teams and assigned an object to keep safe. They did not know who was on their team, but whoever had the most items collected at the end of the game won. This resulted in a lot of betrayal between the WayV members, as they stole objects away from their members. Ten successfully gained the trust of Yangyang, even though he wasn't on his team, and stole his item. This twist allowed for Ten's team to win and left the rest of WayV completely shocked.
Home With WayV
WayV are known for their chaotic behavior, but this video trumps all. The septet roleplayed as a family, each member taking on roles from grandmother to baby. This video is a good show of their humor and comfort with fans. They aren't afraid to ruin their "perfect" image and act goofy in front of the camera. The video had tons of their constant playful bickering and jokes.
Kun's Song for Leon
Kun was showing off his amazing piano skills during an Instagram live when Leon appeared in front of the camera and sat down. Kun started to play a song entitled "Leon's song" as the cat purred along. The sweet and wholesome moment was ruined when the phone dropped, causing Kun to stop the song and Kun burst out laughing.
Yangyang and the Ghost
During Ten's Instagram live with Mark and Doyoung, WayV's youngest member was heard in the background. Yangyang informed Ten that Bella was seemingly barking for no reason. Ten dismissed his claims by claiming it was because of Leon. He then told Yangyang that it was "a good ghost anyway." Mark commented on it from the other end of the live, asking if they had a ghost in their house. Yangyang was not shown on the live, but this moment is sweet and hilarious. It really shows that Yangyang goes to his members for support, and protection from the supernatural.
Hidden Camera Prank
During Dream Plan, Winwin's acting abilities were put to the test in the form of a hidden camera prank. He had to pretend to be upset over a film that he "needed" to redo. While Winwin did put on a compelling performance, he would occasionally break character and crack a smile when his members were not looking. Kun joined the charade when Ten went to investigate, but it did not last long for either Kun or Winwin. Winwin was eventually found out by the others and in a behind-the-scenes clip, Yangayng shared that he was not fooled by Winwin's mock anger due to his understanding of his fellow member.
"Because I'm Your Family"
Yangyang, Ten, and Winwin sat down and had a live on Instagram. In the live, Yangyang was explaining how the different people in his life pronounce his name. He mentioned that Ten pronounces it the same way that his parents do. Ten replied with "Because I'm your family" to which Yangyang cringed and hid away from the camera. The sweet moment showed just how close the members are with each other.
The song itself is dedicated to fans, but the video was made to steal hearts. This ambitious self-filmed music video is a symbol of WayV's gratitude towards fans following the release of their first mini-album, Take Off. In the behind the scenes clips, fans can see all of the funny antics and planning that occurred to bring the sweet video to life. With tons of red hearts, authentic laughter, whacky dancing, and water fun, WayV truly showed how much they value their fans.
Kun Punching Out the Fire
In 2018, Kun flaunted his cooking abilities in a V Live broadcast with fellow NCT members Yuta, Haechan, and Jungwoo. He was cooking for the members when Yuta praised his and Haechan's cooking. Seconds after that, Haechan lifted a towel from the stove that was on fire and Kun literally extinguished the fire with his fists. This is not exactly a WayV moment, but it is a moment that stands out for its irony and humor. It is a show of Kun's quick thinking.
Xiaojun's Attempt To Soundproof His Bedroom
On a live video, Xiaojun took fans on a journey to "soundproof" his (at the time) shared room with Yangyang and Kun. According to the vocalist, they had received sound complaints, hence why he crafted the idea to stick EVA foam to his bedroom door. However, things did not go as planned. The foam had a strong odor and did not block out any noise. Yangyang later posted on Weibo that the foam was useless.
The Cat Hat
Hendery was seen wearing a beige hat with cat ears during the NCT 2020 promotions. The hat went viral around NCity, and many searched for items similar to it.
Coke in the Water Dispenser
A fisherman's tale, the story of the Coke in the water dispenser was told to fans in March 2020. In a Yizhibo live, Yangyang explained that during his training period, he, alongside WayV and other trainees, filled up the water dispenser in the training room with McDonald's Coke because they had excess. Even a week after the incident the members tasted Coke in their water. Some fans doubted the story until over a year later, July 2021, Hendery shared the footage on Weibo. His playful caption said, "A video that the company must not see." Now, fans know that Jungwoo and Sungchan were at the scene of the crime as well.
WayV Birthday Tradition
WayV are now known for their toilet humor, but this tale was one of the first stories fans heard from WayV of that nature. During an Instagram live, Ten told fans a memorable birthday story. According to him, the WayV members walked in on him using the bathroom to sing him happy birthday, cake and all.
Yangyang's Fanboy Moment
Following the release of "Low Low," Yangyang and Ten guested on "Tell Me Something." The duo rode around in a car with Super Junior's Shindong and rapper QDR, sharing stories and music. One of the most memorable stories was Yangyang and Ten's first interaction. According to the duo, they first met after Ten's debut and Yangyang's first question to him was "Do you like rap?" Shortly after Ten's teasing, Yangyang shared that he views Ten as a brother since he did not know anyone when he first went to Korea. Ten has been a source of energy for him.
Winwin's TikTok Humor
In a TikTok from last April, Winwin filmed a small clip on a basketball court. With WayV's "Good Time" in the background, Winwin stood up and shot a basketball into the hoop. The randomness of the combination of music and video— although strangely fitting— was an amusing show of Winwin's playfulness.
RainbowV
Shortly after their debut, WayV got together in a short YouTube series called "RainbowV." In this show, they were challenged to create entirely original performances for fans. The group split into three categories: vocals, performance, and hip-hop dance. The members planned the performances down to the garments and background to the songs. WayV did not shy away from walking fans through their creative process. "RainbowV" was the perfect illustration of their limitless potential as artists.
Xiaojun's Fashion Statement
On an Instagram live with Ten, Xiaojun's sweats were inside out. The duo realized after a comment asked Xiaojun if his pants were inside out. Ten laughed as he explained the comment to him. Xiaojun's rebutted, informing fans that it was a "stylistic choice." The singer moved out of frame, covering his pants after Ten took over the camera.
Yangyang The Arianator
Yangyang does not miss a chance to show his love for Ariana Grande. In the past, he posted a cover of her hit song "7 Rings." The rapper flaunted his singing and subtle rap while sitting on a table. Last week, Yangyang returned with a cover of "34+35." He shared a short clip of him singing the song via LYSN bubble app. The youngest member sent fans into a frenzy after his latest cover.
Hendery Teases Ten's Dance
WayV recently released "Miracle" as part of NCT 2021. Ten choreographed the point dance move where the body waves down to the leg. In the behind the scene footage of "Miracle," Ten and Hendery were joking about the movement with Ten exaggerating the move to look less controlled and more intense. Hendery then teased Ten by showing a demonstration of how Ten allegedly practices moves versus how he performs them. Hendery shared that WayV "does not know" how Ten will execute moves until the day of. Even though Hendery was joking, he danced well and showed how much body control he has!
Kun's Birthday Tears
In December 2019, fans orchestrated a birthday project for Kun during their fan meeting in Shenzhen. Fans surprised WayV's leader with a slogan wishing him a happy birthday and encouraging him to "fly higher together." They raised their banners during Kun's last lines in the emotional ballad "Face To Face." Once Kun noticed the message, he teared up and smiled. This moment was very touching and unforgettable.
Happy anniversary to WayV! We look forward to your upcoming projects.

Want more on WayV? Check out our third-anniversary live coverage here.