With more groups emerging, the P-pop wave is rising and casting a new light on the Filipino music scene. But nobody does it like Alamat, and I mean that literally. Their name itself, which translates to "legend" or "myth," proudly screams Filipino in a scene where groups are vying to create the most unique-sounding foreign names. The group's concepts, with a mix of modern and traditional elements, do not fall short of incorporating Filipino culture either. The six-member group — consisting of Tomas, R-Ji, Taneo, Alas, Mo, and Jao — pioneers modern musical innovations centered on Filipino culture. And they do it loud and proud.
The title "pioneers" can be burdensome, but Alamat carry it with pride, responsibility, and openness for more challenges. In an exclusive interview via Zoom, Alamat spoke with EnVi about their mini-album Pasulong, creative process, innovation, and how they do it all with style.
Pasulong with Alamat
On October 28, a day after the album launch and showcase, Pasulong marked the group's first mini-album release, promising new horizons for the group. After placing #1 on the iTunes Philippines chart, Pasulong also placed #3 on the iTunes UAE chart. Speaking on this success, R-Ji said, "We're super honored that people listen to us even outside the country. We're overwhelmed and super happy." Tomas echoed the same pride, "Especially in the UAE, we didn't expect that many listeners so it makes us really happy and proud." True to the album's name, which translates to "moving forward," this album is only the beginning of more recognition for Alamat.
The group also discussed the creative process behind Pasulong. Lead rapper Alas compared the album to a buffet with different types of food — there's hip-hop, R&B, rap, and more. Tomas also didn't leave out the mention of their culture in their process, which they always "relate to Philippine history."
When it comes to combining traditional elements with modern ones, an amazed Tomas explained a very specific part of Pasulong's title track, "Aswang." "When the instrumental was [first] sent to us, there was no other sound, then it seemed like they added breathing sounds of the aswang [monster]." Tomas' imitation of the breathing in the song earned a few chuckles from the members. "I thought it was amazing. Maybe they researched the aswang. [The breathing] wasn't there when we first heard it. I thought to myself, 'This is solid. They're so cool!' For "Maharani," there was kulintang added by [composer] Sir Thyro Alfaro, and it sounded really cool in an R&B track. So I realized that it's possible for modern music to include Filipino traditional instruments."
Tomas, in his typical jolly fashion, offered more commentary on this genre-combining. "If we're the ones who produce the songs, we combine two to three genres. Like in "ILY ILY," there's kundiman, hip-hop, rap — there was a lot. That's why we also don't know what our exact genre is. Maybe, soon enough, an 'Alamat genre' will come about."
Since Alamat went with a more mature concept in Pasulong, what's the future for their next concepts? When I talked to Magiliws — Alamat's fanbase name — a few suggestions that came up were royal, cute, and sexy concepts. At the mention of the royal concept, leader Taneo replied, "I think those are very very nice concepts to explore, especially the royal part. If we were to do a royal concept, we'd be able to explore, like, the part of Philippine history that had kings or queens — like […] what the [Philippine] king or queen version would be." Main dancer Jao also teased there's more in their future concepts. "We don't let ourselves be boxed so there's still more we can experiment on. You're gonna see various concepts in the future."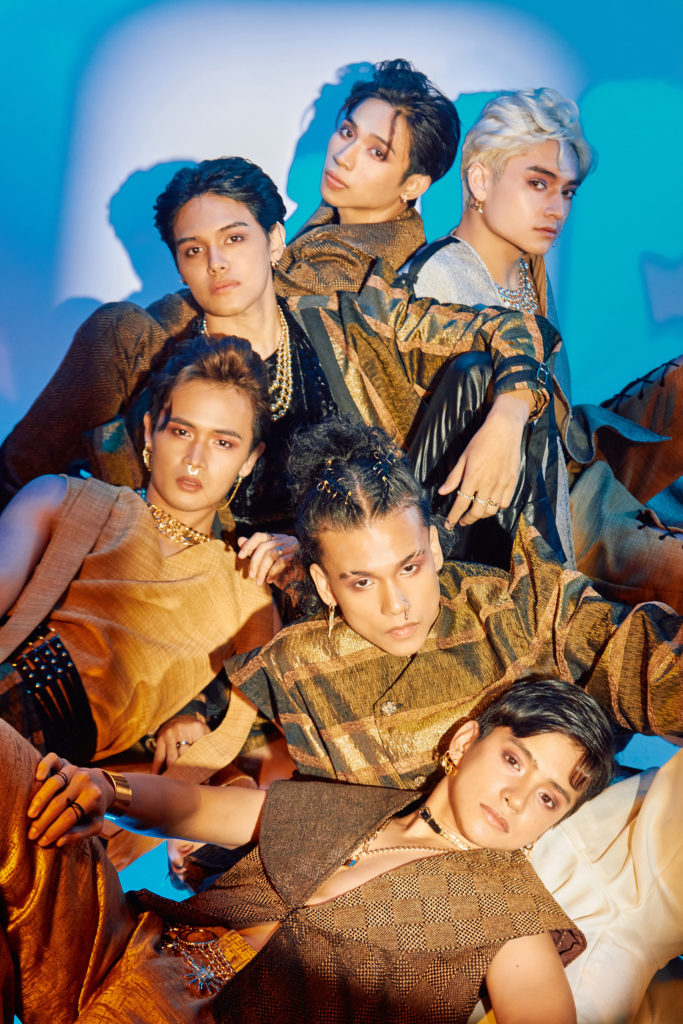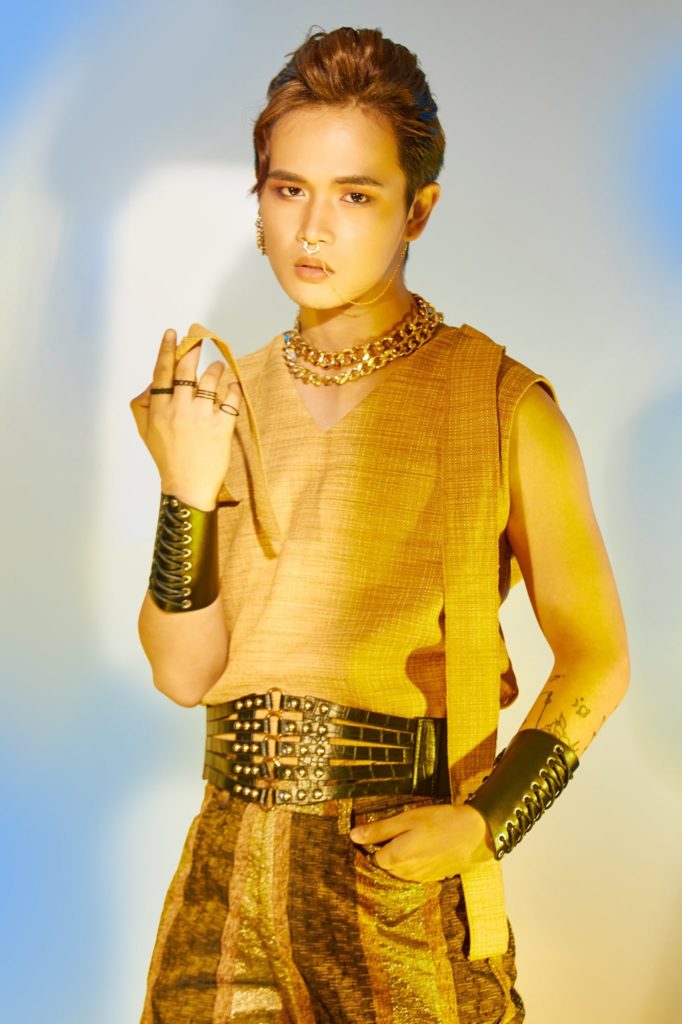 Being Uniquely Filipino in P-pop
Alamat's way of championing Filipino culture in their concept is what sets them apart from other acts. Jao spoke on the honor this brings. "We're very proud because we get to share the rich culture of the Philippines through this boy band. It's a big honor. At the same time, there's a bit of pressure but it's a good pressure since we're representing our fellow Filipinos, Kapampangans, Ilocanos, and so on, so we need to improve more so people will continue to patronize our own culture."
To Alamat, their craft is also a learning process — and responsibility. Tomas made sure to highlight this. "Apart from improving, of course, we also make sure that our representation of our culture is correct. We can't make mistakes about the details so we really study everything." He also shared that being in Alamat became a way for them to learn more about their own cultures and homeland — despite being natives themselves. Taneo confirmed that it's a huge responsibility on their end. Fact-checking and accurate representation of culture are musts for Alamat.
Through Alamat's YouTube series, which includes commentary from professionals, I learned that they actually speak different languages — which are only some of the country's 180 languages. This proves that they are also on a mission to break even their own country's language barriers.
Filipinos have never shied away from these barriers. There are hardcore K-pop stans, avid K-drama or Thai drama watchers, Anime fans, and more. Whether you're from the Metro or the province, Alamat's music has something new for everyone. Their music represents the country's diverse and rich cultures.
Currently, the first and only P-pop group to extensively represent the country's culture this way is Alamat. When asked if they regretted this, Taneo refuted this with no hesitation. "We get to share who we are, part of our culture, and at the same time, we're also showcasing our talents. We're doing what we love, so no, no regrets at all." Jao interjected with an emphatic "Slay!"
In this mission, risk-taking is rather essential for Alamat. "This is really what we want to show to the world — this is what Alamat can do. We don't want to play it safe with what's trending or what's being done nowadays. We want to create something new and show that this is Alamat."
Still, the members don't wish to keep this uniqueness to themselves. Alas wished that "more people would do this since there are so many talented people across our regions." Taneo added, "We hope that through our movement, you know, we get to also see more recognition not just from our country but also from the world to recognize what P-pop is. So, hopefully, in the future, we get to see more and more P-pop groups performing not just in the Philippines, but also outside the country to showcase what P-pop is and what our culture is." If the future is bright for P-pop, Alamat will go down in history as creatives who cultivated their successes from their homeland.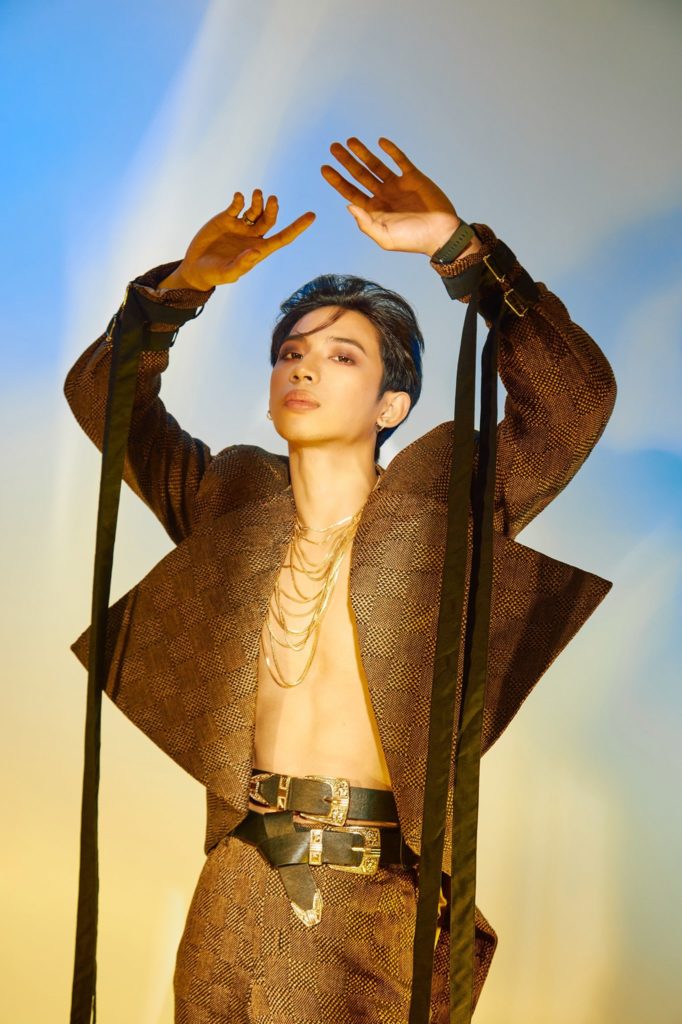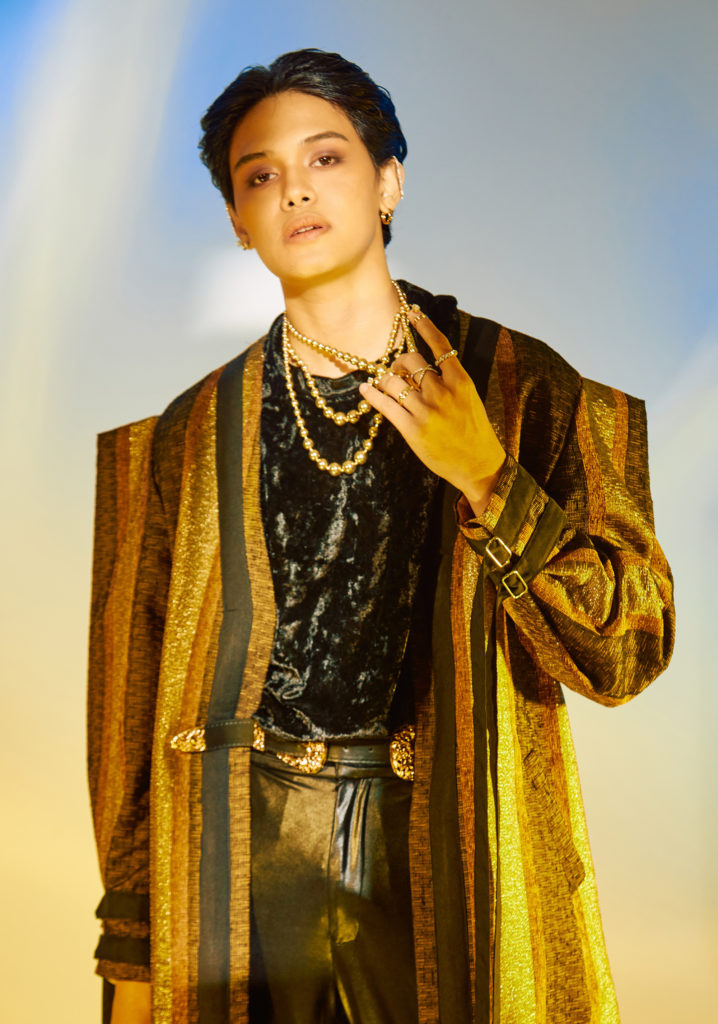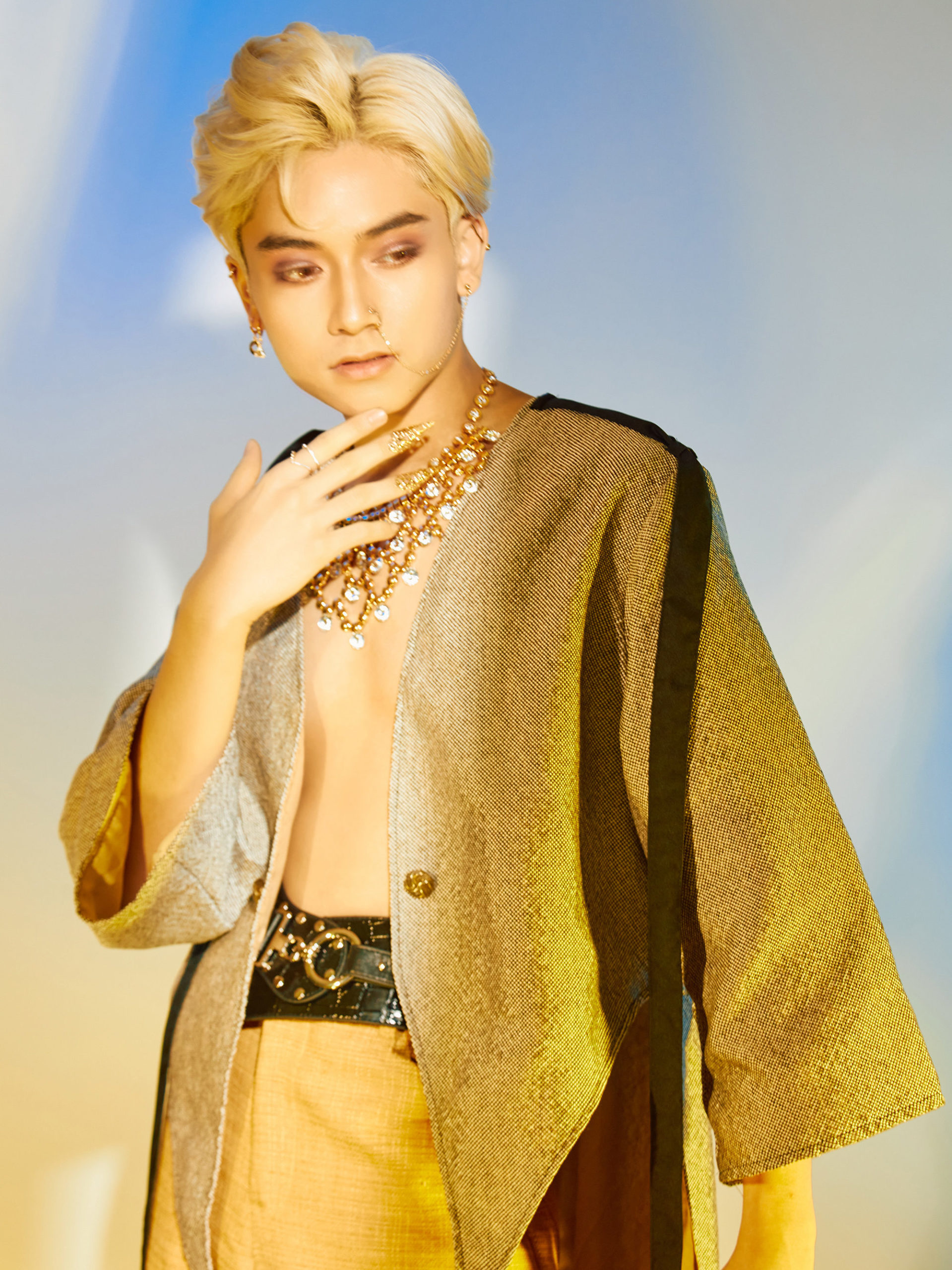 Socially Relevant Music
What makes championing one's own culture so unique? In a country where locals strongly prefer foreign to local music, creatives struggle to find a place for their work. What's worse, many struggle with being proud to be Filipino. This inspired the legacy that Alamat want to bring forward — to make Filipinos proud of their own skin, culture, and language. And they do so by mixing catchy music with tackling social issues. "ABKD," their single released in February 2022, sings about confidence in one's self and skin color. The music video's main character is from the Aeta tribe, a Filipino indigenous group that is a frequent victim of colorism and discrimination.
Alamat were still rookies during the release of "ABKD," but even at that early stage of their career, they spared no efforts in using their platform to represent marginalized groups. And they continue to do so. The music video for their single, "kasmala," bravely criticizes colonialism and Asian hate. Taneo reiterated their responsibility for accurate representation. "Prior to executing these concepts, we like to dive deep [into them] and really explore these social issues that we tackled. For instance, in 'kasmala,' we tackled a lot of our history and discrimination against the Igorots in the US [during the 1904 Philippine Exposition at St. Louis World's Fair.]"
Ultimately, these concepts are also inspired by the members' personal experiences. Jao expressed, "These issues […] are still prevalent up to now. Asian hate, colorism, it's everywhere. And everyone can be a victim. When I was a kid, I got bullied, but I still slay!" Taneo shared a similar experience from his experiences as a student abroad. "I went to a school where I was the only Filipino in the class […] so I got bullied for my eyes," he said smiling as if to simply laugh off the memory.
Still, these setbacks have served as a source of inspiration for Alamat. They continue to move forward in their mission to represent Filipino culture. As if reminiscing on the good old days, the boys were the liveliest when talking about which aspects of their culture they wanted to incorporate into their concepts. R-Ji cited fiesta music and the kuratsa or a courtship dance, which originated from his province, Leyte. Similarly, Tomas, who hails from Albay, wants to continue the festivity with the Ibalong and Tabak festivals and shoot a music video in Albay.
Jao, a native of Pampanga, also mentioned wanting to incorporate Kapampangan legends like that of Mt. Arayat. "It would be fun to make it a narrative on music videos so more people know about Alamat's stories!"
Slaying with Style
Music is only one aspect of Alamat's hands-on involvement with their craft. Jao, resident fashionista of the group, shared the group's styling process. "I'm gonna gather pictures, the pegs, and palette, and as much as we can, we try to implement Filipino elements. Especially in big events, there's usually stylists, so we communicate what we want and come up with the best possible outfits." Tomas added, "And we go with what we can afford based on the budget. To be honest, the textile in the Philippines or Philippine cloth can be expensive," to which R-Ji replied, "Even with a budget like that, we still find ways" and did a little fist bump with Taneo.
Tomas jokingly revived the topic of the group's budget. "So what we wear at big events are those from bigger budgets." When I commented that the smaller budget isn't obvious in their execution, there was a short and shy round of applause. Jao also credited people behind the scenes. "We would like to give credit to Ms. Bea, who styles us, and to those who made our outfits before: Sir Mark Dela Peña, Victor Baguilat Jr., Habi Habi, and more." At the mention of praise, one common theme that emerged from the members' words was humility. They never forgot to credit and name people behind the scenes — even if the question wasn't prompted.
Moving Forward, with Magiliws
Being hands-on with concept, styling, and everything else can't be easy. While he had only arrived towards the end of the interview due to a prior schedule, co-leader Mo was the first to share a heartfelt description of how the group motivates each other in difficult times. "We mainly uplift each other's spirits since that comes from each other. From there, [the positivity] is contagious. We can't avoid burnout and tiredness, but the spirit that we can do it is still there. Somehow, it's all mindset. We still push ourselves beyond our limits. Like what Taneo says and does recently, 'Let's go, we can do this' and the like. And it's a huge help since that spirit is contagious. Tiredness can be different for others, so it's super important that we give each other motivation."
Moving forward, what awards are Alamat aiming for? "Nothing in specific, but our aim at the moment is to really fulfill what our mission is […] But we're welcome to any opportunities or awards," Taneo stated. In their string of answers, their humility and dedication to their mission shone throughout once again. Tomas added, "For us, we just really do our best. Even if we don't expect awards, we just give our best. If we're really deserving of awards, that will come. That's the bonus."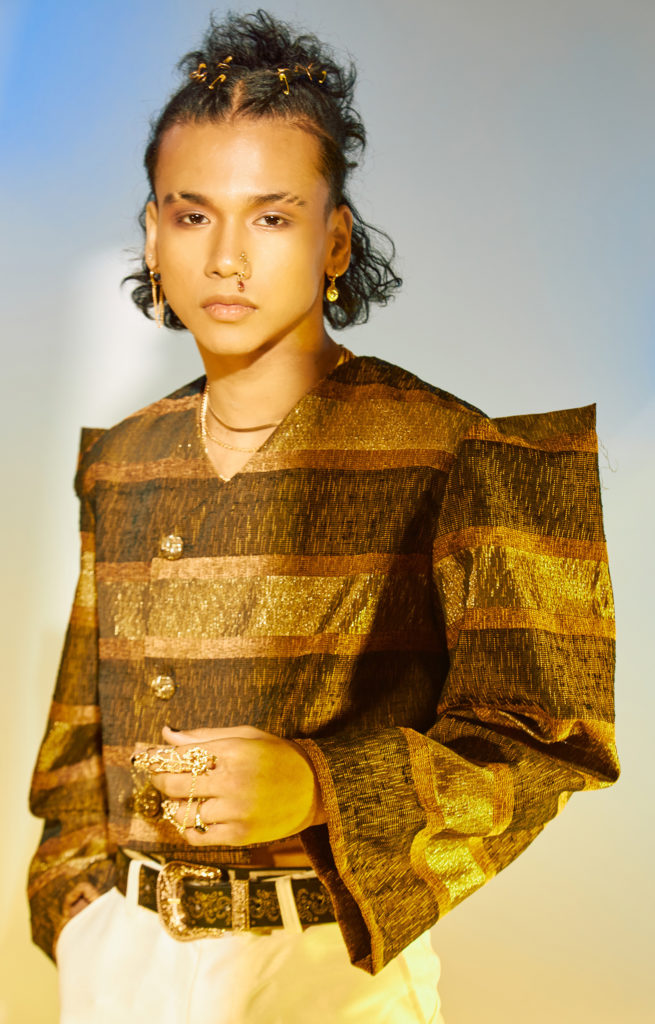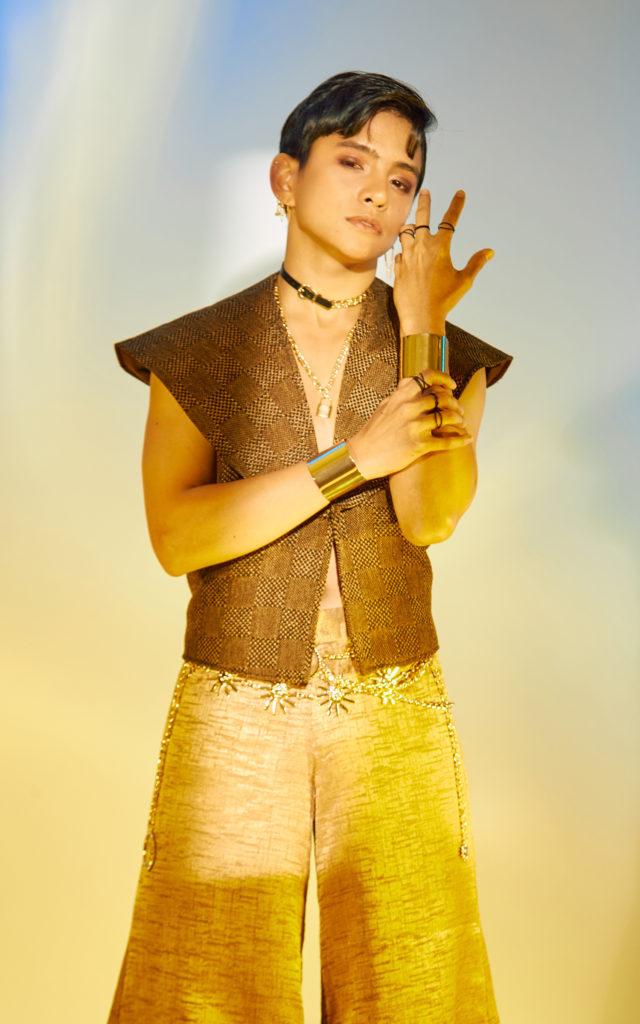 Delving into Alamat's hopes for the future, Taneo mentioned he wants to perform everywhere, but Mo wants to start in the Philippines, specifically the members' provinces. "We haven't explored our own country," Taneo agreed and said he would start from "the topmost parts of the country like Abra, but even further, like the islands at the top." Tomas further explained, "It would be great to share with the world where we grew up."
It's evident that the group is interested in more than just personal recognition. Their contagiously cheerful smiles upon hearing praise, sharing hopes for the country, and humility — all communicated nothing but selflessness and a desire to champion Filipino culture.
Of course, Magiliws are always in the picture for Alamat. Tomas expressed his gratitude and noted how fans attended their recent shows even in other provinces. "Let's do this until the end, so thank you so so much." New Magiliws are also welcomed by Alas, "Of course, those who are on their way, you're also welcome!" Like Taneo added, "The door is open."
Mo left fans a heartfelt message. "The way [our fans] support us like that is no joke; it's really solid. Most of them also study, and they also work, so they can't always give us the time in doing this and that, but they still find a way to post or tweet. We also check Twitter and there are so many fans that tweet their support for Alamat, and we're so thankful like Tomas said. Of course, we also don't want to disappoint them so we always give our best and we always have room for improvement. Really, it's always 101% for you all." Jao ended with his tagline, "Slay, Magiliws!"
For uniformity, all answers were translated into English.
Ready to become a Magiliw? Check out our coverage of Alamat's Pasulong album launch here.