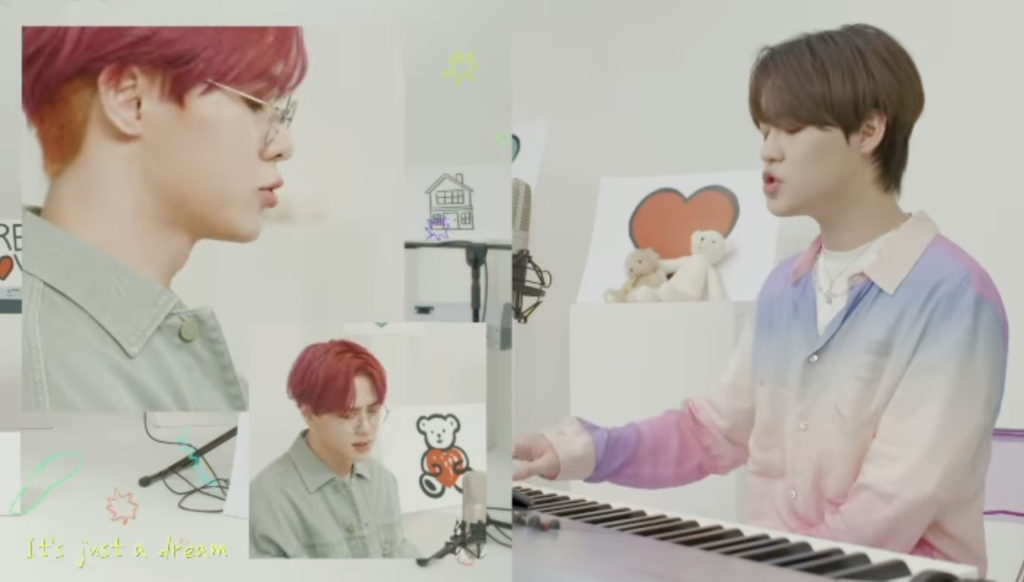 By Valerie Lopez | valschwarie
On March 28, NCT Dream Chenle and WayV Kun dropped a cover video of the song "Free Love" by HONNE. The duo not only showed off their sweet, prince-like vocals and incredible piano playing abilities but also their close friendship!
Kun first teased the song cover a few hours before its release by sending fans a bubble message on LYSN in Mandarin, Korean, and English. He sent an emoji of a clock at 9 position telling fans to expect something at that time. 
Many fans were pleased by the surprise! 
His insane talent

Arranged by: KUN
Piano arranged by: KUN/SQUAR
Strings arranged by: KUN
Background Vocals: JUNNY/KUN/CHENLE#KunLe_FreeLove #KUN pic.twitter.com/CSXqhIf9Bw

— Hourly Kun (@kunclips) March 28, 2021
Why im crying like a baby when hear kun and chenle voice??? pic.twitter.com/HxueNBhiuZ

— Sunny◜◡◝//REST (@lovlyjsng) March 28, 2021
As much as I love Chenle, Kun really never fails to amaze me, he is so talented and his healing vocals, I would never get tired hearing it. Thank you, Kun and Chenle! ? @WayV_official #Kun #Chenle

— sands ? ? (@staywithsands) March 28, 2021
KUN AND CHENLE ???? pic.twitter.com/tpAyEwrcWO

— ces (@kunntaeil) March 28, 2021
the moment he started singing, my heart melted ?? chenle, you are the prettiest scene ? pic.twitter.com/DtEYtsVGvZ

— 仁日?? (@renjunspabo) March 28, 2021
Kun released the "Free Love" audio on his Soundcloud as well as an instrumental version of the song. His Soundcloud is full of other covers and personal music projects, including his solo a capella version of "Dream Launch" and "Time & The Vision: Time to Awaken," which was featured in WayV's Awaken the World promotions. 
This is Chenle's second cover on the NCT channel, the first being his cover of "12월 24일" with Renjun, Doyoung and Jungwoo. Chenle recently featured on the song "Too Good" on IMLAY's most recent EP Utopia.
Want more NCT music coverage? Check out our piece on Taeyong's new song here!
Thumbnail Courtesy of SM Entertainment