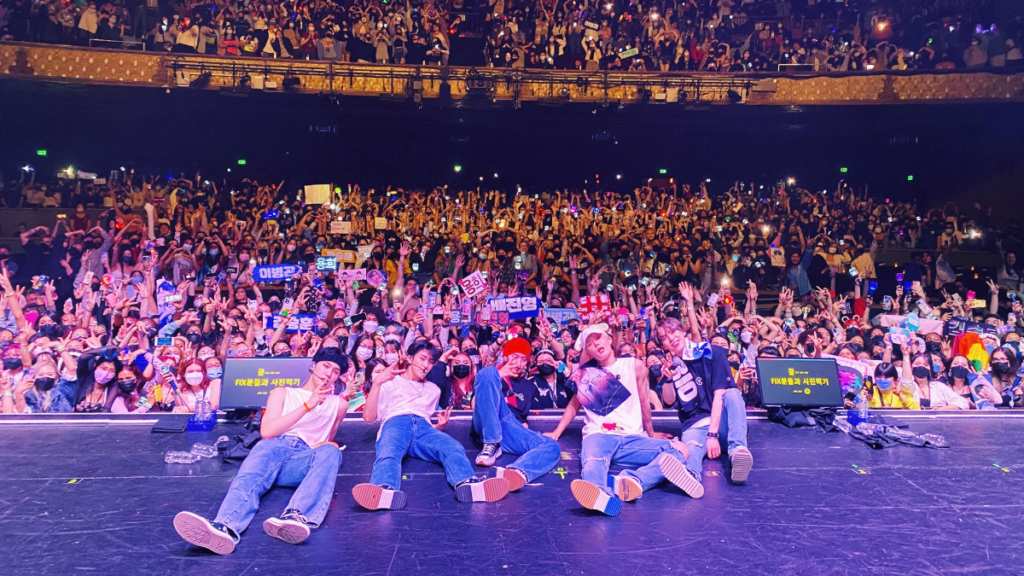 On April 27, 2022, CIX charmed the audience at their first U.S. tour stop in Los Angeles at The Wiltern. Even before the start of the concert, the air buzzed with excitement as FIX (CIX's official fandom name) stood in a line that spanned multiple blocks from the entrance. These fans came from all over in support and curiosity of what the fourth generation group would showcase. Notably, this would be the first concert in two years where CIX would hear in-person reactions to their performances.
Naturals on Stage
Anticipation was high as the theater darkened, and the crowd erupted into cheers. Amid flashing red lights and a siren beat reminiscent of a revolution, the quintet confidently strode out onto the stage. Standing tall in navy blue military-inspired outfits adorned in silver decor, they opened in suave coolness with "Black Out," an electronic dance song from their HELLO Chapter 2: Hello Strange Place EP. The lyrics "You can look back on where you came from / But you know there's no turning back now" have a new meaning tonight, as if CIX had already enraptured the audience to a point of no return. 
Step one was showing off their stable live vocals and smooth choreography, two forces to be reckoned with. The group oozed sexiness as they followed up with their EDM dance track, "Numb." "What You Wanted" and "Like It That Way" were just as enticing with the group moving together as an entrancing unit. Yet, despite performing dark and sensual songs, member BX, in particular, could not help but occasionally break out into a grin because of the reactions. Throughout their performances, it was evident the crowd and CIX fed off each other's energies, such as when the audience chanted back the lyrics to the members.
After "Like It That Way," the five members finally settled down for a proper chance to talk to FIX. Wiping away their sweat, they pointedly greeted the crowd one-by-one in English and thanked fans for coming out that night. Although this was CIX's first concert in the United States, the members were undeterred, instead radiating professionalism and comfort on stage, regardless of location.
A Multi-Talented Showcase
In a final encouraging shout of "Let's go!" from BX, the second VCR played as the members quickly went backstage for their first outfit change. CIX pleasantly surprised the crowd with different unit performances from their Seoul setlist, leading off with vocalists Yonghee and Seunghun. While the two performed an energetic cover duet of "STAY (with Justin Bieber)" by The Kid LAROI and Justin Bieber, they remained relaxed and casual.Throughout the song, Yonghee and Seunghun interacted with the crowd, pointing at different fans and directing large smiles throughout to everyone in the venue.
The previous bright energy was starkly different from the next stage by members Jinyoung and Hyunsuk, who opted for a more sensual performance. Without giving FIX a chance to breathe in between screams, the duo swept the stage with their sultry dance moves to "Up Down (Do This All Day)" by T-Pain feat. B.o.B. Leader BX was in his element when he concluded the first half of the show with a cool renewed 2022 version of "Christ Conscious" by Joey Bada$$, which he had previously auditioned with on the survival reality show MIXNINE back in 2017.
The third VCR played while CIX ducked offstage for another change, returning in differing pairings of black and white. Center Jinyoung came back in a tight form fitting outfit, while members BX, Seunghun, Yonghee, and Hyunsuk were in looser fitted tops. This helped accentuate the choreography of "Jungle," visually showing the flowing descent of falling in love alluded to in the lyrics.
The night reached an all time high when fan favorite "Movie Star" was up next. The theater was filled with thunderous cheers as the crowd sang along to the group's debut song from start to finish. The crowd then settled down to appreciate CIX's vocals in "LOST" and "Everything," as the members moved to the front of the stage to interact with fans. These moments of calm were short-lived because the members switched back to a precise choreographed performance of "Rebel," which was met with satisfied screams.
Good Things Come to Those Who Wait
After a rush of powerful back-to-back performances, CIX took a break once again to check in. Although they sheepishly admitted to suffering from the time difference, the five members revealed their determination in putting on a good show, expressing their desire to do their best for FIX that night. The quintet noted that this was an especially important concert to them, since they've been performing in places where there were pandemic-related restrictions for a while now. CIX reminisced that it had been two years since they heard FIX's screams. It was clear they missed their fans as they each took turns in between talking to pause and admire the crowd before them. CIX ended their talk session with promises of giving it their all for the rest of the night and performing as if it were their last.
The final VCR of the night was a sincere interview with each member where they discussed preparing for the concert and what FIX means to them. To CIX, it is an obvious relationship between them and their fans, as they pointed out that they are continually set at ease by FIX's love. The members were both appreciative and apologetic towards their fans for making them wait so long to meet each other. Hyunsuk stood out when he relayed that "FIX is a name that I'll think of until I take my last breath."
FIX are "The One" for CIX
Before the atmosphere got too emotional, bright blue lights appeared, beginning the last chapter of the show. Back in casual jeans and CIX merch tees, the five members reassured fans with their most recent comeback title track, "Wave" from their first full-length album, OK Prologue: Be OK. The uplifting track lightened the mood as CIX sang of better times on the horizon after pushing through difficult obstacles—a resonant message for FIX who attended concerts post COVID-19 restrictions. Beloved title track "Cinema," featuring bright, broad smiles from the members, quickly followed and had fans scrambling to record the performance. There was not a move or verse sung by the members that was not almost drowned out by the loud screams from FIX.
CIX reconvened afterwards to inform the audience that they had, regrettably, reached the end of the show. Disappointment rippled through the crowd as the lights turned off, but the emotions changed when the group delivered their encore song of the night. As they belted the lyrics to "The One", CIX wandered around the stage, automatically drawn to FIX. The members were generous with fan service, sending hearts and kisses towards the crowd. It was a nice moment to witness the special bond between the two parties, both adoring the other.
The five pointed directly at the crowd as they sang the final line, "Baby, 'cause I know you're the one." The theater exploded into cheers and chants of "C-I-X" that echoed through the hall. The members faced each section of the venue and waved in gratitude as fans waved back, reluctantly saying their goodbyes. CIX cheekily lingered around the corners of the stage to send off their fans before disappearing behind the stage for the last time.
The Rebel in U.S. tour was a great showcase of who CIX are as artists, demonstrating their identity and unique sound. CIX undoubtedly shone on stage, putting on a fantastic show where they could exhibit their talents and hard work. However, their brightest moments on stage became even more dazzling when their gazes met their fans. Each member's individual styles are distinctly different, but when all five come together, they bring to life a strong synergy that is fueled by their fans' love.
If you have not already, you can still grab tickets to their U.S. tour here! And do not forget to keep up with CIX on their Instagram, TikTok, VLIVE, and Twitter. Congratulations to CIX on their first overseas concert in the United States!
Want more EnVi x CIX content? Check out EnVi's OK Prologue: Be OK album review here!