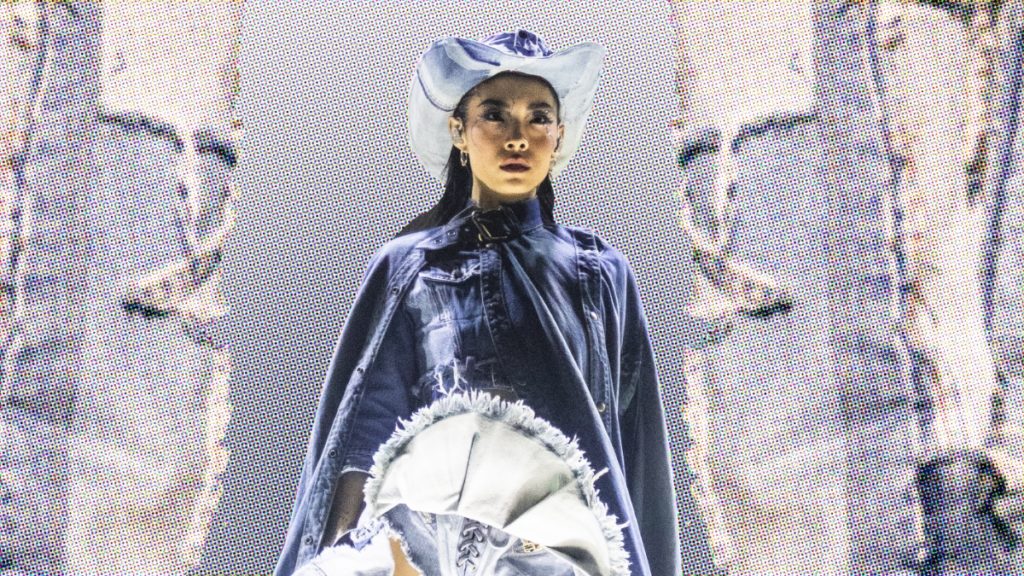 On November 19, Rina Sawayama took over the Hollywood Palladium for her "Hold The Girl" tour in Los Angeles. It was the first of two brilliant shows, and EnVi was there to recap the night. 
Earlier this spring, Rina wrapped up her "Dynasty" tour for her critically-acclaimed debut album SAWAYAMA. She took no breaks, quickly picking up the role Akira in the new John Wick: Chapter 4 movie, and then releasing her second album, Hold The Girl, in the fall.  
Compared to the Y2K pop fun of Rina's debut album, Hold The Girl took on a much more earnest attitude following her emotional growth at therapy. This development parallels her tour trajectory. For "Hold The Girl," the venue's crowd capacity doubled at the Hollywood Palladium, which was just a street over from the Fonda Theatre where she performed for "Dynasty." On the rise and in-demand, Rina actually added the November 19 show after the original November 23 date for L.A. sold out, and we're glad she did.
Lauren Aquilina Isn't Afraid to Get Crazy
The venue was coated in bright neon green lights. The roundness of the space made it feel like a sort of shrine, befitting of its name, "palladium." Crowds were already buzzing by 6:30 PM and once doors opened at 7, the space slowly began to fill. The floor was general admission standing, but crowds were easy-going and relaxed, leaving ample space for one another even in their anticipation for the show.
At 8:00 PM, supporting acts and collaborators singer-songwriter Lauren Aquilina and guitarist Marcus Andersson took the stage. This duo has worked with Rina for 4-5 years. This time, they greatly helped Rina with writing more than half the songs on Hold The Girl, specifically "To Be Alive," "Frankenstein," "Your Age," "Phantom," and first single "This Hell."
Lauren Aquilina is known for her lyrical prowess, and was one of the songwriters for K-pop girl group IVE's breakout debut "Eleven" and Taemin's "Criminal." Lauren first started working with Rina on the fan-favorite track from SAWAYAMA, "Tokyo Love Hotel."
However, out of all their lyrics together, Lauren shared that her favorite time is when they came up with "Fuck what they did to Britney"—she encouraged fans to finish the last half—"to Lady Di and Whitney" in "This Hell." And, with that note, Aquilina and Andersson played a cover of Britney Spears' iconic "Toxic."

When introducing her own music to the crowd, she admitted that, "This is another crazy bitch song." Lauren's set mainly consisted of songs off her Ghost World album such as "Latest Ghost" and "Fuckedupminddd." She concluded with "The Knife" at 8:30 PM and lamented that it was her last show with Rina. That said, her performance showed us that her artistic touch would remain even after her departure.
Rina is Thunder Onstage
Rina took the stage around 9:00 PM with the heartbreaking "Minor Feelings." Dressed in a denim skirt and corset set with a brilliant cape that came flying off as the music hit its climax, fans were awestruck at the power she presented.
What was particularly astounding were the ad libs Rina did in the conclusion for "Your Age." The stage flashed a brilliant bright green and her hair rocked with her in the wind as her lungs reverberated her pain. It perfectly matches the song's scorned feelings of how young people are often exploited or mistreated by the adults who should be protecting them. The digital recording does Rina no justice, and it was incredible to feel the impact of the music, the performance, and the lights live.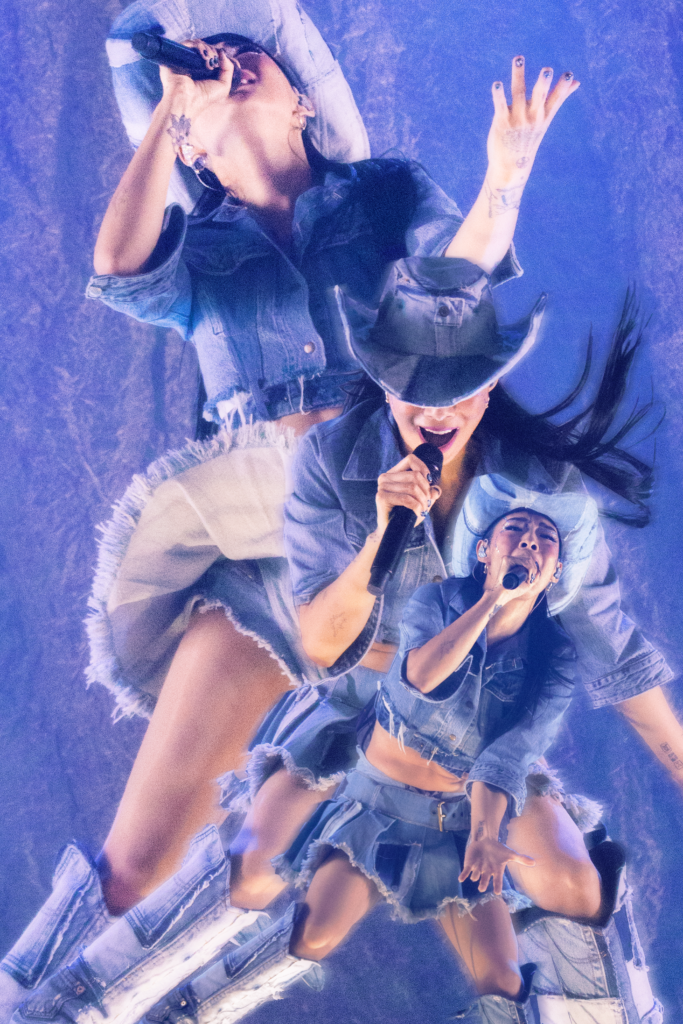 "STFU!" and "Frankenstein" followed quickly after, just as high energy and cathartic in their flashing red and green lights and nu-metal/rock sounds. "Frankenstein" was especially exhilarating to watch live as Rina allowed her drummer, Simone Odaranile, to take the center stage, riffing at the second song's heart booming drum solo conclusion.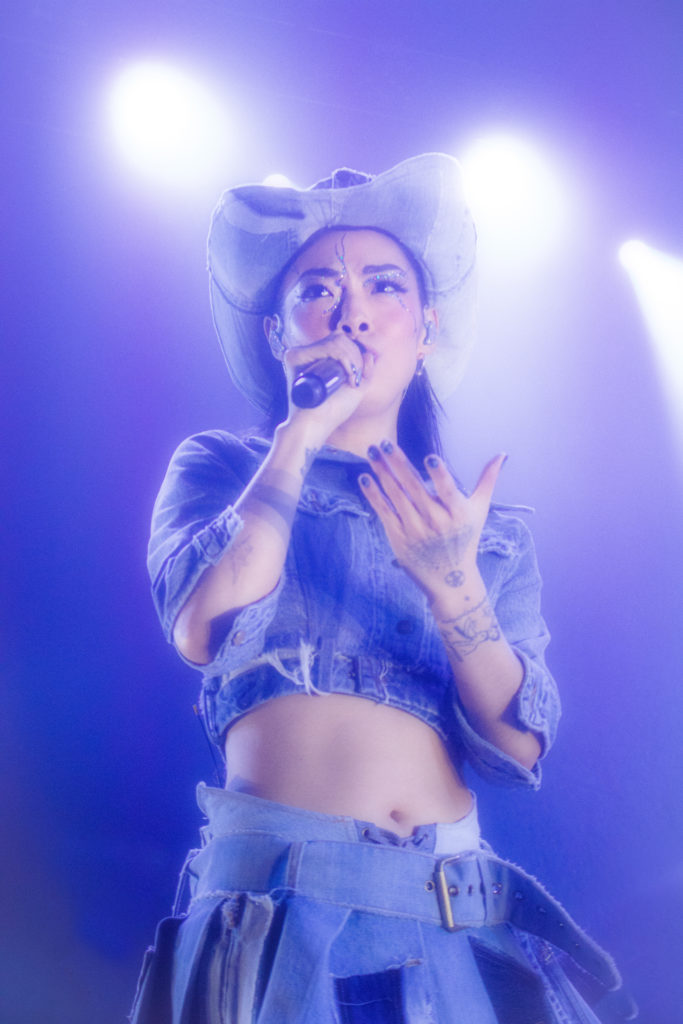 Slowing It Down With "Hold The Girl"
The next part of the show began with "Bad Friend," and Rina changed into an ethereal asymmetrical white dress with transparent ribbon ends cascading down. It captured the light beautifully and fluttered around her as she crooned her softer songs.
To introduce "Send My Love to John," Rina spilled her heart out about what it was like to turn 30, feeling that it was "the adult age" but still somehow feeling empty. With therapy, she realized that sometimes you'll never get the apology you deserve from your parents, which is why you need to re-parent yourselves and "Hold The Girl," that inner child, by yourself and with those around you.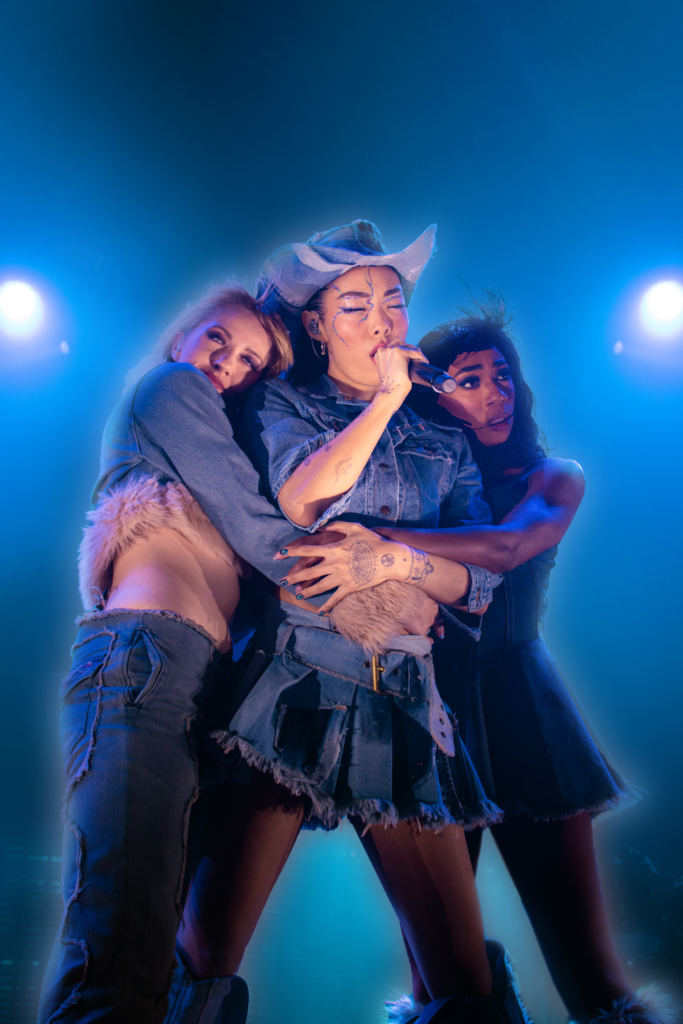 She then brought back the supporting acts Lauren Aquilina and Marcus Andersson on stage to perform this song they wrote together and to celebrate Lauren's last show. Their collaboration concluded with a cover of "You're Still The One" by Shania Twain, but not before a brief lyric sheet mishap. As they figured out the correct order, she perfectly channeled the adult in her when she commanded the crowd to "talk amongst yourselves." Rina was met with laughter but also compliance.
"This Hell" is Better With You! 
In the last quarter of the show, Rina took to the stage in a glittery silver top and short shorts—and later, a cowboy hat. She kicked it off with "Lucid," and it was the most fun to close off the night by seeing Rina perform other club hits like her collab with Charli XCX, "Beg for You," "Comme Des Garçons," and "XS."
Her final song was "This Hell." Like Moses parting the waves, Rina made the performance memorable by splitting the crowd into two. It was a feat of teamwork, as the audience members wavered just a bit before falling evenly into either the right or left side to reveal a center part down the room. Rina stood in the middle, bathed in yellow glow, and commanded a call-and-response of the song's lyrics. One side chanted, "Got my invitation to eternal damnation" and the other, "Get in line, pass the wine, bitch, we're going straight to hell!"
The circular venue was flooded in orange and red light, and it really did feel like we were partying in hell. Luckily, we had Rina Sawayama to guide us through it all.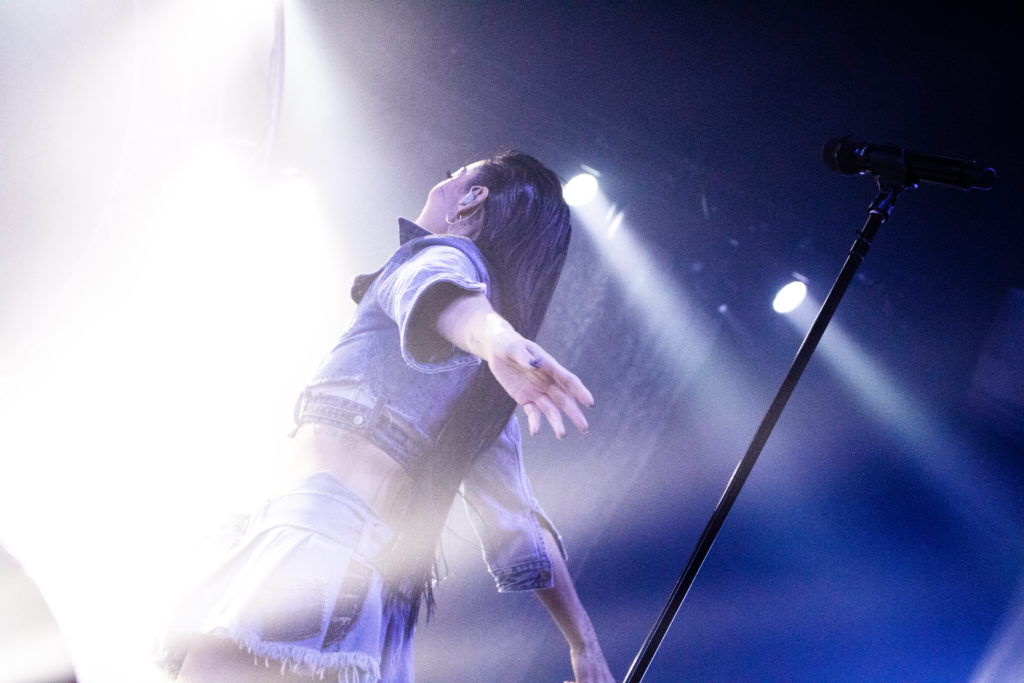 Want more concert reviews? Check out our review of the I-POP U concert in Manila, Philippines here!