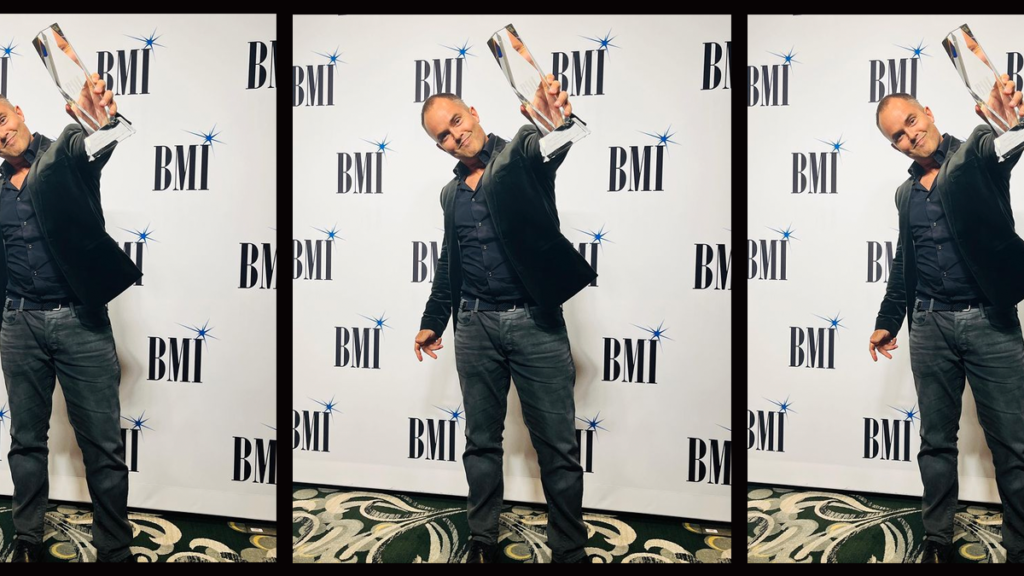 Most songs aren't written by one person from start to finish–a song is touched by many people from conception to final recording. When it comes to the most memorable parts of the song: the melody and the vocal arrangement, a "top-liner" is responsible. They take an instrumental and elevate it to a full song, leaving behind a blueprint for a label and for the eventual artist.
Songwriter and vocal arranger Andy Love is one of these "top-liners." Credited on hits like TWICE's "Yes or Yes," SuperM's "100," and MONSTA X's "Love Killa," Love has solidified himself as a powerhouse in the industry. He continues to prove his staying power, writing for fourth generation groups like ENHYPEN, The Boyz, and TXT.
In an exclusive interview, Love sat down with EnVi to discuss his songwriting process, why he writes for K-pop, and what exactly makes a K-pop hit.
The Process
Love credits his process to the producers he works with: "My work is only as good as the tracks being sent," he says. The songwriting community is close knit, and he often receives tracks from producer friends he's previously worked with. From the tracks he's sent, he cherry-picks the ones that stand out to him. "I have to love it to do it," he emphasizes.
Love will then write with "usually one to three" specific artists in mind, researching how to build the song based on their range, previous songs, and tendency to rap or sing. Rather than write a song that slots neatly into an artist's existing discography, "I'd rather write where they're going," says Love. He treats a song as an artist's next step, something that will push them further sonically.
Likening K-pop songwriters to chameleons who change colors based on the artist they're working with, Love describes his writing process like playing a character. "Writing is like acting," he explains, "you have to get into the headspace of the group."
Despite this tendency, he does emphasize having a signature sound. Writers should do what the label is asking for, but add a unique, unexpected angle that only they can provide. What's his signature sound? "A kitchen sink" he jokes, referencing how he'll add anything he thinks the song might need: guitars, drums, whistles, chants, or lower octaves.
Once the melody is written, he passes it back to the producers before writing the lyrics to get their input on the song. After it's completed, the song is entered into open song pitches, where labels put out a request for songs for certain artists or with certain sounds, and writers submit their best interpretations of that request.
When asked if there's a difference between writing for a lead title track versus a B-side, Love admits that "every song is written to be the A-side," but that ultimately, it's a decision made by the label. "No one says, 'oh this would make a great album track,'" he says, "you always want to aim for the lead single." But he doesn't take a track not being selected for the title as a negative: "It's just a reminder not to rest on your laurels."
K-pop vs. Pop
Love originally started in the music industry as a performer–he was a member of a boy band formed by J.Lo's manager Benny Medina. Although the project never picked up, Love found a passion in the music industry. Wanting to avoid a nine-to-five, he threw himself into songwriting–he slept on couches, "looked over shoulders," and worked hard to get to where he is.
Before 2018, Love wrote for a mix of artists, credited on songs from New Kids on the Block to Girls' Generation to Paloma Faith. Post 2018, however, his credit list is almost exclusively K- and J-pop.
Talking about what drew him into the Asian music market, he mentions how every day is different when writing for a genre like K-pop: you could write something rap heavy, something bubblegum, or something more experimental, and they all have a place in the industry.
He specifically mentions Girls' Generation's "The Boys" as an example of this, since it sounds like multiple tracks in one. "MANIAC" by Stray Kids also receives a shoutout, as Love cites the track as the new benchmark for experimental sounds in K-pop.
He also describes writing for Asian artists as less "political" than for Western artists, where a songwriter's name or reputation can be worth more than the quality of the song. He cites this as the reason why Western music can feel more repetitive, using similar drum beats and guitar loops, since it tends to be more insular as an industry.
K-pop has more of a "the crazier the better" mentality–there's room for guitars, for synths, for genre-mixing. Love names The Boyz's "Drink It" as a recent favorite from his work due to its Arctic Monkeys-esque sound, a genre he's recently enjoyed working with.
Recipe for Success
What makes a hit K-pop song, according to Love? "It's all about the identity," he reveals. "If the track has its own identity, it's going to be an explosion." Genres and influences can differ, but the song has to be able to stand on its own.
That identity is what made the track that would eventually become TXT's LO$ER=LO♡ER stand out to him. He heard the pop-punk vibe that HYBE was looking for and was immediately drawn to it. He enjoys writing music with an alternative spin, and ran with that sound for this song.
There are other elements Love attributes to successful K-pop songs, and all appear in LO$ER=LO♡ER: a catchy hook that gets people's attention ("I'm a lover, I'm a lover," post-chorus chant), an intensifying pre-chorus (Soobin's rising "밑바닥에서 crawling, fighting, bleeding 이젠 지쳤어), and a bridge that takes the song to a whole new level (Yeonjun's iconic self-written rap bridge)
Fans deem these elements important as well, with tweets about the "best bridge" or "best pre-chorus" frequently going viral on Twitter.
How the song would be performed live with audience participation also factors into Love's writing process. He remembers seeing The Boyz in concert, and was impressed with the relationship and interactions they had with fans in the crowd. That crowd factor is taken into consideration when writing: Love thinks about sections of songs fans might chant along to or sing back to the performers.
Love also considers how a song might sound in a stadium. When writing "LO$ER=LO♡ER," he layered twenty vocals to get the right anthemic chanting effect he wanted, so that listening to the track would sound like there's a massive audience screaming the lyrics along with TXT.
Seeing It Live
Once a song is written and handed off to a label, Love doesn't have any eyes on the project until it's released. He describes seeing the final product–the artist's vocals, the music video, the live performances–as "very cool." Love enjoys seeing fan reactions, saying that the job can often feel "thankless", but that fans expressing their love for his songs on social media makes the entire process worthwhile. He even reveals how songwriters and producers have group chats where they share the fan reactions with each other to celebrate. "It's fun seeing the song talked about," he says, "there's a lot of gratification with the song being released."
Love stresses the importance of producers in top-lining, saying that a top-liner is only as good as the producers they work with. He expressed his gratitude for the people in his network that give him opportunities and offered advice to aspiring K-pop songwriters, saying it's all in "reaching out."
K-pop writing is open to everyone, he emphasizes. From the numerous samples he receives, he picks the ones where he "smells the hit," not necessarily the ones with the best name attached. "If I hear some magic, I'll do it," Love says. "If it's there, it's there."
Interested in more Creative Spotlights? Check out our article on stylist and costume designer Amanda Lim here!